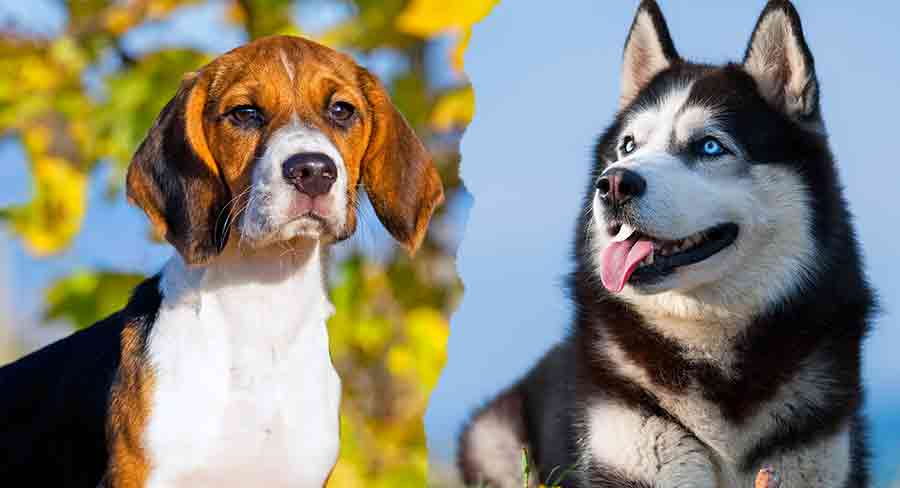 A Beagle Husky mix dog, also known as a Beaski, is likely to inherit a mix of physical features which makes them hard to place.
Their temperament is almost sure to be happy and affectionate, but they may have a mischievous streak, and a tendency to roam into the distance if walked off leash.
Whilst Beagles and Huskies are both popular pets, inexperienced dog owners and people with lots of other time commitments might find the Beaski too much to handle.
Beagle Husky Mix: Breed At A Glance
Crossing a Beagle with a Husky is an unusual combination.
Here's an introduction to what to expect:
Popularity: Pretty low profile
Purpose: Companion dog
Weight: 20 to 50 pounds
Temperament: High spirited, mischievous, affectionate
Of course, you'll need to know a lot more than that before you bring one home!
So let's see what else you can expect from a Beaski.
Beagle Husky Mix Breed Review: Contents
History and Original Purpose of the Beagle Husky Mix
A Beaski is usually a mix between a Beagle and a Siberian Husky.
An Alaskan Husky could also be used, but since that's much less common we'll focus on the results of using a Siberian Husky in this article.
Intentionally mixing Beagles and Siberian Huskies and calling their offspring Beaskies is a relatively recent phenomenon.
It is likely to have been inspired by the rise in popularity of other 'designer dog' mixes, like the Labradoodle.
The Husky and the Beagle were both traditionally working dogs, but they were used to perform very different roles.
Which means the Beaski is likely to have a mix of instincts that means they aren't particularly suitable for either job any more.
So, Beaskies are more likely to be bred and sold as pets and companion animals.
Let's take a closer look at the origins of each of their parents though, in order to better understand what a Beaski's temperament might be like.
Beagle beginnings
The Beagle breed is hundreds of years old. They belong to the scenthound group of breeds – dogs that use their noses to follow quarry like hares and rabbits over ground.
Beagles traditionally hunted in packs – they are considered some of the greatest team-workers of the dog world.
But it's their neat size and happy go lucky attitude which also gained them popularity as pet dogs.
Beagles were the 7th most popular dog breed in the U.S. in 2020.
Husky history
Siberians are another breed with a long history.
They were originally developed as sled pulling dogs by nomadic tribes in Siberia, and popularized in America in the 20th century. They are also great team workers!
Since few Americans have need of a sled pulling dog, most Huskies in the United States are simply pets and companions.
Huskies have actually declined slightly in relative popularity over the past few years.
Possibly as a result of more people looking for dog breeds which are suitable for apartments and urban living.
Beagle Husky Mix Appearance
It's impossible to mistake a purebred Beagle for a Siberian Husky.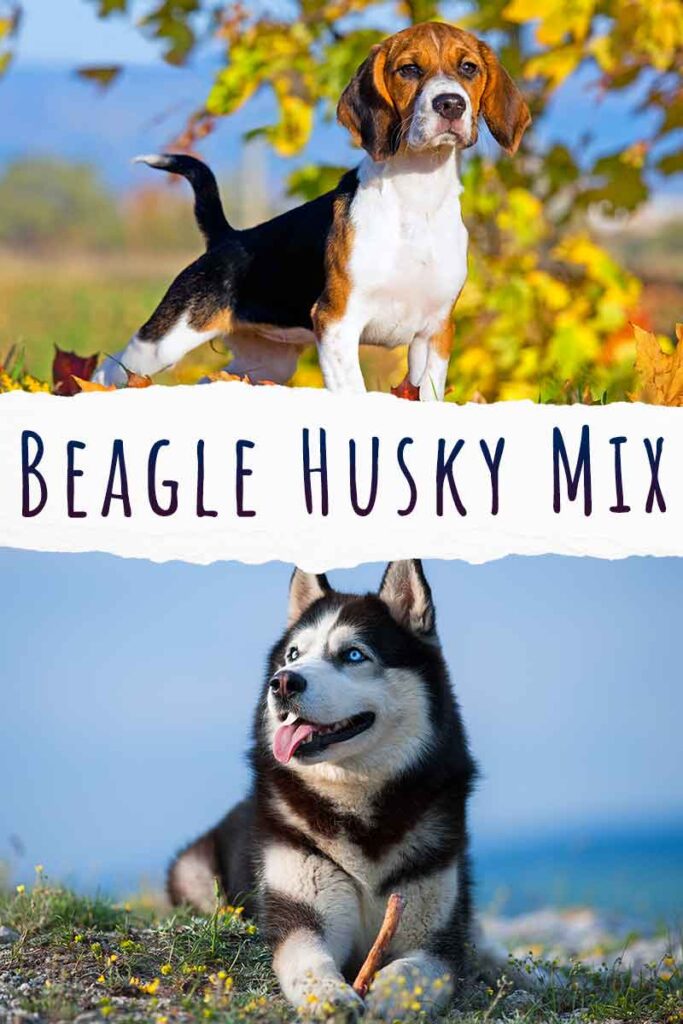 Beagles are rarely more than 15 inches tall at the shoulder, and usually weigh less than 30 pounds.
They have a short, smooth coat, and large, floppy ears. Whilst a number of colors are allowed in show dogs, they're perhaps best known in classic tricolor: black, white and tan.
Meanwhile, male Huskies can stand as tall as 23.5 inches at the shoulder, and weigh up to 60 pounds. However females are usually a bit smaller.
They have a thick, medium length coat, which is most famous in black, white and grays. They have erect triangular ears, and are famous for being one of the few dogs with the genes for blue eyes.
Mixing them up
Physically, a Beaski can inherit traits from either parent.
They could weigh anything between 20 and 50 pounds.
They may stand as tall as a Husky, but Beagles carry a semi-dominant gene for chondrodystrophy, which causes shortening of dogs' legs.
So, most Beaskies are likely to be somewhat disproportionately short for their overall size.
Their coat may be thick and fluffy, or short and sleek. And their face could be very Beagle-like, very Husky-esque, or a tricky to pinpoint mix of both.
A particularly striking combination is when a Beaski inherits a Beagle's coat colors and a Husky's bright blue eyes.
There are lots of appealing photos of this online. So many in fact, that you might be forgiven for thinking all Beaskies look this way.
But it's important to be aware that it's not always the case.
Beagle Husky Mix Temperament
Beagles and Huskies are so different in looks and historical purpose, that it's easy to expect their personalities will be very different too.
But they have more in common than you might think, and these similarities are likely to be passed down to their hybrid puppies.
Working Beagles and Huskies were both expected to be active for hours at a time – they are still lively and energetic breeds today!
They were also expected to work in co-operation with other dogs, but without continuous management by their owner. So they don't have the same natural instinct to focus on a human during training that, say, a Labrador has.
However, they both had to live closely alongside their human families at the end of the working day, so only gentle dogs who were affectionate and patient with the whole family tended to be used for breeding.
Which means Huskies and Beagles today are also notable for being devoted and affectionate at home.
Something Beagles and Huskies do have in common is a love of their own voice! Barking, baying and howling are all ways these breeds communicated with their pack whilst working.
So Beaskis are also likely to be:
Energetic
Friendly with other dogs
Perhaps somewhat difficult to engage in training
Affectionate and sweet natured family members
And noisy
Let's look at some other qualities which are harder to predict.
Beagle and Husky differences
Huskies are notoriously mischievous! They are famous chewers, diggers, climbers, and escape artists.
It's nothing to do with being naughty. They just have a lot of physical and mental energy, and if their owner doesn't provide enough outlets for all of it, they find ways to let it off in ways we would rather they didn't.
Beagles are energetic but a little less constantly "on". But you won't know until a Beaski puppy is grown up quite how much energy they have.
Furthermore, Beagles love to follow their nose. It's what they're hardwired to do, and they can travel a long way with their nose pressed to the ground.
Such is their instinct to follow an interesting scent that it can distract them from following cues from their owner, including the recall whistle.
This can pose a risk whilst walking them off leash.
Again, you won't find out whether a Beaski puppy shares this trait until they are grown up.
Training and exercising your Beagle Husky mix
Next let's apply all these predictions and uncertainties to day-to-day life with a Husky Beagle mix.
Beagles and Huskies are both regarded as moderately challenging breeds to train.
They are both intelligent. But as we've seen, they're not as inclined to focus on their human training partner as the breeds that we typically think of as being easy to train.
A Beaski might also be easily distracted by interesting scents, and give the impression of ignoring your cues, or being stubborn.
To achieve the best training results, use lots of rewards to reinforce good behavior, so that your Beaski is highly motivated to repeat them, and focus on you.
Exercise
Beagle Husky mix dogs usually need a minimum of 2 hours' vigorous exercise per day.
This can be a mix of games, training, and walking. They make excellent running companions!
Bear in mind that without enough physical and mental stimulation, this dog is likely to get bored and destructive.
Beagle Husky Mix health and care
Mixing dog breeds is a divisive topic.
Critics think it is reckless to produce puppies with such unpredictable temperaments. And that this unpredictability makes them more likely to be surrendered to shelters.
They are concerned that fashionable mixes are more likely to be exploited by puppy farms, and their health will suffer as a result.
But on the other hand, there is evidence that mixed breed dogs have lower incidence of some hereditary diseases, and live longer on average than purebred dogs.
This applies to Beaskies too.
They will be protected from some recessive hereditary diseases. Recessive hereditary diseases are only passed on when both of a puppy's parents carry the genetic fault which causes it.
For example, a little over half of Beagles carry the gene for the bleeding disorder Factor VII Deficiency, but it's not present in the Husky population at all.
So, Beaski puppies are all protected from this disease. But, some could be carriers of the faulty gene, so they should be tested if they are going to be used in future breeding.
Beaskies also remain vulnerable to most of the same health problems of their parents, including:
Hip dysplasia
Patella luxation
Thyroid disease
Intervertebral disc disease
Beaski lifespan
Beagles and Huskies both live for 12 to 13 years on average.
So, a Beaski puppy can look forward to roughly the same life expectancy.
It compares well with the all-dog average lifespan of just under 12 years.
Grooming
Both Beagles and Huskies have moderate to heavy shedding coats.
Because the Husky's coat is longer, and they are a bigger dog, their shed coat makes a bit more impact on floors and furniture.
A Beaski will also shed moderately throughout the year, and also 'blow their coat' for a couple of weeks in spring and fall. Which means shedding extra heavily, while a new coat more suited to the new season grows in.
You can limit how much shed fur ends up on your couch by brushing them regularly all year round, to remove loose and dead hair.
Is a Beaski right for you?
Beaskies are an eye catching and charming mix, but they aren't for everyone.
They need an enormous time commitment to exercise. If you don't have at least two hours a day to spend exercising them, you will need the resources to pay for a dog walker or day care instead.
Since they can grow up to 50 pounds or more, they also need consistent daily training, so they can be walked safely, and don't try to jump up at people.
Some people think that they are best left to people with previous experience of dog training, since they may not be easily motivated to take part, and may get distracted easily.
And since they are likely to be vocal, they are probably not a good choice if you have lots of neighbors living in earshot!
Who are they right for?
A Beaski could be a great dog for an experienced dog owner who leads a very active, outdoors lifestyle.
They are less likely to resort to destructive behaviors if you have a big, enclosed yard for them to play in too.
Provided they have had enough exercise, they are likely to be gentle and sweet-natured inside the home.
So they could fit in well with children of all ages, provided you still have the time to cater to all of their needs!
Finding a Beagle Husky Mix puppy
Designer dog mixes are increasingly easy to come by.
But as we've already touched on, some of the litters may be advertised by puppy farms trying to make a quick profit.
Puppy farmers treat their breeding dogs very badly, and do not take enough steps to ensure the health of their puppies.
Puppies from puppy farms are more likely to have expensive lifelong medical conditions, and also behavioral problems as a result of neglect.
Raising a Beagle Husky Mix puppy
Raising a Beagle Husky mix puppy from 8 weeks to adulthood is a big job.
The training area on our site has some great guides to help you with all aspects of puppy care and training.
Including
And our puppy courses will also guide you every step of the way, and help you establish the beginnings of force-free, effective training.
Pros And Cons of Getting A Beagle Husky Mix
Choosing a Beaski isn't a decision to take lightly!
Here are the pros and cons of this surprising mix:
Cons
Need a lot of exercise.
May be too much of a challenge for a dog training novice.
Likely to be noisy.
Heavy shedders.
High risk of some painful hereditary diseases including intervertebral disc disease.
Some unpredictable qualities.
Pros
Look striking and unique.
Can keep up with a lot of exercise, if that's your routine!
Low risk of some other hereditary diseases.
Sweet and gentle around the home once sufficiently exercised.
If you've got previous experience of Beagles or Huskies, and you'd like something smaller than a Husky or larger than a Beagle this time, a Beaski is likely to fit the bill.
Similar Breeds
What if you've had to rule out a Beaski?
Well, one of these mixed breed dogs might tick all your boxes instead:
References And Resources
Orthopedic Foundation for Animals
Brown et al. 2017. FGF4 retrogene on CFA12 is responsible for chondrodystrophy and intervertebral disc disease in dogs. PNAS.
Adams VJ, et al. 2010. Results of a Survey of UK Purebred Dogs. Journal of Small Animal Practice.
Official Standard for the Beagle. 1957. American Kennel Club.
Official Standard for the Siberian Husky. 2021. American Kennel Club.
Wauthier & Williams. Using the mini C-BARQ to investigate the effects of puppy farming on dog behaviour. Applied Animal Behavior Science. 2018.
Get Pippa's free dog training tips delivered to your inbox