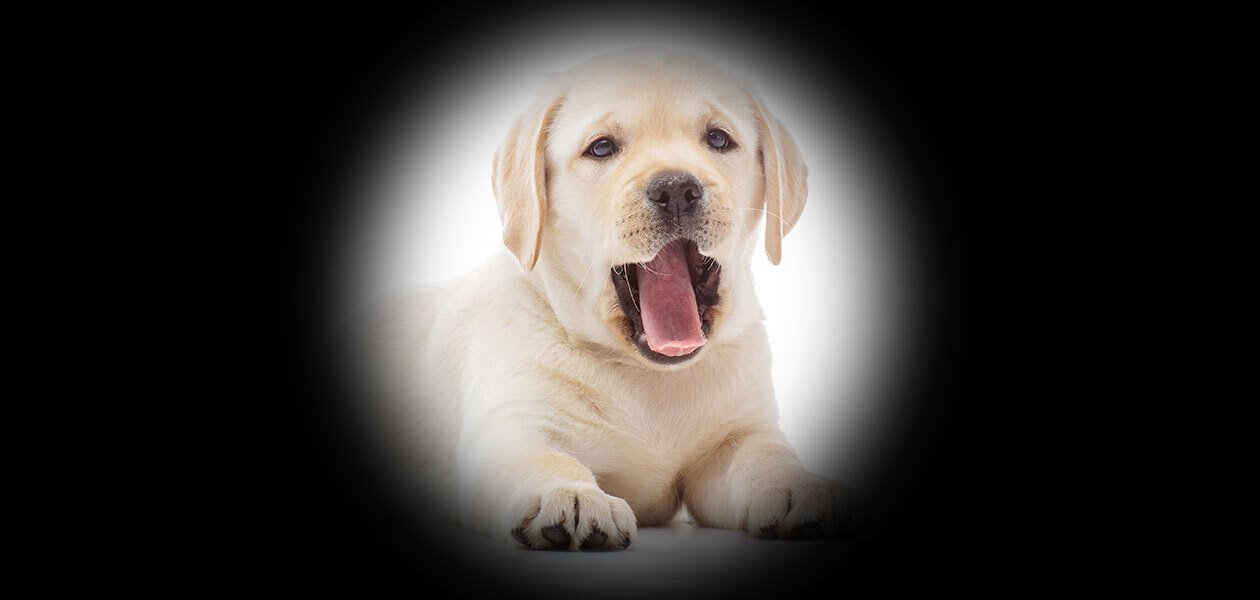 Crate training at night feels like a very different process to doing so during the day.
For a start, you want to be asleep while it happens!
But as long as you lay the right groundwork during the day, you'll soon find that everything clicks into place.
Crate training at night starts on night three…
When you bring your puppy home at eight weeks old, he'll feel very worried.
Even the most confident pup will have a bit of a wobble upon being torn from his home, siblings and mother.
During the day he'll probably be okay, because he's with you. But leaving him alone at night straight away can be very upsetting.
That's why we recommend putting the puppy in your bedroom for the first two nights.
A box by the bed
You don't need a grand set up for this temporary stage.
Grab a sturdy, high sided box. Line it with veterinary bedding and pop it by the side of your bed.
Let your puppy see you climb into bed next to him, so he knows he's not alone.
Then any fussing he makes when settling to sleep, you'll know is just grumbling rather than actual fear.
Most puppies will sleep happily beside the bed from around 11pm until they need a pee at 2 or 3am.
When you hear them stir, scoop them straight up into your arms, and carry them to their outdoor pee place.
Stay boring, calm and quiet. Don't play or chat.
When they're done, bring them back and pop them into their box again.
If you're lucky, you'll then make it until 6am for morning!
Laying the foundations for crate training at night
During those first two days, when your puppy will sleep in your room at night, you can lay the foundations for crate training at night.
To do this you need to introduce the crate to your puppy, as a wonderful place to be.
How quickly you can do this will depend a lot on your puppy.
Very curious and confident puppies will scope out the crate straight away.
I've even had one that settled immediately down for a nap!
Others will regard it with great suspicion and take some encouragement.
We'll assume here that your puppy is of the more reluctant disposition, and you can move quickly through the stages if they aren't.
Toys and treats!
Your new puppy's crate should be a constant source of rewards.
Every time they aren't looking in it's direction, drop a few pieces of kibble onto the bedding for them to find.
Leave puppy safe toys, like a puppy Kong or Kong Wubba, for them to find when they go scouting about.
It should be a snug and safe area for them. Where no one bothers them, and there are ways to relax and things to occupy them.
Shutting the door
Once your puppy is comfortable going in and out of their crate, you can start shutting the door.
Just shut it and open it again immediately to begin with.
The point at which you can do this will depend upon how relaxed your pup is in the crate.
Don't start shutting the door if they are worried. Wait until they have a positive association with the crate.
Increasing the duration
Once your puppy can be happily inside the crate while you open and close the door, you can start to build up time with it closed.
Begin with just a count of five, then ten, and work up to 30 seconds.
Do this in small sessions, throughout the course of the day.
Over the period of a few days you will be able to build up to the point that the crate can be closed for the duration of one of their naps.
Napping in the crate
Puppies sleep a lot, and when they get tired it's a great time to get them used to spending a longer period in the crate.
When they are showing clear signs of tiredness, pop them into the crate with a handful of kibble and a nice chew toy or two.
Close the door, but remain in the room.
When they have gone to sleep and woken up again a while later, go straight to the crate before they can get upset.
Pick the puppy up and carry them into the backyard for a pee break.
Crate training at night
Once your puppy is happy in the crate during the day, you will be able to settle them into the crate at night safe in the knowledge that they are not afraid.
Your puppy might still complain when you first turn the lights off, but you need to stay strong and ignore their fussing.
Remember, they've been with you for two nights and had time to get used to the crate during the day.
They aren't scared, they are probably just frustrated at not being together.
Most puppies settle down after just a few minutes, provided that they've been slowly acclimatized to the crate during the day.
The crate training at night back up plan!
If your puppy is not ready to be shut in the crate during the day for a nap after the first couple of nights, then you'll need a short term solution.
This comes in the form of a puppy play pen and some puppy pads.
Set up the play pen around your pup's crate, and cover the floor in puppy pads.
This will give your puppy the option of leaving the crate and relieving themselves without making a mess, but give you a safe place to leave them overnight without the door shut.
Still struggling?
If you're learning to crate train a rescue dog rather than a puppy, this article may be of more help to you. 
Bad nights with a puppy can really start to get you down.
If you are having trouble dealing with it alone, then why not check out our online Puppy Parenting course?
Sign up and get access to our incredibly helpful, members only forum.
We can't wait to meet you there, and take those first steps through puppyhood together.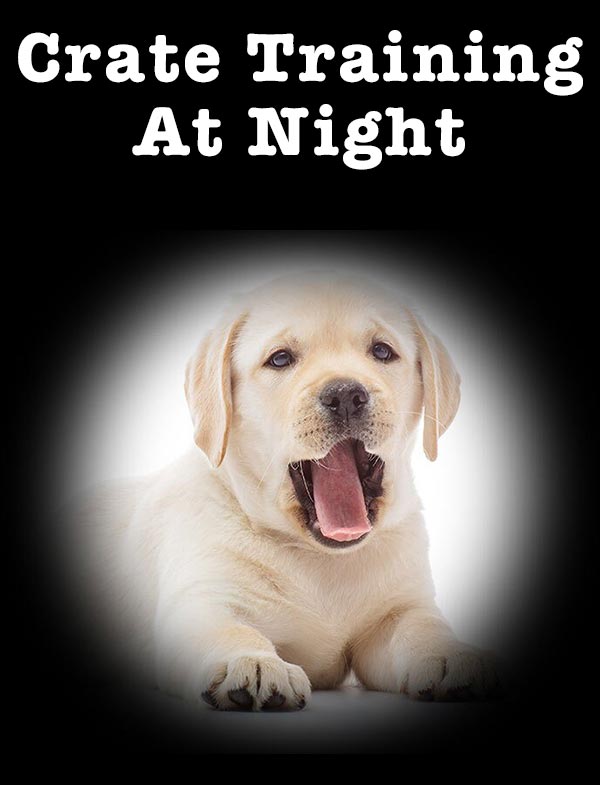 Get Pippa's free dog training tips delivered to your inbox