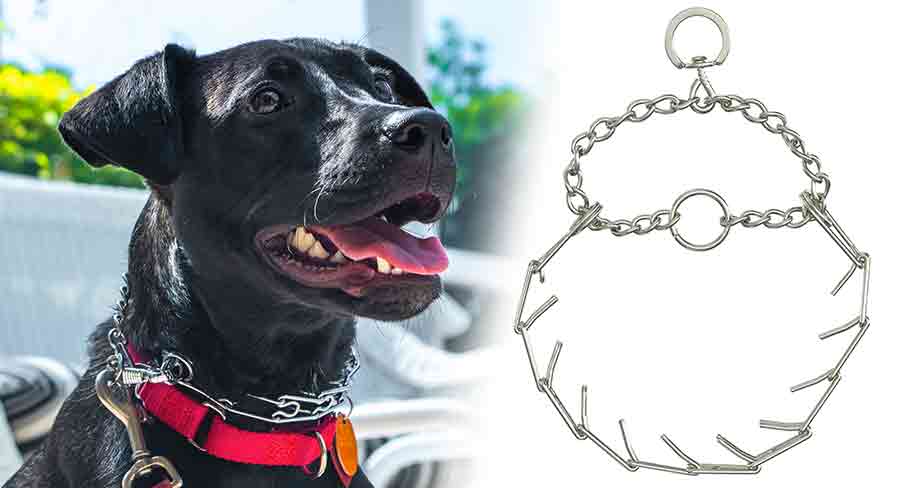 Sometimes dog owners struggling with behavioral problems want to know 'what is a pinch collar for dogs?' and 'will it solve this issue once and for all?' In this article, we take a look at how pinch collars work, why they're controversial among dog trainers, and whether one can help you.
What Is A Pinch Collar For Dogs?
A pinch collar for dogs is made from modified chain links. Each one has one or two metal prongs that point inwards. Due to this they are also sometimes called 'prong collars'. Sometimes pinch collars come with a fabric cover secured with velcro. This is ostensibly for esthetic value, and so you can customize your dog's appearance. But for some users there is almost certainly a degree of wanting to hide the fact that the dog is wearing a pinch collar underneath.
Pinch collars are finished off with a martingale type closure – large rings at each end through which a smaller chain is threaded and secured to the leash. When there is tension on the leash, the two ends of the pinch collar are drawn together. As that happens, the collar squeezes more tightly around the dog's neck.
How Does A Pinch Collar Work?
When a pinch collar squeezes around a dog's neck, the inward-facing prongs dig into their skin. This causes pain and discomfort. The collar closes when either the dog pulls away from their handler whilst on the leash, or their handler pulls on the leash. In either case, the dog is motivated to loosen the collar by reducing the tension on the leash.
Pinch collars are an aversive, or positive punishment. Aversives and positive punishments work by applying something unpleasant, so that dogs are less likely to repeat what they were doing in future.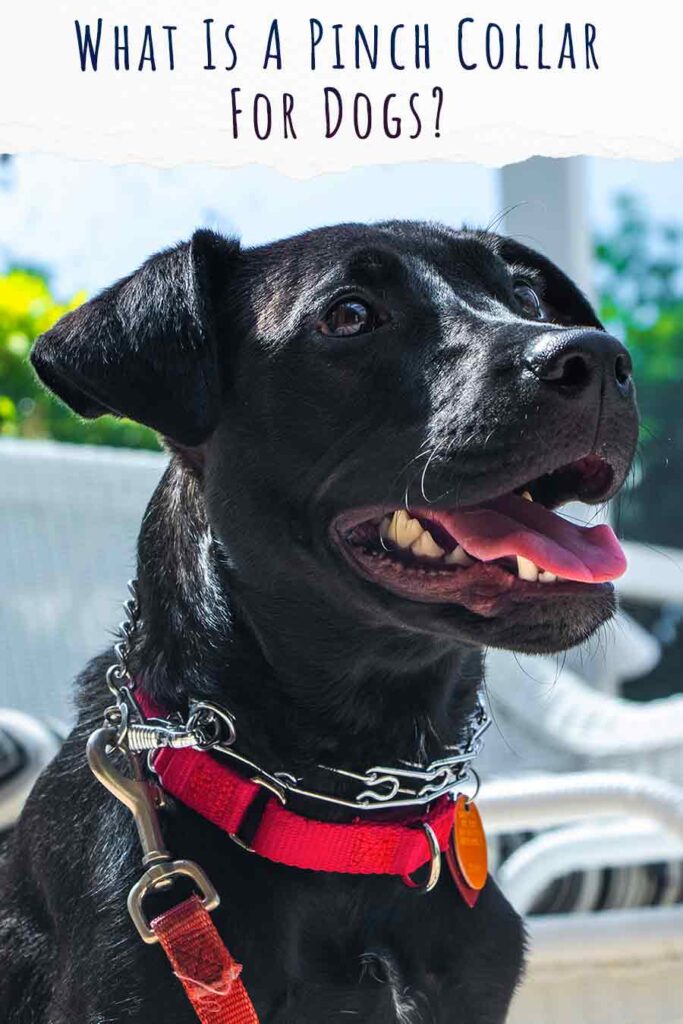 What Is A Pinch Collar For Dogs Used For?
Pinch collars are usually used to punish unwanted behavior on walks, since they work through the leash. Specifically, some people try to use them for:
Dogs that pull ahead on the leash.
Dogs who try to pick up and eat things they shouldn't, such as trash or other dogs' poop.
Reactive dogs who lunge at things that frighten them.
Dogs who attempt to guard their owner by lunging at other passing people and dogs.
And dogs who are easily distracted from the heel position. For example by interesting smells or other dogs.
Do Pinch Collars Work?
Pinch and prong collars punish unwanted behavior by applying pain or discomfort. Dogs are less likely to repeat behaviors which have a painful or uncomfortable consequence, so trainers do sometimes have success reducing unwanted behaviors by using them.
However, in controlled comparisons with other training methods, pinch collars have been observed to be the least effective way of discouraging unwanted behavior. Pinch collars are ineffective for teaching dogs which behaviors are good and bad because:
The result can't be timed accurately
Successful training relies on marking a behavior very accurately and associating it with a positive or negative consequence. Pinch collars are not precise at marking the moment when the dog commits to performing unwanted behavior. For example:
There might be a time delay before they reach the end of the leash.
If the dog is startled by the punishment, and panics, the pressure is likely to end up being applied again. This time it will relate to a different behavior, which the dog has little control over.
In the case of a distracted dog, their handler might mis-time applying pressure to the collar and do so as the dog was about to set off to catch up.
When these things happen, the message to your dog get lost. They won't understand what it was they were being punished for, and they learn which behavior to stop doing.
The pressure can't be applied consistently
Punishment only works effectively in training if it is delivered in a consistent and controlled way. Timing is one way that a pinch collar can work inconsistently. But the amount of pressure applied through a pinch collar is also inconsistent, and impossible to accurately control. This is inevitable because of the way it works – the pressure depends upon the force exerted by both the dog, and the person holding the other end of the leash. At best, you can only hope to control one of these.
Pain inhibits memory formation
Studies have shown that dogs subject to aversive training techniques take longer to learn. This is because learning requires us to remember what has happened before, and recognise patterns in our past experiences. However, pain impedes memory formation, so that it's harder for dogs wearing pinch collars to work out how to adapt their behavior based on recollection of previous experiences.
It doesn't teach them what to do instead
Discouraging a dog from performing an unwanted behavior is only part of the equation. If you don't teach them what they should be doing instead, they still only have part of the picture.
Are Pinch Collars Safe?
A perfectly natural question to have about a training aid which functions by pushing mental prongs into a dog's neck is: can that be safe?
The simple answer is no. Pinch collars cause several types of injury:
Damage to the skin, including irritation, scratches, and puncture wounds. When these heal they are also likely to form scar tissue, which has less sensation than normal skin. So this is also a way in which the pinch collar will render itself ineffective and stop working.
Damage to the windpipe. In small breeds in particular the windpipe is fragile, and pressure from a pinch collar is enough to cause it to collapse.
Injuries to the thyroid gland. The thyroid gland sits at the front of the throat just below the skin. Damage caused to it by the prongs of a pinch collar can lead to hypothyroidism, weight gain, ear infections, and hair loss.
Eye injuries including glaucoma and thinning of the corneas due to increased pressure inside the eyeballs.
In addition, pinch collars can make behavioral problems worse, which makes the dog more difficult and more dangerous to try and control. We'll look at this more next.
Are Pinch Collars Cruel?
All types of aversive training aids, including pinch collars, reduce dogs' welfare. Specifically, they:
Increase stress-related behaviors, such as yawning and licking lips.
Are linked to an increase in the amount of cortisol in dog's saliva. Cortisol is a stress hormone produced when dogs feel under threat.
And increase the frequency of problem behaviors such as fearfulness and aggression.
That's right – in controlled scientific studies, training aids such as prong collars have been observed to increase behavioral problems. This is likely to be because a dog who is constantly experiencing or anticipating pain has a lower threshold for reactive behaviors. The use of a pinch collar can also increase the number of triggers which dogs are reactive to. This happens when they associate the punishment with something other than the behavior their owner intended them to associate it with.
Finally, pinch collars can also damage your bond with your dog. One constant presence when the pinch collar is working is you. If they learn to associate you with sensations of pain and discomfort, their trust in you will be damaged. And they will become less motivated to be around you. This can in turn create different behavioral problems, such as a reluctance to respond to their recall cue. They might also start to resist going on walks altogether, which means they'll have more unspent energy at home and be more likely to start different unwanted behaviors, like destructive chewing of the furniture, or excessive barking.
Alternatives To Pinch Collars
Here at Dogsnet, we're proud to reject aversive training methods, for all the reasons listed above. And this includes pinch collars. Happily, multiple studies support that force free, positive reinforcement training is more effective than punishment anyway. Positive reinforcement training uses food, toys and games to reward desirable behaviors, so that dogs are more likely to repeat them. Not only are dogs proven to learn new commands quicker this way, it is also a much more enjoyable way to teach. Positive reinforcement training also increases your dog's bond with you. And it is not linked to increases in other unwanted behaviors.
For dogs who pull on the leash or get distracted easily, positive reinforcement can teach dogs to maintain an excellent heel walking position instead. And for fearful or reactive dogs, force free counterconditioning can retrain the emotional response they have to triggers, so that they don't feel threatened by them. A qualified and experienced force free trainer or behaviorist can help you with either of these.
What Is A Pinch Collar For Dogs? Summary
A pinch collar for dogs punishes certain unwanted behaviors, such as pulling on the leash. However, it is ineffective as a way of teaching your dog what you want (and don't want) them to do. It is also dangerous and likely to cause them physical injury. And finally in compromises their welfare, and your relationship with them, and increases the likelihood of them starting to perform additional unwanted behaviors.
Force free training is safe, and proven to be more effective for changing dogs' behavior. So we think there's no reason why anyone should have to resort to using a pinch collar.
Readers Also Liked
References
ASPCA. Position Statement on Training Aids and Methods. Accessed September 2021.
Fernandes et al. Do aversive-based training methods actually compromise dog welfare?: A literature review. Applied Animal Behaviour Science. 2017.
Salgirli et al. Comparison of learning effects and stress between 3 different training methods (electronic training collar, pinch collar and quitting signal) in Belgian Malinois Police Dogs. Revue de Médecine Vétérinaire. 2012.
Ziv. The effects of using aversive training methods in dogs—A review. Journal of Veterinary Behavior. 2017.
Get Pippa's free dog training tips delivered to your inbox