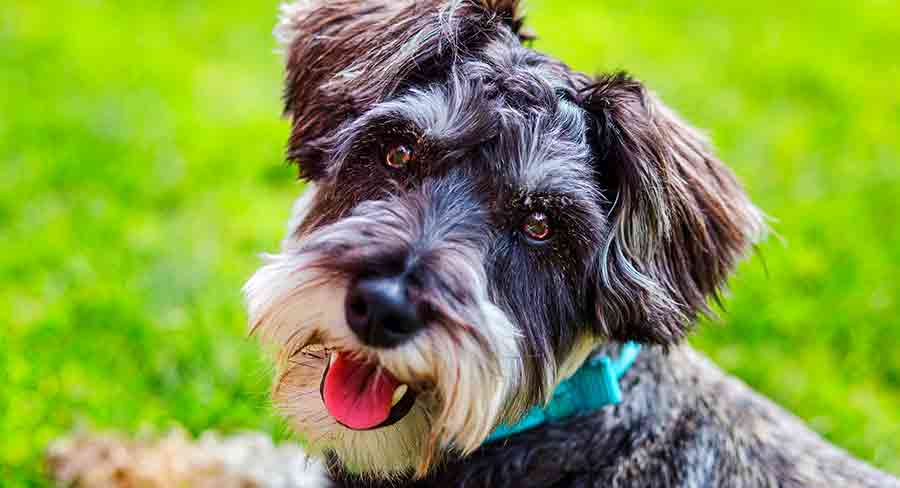 Does the possibility that miniature hypoallergenic dogs might exist fill you with excitement? We find out whether small non-allergenic dogs are more reality or fantasy, and which breeds might fit the bill.
The Facts About Miniature Hypoallergenic Dogs
Dogs of all kinds are a big commitment, but for a lot of people the two biggest obstacles are allergies, and living in an apartment with limited space. If this is you, then you're likely to be interested in miniature hypoallergenic dog breeds. But, whilst miniature dogs are real, unfortunately hypoallergenic dogs are not.
The myth of the hypoallergenic dog has been around for decades, and it's gained credibility from well-known personalities talking about their own decision to to get a dog from a supposedly hypoallergenic breed. However, the science doesn't back them up.
Dog allergies are caused by Can F1 proteins in dogs' saliva and urine. If you have a dog allergy, your immune system mistakes Can F1 proteins for the proteins in the surface of disease-causing bacteria and viruses, and launches an immune response to try and see them off. There are some important things you need to know about this reaction.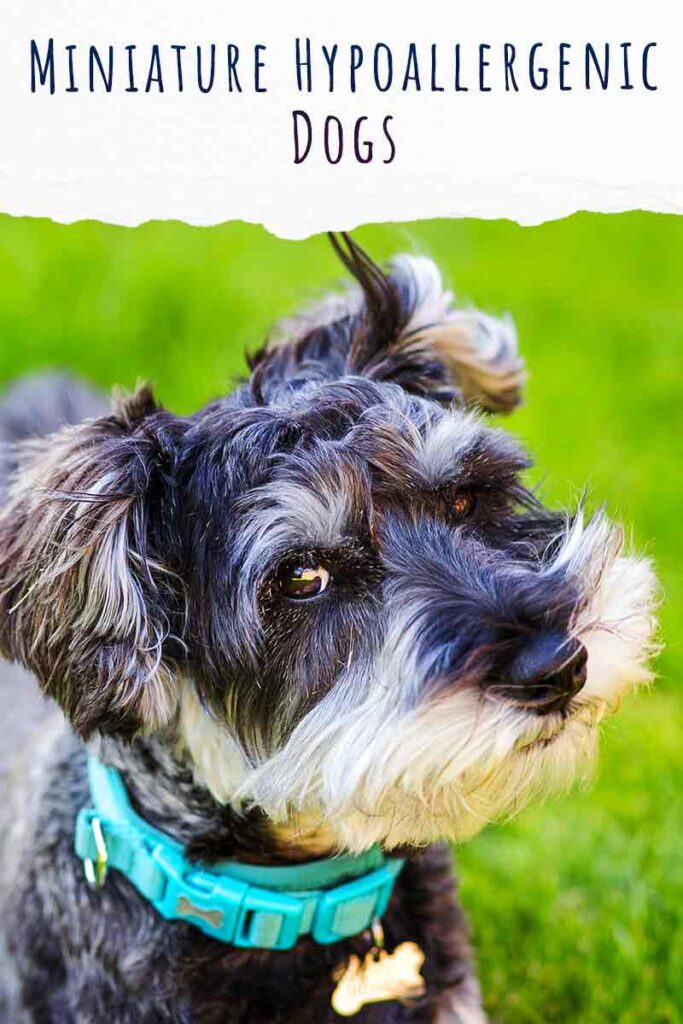 What you need to know:
All dogs produce Can F1 proteins, including hairless and non-shedding breeds.
The proteins are transferred onto the dog's skin and coat by licking, and then shed into the environment on lost hair and dander. Non-shedding breeds may shed less hair, but they still shed dander (flakes of dead skin).
The most effective way to control Can F1 levels in your home is by regular dusting and vacuuming. One study found that households with so-called hypoallergenic breeds actually had higher levels of Can F1 proteins on average, probably because the lack of shed fur meant less time spent on these activities.
Not all Can F1 proteins are exactly alike, and no two people's allergies are exactly alike. So you might find that you are allergic to some dog breeds and not others, but their coat type will be coincidental.
So if you'd like a miniature hypoallergenic dog, ask to visit a puppy several times, to gauge whether you'll have any reaction to them.
Miniature Hypoallergenic Dogs List
So unfortunately we can't provide you with the names of any definitively hypoallergenic small dog breeds.
But we do have a list of small dogs which shed very little, and therefore some allergy sufferers may find easier to tolerate. And their size means that cleaning shed allergens out of your environment may be a little less arduous.
You can click the links to jump to details of any breed, or start here to meet them all!
1. Affenpinscher
The dinky, charismatic Affenpinscher rarely weighs just 7 to 10 pounds, and has a shaggy, low-shedding coat. Unlike some non-shedding breeds which need clipping every 6 weeks or so, the Affenspinscher's coat grows very slowly, and lasts around 12 weeks between trims.
Affies are cute and quirky to look at, and entertaining to hang out with – a rough translation of their name is 'monkey terrier'. But they are often described as being challenging to train, and potentially a tiny terror for novice dog owners. If you decide to take the plunge, you can expect your Affenpinscher to live for 11 to 12 years, on average.
2. American Hairless Terrier
The American Hairless Terrier started out as a naturally occurring mutation in a breeding line of Rat Terriers – which makes them America's only native hairless breed. They weigh up to 16 pounds, and have all the hallmarks of a traditional terrier breed. They are intelligent and affectionate family members.
The AHT is a fun option for people who want a miniature hypoallergenic dog, but not a lap dog. They have lots of energy and enthusiasm for games and exercise. Like all dogs, they still produce Can F1 allergens in their saliva, but since they have no coat to distribute it through by licking, it may be easier to manage the allergen levels shed into your home. However, you will need to balance this against the contact required to put suntan lotion on them!
3. Australian Terrier
Most terriers are low- or no- shedding breeds. Many of these little working dogs started out a vermin hunters in tough climates. Their owners didn't have time for dogs with complicated grooming needs.
Even though they never get heavier than 20 pounds, the Aussie Terrier is a lively little dog with lots of personality. They started out as a fusion of several famous terrier breeds, and also come in a smooth coated variety – the Australian Silky Terrier. Aussie Terriers are generally healthy, and live for 11 to 15 years. But like lots of small dogs, they are prone to problems with their knees, which may need expensive surgery to correct. Choosing a puppy from health tested parents reduces the possibility of this.
4. Bichon Frise
The Bichon Frise is a fluffy white cloud of a dog. They are closely related to the Bolognese, Havanese, and Maltese breeds (the 'Barbichon' dogs), which are all famous for being excellent companion dogs.
Bichon Frises are playful and loving, and successful in most households, from young families to older retired people. But their love of people does mean they struggle with being left alone, which is something to consider if everyone at home goes out to work full time. Bichon Frises weigh 12 to 18 pounds, and their non-shedding coat needs brushing everyday and clipping every month. One of the highest maintenance coats on this list!
5. Bolognese
The Bolognese is another dog from the Barbichon group, but it is less well known than the Bichon Frise. It's also much smaller, weighing just 5.5 to 9 pounds! They are notable for having a laid back temperament, but again they're not suited to spending long stretches alone, and liable to separation anxiety.
Their non-shedding coat needs daily attention to prevent mats and tangles, but they're so small it doesn't take long. At the time of writing, the biggest obstacle to owning a Bolognese might be finding one – they're still quite unusual in the U.S.
6. Border Terrier
The sweet and scruffy Border Terrier originates from the border between England and Scotland. It's coarse, non-shedding coat is low shedding and low maintenance. However it does change thickness and texture at the beginning of summer and winter, and the old coat will shed out more heavily at this time.
Border Terriers rarely exceed 15 pounds, but they have a long and successful working history dispatching foxes who threatened the safety of sheep flocks. So the modern Border Terrier is best suited to someone with an active, outdoor lifestyle, who can provide lots of walks and time for games like tug.
7. Cairn Terrier
The Cairn Terrier is a centuries-old breed which used to work singly or in packs to hunt vermin in Scotland. They weigh between 13 and 14 pounds, and have a wiry double coat which needs stripping twice a year to remove the dead undercoat. In between, they shed very little.
Cairns are curious and quick thinkers. They love human interaction, and playing games. A great way to tire them out is by doing terrier-specific dog sports together, such as EarthDog. Cairns are one of the longest living dog breeds -their average life expectancy is 14 years.
8. Maltese
The longhaired and gleaming Maltese weighs just 7 pounds. They have long curtains of white hair which cascades down their sides, and doesn't shed. They have been companions, lap dogs and status symbols for hundreds of years. Which means they have a winning temperament. However, their tiny size means they're best suited to households with older kids or all adults. Young children can underestimate how fragile they are, and accidentally hurt them.
If keeping their long hair clean and tangle free doesn't appeal to you, you can ask a groomer to give them a low maintenance puppy clip, and refresh it every 6 weeks or so.
9. Lhasa Apso
In Tibetan mythology, Lhasa Apso are the earthly representatives of the great snow lion, who protects the whole country. They weigh 12 to 18 pounds, but as you can guess from that origin story, they pack a lot of personality into a small package!
Lhasas have a low incidence of hereditary diseases, but they are somewhat brachycephalic, which means they have a flattened face. This puts them at increased risk of respiratory problems, overheating in hot weather, and brachycephalic ocular disease. Despite this they can expect to live for around 14 years, and one study of canine longevity ranked them the most likely breed to die of old age.
10. Miniature Poodle
Our next two dogs – the Miniature Poodle and Miniature Schnauzer – are probably the most easily recognizable and popular breeds on our list. Miniature Poodles weigh 10 to 15 pounds, and their curly coat is one of the most widely believed to be hypoallergenic. But, people with allergies might still have a reaction to some Poodles. So it's important to spend time with a specific puppy, before you commit to bringing them home.
If you choose a Miniature Poodle, you'll get the whole doggy package – smart, trainable, playful, affectionate and loyal. No wonder Poodles are the 7th most popular breed in America!
11. Miniature Schnauzer
Miniature Schnauzers can weigh as little as 11 pounds, and up to 20. They are thought to have been bred by mixing Standard Schnauzers with two other breeds on this list: Affenpinschers and Poodles. Their non-shedding, wiry coat with pronounced brows and beard gives them a distinctly grizzled look.
They are friendly and easy to train. In the past they worked as ratting dogs on farms, and also doubled up as enthusiastic little watchdogs. And some of them are still very noisy today!
12. Shih Tzu
Shih Tzus are another non-shedding toy breed which consistently weigh less than 14 pounds. Despite their size however, they have bog, playful personalities, and often have no reserve about joining in the games of much bigger dogs!
Shih Tzus quite often live to their late teens, but like the Lhasa they are rather brachycephalic, so you'll need to take care exercising them in hot weather. And in severe cases they might also need surgery to help them breathe.
13. Tibetan Terrier
Tibetan Terriers are small rather than miniature – they weigh 18 to 30 pounds. And their bouffant non-shedding coat with a swishing waterfall tail adds to the overall impression of volume. Tibetan Terriers aren't 'true terriers', but they are counted as honorary members of the terrier family due to their smart, tenacious, affectionate personalities.
In the past they have been companions, and worked as watchdogs, herders, and flock guardians. They are best known as the traditional pet of the Dalai Lama!
14. Toy Poodle
Toy Poodles give new meaning to the words 'miniature'! They reach just 4 to 6 pounds, and exude daintiness. Due to their tiny size, they're another breed which is best suited to adults and sensible older children.
Toy Poodles are just as bright and trainable as their bigger cousins, but some owners also describe them as being more excitable, noisy, and prone to anxiety. Their tiny size can also make them difficult to fully toilet train.
15. Yorkshire Terrier
Finally we have the Yorkshire Terrier. Yorkies weigh less than 7 pounds, but they are anything but diminutive. They started out as ratting dogs in textile mills, and their temperament is frequently described as feisty and tomboyish. Their long, straight coat doesn't shed, so most owners clip them regularly into a low maintenance crop.
Yorkies are the 10th most popular breed in the U.S., which means you shouldn't have difficulty finding a breeder with puppies from health tested parents.
Which Are Your Favorite Miniature Hypoallergenic Dogs?
Unfortunately there is no such thing as a miniature dog breed which is universally non-allergenic. However, there are small dog breeds which allergy sufferers may find easier to tolerate than others. Removing allergens from the environment frequently by dusting and vacuuming will also help.
Have you been able to find a small dog that doesn't trigger your allergies? That's great! We're glad you've been so lucky – and we'd love to hear more about them in the comments box down below.
Find Out More
You can read more about some of the dogs included in this list in the following articles:
References
Adams et al. Methods and mortality results of a health survey of purebred dogs in the UK. Journal of Small Animal Practice. 2010.
Ekenstedt et al. Canine Brachycephaly: Anatomy, Pathology, Genetics and Welfare. Journal of Comparative Pathology. 2020.
Nicholas et al. Dog Allergen Levels in Homes with Hypoallergenic Compared with Nonhypoallergenic Dogs. American Journal of Rhinology and Allergy. 2011.
Orthopedic Foundation for Animals
Vredegoor et al. Can f 1 levels in hair and homes of different dog breeds: lack of evidence to describe any dog breed as hypoallergenic. Journal of Allergy and Clinical Immunology. 2012.
Get Pippa's free dog training tips delivered to your inbox