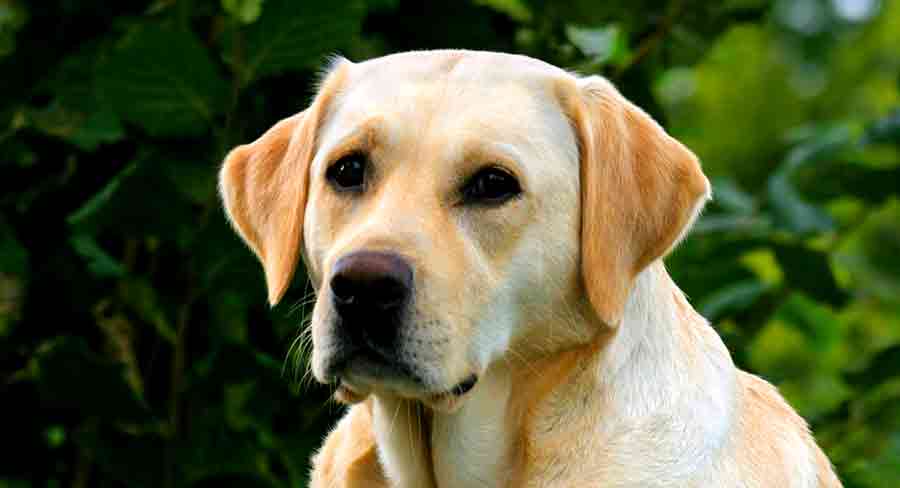 A European Labrador isn't a formally recognized, distinct type of Labrador Retriever.
People may use the term European Labrador to refer to a Lab from a European country, or one registered with a kennel club affiliated to the Federation Cynologique Internationale.
What Is A European Labrador?
The Labrador Retriever is one of the best known dog breeds in the world.
In the United States it has been the most popular dog breed in terms of annual American Kennel Club (AKC) registrations for decades.
In the United Kingdom, where the breed was founded nearly 200 years ago, it is the second most popular dog breed registered with the Kennel Club.
Owing to their popularity in these two countries, Labrador breeding has diverged into two distinct types: the American Labrador, and the English Labrador.
However, there is no European Labrador.
Labrador Retrievers bred in Europe can belong to either type. But they are more likely to be the English type, largely due to geography!
Know Your Labrador Retriever Types
To really understand where European Labradors fit in, it helps to understand
how Labradors were developed,
what Labrador types are recognized,
and why.
Labrador Retrievers were first bred in Scotland, from St John's water dogs imported from Labrador and Newfoundland.
It's likely that the St John's water dogs themselves were bred from dogs originally imported to Newfoundland from England!
So, this is a truly trans-Atlantic dog breed!
Labradors have been recognized by the Kennel Club in the UK since 1903, and by the AKC since 1917.
And since then, two distinct types of Labrador have appeared.
English vs American Labs
English Labradors, also known as 'show type' or 'bench type' tend to be shorter and heavier. They usually have more placid temperaments too.
Whilst American Labradors, also known as working type Labs, tend to be taller, more slender, and more energetic.
The two types broadly reflect a difference in breeding priorities in each country.
The Kennel Club and AKC have also incorporated minor differences into their Labrador breed standards, to reflect those differences.
But they don't amount to different breeds. And neither registry keeps a record of which type a puppy is when they are entered on the pedigree.
European Labradors
A Labrador bred in Europe can be either English or American type.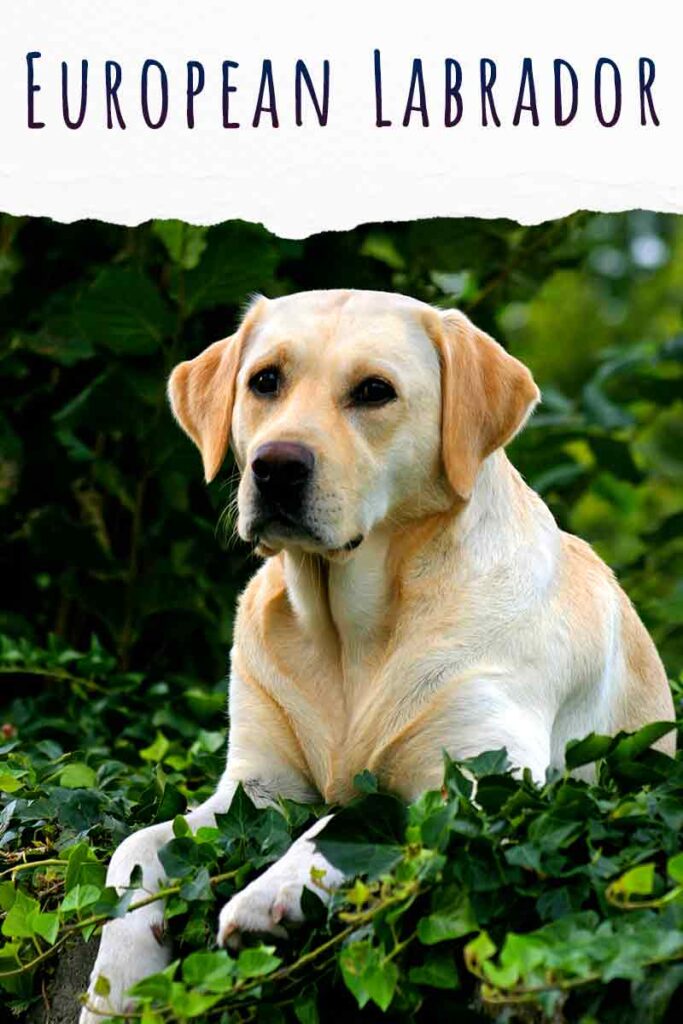 However, most of the national kennel clubs of European countries have adopted the UK Kennel Club breed standard when it comes to judging show dogs. (More on that in a moment.)
The best way to find out what type of Labrador a dog from Europe is, is to ask their breeder.
They ought to know whether their puppies' ancestors came from English or American lines.
European Labrador For Sale
If European Labradors don't really exist as a category, what might it mean if you see a European Labrador for sale?
Or if the new person at the dog park tells you that their pup is a European Labrador puppy?
Here are some possibilities. Only asking the person selling them will give you the definitive answer though!
They, or their parents, were imported from Europe
Labradors enter the United States from Europe for all kinds of reasons.
For example a family relocating to America from Europe might bring their dogs with them.
If their dog has English-type features, they might be used to receiving a lot of questions about what kind of dog they have. And thy might have settled upon 'European Labrador' as the easiest explanation.
This might be especially true if the dog was bred for having an excellent pet temperament, rather than show potential or working ability.
In this scenario, the dog might have a mix of English or American type ancestors. Or their full ancestry might be unknown. So their owner might feel dishonest trying to fully claim either.
They're registered with a kennel club that adopts the FCI breed standard for Labs
The FCI (Federation Cynologique Internationale) is an international federation of kennel clubs from 99 member countries.
Such as the Société Centrale Canine in France, and the Federación Canófila Mexicana in Mexico.
There are FCI member countries all over the world, but it has a French name, its headquarters are in Belgium, and it has adopted the UK Kennel Club breed standard for Labrador Retrievers.
So, someone who owns a Labrador registered in any one of the FCI member countries might describe them as being of European type.
Because a lot of the governance relating to their dog takes place in Europe. And the breed standard their kennel club uses was ratified by an organisation based in Europe too.
Life With A European Labrador
Wherever a Labrador hails from, they should be broadly the same kind of companion.
They are medium-large dogs, with a heavy-shedding double coat, and lots of energy. They are a popular choice with families because as adults they tend to be very patient and affectionate with children.
However, they can be very bitey as puppies, and also rather oblivious to their own size! So young children and Labrador puppies should always be supervised together.
Labradors need at least a couple of hours of physical activity every day.
They are very people-focused, and enjoy training games. This could be something as simple as a game of fetch. Or something more complex, such as obedience, agility, or fieldwork training.
Labradors from American or working lines are particularly highly motivated to work. They may become bored or destructive, or display behavioral problems if they don't receive enough mental stimulation and human interaction.
Being from Europe doesn't necessarily mean that a Labrador won't have this working heritage. So always ask a breeder what they know about their puppy's family tree. And look out for field titles recorded on their parents' pedigree certificates.
European Labrador – Summary
English and American Labradors are well-established varieties of the Labrador Retriever breed.
The European Labrador is not a distinct variety of Labrador.
The term 'European Labrador' might be used to mean 'this Labrador comes from Europe'. Or 'this Labrador is registered with a kennel club affiliated with the FCI'.
Either way, you'll gain the most clues about how a European Labrador puppy will look and behave by carefully vetting their breeder, and researching their parents.
Readers Also Liked
Get Pippa's free dog training tips delivered to your inbox