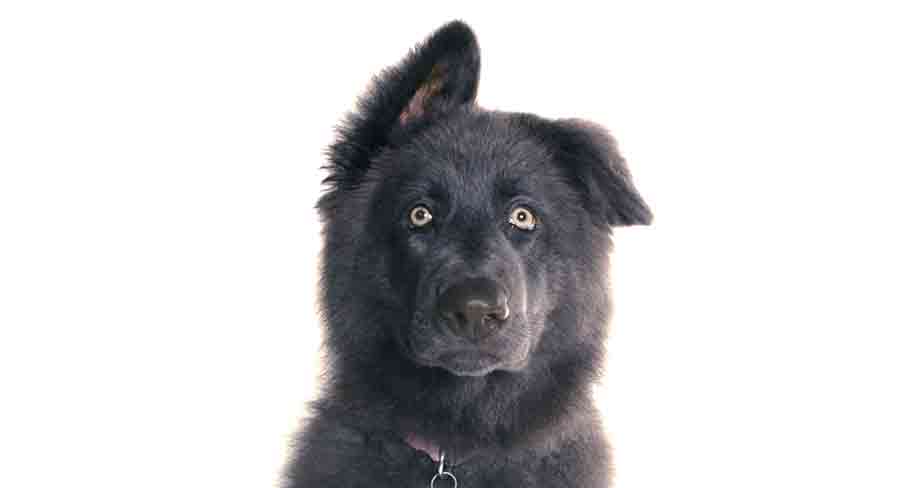 A blue German Shepherd dog has an unusual gray coat, which doesn't meet the traditional standard for the breed. In every other respect, they closely resemble a German Shepherd in one of the traditional colors. But, there are health implications people should be aware of when searching for blue German Shepherd puppies. So, it's important to do your research before bringing a blue German Shepherd puppy into your home. Let's take a closer look at this interesting coat color.
What is a Blue German Shepherd?
A blue German Shepherd is a German Shepherd dog with a blue-colored coat. Of course, this doesn't mean 'blue like the sky!' Blue is the name used by dog lovers for coats that are gray. Blue GSDs are sometimes also called blue Alsatians. Especially in the UK, where Alsatian gained popularity as an alternative name for GSDs after WW2. But they are not to be confused with Blue Bay Shepherds, a wolf-dog hybrid created by crossing gray wolves with German Shepherd Dogs, Huskies and Malamutes.
Blue German Shepherd Dogs can be solid blue all over. Or their coat can be broken up with tan markings. It's even possible to get blue sable German Shepherd Dogs, where each shaft of hair has distinct bands of blue and other colors along its length. Some blue GSDs also have light-colored eyes, like the pup in our photos.
Blue German Shepherd Genetics
Blue German Shepherds owe their color to a very specific gene, called the color dilution gene. The color dilution gene restricts how much black pigment is made in dogs' coats. Because the pigment is less concentrated, it starts to look gray, rather than black. The exact shade of gray can vary from deep slate, to pale and smoky.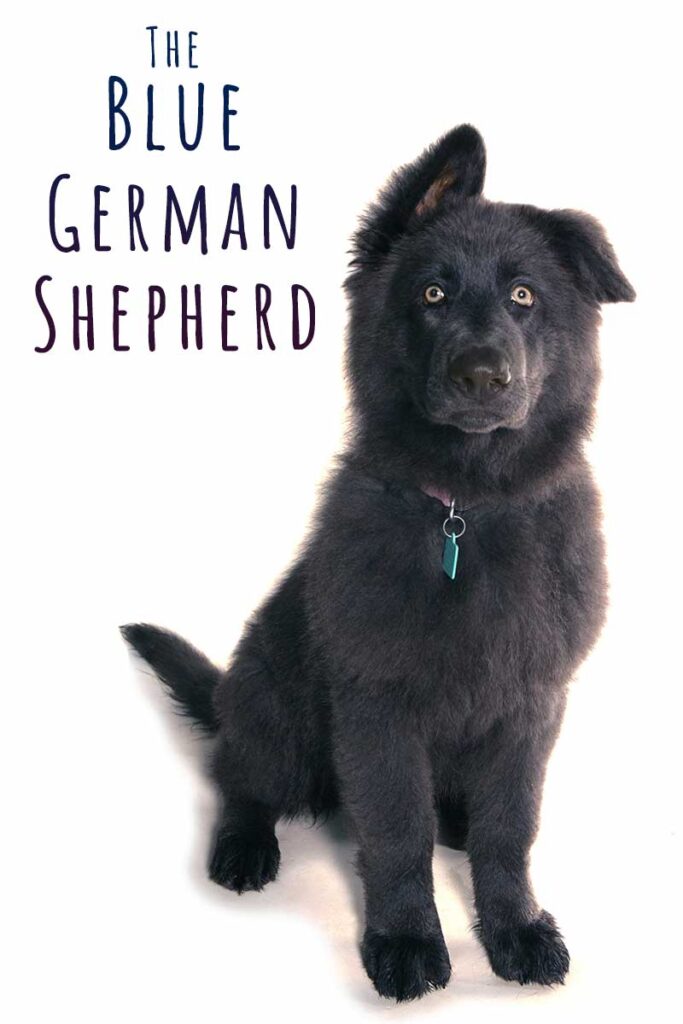 The color dilution gene is recessive. So, it only shows when a puppy inherits copies from both their mom and their dad. When this happens, fur which would have been black, is diluted to gray. So, solid blue GSDs are solid black German Shepherds, with two copies of the dilution gene. And if they also have the genes for tan or sable markings, they will be a blue and tan German Shepherd, or a blue sable one.
Puppies who only inherit the dilution gene from one parent carry that copy silently. They will have a standard black, black and tan, or sable coat.
Is The Blue German Shepherd Rare?
Traditionally, blue GSDs (either solid, sable, or with tan markings) were very rare indeed. All dog breeds have a written breed standard, agreed by their breed club and any breed registry they're affiliated with (such as the American Kennel Club). The breed standard describes what an ideal example of the breed should look like. For German Shepherds, one of the things it says is:
"Strong rich colors are preferred. Pale, washed-out colors and blues or livers are serious faults."
"Serious fault" means that a blue GSD competing in a dog show would have a lot of points deducted for their color, and no chance of winning. Essentially: blue German Shepherds are inferior examples of the breed. And, breeders would continue their breeding lines using only dogs with the richest colors.
Then how do they still exist at all?
Since the dilution gene isn't expressed if a dog only has one copy of it, it can be carried silently down many generations. Occasionally in the past, two carriers would be mated without their owners realising they carried the dilution gene, and blue puppies might appear in their litters. Historically, these puppies were likely to be euthanized at birth, they were so undesirable. But their siblings would go out in to the world, and some of them would be silent carriers of the dilution gene themselves.
What's changed?
These days people are more likely to keep dogs purely for companionship. So their show quality has less significance. We're also more likely to celebrate, and even prize, rare or unusual coat colors. So unexpected blue puppies can be easily rehomed. Some breeders even choose to breed blue litters on purpose.
Blue German Shepherd Temperament
Color dilution doesn't directly affect a dog's temperament. So on the whole, blue German Shepherds have the same personality as any other color. They're likely to be smart, quick to learn new cues, energetic, and deeply devoted to their family.
Responsible GSD breeders consider it an important trait of the breed that they are never fearful of strangers, nor aggressive. But, they do tend to be naturally disinterested in new people, and somewhat aloof.
Links between color and character
It's interesting that in some other breeds, temperament has been linked to color by selective breeding. A classic example is the black Labrador. This is widely considered to be the Lab color with the best working temperament. Not because the same genes that give them a black coat also change their behavior. But because breeders have selected in favor of Labs with both black coat genes and good working genes, over many generations.
Since blue GSDs are almost exclusively pet dogs, it will be interesting to see if the blue coloring also becomes linked to a particular personality type. For example one which is easily socialised, or demands less mental stimulation than the classic working GSD. But only time will tell.
Blue German Shepherd Health
Blue German Shepherds have many of the same health concerns as their standard colored cousins. As a large breed, they are prone to joint disorders. This includes hip and elbow dysplasia, and problems with their shoulders. These problems have an hereditary component. So, adult dogs should be screened for them before they are used in breeding programmes.
As they have a deep chest, GSDs are also prone to bloat. Estimates suggest that 1 in 7 GSDs die of bloat in fact. Since it is fatal if not treated quickly, all GSD owners should learn the symptoms. GSDs are also prone to the neurological condition degenerative myelopathy.
Color dilution alopecia
Color dilution alopecia (CDA) is one condition that blue GSDs are more at risk of specifically due to their color. It is linked to having two copies of the color dilution gene. Dogs with CDA have patches of hair loss, where shed fur stops regrowing from the root. Exactly why it stops regrowing is unknown.
CDA isn't curable, but nor is it painful. The condition may need some management in the form of bathing with special shampoos, to prevent the bald areas getting itchy or irritated. The frequency of blue GSDs with CDA is unknown, because the increase in blue GSD numbers is so recent.
Inbreeding
Finally, blue GSDs are at increased risk of hereditary diseases and congenital defects if breeders deliberately carry out all of their breeding within a small genepool to ensure all puppies are born with blue coats. A reputable breeder will be happy to show you copies of the 5-generation pedigree for their puppies' parents, and demonstrate that they have calculated the coefficient of inbreeding to be within safe limits.
Blue German Shepherd Grooming
Like their standard colored counterparts, Blue German Shepherds have a thick double coat, which sheds heavily. Their dense undercoat insulates them against cold weather and strong sunshine. Whilst their long overcoat protects them from scratches and bruises whilst working.
To prevent mats and tangles, GSDs need to be brushed regularly. German Shepherd's fur should never be trimmed, since their fur tends to not grow back correctly (or sometimes even at all) after cutting. Blue GSDs who develop color dilution alopecia may also need regular medicated baths, or treatment with ointments.
Finding Blue German Shepherd Puppies for Sale
It used to be very rare that you'd find blue German Shepherd puppies for sale. And they would usually be cheaper than their litter mates, because they were regarded as second-best. Today, it is much easier, and some breeders even specialise in blue GSDs. They might even charge a premium on the basis their pups are rare and unusual. But beware of people selling blue GSD puppies either very cheaply, or at a huge mark up.
When you meet a breeder, the value of their litter should be apparent because they have certificates of health tests for both parents, and the puppies are being vet-checked and wormed regularly.
Watch out for puppy farms rearing puppies in poor conditions, then charging over the odds for them because their only priority is profit. Puppy farmers often use unusual colors to justify high prices for poor quality puppies. When this happens, the puppies are more likely to need expensive veterinary treatment for avoidable conditions when they grow up. And to display behavioral problems like separation anxiety and reactivity.
Your Blue German Shepherd
Blue German Shepherds are a rare color, which disqualifies them from the show ring. It's great that people's enthusiasm to embrace unusual colors today means that these pups are no longer likely to be euthanized at birth for no reason other than their coat. But, it has also put them at greater risk of being exploited by puppy farmers. If you'd like to go ahead and bring home a blue GSD, research breeders carefully.
Do you already have a blue GSD?
Tell us about them in the comments box down below!
Readers Also Liked
References and Resources
Get Pippa's free dog training tips delivered to your inbox