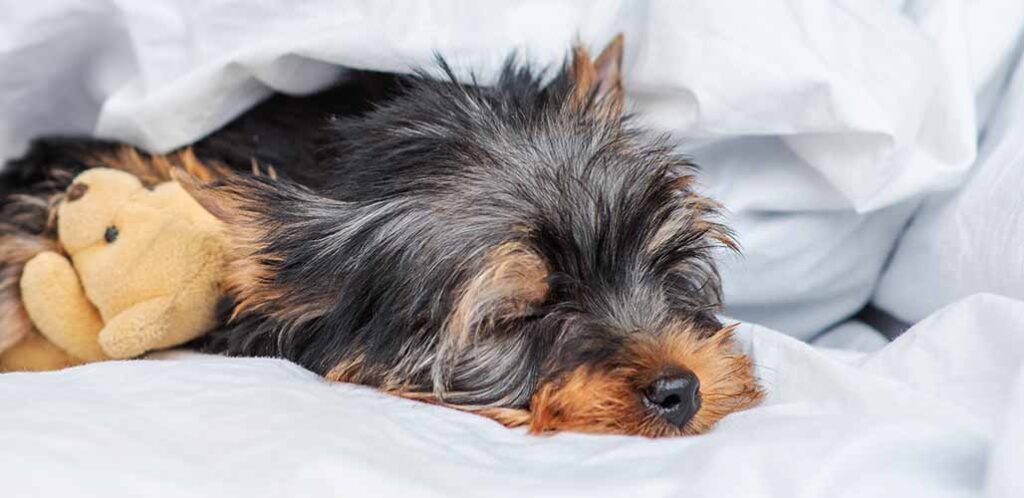 Where do Yorkies like to sleep, and is it inevitable that they will take over the human-sized bed? I love these little terriers, and something I've been grappling with before committing to one is 'where will they sleep?' My not-scientifically-rigorous review of other Yorkie parents' experiences reveals that a whole lot of Yorkies sleep in their owners' beds. But I've learned some good tips for avoiding that, or at least keeping my options flexible too.
Contents
Where do Yorkies like to sleep?
As you can see in that video, Yorkshire Terriers don't always sleep soundly! So living peacefully with one means finding a bedtime spot for them which they like, and which you're happy with too. I've carried out the arduous task of reading about dozens and dozens of cherished Yorkies and their favorite sleeping spots, and the places they liked to sleep include:
their owner's bed on top of the covers
their owner's bed, under the covers
the sofa
on a favorite cushion from the sofa, ceremoniously dragged to whatever location they fancied at that moment
soft sided crates
donut beds (so-called 'calming' dog beds)
and even in a teddy bear bed from Build-A-Bear!
There's one thing all these locations have in common, and Yorkie owners reported that their dogs would not tolerate the absence of, and that is a super high 'snuggle factor'. These tiny canines don't seem to sleep anywhere they can't sink right into or feel properly enclosed within. This could be because it makes them feel more secure, or because their size means that they and lose heat quickly.
Why does my Yorkie sleep next to me
Lots of owners report that their Yorkshire Terriers are cuddle-demons, who most like to sleep on a human family member's feet, or lap, or even tucked up under their chin! There's a few reasons why they have a strong instinct to do this:
Firstly, this breed is known for forming a strong emotional attachment to their favorite people. This trait was considered highly desirable when Yorkies first gained popularity as lap dogs for affluent ladies in the late 19th century, and breeders made it a high priority when select sires and dams for a new litter. Modern Yorkies are hardwired to crave contact with 'their' people.
Secondly, this dog has strong watchdog instincts. They are alert to all goings on, and the best way to make sure they don't miss you going somewhere while they're asleep, is to sleep right next to you. Dogs are naturally light sleepers, so this works perfectly for them.
Next, you generate warmth. Yorkies, we've established, love warmth. Just think of yourself as an enormous hot water bottle to them.
Finally, if your Yorkie is still a very young puppy, then it's likely they want to sleep next to you because they still remember the sensation of sleeping with their mom and siblings. Having company while they sleep feels natural to them, and soothing. Young puppies also have a strong survival instinct which tells them to stay close to their primary caregiver.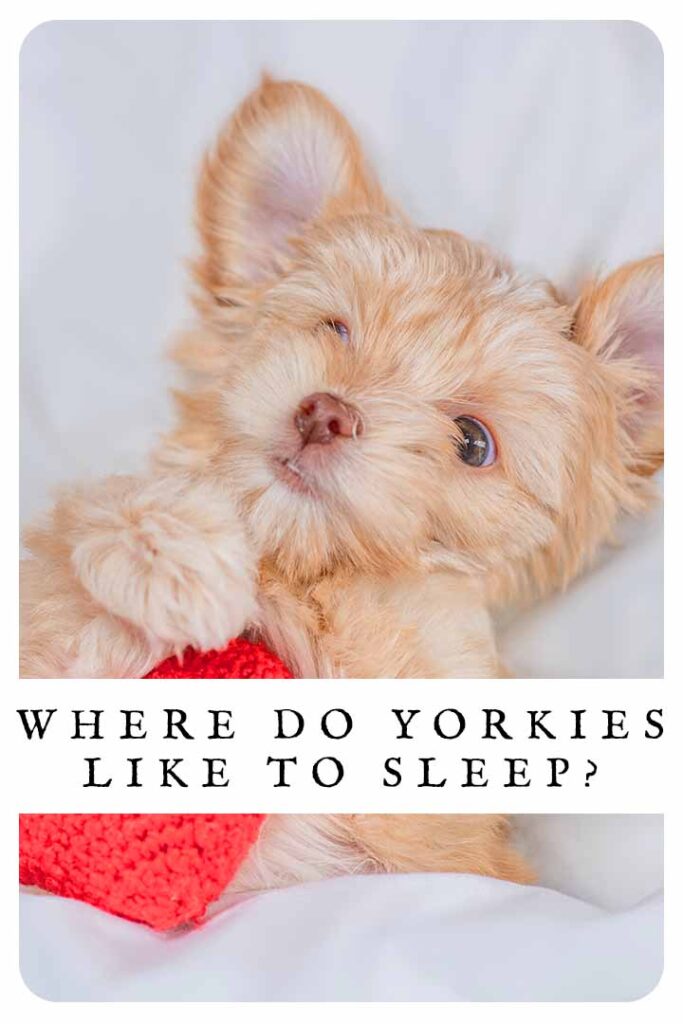 Do Yorkies like to sleep under the covers?
If you're crate training your Yorkie puppy, it's likely that the crate was pretty spartan when it arrived. So how much bedding do they like in there? Besides some padding on the floor to make it comfortable, most Yorkies also love some kind of blanket or cover to snuggle under. Provided the crate is the right size, and you take them out for toilet breaks frequently, it's unlikely they will soil their bedding. But it's a good idea to choose washable bedding and have some back ups, just in case. Look for soft fleeces which will trap warm air around your Yorkie.
Alternative 'covers which aren't covers' include:
putting a heavy blanket over the top of a wire crate, to create a cosy den environment – make sure there is still adequate ventilation though
soft crates
sleeping bags
and cave beds.
As much as Yorkies love to sleep under the covers, make sure they always have the option of getting out from under them again, if they need to cool down.
Should my Yorkie sleep with me?
An overwhelming number of Yorkie owners who respond to surveys about where their dogs sleep reply 'in the bed with me'. In lots of cases, the dogs love it, the owners love it, and after all, these little pets don't take up much room, even in a regular full size bed. But there are a few things to bear in mind before going down this route.
Firstly, it will be extremely difficult to change your mind later. Lots of Yorkie owners attest that once a Yorkshire Terrier has slept in your bed once, they will not go willingly back to their own bed. They will cry and protest, and if you think you can be strong and ignore that then good for you – but bear in mind that everyone who tried before you failed!
With that in mind, consider that a dog who expects to sleep in your bed will still expect to sleep in your bed when you're sick, or they're sick. Have a good think about whether you're ok with that. Unless you're a light sleeper, it might also be a good idea to postpone sleeping with your Yorkie until they are fully housetrained.
Finally, even full sized Yorkies are very small, and delicate. Luckily they tend to sleep lightly, and I haven't found any reports of them being squashed in the night by human sleeping companions, but it's something to think about if you tend to fidget in the night.
Choosing the right bedtime location for your Yorkie
If you'd rather not have your Yorkie in bed with you, don't worry, there are other possibilities which will be equally satisfactory to you both!
Baskets or soft-sided crates
Donut beds
Heated dog beds
Cavebeds
Doggy sleeping bags
You can set up any of these in your bedroom, if you're happy to share the room but not the mattress. Or you can teach your Yorkie to sleep in another room of your house. The further away from you they are, the more they might benefit from sleep aid such as a donut bed or a heated heartbeat toy.
How do you get a Yorkie to sleep?
Setting up good sleep habits starts the minute you bring your Yorkie home. And being absolutely consistent is key. Bear in mind it's easier to teach a young puppy to sleep in a new location than an older dog who's spent many years accustomed to sharing a king size with their previous owner. So if you're adopting an older dog, have a realistic chat with their shelter or foster carer about what they're used to, and pick your battles carefully.
New puppies benefit from sleeping in the same room as their new family for the first few nights, while they adjust to their new surroundings. Don't let them in the bed if you don't want them to stay there though! When you move them to their permanent bedroom, give them an unwashed sweater of yours for comfort to ease the transition.
Alternatively, put your puppy to bed in a crate in their permanent bedroom from day one, and sleep next to them on an inflatable mattress or sofa for the first few nights.
Where do Yorkies like to sleep as adults and seniors?
Where Yorkies most like to sleep can change over their lifetime. Whilst puppies love to snuggle, adult dogs may be more independent and choose their favorite spot based on something other than your presence. When they start to get old, dogs may start sleeping more in the day, and also get more restless in the night. Senior dogs also tend to be less mobile, so think about setting up a low bed for them, or a ramp to access their usual spot on a bed or couch. Older dogs can also get easily disorientated, so avoid moving their bed around too much.
Where do Yorkies like to sleep when you're on vacation?
One of the most appealing things about Yorkies' compact size is that it makes them highly suitable travel companions. When you're staying away from home with your Yorkie, they will like things that feel familiar at bedtime, to help them sleep. This could be you, or their usual bed. The great thing about Yorkies is that their beds are usually compact and portable too! If you can't take their whole bed, then a familiar blanket or toy might be enough to do the trick.
Don't be surprised if your Yorkie wakes up more regularly in the night while you're away. Their inner watchdog will be very aware of the differences in their new environment, and they will be roused more easily for the first few nights.
Where do Yorkies like to sleep? Summary
It seems that given half a chance, a Yorkie's favorite place to sleep is in bed with their favorite person. But if this isn't what you want, then establish firm boundaries from the very beginning, and they will be equally happy sleeping in their own bed. They can't be sad about a possibility they never even knew existed!
Your Yorkie might sleep better if you make their bed extra snuggly, or add toy with a warming pad in it, a heartbeat noise, or both.
Where does your Yorkie love to sleep?
Tell us which spot your Yorkie has claimed in the comments box down below!
More for Yorkshire Terrier fans
References
Get Pippa's free dog training tips delivered to your inbox