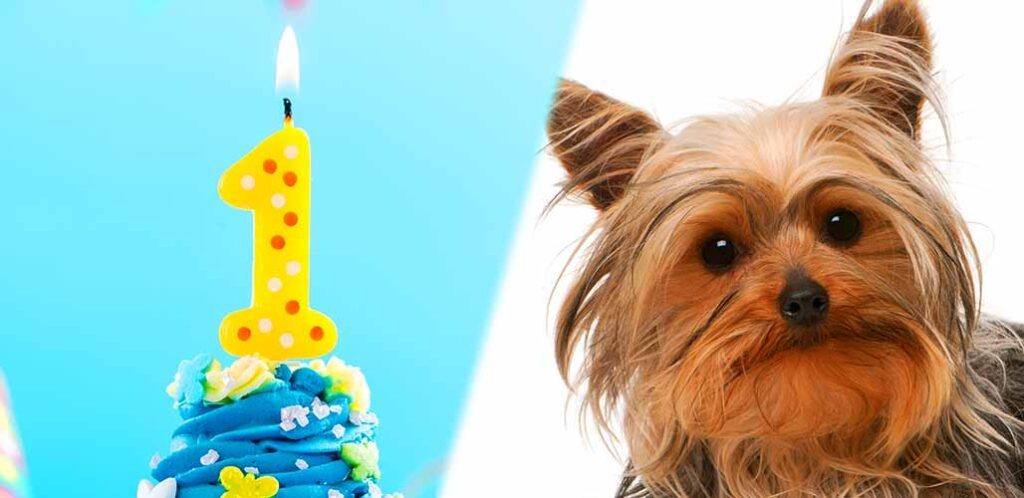 This complete guide to the 1 year old Yorkie takes a closer look at the Yorkshire Terrier's ideal size, diet, and training at 12 months old.
The Yorkshire Terrier is an affectionate, eager, and family-oriented breed. As a toy breed, a Yorkie will be fully grown by 1 year old. By this point, your Yorkie will likely be eating adult dog food, with a solid training routine in place! However, some owners may still be struggling with things such as potty training at this point. Fortunately, there are still plenty of steps you can take to support your Yorkie's continued development!
About the 1 Year Old Yorkie
The Yorkie, or Yorkshire Terrier, is a popular purebred dog that falls into the toy breed category, due to its very small adult size. Yorkies have long been cherished as lap dogs and companions. Thanks to their small stature, these dogs are well suited to city-life and country living alike, in apartments or in homes with plenty of land.
By the time they have reached 12 months of age, a Yorkshire Terrier will be at their full height. They will have their adult coat, and will need regular exercise and mental stimulation.
How Big is a 1 Year Old Yorkie?
Yorkshire Terriers fall into the smallest possible official breed category – the toy breed. This means they will reach their full size much faster than other breeds. Whilst large dog breeds can take up to 2 years to reach their adult height and weight, Yorkshire Terriers can take as little as 6 to 8 months! So, at 1 year old, your Yorkie will be at their adult size.
Height and weight will vary from one Yorkie dog to the next. But, these dogs will always be small lap dogs. As a general rule, they will be around 7 to 8 inches tall at the withers, and will weigh less than 7 lbs.
How to Train a 1 Year Old Yorkie
If you've had your Yorkie since they were 8 weeks old, it's likely you will already have a great start on their training. In fact, you might have already perfected plenty of basic obedience cues! But, there's always room to build on training. And, if you bring home a Yorkie that is already one year old, there's often no knowing how much training they have already undergone.
Since Yorkies have been bred for generations to be a companion, they take well to training. Like many other family-oriented breeds, they are eager to please their owners. Studies report success with positive methods, such as shaping behaviors with a clicker. Negative-reinforcement, or punishment-based methods can lead to an increase in stress-related behaviors, or mistrust.
Of course, it's important to subtract the calories from your Yorkie's training treats from their daily allowance, to ensure they do not become overweight or obese. Keep training sessions short and consistent for best results. If your Yorkie is not responding, try again when they are hungrier, and more eager to work for those rewards!
Problems with Potty Training
House training toy dog breeds can be harder than larger dogs, since they have a much smaller bladder capacity. This means that your Yorkie may need more frequent toilet trips than other breeds. And, that they cannot be left alone for as long without an opportunity to relieve themselves. This often leads to difficulties when potty training.
Some owners find success by employing a mixture of training their Yorkie to relieve themselves outside but also of puppy pads. This offers a place for your Yorkshire Terrier to go to the toilet even when you don't realise they need to go.
On top of this, keep a close eye on your Yorkie's behavior when they haven't been to the toilet for a while. If they start sniffing the floor or circling, it can be a sign they need to go. Avoid punishment if your Yorkie has an accident inside. Instead, clean the accident thoroughly to remove any trace of the scent, and watch your Yorkie closely to get them outside when they next need to go. Some owners may have more success enrolling in a training course, or hiring a trainer to visit their home for further help.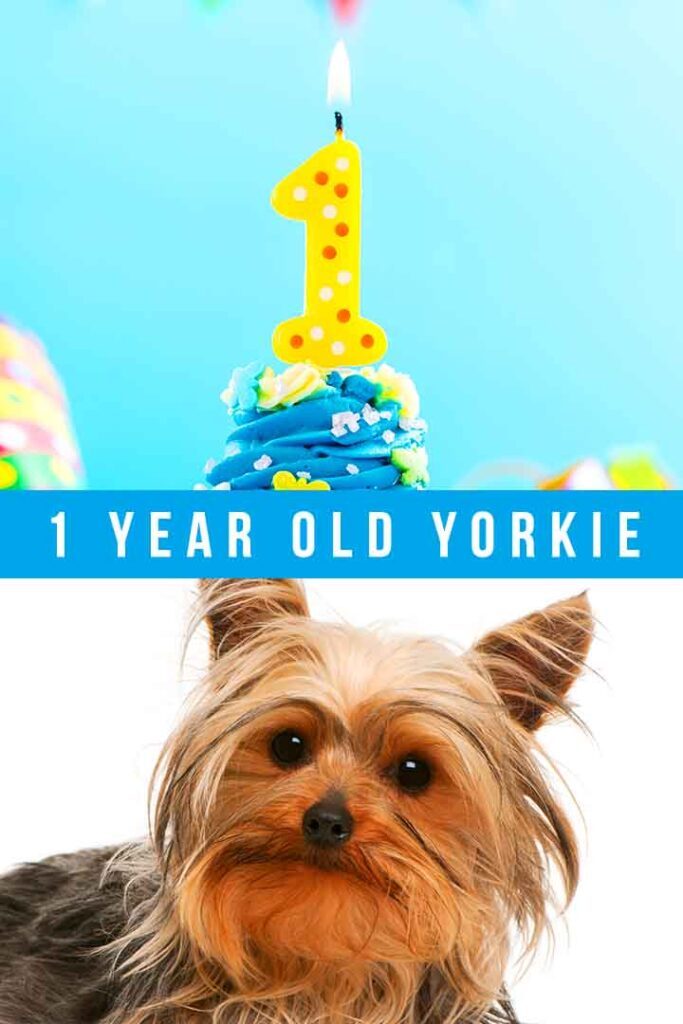 Separation Anxiety
Since Yorkies are such family-oriented dogs, they will form strong bonds with their owners. But, hyper attachment to owners can lead to separation anxiety. A Yorkshire Terrier that experiences separation anxiety may become stressed and anxious when left alone for long periods. They may become more vocal, have increased accidents in the house, and show destructive behaviors, such as digging and chewing.
It can help to leave your Yorkie with an item of clothing. Or, to hire a dogsitter to keep your dog company whilst you are away. Alternatively, work with your Yorkie to gradually increase the time they are happy alone. At first, this can mean working to ensure your Yorkie is happy spending a few seconds in a different room to you. But, over time, you can increase the duration spent alone and distance between you. Some owners prefer getting the help of a behaviorist with this task.
How Much Exercise Does a 1 Year Old Yorkie Need?
At 1 year old, Yorkies are fully grown, so there is no need to limit their exercise as you would for a growing, developing puppy. However, a full grown Yorkshire Terrier won't need as much exercise as larger breeds. That's not to say they aren't energetic! But, periods of exercise might only stretch as long as 30 minutes, rather than the hours that larger working breeds may need.
Yorkies have a history as ratters – working in factories to control vermin. So, they will love the opportunity to run around, particularly if they can play games that involve chasing something. Training can provide some exercise. But, just as important as physical exercise is mental stimulation. So, it's a great idea to invest in interactive dog toys.
Grooming a 1 Year Old Yorkie
Yorkshire Terriers are well known for their beautiful, silky fur. But, the downside of such a lovely coat is the required grooming. If left to grow, Yorkie fur will grow very long, able to reach the floor. Though their fur is soft and silky, it requires daily grooming to prevent tangles and maintain the best quality.
Many owners choose to cut their Yorkie fur short to make grooming a little easier. So, at 1 year old, this is an option if you're struggling to find time for daily grooming. Shorter fur will be less prone to tangles, but will still need regular grooming. These sessions can be a great opportunity to build on your strong bond with your Yorkie.
Alongside brushing their fur, you should also check your Yorkie's ears for excess wax and trim their nails if necessary. As a toy breed, it's important to brush your Yorkie's teeth. Toy breeds have a much smaller space for the same number of teeth to grow, which can lead to dental problems. Brushing your Yorkie's teeth daily can prevent plaque buildup and help with dental issues.
Feeding a 1 Year Old Yorkie
At this age, your Yorkie will most likely be eating an adult dog food recipe. But, if they are already not, it's a good time to transition from their puppy food. This process should take place over several days. Switching straight from one food to a new type can cause stomach upset.
Yorkies thrive on a balanced diet. And, since positive reward training methods tend to work best for them, kibble can be a great form of food that doubles as training treats. But, every dog is different, so don't panic if yours prefers wet food. No matter what they eat, it's important to subtract the calories in your dog's training treats from their daily allowance. As small dogs, it is easy to gain excess weight, which can lead to obesity. Obesity can worsen health problems in Yorkies. So, it's important to keep your dog at a healthy weight.
If you are ever concerned about your Yorkie's weight, your veterinarian is the best source of advice. They will be able to show you your Yorkie's ideal weight, and how to achieve it in a healthy way if your dog is over or underweight.
Bringing Home a 1 Year Old Yorkie
Not all Yorkies find their forever homes as puppies. In fact, you might choose to get your Yorkshire Terrier from a rescue center. Dogs up for adoption are often slightly older, so there's every chance your Yorkie won't come home to you until they are already 1 year old. Older rescued Yorkies will have varied amounts of training, socialization, and regular habits.
You will still be able to work on training and socialization with an older Yorkie, but it may take a little longer to establish a bond of trust between you both. Be patient with your new companion, and take your time in both training and socialization. Before long, your progress will move much faster.
1 Year Old Yorkie – A Summary
A 12 month old Yorkshire Terrier is an adult, so they will be at their full size. They will require daily grooming and care such as tooth brushing. But, training and socialization will differ from one Yorkie to the next.
Has your Yorkie just reached a year old? We would love to hear about your beloved Yorkies in the comments!
Readers Also Liked
References and Resources
Get Pippa's free dog training tips delivered to your inbox