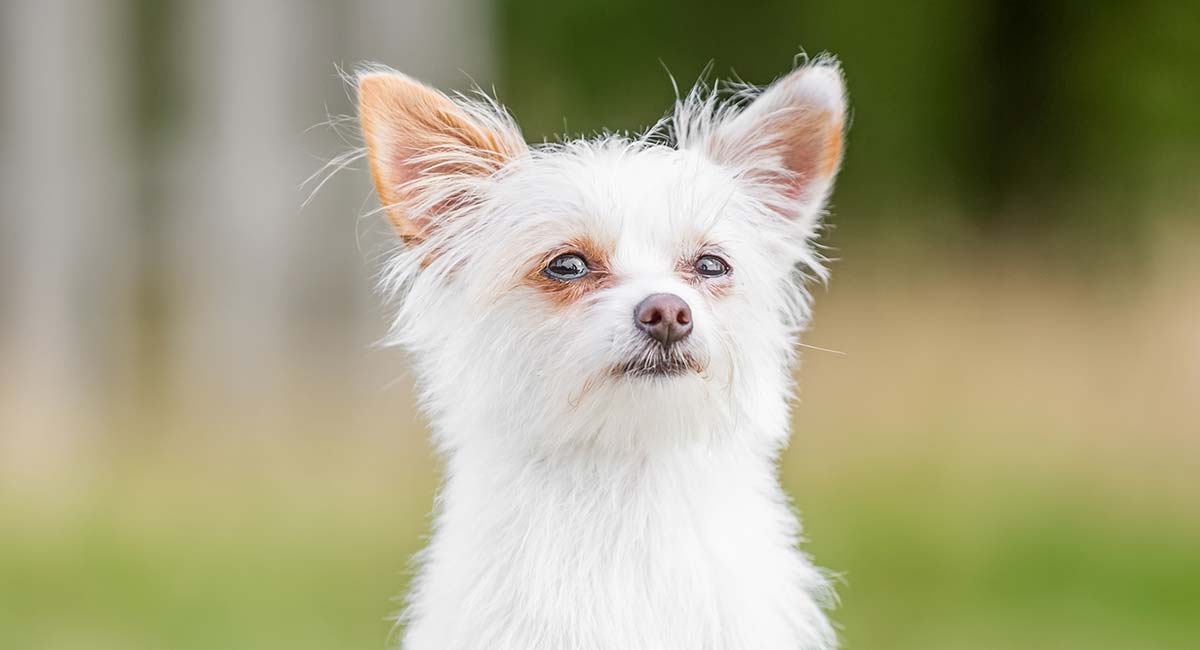 The white Yorkie is a Yorkshire Terrier with a snowy white coat.
White is not a Yorkie color recognized by the major dog breed registries, but there are several genetic mechanisms by which it can be achieved.
However, some of these can have serious implications for their health and purebred status.
Meet the White Yorkie
When you hear Yorkshire Terrier, you probably think of a toy breed with long, straight hair that almost seems to dance as the dog trots.
This breed is two-toned and typically comes in four colors, with blue and gold being an especially popular choice.
But what if this classic look could be even more showstopping?
In this article, the white Yorkie takes center stage.
We'll be exploring the similarities and differences between white Yorkies and standard-colored Yorkies by discussing genetics, temperament, health, and grooming.
What Is a White Yorkie?
White Yorkshire Terriers are those that are fully white in color.
Some people also include parti-colored Yorkies under this umbrella, as many have predominantly white coats with splashes of color here and there.
Whether or not white Yorkies are purebred is up for debate.
Official Breed Standard (Not White!)
The AKC breed standard for colors does not include white.
Furthermore, many breeders are dedicated to conforming to standards and keeping bloodlines pure.
Basically, Yorkies have been bred to be black or blue and gold or tan for many years without much deviation.
Of course, there will always be some people who breed outside of standards in order to create unique versions of a certain breed.
Breed enthusiasts claim that these breeders may not actually be creating pure Yorkies.
However, you can find breeders selling white Yorkies who claim that their pups are either purebred or bred with the Biewer Terrier, a breed that was created from Yorkies.
Purebred or not, white Yorkies are certainly uncommon.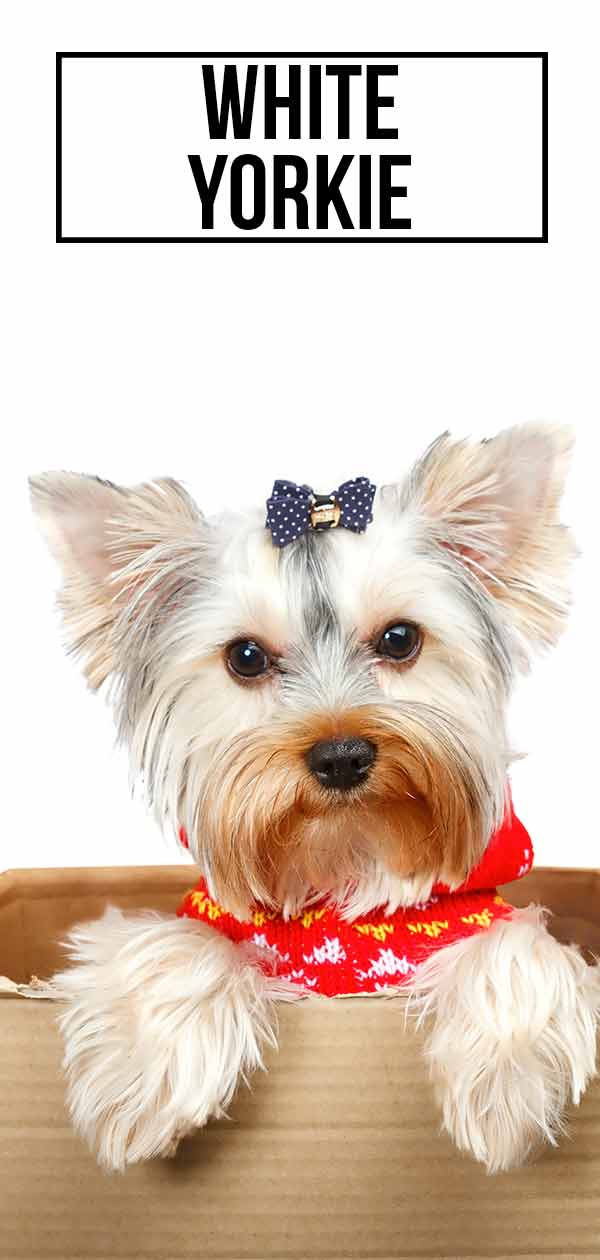 White Yorkie Genetics
There are a few different genetic patterns that might result in a predominantly white Yorkie.
Some of these are safe, whereas others are linked to health problems.
There is no scientific research about white-coated Yorkies available at this time.
We can only use our understanding of basic coat color genetics to hypothesize the reason for the rare white coats some Yorkies have.
There are a few possibilities.
Piebald Gene
One possibility involves the S locus.
This is the location on a dog's DNA which is responsible for piebald spotting.
Researchers suspect it might also be the location for an extreme white-spotting gene, but this has yet to be proven.
There are some health risks associated with the S locus, which we will discuss later.
While the white Yorkie could be a result of the hypothesized extreme white-spotting gene, piebald spotting can also result in large portions of white, to the extent where a dog may appear completely white.
This is seen more often in dogs that have two copies of the piebald gene.
Other piebalds, with one copy of the piebald gene, have large portions of white but may also exhibit patches of color.
Merle Gene
Aside from the S locus, whiteness could be the result of inheriting two copies of the gene for merle patterning.
Though not a standard color, you can find breeders advertising merle pattern Yorkies.
When two merle pattern dogs are bred together, it can create dogs that have two copies of the merle gene.
These dogs are nearly or completely white as a result.
Unfortunately, they often suffer from eye and ear defects, including blindness and deafness.
Still, breeders who are looking to create exotically colored pets may disregard a dog's well-being in order to put a high price tag on a unique color.
Red Gene
A safer version of white seems to come from the E locus on a dog's DNA.
This actually codes for red pigmentation in dogs, such as you would see in an Irish Setter or Golden Retriever.
These genes can be modified by others in such a way that a dog may appear nearly white in color.
However, scientists are still struggling to figure out exactly how this white coloring can come about.
Parti Gene
Some white Yorkies may actually be parti-color and have mostly white fur but a few patches of different colors here and there.
The A locus holds the DNA for creating parti-colored patterns and can also be considered a safer alternative to an S-locus white.
There is still a lot to be learned about both the genetics responsible for white coats and the potential for health issues created by certain types of whiteness.
Therefore, it is important to speak with breeders about how they produced their white Yorkies and the health of the parent animals.
White Yorkie Temperament
The Yorkie's past involves exterminating rodents in textile mills and coal mines.
Because of this, today's Yorkies still have some hunting instinct in them and may chase small animals if given the chance.
Though considered a loyal, affectionate companion by many, Yorkies can be somewhat stubborn.
This mixed with their often confident demeanor means they will rise to any challenge, even if it comes from a much bigger dog.
In fact, it is not uncommon for a Yorkshire Terrier to be scrappy, so it's important to socialize them from a young age.
Family Dog?
Because of their small stature, Yorkies aren't the best choice for a family with young children.
Smaller dogs get hurt more easily, and young kids often don't realize when they're being rough.
This can lead to a Yorkie nipping as an attempt to communicate displeasure or escape discomfort.
There is currently no research available to suggest that a white Yorkie's temperament would differ from that of any other Yorkie.
Of course, keep in mind that every dog is an individual.
However, there have been studies done on other breeds, like the English Cocker Spaniel, that suggest coat color may be responsible for certain behavioral dispositions.
In English Cocker Spaniels, it was found that golden dogs more frequently displayed aggression, followed by black dogs, with parti-colored dogs being the least aggressive.
Scientists have yet to conduct such a study on Yorkies.
White Yorkie Health
Whether a white Yorkie suffers from health defects uncommon to the breed depends largely on how their white coloring has come about.
Some coat color genotypes are dangerous, whereas others do not seem to affect health at all.
Merle Health
As we mentioned before, double merle is one genotype that can result in an all white coat.
However, double merles may suffer from eye and ear defects.
Extreme white coloring in dogs has long been suspected of causing certain health issues.
To be clear, extreme white dogs are often completely white, including in the ear area, and can have fully or partially pink skin and noses, as well as blue eyes.
Piebald Health
Piebald and extreme white spotting can result in mostly white dogs.
They are believed to be caused, in some cases, by a mutation in a gene called microphthalmia-associated transcription factor (MITF).
A study was done on Dalmatians to see if MITF caused deafness, and the results suggested that it may play a role.
MITF is also believed to be involved in certain health problems in our own species, including Tietz syndrome, Waardenburg syndrome, and melanoma.
Within these diseases, we see another connection between deafness and MITF, as both Tietz and Waardenburg sufferers may experience hearing loss.
Though nothing has been strictly proven, there certainly is a link between MITF, whiteness, and deafness in both animals and humans alike.
Red Health
As we explained before, the E locus may also create white coats.
White coats linked to the E locus have not been associated with any health conditions.
Parti Health
Similarly, parti-colored Yorkies do not have any health conditions associated with their coat color.
Before purchasing a dog from a breeder, it's important to verify that health testing has been conducted for both the stud and dam.
These tests can help identify if there are any health problems your puppy would be at risk for.
However, a responsible breeder should only be breeding the healthiest of dogs, thus reducing the likelihood of a puppy inheriting any problems.
The Orthopedic Foundation for Animals (OFA) states that Yorkshire Terriers should undergo eye examinations prior to breeding, as well as being evaluated for patellar luxation.
Other tests that are optional but those recommended include:
Legg-Calve-Perthes
autoimmune thyroiditis
Cornell DNA bank
DNA repository
hip dysplasia.
White Yorkie Grooming
White Yorkies have the same grooming needs as Yorkies of other colors.
Because these dogs have such long hair, their coats need extra care.
You will want to brush your Yorkshire Terrier at least daily.
It is recommended that you dampen the coat with water or a mixture of conditioner and water before brushing.
Beware that food may get caught in the long hair of the face, and urine or feces among that of the body.
For this reason, you may choose to remove hair from areas where it is likely to get dirty.
Brush Like Human Hair
Just as you would with human hair, brush the bottom sections of the Yorkie's hair first.
Then work your way up.
This method is much gentler.
Plus, it avoids creating large snarls that often occur when starting at the root of the hair and brushing downward.
If you love Yorkies but maintaining their long coat isn't ideal, you can keep the coat short via shaving.
If so, you may want to find an experienced groomer who can safely cut your pup's fur for you.
In addition, remember to also brush their teeth regularly and trim nails as needed.
Your White Yorkie
There is still debate about whether or not exotic colors, like white, are possible in purebred Yorkies.
Those who follow breed standards will tell you that such colors have been gone too long from the bloodline to be created without mixing in another breed.
Regardless of pureness, white coloring in dogs could be from a few different gene pairings.
Some of these pairings can be dangerous and result in deafness or other defects.
It's important to discuss the health tests of the parent animals to ensure your puppy will be free of any inheritable health defects.
White coloring doesn't seem to affect temperament or grooming needs.
What do you think of the white Yorkie?
Let us know in the comments below.
If you want to read more about the unique colors different breeds can come in, check out our article on the Black Irish Wolfhound!
References and Resources
Esson, Douglas. "Merle Ocular Dysgenesis (MOD)." Clinical Atlas of Canine and Feline Ophthalmic Disease, 2015.
"Genetics of Coat Color and Type in Dogs."
"MITF gene." U.S. National Library of Medicine.
"Parti-Color Yorkshire Terriers?" The Yorkshire Terrier Club of America.
Pérez-Guisado, Joaquín, et al. "Heritability of Dominant–aggressive Behaviour in English Cocker Spaniels." Applied Animal Behaviour Science, 2006.
Shmutz, S.M., and T.G. Berryere. "Genes affecting coat colour and pattern in domestic dogs: a review." Animal Genetics, 2007.
Stritzel, S., et al. "A Role of the Microphthalmia-Associated Transcription Factor in Congenital Sensorineural Deafness and Eye Pigmentation in Dalmatian Dogs." Journal of Animal Breeding and Genetics = Zeitschrift Fur Tierzuchtung Und Zuchtungsbiologie, 2009.
"Yorkshire Terrier." American Kennel Club.
"Yorkshire Terrier: OFA-CHIC Health Testing Requirements." Orthopedic Foundation for Animals.
Get Pippa's free dog training tips delivered to your inbox