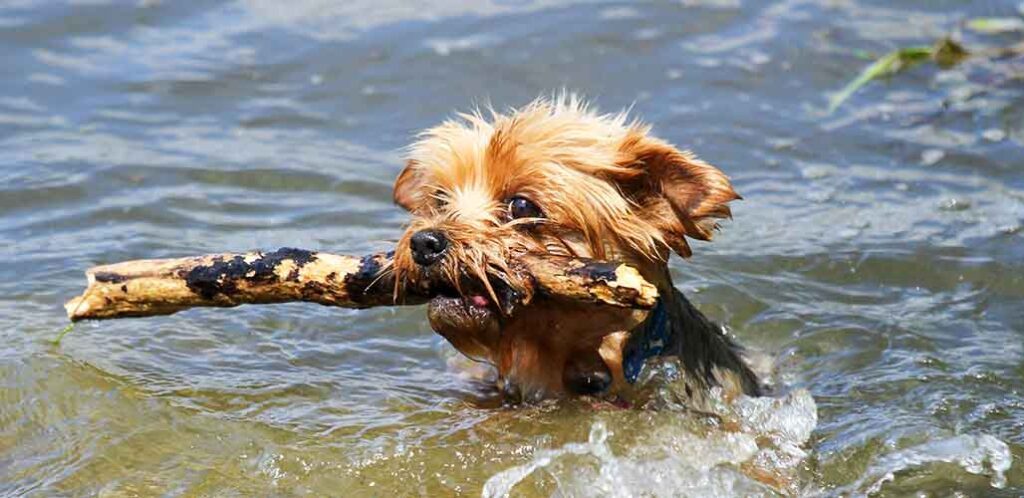 Swimming is fun for many dogs, but the Yorkshire Terrier is a breed not associated with the water. So, can Yorkies swim? The short answer is yes, Yorkies can swim, and this small breed has a few things going for them that make them relatively good swimmers. But not all Yorkshire Terriers enjoy being in the water. However, even if a Yorkie doesn't like swimming at first, that doesn't mean they cannot learn to enjoy it. Today I'll show you how I introduced my dog safely to the water, and how you can do the same.
Contents
Can Yorkies Swim?
The Yorkshire Terrier is a small, sleek-bodied and light-boned dog with a light, silky coat, which gives them an advantage over other breeds when it comes to swimming. Because of these features, Yorkies feel light and comfortable in the water compared to dogs with thick, double coats and barrel-chested, short-nosed dogs like Pugs and Bulldogs, who find it challenging to stay afloat.
Despite the Yorkie's small size, they have a larger-than-life personality, being incredibly determined and adventurous, traits that more than help them when it comes to swimming.
Are Yorkies Natural Swimmers?
Many dog breeds have the potential to make good swimmers, but Yorkies don't tend to gravitate toward the water as typical water dogs do, such as Golden Retrievers and Poodles. Needless to say, that the bigger the breed, the stronger the swimmer.
That said, this energetic little dog has a sleek body and an aerodynamic thin, single-layered coat, making it suitable for swimming. Many Yorkies are excellent swimmers and don't tire as quickly as some small dog breeds.
Although the Yorkie started life as a ratter and now enjoys life as a pampered lap dog, they are willing to take on the swimming challenge if things are done slowly with their beloved owner nearby.
Do Yorkies Like to Swim?
Like us, dogs are individuals, and you may have a Yorkie who loves to swim as soon as their paws hit the water, while another may not enjoy swimming at all.
Some Yorkies are scared of the water and feel vulnerable and overwhelmed by a large pool of water because of their small size. The Yorkshire Terrier is a sensitive breed, so if your pet doesn't want to swim, don't force them.
Is Swimming Good Exercise for Yorkies?
Swimming is a low-impact exercise that has many benefits for Yorkies as it provides resistance and buoyancy that helps strengthen and condition your Yorkie's muscles without stressing the joints.
Like many small dog breeds, Yorkies are prone to joint issues and swimming on a regular basis can help combat these conditions as part of a treatment plan. It is also an ideal way to get rid of excess energy and burn calories in a short duration, especially for overweight Yorkies.
How to Introduce Your Yorkie to Swimming
Start with a kiddie pool first with just a few inches of water and some floating toys. Encourage your Yorkie to play, allowing them to decide when to get in and out of the pool. Stay close by, supervising your pet at all times.
When taking your Yorkie swimming, the temperature of the water should be a minimum of 78 degrees F (25.5 C), so they don't feel too hot or too cold. Frigid water can potentially cause limber tail or hypothermia, especially in small dogs like Yorkshire Terriers.
As your Yorkie becomes more confident, fill the kiddie pool with more water making it deeper. Place a life vest on them for the next stage in their training so they can get used to it before they enter a larger pool of water. One with a grip handle is best, so you can grab it quickly.
You can then advance to a baby pool where you can get in with your Yorkie and hold them as they learn the basics of swimming. Gradually transition to open water once your Yorkie is confident, keeping the life vest on and supervising them at all times, praising and rewarding them for every little effort.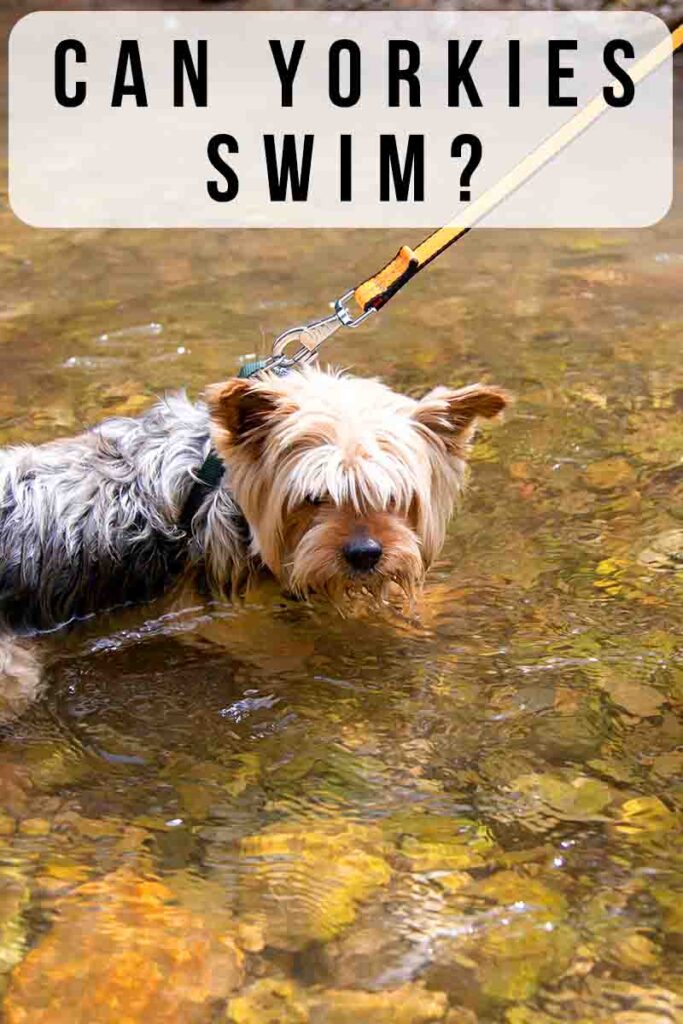 How Long Should Your Yorkie Swim For?
As Yorkies are small dogs with tiny legs, their swimming sessions should be kept short, gradually increasing them to not much more than ten to fifteen minutes. If the sessions are longer, ensure your Yorkie has plenty of breaks. If your pet swims for too long, it can become fatigued and take in too much water, which veterinarians call toxic water, causing them to dehydrate and vomit.
You can start taking your Yorkie swimming once or twice a week, and then if they get excited and appear to enjoy swimming, you can increase it to more sessions. On hot days, ensure your Yorkie has sunscreen on as overexposure to the sun can cause skin cancers, with tumours on the nose being most common.
How to Care for Your Yorkie After Swimming
Yorkies are prone to several ailments, allergies and infections, so you must always rinse your pup thoroughly after swimming to cleanse their coat of chlorine, sand and other elements. Dry the coat properly, as any moisture trapped under the hair can cause fungal infections. Also, clean and dry their ears to prevent conditions like swimmer's ear.
If your Yorkie is swimming a lot or going in the sea or a lake, it is a good idea to bath them with a gentle shampoo and moisturizer to keep their fur soft, clean and manageable and to get rid of any contaminants that might be in the water.
How Old Should Your Yorkie Be Before Swimming?
Usually, you can take a puppy swimming from when they are ten weeks old. However, because of the Yorkie's small size, it is better to wait until they are slightly older.
Can Yorkies Swim?
Although many Yorkies can swim, not all will enjoy the water. Introducing your pet slowly to the water and ensuring they wear a life jacket means that swimming can become an enjoyable activity for both of you, and your Yorkie will gain many health benefits.
More Tips For Yorkie Owners
Resources
Fish et al. The "dog paddle": Stereotypic swimming gait pattern in different dog breeds. The Anatomical Record, 2020.
Get Pippa's free dog training tips delivered to your inbox