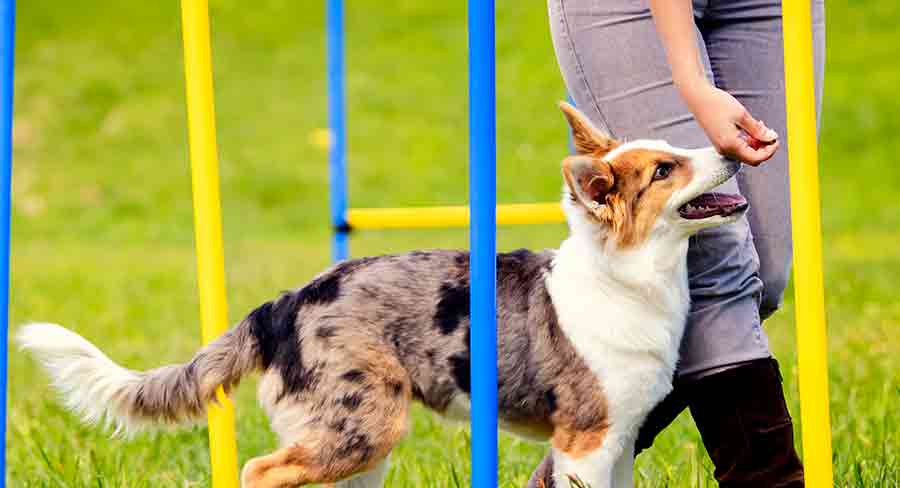 This article explores the benefits of puppy agility training. Including which breeds benefit from it the most, and when and how to get started with your dog.
Products included in this article were carefully and independently selected by the Dogsnet team. If you decide to make a purchase from one of the links marked by an asterisk, we may earn a small commission on that sale. This is at no extra cost to you.
Puppy agility training
Puppy agility training is a fun way to channel a young dog's exuberance and cement your bond. Agility training is one of the best known and most easily recognizable dog sports. Every year, thousands of us enjoy spectating at dog agility trials, and watching them on television. They are a remarkable testament to what's possible when dogs and their owners really understand each other. Agility isn't just fun to watch either – it's fun to take part in too!
The benefits of puppy agility training
Agility burns off physical energy. Puppies love to move!
It's good for coordination and physical conditioning. Agility isn't just running in straight lines. There's the famous pole weave, which demands flexibility. And the balance beam which requires awareness of what their back legs are doing as well as the front.
It engages their brain. Working in partnership with you to tackle the obstacles and hit all the checkpoints in the right order requires focus, concentration, and self restraint.
It builds confidence. Mastering all those physical and mental challenges builds up a pattern of achievement that gives dogs a sense of confidence.
It's fun for them. Many of our most popular dog breeds were originally developed to work. And they still crave that physical and mental stimulation, so agility is one way of satisfying that need.
And it's fun for you! Joining a local agility training community opens up a new source of human friendships too.
Types of agility
Agility training means different things to different people. So before we go any further, let's take a quick look at the possibilities.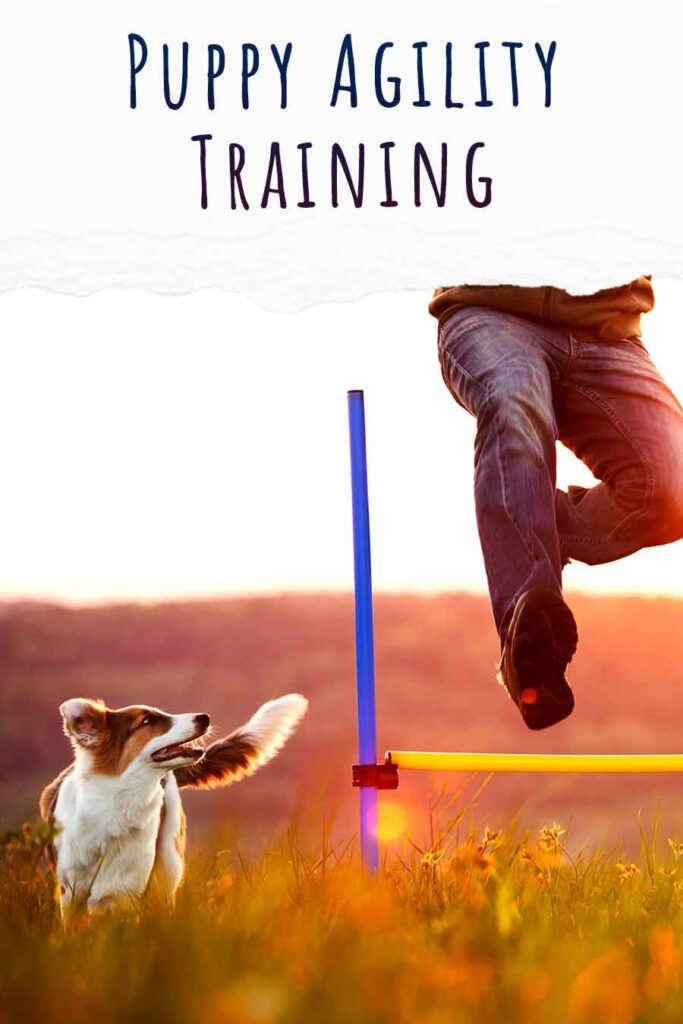 Agility at home
Lots of agility exercises can be taught and practised in your own backyard, with minimal equipment. This is a fun way to incorporate the benefits of agility training into your everyday routine. But if you're not a confident trainer, it can be hard to work out how to get started.
Hooper agility
Hooper agility is non-competitive, low impact type of agility training for dogs of all ages. There are no jumps or sharp turns, so it's safe for puppies, seniors, and less agile dogs. Since the dog is directed using cues rather than by running the course with them, Hooper agility is also accessible for people of all ages and ability.
Traditional agility
Traditional agility courses like the one at the Westminster Dog Show were established in the 1970s. In fact, they started out as a bit of fun, to entertain spectators in between conformation shows at Crufts. Today, agility classes and training clubs operate at a local level all over the world. And most people who take part do it purely for fun.
Competitive agility
Competitive agility starts with entering trials hosted by your local agility club. Eligibility to progress through regional, national, and international competitions depends upon things like your location. And whether your puppy holds a pedigree certificate or not.
Which puppies enjoy agility training?
Almost all puppies can enjoy agility training! Agility training should be fun, rewarding, and satisfying – things all breeds of dog can enjoy. Some breeds of dog are particularly associated with agility championships. Notably:
Border Collies
Collies
Sheepdogs of all types
and Cocker Spaniels.
But any breed can enjoy training and even competing at a local level. Speed and working background are not essential – pigs, sheep, and even capybara have learned to complete agility courses!
When can I start agility training with my puppy?
Puppies shouldn't practice on full sized agility equipment until they are fully grown. In fact, most agility competitions have a minimum age limit of 15 months.
This is because full sized agility includes tight turns and big jumps, which could damage puppies' growing joints. Your pups' skeleton has growth plates at the ends of their bones. These growth plates are where length is added to them while your puppy is growing. Once they are fully grown, the growth plates close and harden into bone. Until then, high impact exercise can cause permanent damage to the growth plate and the shape of the finished bone. This can cause or exacerbate joint problems like arthritis, and hip or elbow dysplasia.
Despite this, you can start agility training with a puppy shortly after bringing them home. Next we'll look at how to get started with agility, in a puppy safe way.
How to train a puppy for agility
While your puppy is still growing, it's best to avoid jumps, weave poles, and the seesaw (or teeterboard). But there's plenty you can do to lay the foundations of agility training, and sow the seeds of enthusiasm in them.
1. Socialize them to the equipment
Some equipment, such as the U-shaped tunnel and the seesaw can intimidate an older dog encountering them for the first time. Lots of dogs don't like entering tunnels they can't see the other end of, and the floor isn't supposed to move! So introducing a puppy under 12 weeks old to modified or scaled down versions of agility equipment is the most valuable thing you can do at this age, to help them love agility later.
You can find tunnels online and let your puppy explore them and play in them at their own pace. And you can introduce the idea of walking on moving surfaces using wobble boards much closer to ground level. Don't try to force them into or onto equipment, just let them explore it at their own pace, and give them lots of praise and treats for interacting with it.
2. Play focus and impulse control games
The agility ring is an exciting environment, and competitive agility in particular demands a certain amount of being 'fired up'. But dogs need focus and impulse control to complete the obstacles in the order their owner directs them to (the sequence is not fixed and predictable!) There are lots of simple puppy games suitable to play from 8 or 9 weeks old and up, which lay the foundations of these skills. We've got great examples of both in our Puppy Games course.
3. Start flatwork
Flatwork is what happens between the obstacles in an agility course. It's things like recall, and teaching a dog how to turn right or left on command. When you work on flatwork, you also learn how to communicate with your dog more effectively. If you've never trained a dog before, a beginner's flatwork course is a great insight into how dogs learn, and how to to shape their actions through training.
How to start agility training at home
Lots of us prefer to try something out at home as an informal hobby before we commit to taking it any further. Some people only ever practice puppy agility training at home, as part of a larger repertoire of games and activities. And that's ok too!
Puppy agility training books
From the Ground Up* by Kim Collins is a comprehensive pre-agility manual for puppies and novice agility trainers. It's clearly written, with practical advice to help you build an effective training relationship with your puppy.
Successful agility training depends upon successful communication, and Flatwork: Foundation for Agility* by Barb Levenson is all about developing clear, consistent and flawless communication with your dog.
Agility Right from the Start* by Eva Bertilsson and Emelie Vegh is a bible of DIY agility training. It is a thorough, step by step guide to mastering all aspects of agility training, using just positive reinforcement.
Puppy agility training equipment
Your puppy won't need full-sized regulation standard agility equipment for a while yet. But there are lots of fun ways to introduce them to the same principles behind them.
Competition tunnels are a minimum of 10 feet long, but a shorter version, like this 6 foot one*, is a fun way to socialize your puppy to tunnels generally (balls not included!).
The hoop jump can start with walking through a hula hoop* at ground level. Hold the hoop vertically for your puppy to examine, and drop treats on the other side of it for them to walk through and collect.
And balance boards sold for people* are a good puppy-safe simulation of the seesaw, or teeterboard. Alternatively, you can tape a piece of narrow gauge pipe to the underside of a wide board. Remember to always supervise your puppy around agility equipment.
How to train a puppy for agility – summary
It's great that you're considering puppy agility training with your new pal! Puppies can't practise or compete on full size equipment until they're fully grown. But puppyhood is still a valuable time to socialize them to agility equipment, establish successful communication between you, and start on flatwork. Good luck, and have fun with it!
Are you thinking about starting agility training?
We'd love to hear how you get on in the comments section down below!
Affiliate link disclosure: Links in this article marked with an * are affiliate links, and we may receive a small commission if you purchase these products. However, we selected them for inclusion independently, and all of the views expressed in this article are our own.
References
Krontveit et al. Housing- and exercise-related risk factors associated with the development of hip dysplasia as determined by radiographic evaluation. American Journal of Veterinary Research. 2012.
North American Dog Agility Council
Get Pippa's free dog training tips delivered to your inbox