If you haven't heard the term bull lurcher before, this article has everything you need to know about this very particular category of cross breed dogs. From what it means to be a bull lurcher dog, to what it's like owning one.
Bull lurcher is the name to describe a category of mixed breed dogs. They have one parent from a sighthound breed, and one parent from a bully breed. This means there are dozens of possible bull lurcher mixes, and each one can be surprising and varied in terms of looks and personality.
In this video you can see a variety of lurchers at work, and admire just how fast they move! 'Lurcher' means a cross between a sighthound and something else. Bull lurchers are a specific category of lurchers where the 'something else' is limited to specific possibilities.
What is a bull lurcher?
The term bull lurcher refers to a whole category of mixed breed dogs. Each of these mixes has one parent from a sighthound breed, and one parent from one of the bully breeds.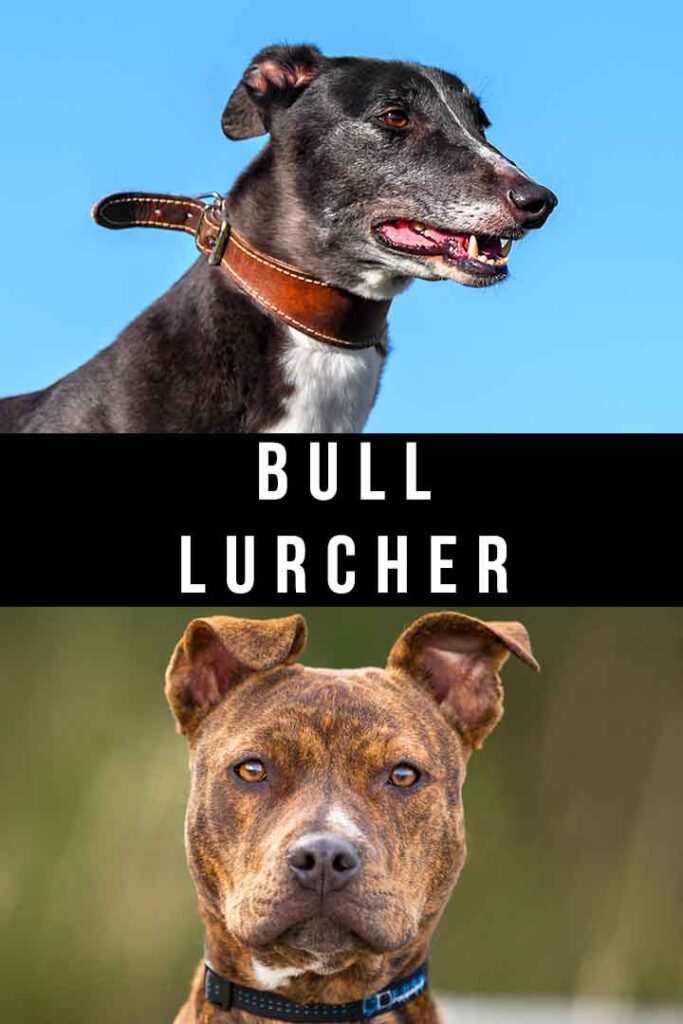 The sighthounds
A bull lurcher's sighthound parent can belong to any of the sighthound breeds, but simply because these breeds are the most common, they're more likely to be half:
Greyhound
Italian Greyhound
Irish Wolfhound
Saluki
or Whippet
The sighthounds were originally developed as hunting dogs which relied on sight and speed to catch prey. They all have a distinctive slender silhouette, and a reputation for a high prey drive outdoors, but gentle and affectionate disposition back at home.
The bully breeds
Bully breed is a term used to describe all bull dog and bull terrier breeds collectively. Popular examples of bully breeds include
American Bulldogs
American Pit Bull Terriers
Amstaffs (American Staffordshire Terriers)
Boston Terriers
Bull Terriers
Bulldogs
Miniature Bull Terriers
Staffordshire Bull Terriers (Staffies)
These breeds all started out in blood sports such as bull baiting and dog fighting. When blood sports were abolished, they began new careers as companion dogs. They are frequently noted for their exceptional loyalty and devotion to their human family. But, selective breeding for exaggerated body shapes and flat faces has left several of these breeds in an unhappy place, healthwise.
Are bull lurchers rare?
Bull lurcher puppies are most often found in the north of England, where Whippets and Staffordshire Bull Terriers are also incredibly popular. In this area, many (if not most) of the bull lurchers are a mix of these two breeds. In the United States, bull lurchers are a lot more unusual. Since Pit Bull Terriers are widely owned, American bull lurchers are more likely to be a cross between a Pittie and a Greyhound or Whippet (sometimes known as a Bull Greyhound and a Pit Whippet, respectively).
Bull lurchers can be the result of an unplanned pregnancy, or a deliberate breeding choice. Deliberate bull lurcher litters can be part of the wider trend for creating designer dogs. But, the history of some bull lurcher crosses predates the modern fascination with mixed breeds. In particular, people have long bred bull lurchers with the hope of producing a cross that has a sighthound's speed and a bully's stamina, in order to use them for hunting. Some people think these mixes have excellent companion pet traits too. So let's take a deeper look at the possibilities.
Bull lurcher appearance
Since the term bull lurcher covers a range of mixed breed dogs, you won't be surprised to find out that they can be very diverse in looks too!
Sighthounds are also known as long dogs. These breeds all have a similar outline – longer than they are tall, with a deep chest, slender waist, and minimal body fat. They have long muzzles, ultra-powerful back leg muscles, and disproportionately large lungs and hearts to help them achieve explosive bursts of speed. Their coats can be short and tight, long and silky, or even wiry.
On the other hand, bully breeds tend to be much more square and stocky. In particular, their jaws tend to be strong and wide, and their heads look big. Some breeds – such as Bulldogs and Boston Terriers – have become increasingly flat-faced over the years, and they also have screw tails rather than long tails.
Bull lurchers' appearance depends upon which breeds their parents are. Even within a single litter of Bull Greyhound dogs for example, there will be individuals who look a lot like Greyhounds, individuals who look a lot like Pitties, and individuals which look like an balanced blend of both breeds. Often, these differences don't become apparent until they are completely grown up.
Bull lurcher size
Bull lurcher size is a great illustration of how much these dogs can vary. For example a Bull Greyhound is likely to weigh at least 45lbs. Whereas an Italian Greyhound crossed with a Boston Terrier is unlikely to ever weigh more than 20lbs!
Do bull lurchers shed?
All sighthounds and bully dogs are shedding breeds. So yes, a bull lurcher will also shed. However, most bull lurchers come from parents with exceptionally short coats that don't usually shed heavily. Which means their shed hair is relatively inconspicuous in your home, and easily controlled by dusting and vacuuming two or three times a week.
Bull lurcher temperament
Factors which influence a dog's temperament include:
Which parent breeds they come from.
Their parents' own specific individual personalities.
How much they take after one parent or the other in respect of different qualities, like intelligence, trainability, social confidence, anxiety, etc.
Their sex and neuter status.
What kind of socialization they had as puppies.
How much exercise and training they get.
As you can see, some of these things (like breed instincts) are predetermined at a genetic level. It's luck of the draw which genetic traits a bull lurcher will inherit from each parent, and the results might not be obvious until they are fully mature. But other factors, like socialization, training, and exercise will be yours to control, especially if you raise them from a puppy.
That said, one reason behind bull lurchers' success in the past is that sighthounds and bully breeds do have some notable qualities in common. Which meant breeders could predict bull lurcher temperament with some degree of reliability.
Examples of typical bull lurcher traits
All bull lurchers are likely to have a high chase drive. And once they're off, they tend to be so intensely in that zone that they're deaf to anything else going on around them. This meant they had value as tenacious hunters in the past. But for modern pet owners, it also has implications for training. For example many dog trainers agree that it's simply not possible to teach a Greyhound a recall cue strong enough that it overrides their chase instinct.
Dog-directed aggression. Many of the bully breeds have been involved in blood sports at some point in their ancestry. Statistically, they are still more likely than many other dog breeds to display dog-directed aggression.
But, it's not all things to worry about! All bull lurcher mixes are likely to forge close, affectionate bonds with their human family. All the sighthounds and bully breeds are widely described as being gentle and sweet-natured companions. These breed groups also include some of the dogs most likely to be recommended as good with children. For example Bulldogs, Bull Terriers and Whippets.
A bull lurchers safe pets?
Some people worry about having dogs with Pitbull, Amstaff or Staffy ancestry as pets. In particular, some regions have outlawed Pitbull mixes, or placed restrictions on owning them. The sad truth is that even though blood sports have been illegal for a long time, some people have continued to promote aggressive behavior in some bully breeds. This includes intentionally breeding from dogs with an established pattern of aggressive behavior. This means that in the regions they are allowed, Pitties tend to be responsible for a disproportionate number of dog bite injuries. However, bully dogs aren't inherently dangerous, and well bred, well socialized individuals are no more dangerous than other dogs. This emphasizes the importance of choosing a good breeder, and meeting both of a litter's parents before committing to a puppy. Also bear in mind that bull lurchers can include puppies from bully breeds with far less controversial reputations.
Training and exercising a bull lurcher
On average, bull lurchers are moderately trainable. Historically, their ancestors' working ability was entirely accomplished using their natural instincts – there was no need for them to follow directions from a human handler. The bully breeds are intelligent though, and they can learn lots of cues, including basic obedience, through patient positive reinforcement. It's sometimes said that sighthounds regard cues as suggestions rather than instructions, and we've already touched on how their natural instincts can get in the way of proofing reliable responses. So you'll need to provide for this – such as training an exercising them is a secure field.
Socialisation is important for all dogs, but especially so for bully breeds and their mixes. Setting up carefully controlled encounters with friendly other dogs while they are under 12 weeks old will build their social confidence and minimize the risk of dog-directed aggression in future.
Exercise
Sighthounds are generally built for short bursts of explosive speed, but not necessarily stamina. Many of them are satisfied with an hour of exercise a day, as long as it includes a chance to run. Once that urge to take off at a sprint has been met, they are famously willing to spend the rest of the day asleep! On the other hand, the bully breeds have greater endurance, and if your bull lurcher takes after them, they may need two or more hours of physical activity every day. My personal experience of chatting to bull lurcher owners is that they all seem to enjoy flyball – a fast paced dog sport which combines running and having a task to accomplish.
Bull lurcher health
Each sighthound and bully dog breed has their own unique and individual health profile, made up of common hereditary and acquired problems in the breed. To get a clear idea of a bull lurchers breed's likely health, you'll need to investigate each parent's health separately.
Sighthounds tend to be relatively free from orthopedic health problems which affect a lot of popular dog breeds. This makes sense since they were originally bred for running, and any dogs with joint problems would automatically be excluded from future breeding plans. However, some individuals may experience skin problems including allergy induced dermatitis, and color dilution alopecia. They are also more prone to heart problems such as an irregular heartbeat.
Unfortunately, several of the bully breeds do suffer orthopedic problems such as hip and elbow dysplasia. Some breeds also experience complex and miserable consequences of having very flat faces, including obstructed airways, increased risk of heat stroke, and increased risk of eye injuries. Since sighthounds have very long jaw bones, in this respect a bull lurcher can actually be a good way of harnessing some qualities of say a Bulldog or Boston Terrier, but with a healthier face shape.
A bull lurcher's life expectancy is usually around the average of their parents'. This can vary a lot, and is closely linked to size. For example the giant Irish Wolfhound only reaches 7 years old on average, and it is almost unheard of for them to exceed 12 years old. But the diminutive Boston Terrier enjoys an average lifespan of 11 years, and can even reach their late teens.
Is a bull lurcher right for you?
Bull lurchers are a pretty unusual dog mix in the United States. But if you get a chance to bring one home, how will you know if it's the right thing to do? Well, you can start by finding out more about their parents. What breeds do they belong to, and would any traits of either breed be a deal breaker for you? Remember that crossbreed puppies don't just inherit the best qualities of their parents – they can inherit any traits, at random.
Since bull lurchers can turn out very differently from one another, you'll need the capacity to be quite adaptable. They might have bags of energy, and need long hikes and dogs sports to tire meet their appetite for mental and physical stimulation. Or they might be a couch potato who needs a secure yard to sprint around twice a day, and spends the rest of time asleep. It's a good idea to ask yourself if you're honestly ok with either of these extremes.
In general, bull lurchers are not going to be well suited to households with cats and other small pets. Older dogs might not be suitable for rehoming with other dogs either. But, many bull lurcher combinations make good companions for moderately active families. If you've had a good experience with a flat faced bully breed before but you're worried about their health and reluctant to get another, then sighthounds are an excellent complementary cross to consider instead.
Do you have a bull lurcher?
Please tell us more about them in the comments section down below! What breeds were their parents, and what have them been like as a pet?
Don't miss
References
Adams. Methods and mortality results of a health survey of purebred dogs in the UK. Journal of Small Animal Practice. 2010.
ASPCA. Position Statement on Pit Bulls. Accessed August 2022.
Howell et al. Preventing predatory behaviour in greyhounds retired from the racing industry: Expert opinions collected using a survey and interviews. Applied Animal Behaviour Science. 2020.
Orthopedic Foundation for Animals.
Zhu et al. Facial dog bites treated at the Massachusetts General Hospital over a 20-year period. Oral Surgery, Oral Medicine, Oral Pathology and Oral Radiology. 2020.
Get Pippa's free dog training tips delivered to your inbox