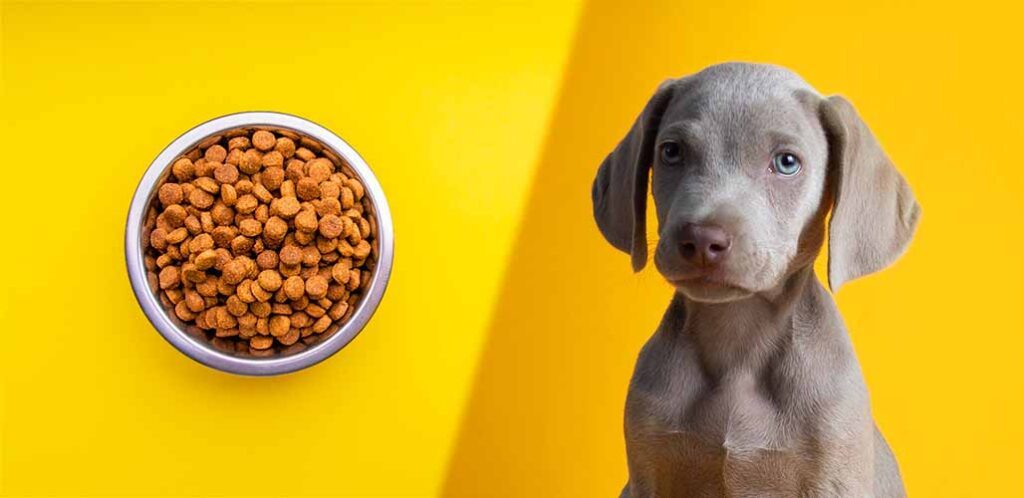 Working out how much to feed a Weimaraner puppy is a practical matter that has important implications for their growth and development too. You can go by the guidelines on the packet, but different breeds have varying requirements. The best Weimaraner puppy food is high in fat and protein, has plenty of vitamins and minerals, and is low in fillers. Today we'll provide you with all the information you need to measure out their daily diet with confidence. We'll share how often to feed your puppy at each stage, and how much should be in their bowl.
How much to feed a Weimaraner puppy depends upon what you're feeding them, their exact age, and their predicted adult size. The amount of food they need to achieve optimum growth changes as they grow up. And too many calories can be as dangerous as too few.
These young Weimaraner puppies' meals are still being taken care of by their mom and their breeder. But how much will they need to eat by the time they're ready to go home with their new families? Let's take a look!
What should I feed my Weimaraner puppy?
Before you can work out how much to feed your Weim puppy, you'll need to decide what they're going to eat. The options are:
a store bought kibble or canned diet
a biologically appropriate raw food (BARF) diet
or a home cooked diet
Discussing all the pros and cons of each goes beyond the scope of this article, except to say that manufacturers of store bought diets are bound by the Association of American Feed Control Officials (AAFCO) to make their foods 'nutritionally complete and balanced'. This means that the only thing you need to worry about is portion size. If you choose a raw or home cooked diet, you will also need to make sure it has the correct balance of fat to protein, and the correct amounts of vitamins and minerals needed to support healthy growth. Home prepared raw or cooked diets should always be approved and monitored by your puppy's veterinarian.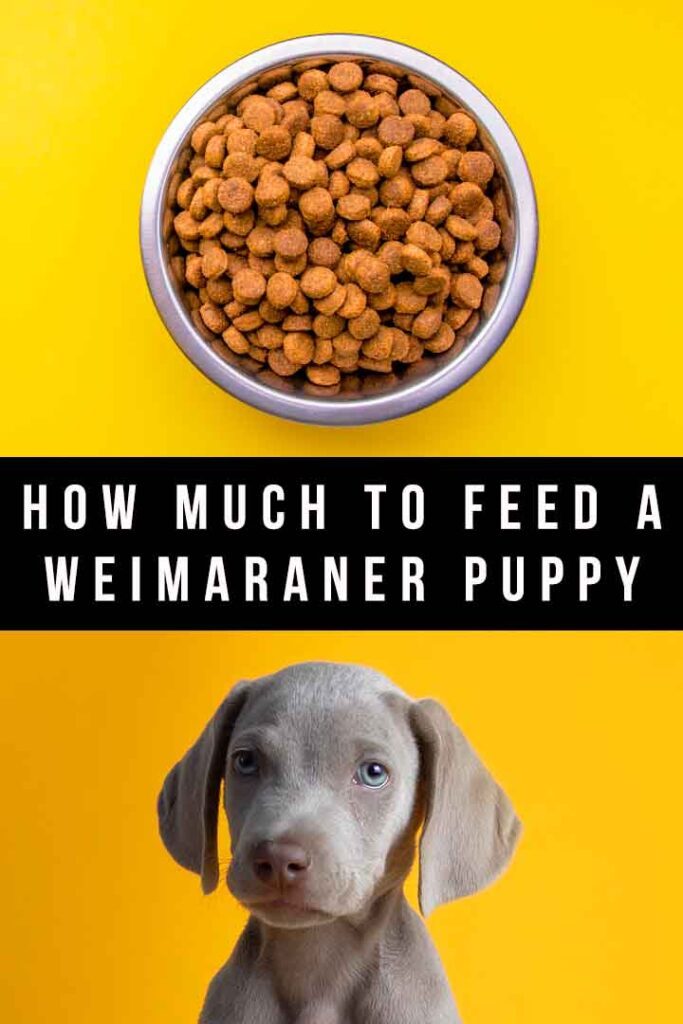 Your puppy will come home already weaned onto one of these diets, and you'll need to keep feeding the same food at the same intervals at first. Upset stomachs are a common problem in puppies adjusting to the physical and emotional upheaval of leaving their mom for the first time. A sudden change of diet can make them feel even worse. Once they have settled in for a few days you can start gradually transitioning them over to a diet of your choice, using this timeline:
1 part new food and 3 parts old food at each meal on days 1 and 2.
Equal proportions of new and old food at each meal on days 3 and 4.
3 parts new food and 1 part old food at each meal on days 5 and 6.
How often to feed a Weimaraner puppy
8 week old Weimaraner puppies need their daily food allowance dividing into 4 meals, served at roughly regular intervals, and allowing enough time for a potty break before bedtime after the last one. An example schedule is:
Sticking to small, frequent meals avoids overloading your puppy's delicate digestive system, and keeps their blood sugar levels even.
How much to feed a Weimaraner puppy at 8 weeks
Now their diet and feeding schedule are decided, measuring out each portion is actually the easiest bit of all! Whether you've bought their food from the store, or planned an alternative diet under the supervision of your veterinarian, it should come with precise instructions on how much to feed per day. The feeding instructions will be based on your puppy's age and expected adult size. Here are some tips for feeding them the right amount of a store bought food:
Female Weimaraners reach 55 to 75 pounds when fully grown, and male Weims reach 70 to 90 pounds. Your breeder ought to know the adult weight of both your puppy's parents. Small parents are more likely to have offspring that are also small. Large parents are more likely to have offspring that are also large.
Invest in a digital kitchen scale, and weigh out your puppy's meals, rather than counting scoops or eyeballing it. That's because small deviations from the recommended portion size can have a big effect on your puppy's digestive system and overall growth.
How much food your puppy ought to have per day will change over time. Make notes in your diary now of when it will be time to change how much food you give them.
The dangers of under- or over-feeding
Let's take a quick closer look at the importance of weighing out your puppy's meals accurately.
Underfeeding your Weimaraner puppy can cause decreased growth rate. In other words, they will fail to meet growth milestones as and when they should, and their final adult size may end up stunted compared to other Weims. A deficiency of calcium in their diet can also cause permanently reduced bone strength, making them more prone to fractures and other skeletal problems. But underfeeding isn't the only risk. Overfeeding can be just as problematic.
Overfed puppies are more likely to experience lifelong obesity. Obesity increases the risk of arthritis, diabetes, breathing problems, urinary tract infections and reproductive disorders. Obesity also reduces quality of life and overall life expectancy. A particular consequence of overfeeding puppies from large dog breeds, including the Weimaraner, is that it can cause their bones to grow abnormally fast, but not as dense and strong as they ought. So they end up carrying a lot of muscle and fat on an inadequate skeleton. Puppy diets also tend to be fortified with extra calcium for strong bones, which means that over feeding can cause over ingestion of calcium too. Excess calcium can cause abnormal bone shape, weak and detached cartilage in their joints, kidney failure, gastro-intestinal problems, and heart disease.
Feeding a Weimaraner puppy at 8 weeks
When they come home, your Weim puppy will need their carefully measured food allowance dividing into 4 smaller portions. Don't worry if they don't have much appetite in the first few days though. This is normal for a puppy adjusting to their new surroundings. A couple of tricks to coax some calories into your new charge are:
Dribble a little hot water over their food to make it smell more enticing. Make sure it's cool enough to eat before you serve though!
Hand feed them. This is great for forging a bond with your puppy too, and establishing yourself as a source of rewarding experiences.
You're probably keen to get their training underway as soon as possible as well. A great way to do this is to weigh out your puppy's next meal right after their last one. Then either carry it in a training pouch on your belt, or keep it in a bowl within easy reach (for you, not your puppy!) You can use the food from that meal as rewards in a training game, and as positive reinforcement whenever you catch them doing something you'd like to see more of. When it's time for their next meal, just put anything that's left into their food bowl. Some trainers even advocate for using your puppy's whole daily kibble ration as positive reinforcement, and doing away with a food bowl altogether. But others think that is stressful for puppies, and they are entitled to have some meals which are just provided without having to work for them. There's probably no right or wrong answer here, so you can decide what works for you, and suits your own puppy's particular temperament.
How much to feed a Weimaraner puppy at 4 months
Hopefully by the time your Weimaraner is 4 months old, they will be completely settled in your home, and showing a hearty appetite. Most store bought foods will instruct you to increase how much you're feeding your puppy sometime between being 8 weeks and 16 weeks old, so make sure you don't miss that change! Your puppy will continue to grow very rapidly until they are 18 weeks old, and the energy they need to sustain that growth is also increasing.
4 months old is also the milestone when you can shift from four meals a day to three: breakfast, lunch and dinner. Interestingly, some experienced Weimaraner owners also recommend moving their feeding bowl to a new location every couple of weeks or so while your puppy is this young. They say that Weims are very quick to get set in their ways, and it helps to set a precedent that food can in fact be eaten in multiple locations.
How much to feed a Weimaraner puppy at 6 months
From 6 months onwards, your puppy is still growing, but not at the same super fast rate they were until 18 weeks old. You'll probably notice that next time you increase their portion size, the increase is only quite small compared to previous increases. Their digestive system is maturing too, which means they're ready to receive their food as just two meals a day – breakfast and dinner. They should stay on this schedule for the rest of their life. Whilst some dog owners prefer the convenience of only feeding once per day, it has been shown to increase the risk of obesity and bloat. Weimaraners are already at risk of bloat due to their deep chested physique, so they should have two meals a day, and not immediately before or after exercise.
When should I stop feeding my Weimaraner puppy food?
Your puppy will need to continue eating puppy food, or a diet specifically described as being suitable for all life stages, until they are fully grown. This could be any time between 15 months old for a small female, to 21 months old for a large male. Most vets and lots of pet stores have a walk-on scale which you're allowed to use for free to keep a regular eye on their growth and when it stops. Aim to weigh them at least once a month. Once they have stopped growing, if they have been raised on a puppy diet they'll need to switch over to a suitable adult diet.
How many training treats can a Weimaraner puppy have?
Judicious use of high value food treats – such as cubes of cheese or unseasoned roast meat – have an important role to play in training. They can be a very powerful reinforcer for an important behavior we want our puppies to learn (such as a reliable recall response). Training treats other than your puppy's usual kibble can comprise up to 10% of their daily calorie intake. Using chicken breast and carrot pieces is a good way to make your treats go further. Using a nutritionally complete wet food served with a baby spoon is another great way to reward your dog without unbalancing their diet.
How much to feed a Weimaraner puppy – summary
It's amazing to think that an adult Weimaraner can eventually achieve 50 times their puppy weight. To put that in context, us humans only gain about 25 times our baby weight. And we take over 10 times longer to do it! Purchasing the best food you can afford, and keeping a close eye on portion sizes sets your puppy up for a longer, healthier life.
More resources for your Weimaraner puppy
References
Get Pippa's free dog training tips delivered to your inbox