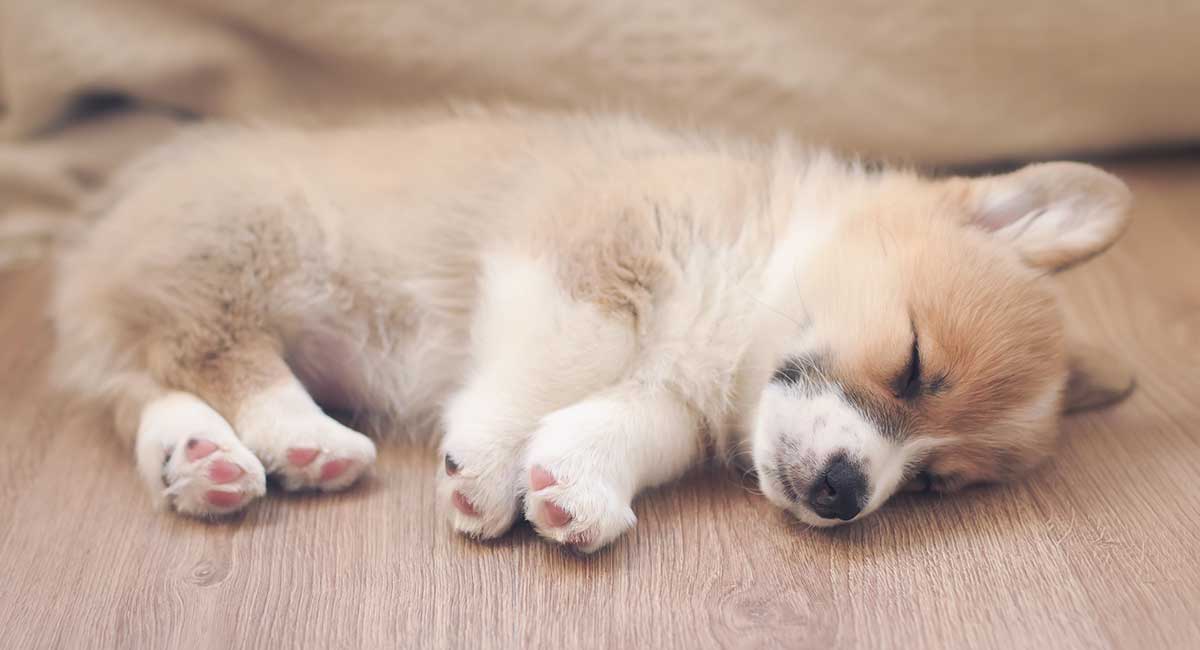 The two biggest challenges that new puppy owners face are almost always the same: how to get a puppy to sleep and housebreaking.
But we've put together a list of strategies for how to get a puppy to sleep, utilizing information from dog behavioral studies, advice from veterinarians and dog trainers, and the experiences of new puppy owners just like you!
Normal Puppy Sleeping Habits
Puppies often struggle to sleep through the night.
Much like adult infants, it is difficult for puppies to make the transition from the comfort, warmth, sounds, and movement of being surrounded at all times by his mother and siblings in their den.
If your new puppy won't sleep, whines and barks all night long, you're not alone.
One survey showed that about 70% of puppies who sleep alone whine for a period before settling.
They also tend to wake frequently throughout the night and whine again.
A puppy whining at night is basically the only method of communication he has.
Whether they're hungry, cold, or hurt, a puppy crying at night is looking for some sort of comfort.
What to Do?
So what's the number one way to comfort a sleepy puppy whining at night?
Research by several animal behaviorists showed that whining and waking is considerably lessened or eliminated completely by introducing another puppy from the same litter.
Now, this isn't possible for most of us who bring home a new puppy.
Therefore, if your puppy won't sleep, we have to turn to alternate ideas to comfort our solo pooches.
Should Your Puppy Sleep in Bed With You?
Many people are tempted to let their sleepy puppy simply sleep in bed with them.
But there are a lot of reasons this is a pretty bad idea.
First of all, puppies can't hold their bladder for very long, and they don't know to wake you for a potty break.
So if you don't want to wash your bedsheets every day for a couple of months, I don't recommend letting your little pupper snuggle to sleep in bed with you at night.
Second, teething puppies chew on EVERYTHING – including your pillow and blankets in the middle of the night.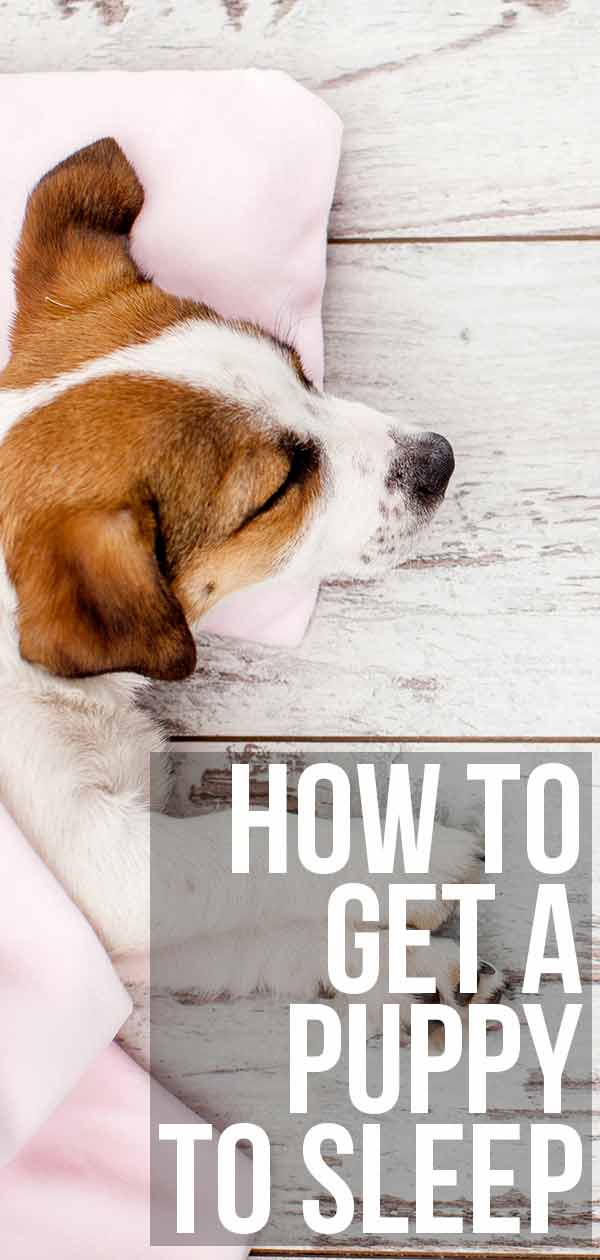 Preparing for Life as an Adult
Lastly, if your puppy gets used to sleeping in bed with you at night, she will never want to stop.
So any time you go on vacation without her, she could have separation anxiety.
Or what if you are sick and want the bed to yourself?
And vice versa – you don't want a sick adult dog in your bed, do you?
If you don't want your puppy dog sleeping in bed with you for the rest of his/her life, learn how to get a puppy to sleep alone right from the start.
The good news is that the same studies that observed puppy sleeping habits noticed that in most cases, the transitional period to sleeping comfortably in a new environment only lasted about a week.
Reasons for Puppy Whining at Night
If you learn why your puppy wakes up frequently or won't sleep comfortably at night, you have a better chance of getting some good sleep sooner.
Consider these reasons:
needs to go potty
wants to play
is cold
isn't used to silence
is lonely
is in a strange environment with new smells.
Browse our list below of tips on how to get a puppy to sleep at night, which addresses each of these reasons a puppy won't sleep.
How to Get a Puppy to Sleep at Night
Ensure you have the proper sleep space: a warm, soft bed near your own sleep space that is ok to be soiled in the beginning.
Try to get puppy sleeping in crate. Studies have shown that puppies who sleep in a crate adjust to quiet sleeping more quickly than those that don't. They also have less middle-of-the-night potty accidents.
Offer an item of your recently worn clothing or a blanket that was scented from their litter/mother.
Use a ticking clock wrapped in a blanket to simulate a littermate/mother's heartbeat. Or use a sound machine to create a more realistic den environment for the pup.
Have a little exercise before bed – then start the bedtime routine by winding down and snuggling.
Make sure he gets plenty of mental stimulation throughout day. If your puppy sleeps all day, he won't want to sleep at night!
Feed them at least 3 hours before bedtime – any closer to bedtime and they will need to wake to relieve themselves.
Offer a potty break just before bed.
For the first two weeks, if you hear your puppy barking at night, take him/her out for a quick potty break.*
If your puppy whines and has already had a recent potty break, don't react immediately after the first cry. Wait a few moments to see if the puppy will settle back to sleep – or at least to avoid training them to whimper until they get your attention.
Leave a safe chew toy in their bed to occupy their teething habits if they wake in the middle of the night with gum irritation. Good sleeping puppy toys include Kongs and Nylabone teething treats.
*A Note on Potty Breaks
Puppies typically cannot hold their bladder for more than a few hours at a time.
With puppies around 8 weeks old, my experience has been they can sleep 4–5 hours (3–4 hours for tiny breeds.) before needing a potty break.
So for the first few weeks, a puppy whining at night almost always needs a potty break.
Potty Not Play
I highly recommend treating the middle-of-the-night potty break as a somber occasion.
Your pup might be wide awake and ready to romp, but it's best for both of you if you don't try to match his energy with a quick playtime.
Otherwise, your puppy will start right back over with whining and crying the minute you leave him back in bed.
Plus, if you're a light sleeper like I am, you'll never get yourself back to sleep, either.
Instead, don't play or even talk to your pup.
Simply take him to his potty area and walk in slow pacing steps in circles if you have to in order to encourage him to wander off the porch to do his business.
Then it's right back to bed.
Puppy Sleep Schedule
Keep in mind that a full night's sleep for your puppy might include waking at 6am.
You may prefer an 8 a.m. wake-up call, but your puppy might have other ideas.
I hope this guide to how to get a puppy to sleep helps your family get some good sleep soon!
Let us know which tips work best for you!
You may also be interested in taking a look at our guide to quiet dog breeds!
Liz London is a certified dog trainer through the Certifying Council of Professional Dog Trainers (CPDT-KA) & the Karen Pryor Academy (Dog Trainer Foundations Certification) with regular continuing education courses from the top animal trainers from all over the world. She has trained zoo animals, search & rescue canines, gundogs, and helped people raise happy, healthy, and well-behaved canine companions for over ten years.
References
A placebo-controlled study to investigate the effect of Dog Appeasing Pheromone and other environmental and management factors on the reports of disturbance and house soiling during the night in recently adopted puppies (Canis familiaris). Katy Taylor, Daniel S.Mills. Applied Animal Behaviour Science, 2007.
Critical Periods in the Development of Social Behavior in Puppies
J. P. SCOTT, Ph.D. Psychosomatic Medicine, 1958.
Get Pippa's free dog training tips delivered to your inbox