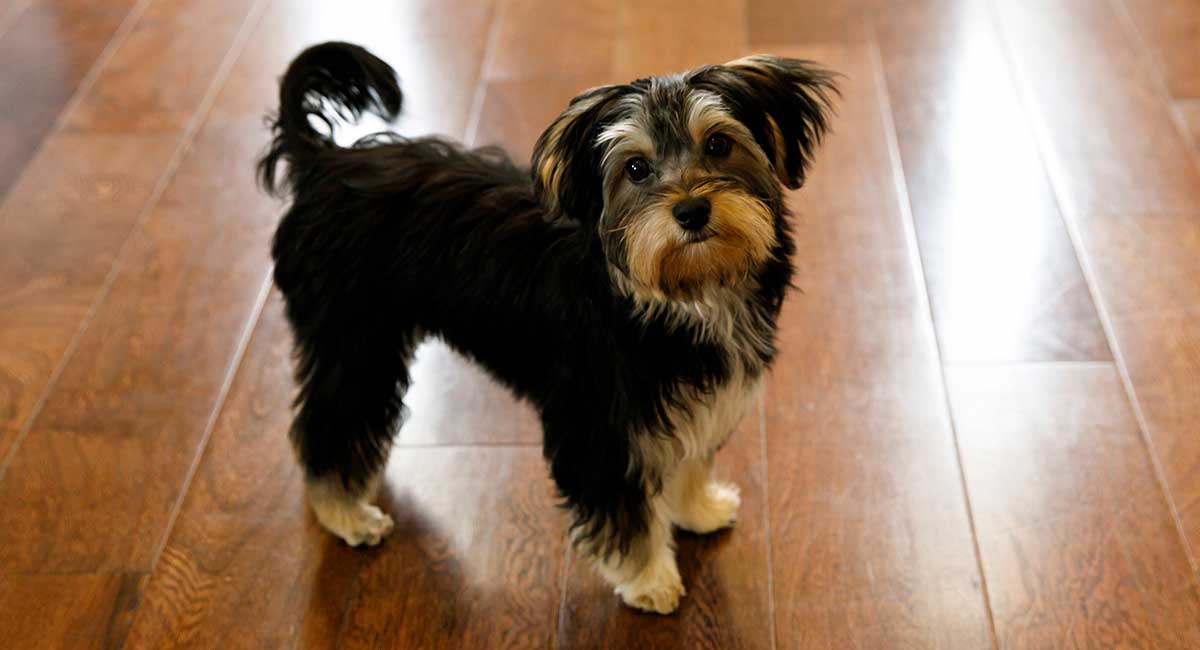 A Morkie dog is a cross between a Maltese and a Yorkshire Terrier.
Like their parents, the Morkie is small (2 – 4 kg) and has a long, silky coat.
The Morkie is an increasingly popular designer dog choice. But since his parents were bred for quite different qualities, each individual Morkie has a personality which is unique and surprising!
Introducing the Morkie
What dog is as cute as its name? If you answered the Morkie, the Maltese Yorkshire Terrier mix, you just might be correct!
The Morkie is a popular little mixed breed dog, but is it the right pet for you?
Before you fall head over heels in love with that adorable Morkie puppy, we'll tell you all you need to know about the Morkie so you can make the best decision about your next best friend.
First up, a little Morkie history.
Where Does the Morkie Come From?
The Morkie is what's known as a designer mixed breed dog. Morkies are the offspring of purebred Maltese and Yorkshire Terrier parents.
Both the Maltese and the Yorkie are popular toy dog breeds.
The Maltese is an ancient breed that originated on the Mediterranean island of Malta thousands of years ago. Bred for its attractive appearance and charming personality, the Maltese has long been a favorite lapdog of the nobility.
The Yorkie has more humble origins than the aristocratic Maltese. Like other terriers, the Yorkie was originally bred to hunt vermin. The Yorkie's small size made it an ideal rodent catcher in the textile mills of Great Britain.
The Yorkie's cute looks and lively personality eventually took it from working dog to pampered lapdog.
We'll talk more about health later, but keep in mind that the health of any individual dog depends on the health of its parents and the quality of its breeding.
Fun Facts About the Morkie
There are many celebrity Morkie owners, which is one of the reasons why the Morkie is so popular.
Emmy Rossum, Steven Tyler, Drake, and Miley Cyrus are just a few of the famous Morkie owners.
Morkie Appearance
No doubt about it, the Morkie is one cute little dog. Just how big will your Morkie puppy get, and will it look more like a Yorkie or a Maltese?
Let's look at the parent breeds and how their physical characteristics can combine in the Morkie.
The Yorkie is one of the smallest toy dog breeds. Adult Yorkies weigh around 7 pounds and stand 7-8 inches tall at the shoulder.
The Maltese is like the Yorkie in size, with adults also weighing around 7 pounds and standing 7-9 inches tall at the shoulder.
Expect your Morkie to be similar in size to the parent breeds.
Since it's already a very small dog, experts advise potential owners to avoid getting any Morkie labelled as "teacup" because unusually small dogs can have some serious health problems.
Both the Maltese and the Yorkie are known for their long silky coats.
The Maltese is famous for its pure white coat, enhanced by very dark eye and nose color.
Yorkie puppies are born with black and tan coloring, which lightens as they mature. Adult Yorkies usually have a combination of tan/gold and blue/silver coloring.
What about the Morkie coat? The Morkie has a long silky coat that can come in a variety of colors and patterns.
The Yorkie coloring tends to be more common in Morkies than all white. Most Morkies are some combination of cream, tan, and blue/silver.
Morkie Temperament
What about Morkie personality? There are some differences between the Yorkie and Maltese.
The Maltese has a long history as a pampered pet. Its personality tends to be gentle, affectionate, and playful.
Like other terriers, the Yorkie can have a strong personality that is feisty, fearless, and independent.
Will your Morkie favor one breed over the other?
Morkie experts describe this mix as a loyal and loving dog, however, they can inherit the Yorkie's strong-willed nature.
This means that your Morkie may be less calm than the Maltese and favor the energetic and lively Yorkie.
Does your Morkie have a stubborn streak? This could make training a bit of a challenge, as we'll see next.
Training Your Morkie
Small dogs like the Morkie can present a unique set of training challenges, especially if you are an inexperienced owner.
Tiny dogs sometimes have potty training issues. Housebreaking your Morkie puppy requires time and patience.
Like other toy dogs, your Morkie may exhibit some of the signs of "small dog syndrome." Small dog syndrome is a set of undesirable behaviors like barking and jumping.
While these behaviors are discouraged in larger dogs, over-indulgent owners can spoil their tiny dogs and allow them to continue, so be sure to train and socialize your Morkie from puppyhood.
Train your Morkie using only positive reinforcement training methods. Morkies do not respond well to harsh discipline.
Morkies are very devoted to their human family members, but you can ensure that your dog is well behaved around strangers by providing it with plenty of opportunities for socialization.
What about exercise?
Like all dogs, Morkies benefit from regular exercise. Many people mistakenly believe that small dogs don't have to go out on walks, but taking your Morkie for even a short daily walk is essential for good health.
Always walk your Morkie on a leash and monitor your dog when other larger dogs are nearby. Keep an eye on your Morkie around small children as well.
Regular play sessions such as games of fetch are also important for your Morkie's physical and mental well-being.
Morkie Health
Is the Morkie a healthy dog? Like all mixed breed dogs, the Morkie can inherit health problems from both of its parent breeds.
The Yorkshire Terrier and the Maltese can suffer from some health issues, many of which are common to very small dogs.
Let's look at the most common Yorkie and Maltese health problems.
Both parent breeds can be prone to an inherited joint abnormality called luxating patella, which causes dislocation of the knee cap. This is a fairly common problem in several toy dog breeds.
Like other toy breeds, both the Yorkie and Maltese can inherit portosystemic shunts, also known as liver shunts.
With shunts, blood that normally goes to the liver for detoxification is diverted elsewhere in the body. This can lead to a wide range of health problems.
The Maltese can inherit a couple of serious neurological conditions: granulomatous meningoencephalitis (GME) and necrotizing meningoencephalitis (NME).
Both types of meningoencephalitis are autoimmune conditions that cause swelling of the brain and other parts of the nervous system.
The Yorkshire Terrier can be at risk for several kinds of eye problems. The most common are dry eye, cataracts, glaucoma, and progressive retinal atrophy (PRA).
Your Morkie could inherit health issues from one or both parent breeds, especially those conditions that are common to both the Yorkie and the Maltese.
We'll tell you how to ensure that the Morkie puppy you choose is as healthy as possible in the "finding a puppy" section coming up.
Do Morkies Make Good Family Dogs?
The Morkie can make an excellent family pet. Most Morkie experts recommend this breed for families with older children, ages 12 and up.
This is because Morkies are quite small and fragile, and unsupervised interactions with young children can cause injuries to the dog, including bone fractures.
Morkies can be great dogs for older adults seeking a small, easy to handle canine companion. They also make good pets for smaller homes and apartments.
Rescuing a Morkie
Is it possible to find an adoptable Morkie? Yes, you can find Morkies in animal shelters and with rescue groups, especially those that specialize in Yorkies, Maltese, and other small dogs.
Before we talk about rescue, let's look at how you can find a healthy Morkie puppy from a breeder.
Finding a Morkie Puppy
Because cute, small dogs like the Morkie are so popular, you will see lots of Morkie puppies in retail pet stores and advertised for sale online.
Never acquire a Morkie puppy from these sources. They often come from large commercial breeding operations known as puppy mills.
Always choose a responsible breeder who health tests their Yorkie and Maltese breeding stock for inherited health problems.
Health testing can come in the form of DNA tests or exams performed by veterinary specialists. Your breeder should share test results with you and with a canine health registry like the Orthopedic Foundation for Animals.
Responsible breeders will welcome in- person visits from clients and encourage you to spend time observing and interacting with the puppies and other dogs in the home.
Choose a puppy that is confident and outgoing. Don't be too quick to lose your heart to the shyest puppy in the litter!
Check the puppy for healthy body weight, shiny coat, and clean eyes, ears, nose, and bottom.
Make sure to get all the puppy's health records from your breeder and review all contracts and health guarantee documents carefully before signing.
Raising a Morkie Puppy
Once you've brought your new Morkie puppy home, it's a good idea to bring it to your own veterinarian for a first-time health check.
Get your puppy used to routine care and grooming, including baths, brushing, ear cleaning, tooth brushing, and nail trimming.
Begin training and socializing your puppy early. Remember that housebreaking and crate training are especially important for small breed dogs.
Morkie Products and Accessories
Ready to go shopping for your Morkie? Here are some of the most important supplies to get for your new dog:
collar, leash, harness
crate, baby gate, playpen
food and treats
water and food bowls
bed
toys
brush and other grooming products.
Pros and Cons of Getting a Morkie
Very small dogs like the Morkie are not ideal for families with toddlers and young children. Toy dogs can be fragile and get hurt easily.
Remember that your Morkie can be a challenge to potty train, and some Morkies may exhibit small dog syndrome behaviors like barking and jumping.
Morkies make affectionate and devoted companions for senior adults and families with older children. Their small size also makes them a good apartment pet.
Similar Morkies and Breeds
Still not sure if a Morkie is the right choice for you? There are similar breeds and breed mixes to consider if you are looking for a small dog.
Besides the purebred Yorkie and Maltese, you can also consider the Pomeranian, Toy Poodle, Bichon Frise, Havanese, and Coton de Tulear.
Popular toy breed mixes to consider include the Yorkie Pomeranian mix, the Papillon Maltese mix, the Jack Russell Terrier Toy Poodle mix, and the Cavalier King Charles Spaniel Bichon Frise mix.
Morkie Rescues
Rescue is a great option if you are thinking about adopting a Morkie, especially if you want an adult dog.
Because Morkies are one of the more popular breed mixes, you can find Morkies in need of a new home at animal shelters. Most shelters do their best to identify what breeds went into the mixes they house.
Yorkshire Terrier and Maltese rescue organizations are also good resources when searching for an adoptable Morkie. Don't forget to search other rescues that specialize in small dogs as well.
In the US, check out the rescue page of the Yorkshire Terrier Club of America's website. For Maltese rescue, search the website of the American Maltese Rescue Association.
In the UK, see the Yorkshire Terrier breed rescue page of the Kennel Club's website. You can also check the rehoming and welfare page of the Maltese Club in the UK.
Tiny Paws Dog Rescue Canada specializes in rehoming small purebred and mixed breed dogs. In Australia, Seniors and Silky Rescue is a good resource to check for Yorkie Maltese mixes.
Is a Morkie Right for Me?
The adorable little Morkie is a favorite among fans of small mixed breed dogs. The Morkie can be a wonderful pint-sized companion!
Make sure to handle your Morkie with care and always supervise your dog when interacting with other dogs and small children.
They tend to do best in households with adults and older children.
Remember that the Morkie can inherit some health problems from both parent breeds. Always choose a responsible breeder who health tests their dogs and avoid online ads and retail pet stores.
Also remember to avoid any dog that's unusually small and referred to as a "teacup" dog.
Train and socialize your Morkie from an early age using a gentle but firm approach. Resist the urge to spoil your dog and be patient and consistent during the housebreaking process.
Do you share your life with a Morkie? Tell us about your little friend in the comments!
References and Resources
Get Pippa's free dog training tips delivered to your inbox