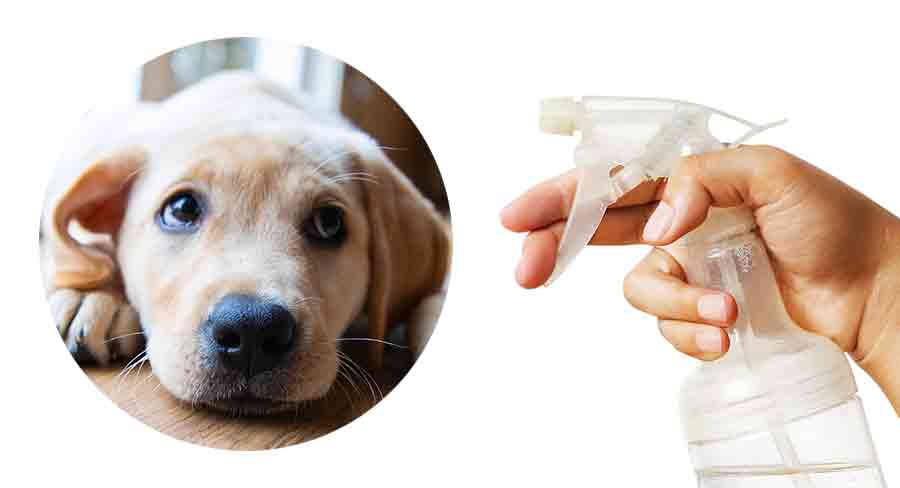 Can puppy pad training spray help you potty train your new puppy quicker? In this article we examine the promises made by dog potty training spray manufacturers, and whether they live up to the hype, or waste your money.
Products included in this article were carefully and independently selected by the Dogsnet team. If you decide to make a purchase from one of the links marked by an asterisk, we may earn a small commission on that sale. This is at no extra cost to you.
What Is Dog Training Pad Spray?
Puppy pad training sprays are designed to encourage toilet-training puppies to pee in the place they are sprayed. For example on a puppy pad, rather than on your carpet. They are usually water based, with a proprietary chemical attractant, an emulsifier to keep the attractant suspended evenly in the water, and a preservative to give it a long shelf life.
A proprietary chemical attractant?
Indeed. It's a mouthful to say, but a proprietary chemical attractant is the active ingredient in dog potty training sprays. Unfortunately, 'proprietary' means that the manufacturer owns the recipe, and most manufacturers don't disclose their secret formula on the bottle. A bit like Colonel Sanders' secret blend of herbs and spices. 'Attractant' means the smell of the chemical attracts dogs to pee in the same places where it is sprayed.
We can see from previous patents filed for potty training aids that suitable chemical attractants include:
Allyl phenylacetate, a man-made chemical with a fruity, honey-like odor.
Synthetic pheromones, designed to mimic the chemical messages in dogs' actual urine.
And caproic acid, a colorless, oily liquid which smells a bit cheesy and a bit goaty.
How Does A Spray For Puppy Training Pads Work?
Puppies are naturally motivated to pee where they have peed before, or wherever other dogs have peed before. This is because scent marking with urine is a vital form of communication for dogs. Their pee includes chemical messages about their sex, neuter status, overall health, stress levels, and where a female dog is in her reproductive cycle. For dogs who live with one or more other dogs, their urine also includes information about their social status in the group.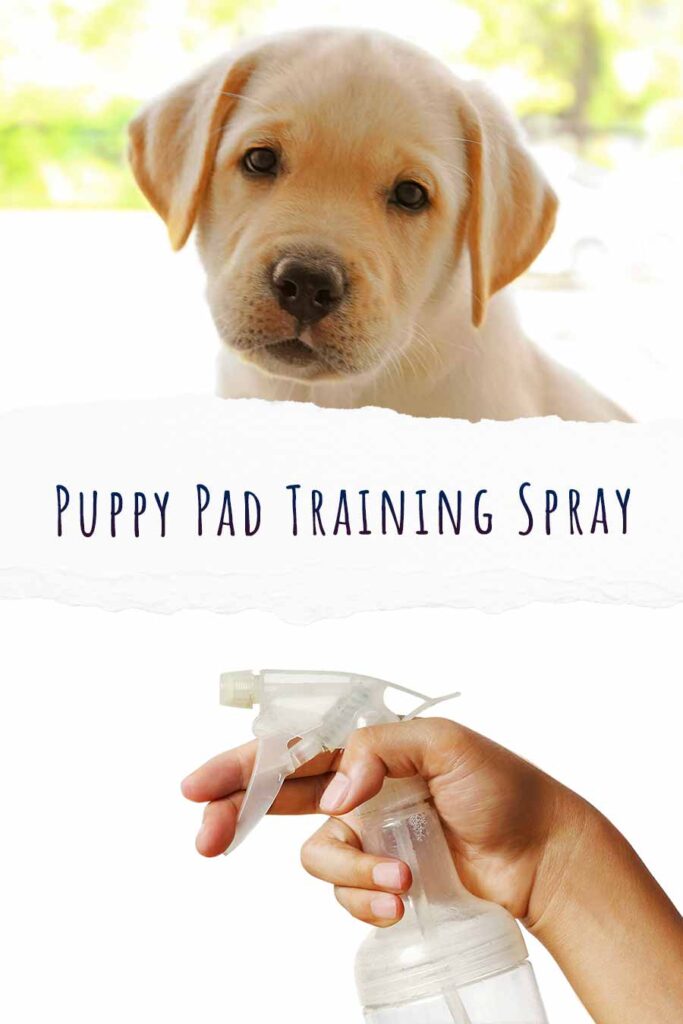 Puppy training pads sprays work by mimicking part of this odor-based communication between dogs. So that your puppy tries to 'join in the conversation' by peeing in that spot too. Puppy pad training sprays usually come ready-to-use 32oz bottles, with a squeezy trigger and spray nozzle. Their concentration varies from manufacturer to manufacturer, so some products need to be applied liberally, and others only need a light touch. Some chemical attractants are even sold in a very highly concentrated form, and applied drop by drop using a pipette.
Despite the name, potty training sprays aren't just for use on pads. You can also use them on:
Artificial grass 'potty patches'
Real grass
Hard surfaces such as concrete
And vertical surfaces such as pee posts
But bear in mind that they are water soluble, so if you use them outside they will wash away in the rain, and need reapplying more frequently.
Are Puppy Pad Training Sprays Effective?
This is the big question, but unfortunately the jury is out. Some people have great success with these sprays, whilst others don't observe any change in their puppy's behavior.
When they don't work, one possibility is that the puppy just didn't recognize the smell as being like pee, and it didn't prompt their instinct to pee in the same place. Alternatively, the scent might have been confused or overwhelmed by other competing odors, such as room fresheners or cleaning products indoors, and fertilizers or weed killers outdoors.
If a pee pad spray doesn't work for your puppy on the first attempt, you can try:
Using more.
Layering it under a second pee pad, to make it more subtle.
Squeezing the trigger slowly so that it comes out in a dribble rather than a spray. This makes it a better imitation of real pee, since other dogs' urine doesn't actually land in a fine mist!
However, some people just find that they never really see any benefit from using these sprays. So let's find out what the advantages and disadvantages of giving them a go are.
Advantages Of Using A Dog Potty Training Spray
If your puppy is responsive to the smell of the training spray, they may have less accidents off the pad or away from the outdoor spot you've chosen as their toilet.
Successful potty training depends upon building up a consistent habit of always going in the right place, so puppies who respond to the spray might be reliably housebroken sooner.
Most sprays only cost a few dollars, and several come with a money-back guarantee, so there is little to lose by giving them a go.
Disadvantage Of Using A Puppy Pad Training Spray
They might not work.
Most of them aren't just detectable to dogs – they have a distinctive odor to humans as well. If you have a sensitive nose, you might not be happy with the smell of these sprays in your home.
If you have allergies, you might have difficulty finding out exactly what ingredients any given spray contains, and whether it is safe for you to use.
3 Puppy Pad Training Sprays To Try
These are three of the market-leading potty training sprays to try. None of them work for everybody, as you can see from the reviews left by previous purchasers. In fact potty training sprays seem to occupy a strange place in consumer rankings, where everyone either loves them, or gains nothing from them at all, and the positive reviews and negative reviews average out so that they all appear mediocre at first glance!
OUT! Go Here Attractant Indoor & Outdoor Dog Training Spray
This spray by OUT!* has received positive reviews from both puppy parents, and people training older rescue dogs. Unfortunately, some owners report that the odor of the spray triggered a fearful or anxious reaction in their dogs, and drove them away from the pads.
Bodhi Dog Potty Training Spray
Bodhi is a popular family run pet supplies manufacturer based in Austin, Texas. Their award winning potty training spray* and its packaging are described as being eco-friendly, and socially responsible. Previous buyers say that the smell to humans is distinctive but not terrible, and fades quickly.
NaturVet – Potty Here Training Aid Spray
NaturVet's pee pad training spray* comes with a money-back guarantee, so at least if it doesn't work for you, you won't be left out of pocket!
Alternatives to Dog Training Pad Spray – 'Not Here' Sprays
Puppy pad training sprays aren't the only bottled training aid for housebreaking your puppy. 'Not here' sprays are designed to work in the opposite way. You spray them on rugs and furniture to deter dogs from using the treated spots as a toilet. Interestingly, they tend to get more consistently positive reviews from previous customers as well.
Bodhi Dog Not Here! Spray
Bodhi's not here spray* relies on clove, peppermint and thyme essential oils to deter dogs from using the toilet where it is sprayed. They claim it also masks any remaining odor from previous accidents.
EverJoice Dog Not Here Spray
This popular product* uses an effective combination of citrus and bitter fragrances to deter dogs from toileting where it is sprayed. It is also antibacterial, to remove traces of past mistakes. It is safe to use on furniture, drapes, upholstery, and indoor plants.
Puppy Pad Training Sprays – Summary
Puppy Pad Training Sprays are designed to attract puppies to the right place to pee by smell. Some people have very positive experiences with them, but some puppy parents are disappointed with the results. It's impossible to predict whether an individual puppy will respond to them in advance, but luckily they are very affordable to have a go with.
Let us know if you have tried using dog potty training sprays, and how you got on! Do you recommend a product we haven't included here? Tell us about it in the comments box down below!
For more help with potty training, don't miss these guides!
Affiliate link disclosure: Links in this article marked with an * are affiliate links, and we may receive a small commission if you purchase these products. However, we selected them for inclusion independently, and all of the views expressed in this article are our own.
References
Pageant & Gaultier. Current research in canine and feline pheromones. Veterinary Clinics: Small Animal Practice. 2003.
Woszczylo et al. The Role of Urine in Semiochemical Communication between Females and Males of Domestic Dog during Estrus. Animals. 2020.
Get Pippa's free dog training tips delivered to your inbox