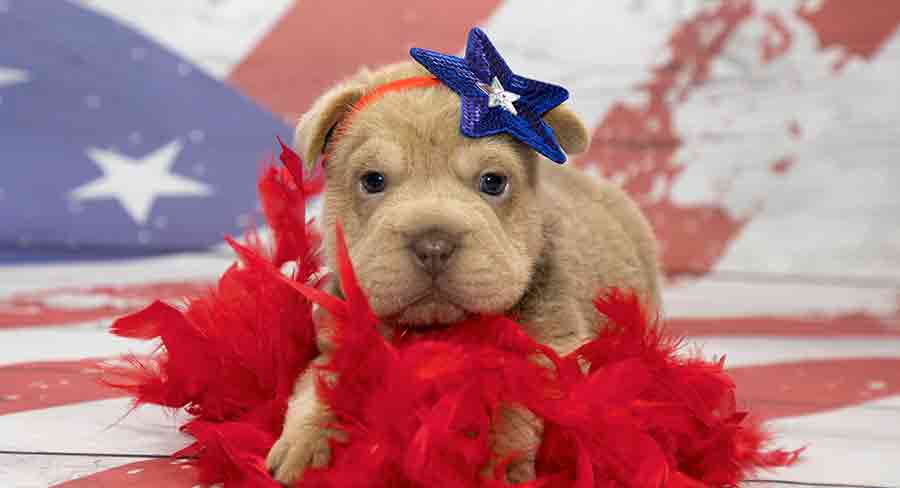 This detailed introduction to the Miniature Hippo Dog includes everything you need to know about finding, raising, and living with one of dogdom's most unusual hybrids.
The Miniature Hippo dog is a cross between a Shar-Pei and a Cocker Spaniel. Some Mini Hippo Dogs do indeed look like small hippopotamuses, but there is a lot of scope for physical variety in this mix. There are also some potentially challenging behavioral problems to consider.
Miniature Hippo Dog: Breed At A Glance
The Mini Hippo dog breed is a surprising animal in lots of ways. Here's some headline information about them:
Popularity: Ascending
Purpose: Companionship
Weight: 20 – 60 pounds
Temperament: Variable
Are you ready to find out more? Let's go!
Miniature Hippo Dog Breed Review: Contents
You can use these links to jump to specific topics, or scroll down to get the full picture.
To appreciate what a Mini Hippo Dog is like as a pet today, it helps to understand what their parents were bred for to begin with. So we'll begin with a bit of canine history.
History and Original Purpose of the Miniature Hippo Dog
Mini Hippo Dogs are part of the thoroughly modern trend for dogs with parents from two different pedigrees. But the separate histories of the Shar-Pei and the Cocker Spaniel can tell us a lot about what to expect from their hybrid offspring.
The first Shar-Peis
The Shar-Pei originated at least 2,000 years ago in China. Early Shar-Peis were popular with Chinese farmers and peasants due to their versatility for hunting, herding livestock, guarding property, and protecting people or other animals. Unfortunately, they were also used for dog fighting and bloodports. The Shar-Pei came close to extinction in the 20th century, and whilst they were revived by interest from international breeders, the modern Shar-Pei looks quite different to their original ancestors. They are much more wrinkly and jowly.
Early Cocker Spaniels
Cocker Spaniels started out as bird hunters' helpers in Spain. The origin of the first spaniels is unknown, but they were known throughout Europe by the 14th century. Early working Cocker Spaniels were admired for their ability to retrieve game from land or water, but during the 20th century a distinct lineage of American Cocker Spaniels emerged who were slightly more placid and suited to dog shows and pet homes. These dogs were so popular that they became America's favorite dog breed until they were toppled by the Labrador Retriever.
Mini Hippo dogs can be achieved by mating a Shar Pei to either an American Cocker Spaniel, or an English Cocker Spaniel (which more closely resembles the Cocker's working ancestors in looks and temperament). But for the purposes of this article, we'll stick to considering how a Shar-Pei and American Cocker Spaniel mix may turn out.
Miniature Hippo Dog Appearance
For lots of people, the initial appeal of a Mini Hippo dog is their appearance. Many of them do indeed resemble a scaled-down, fluffy hippopotamus!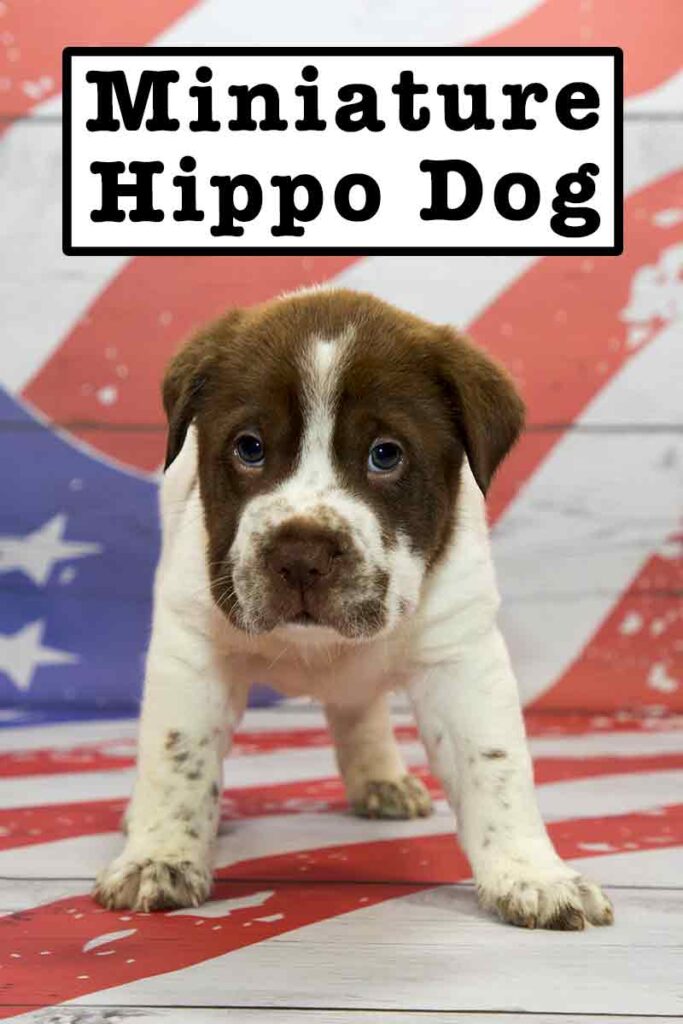 However, since the Shar-Pei and Cocker Spaniel are so physically different, there's a lot of potential to be surprised by the Mini Hippo's looks.
Coat
Shar-Peis have a short, smooth, single coat. But Cocker Spaniels have a long, silky, double coat that demands regular brushing and clipping to keep it in tidy condition. A Mini Hippo's coat can fall anywhere in between. And the corresponding amount of maintenance can vary from very little, to expensive and time-consuming. Their coat could also take on any of the many colors regularly seen on Shar-Peis and Cockers – from solid blacks, browns and reds, to dilute blues and fawns, with or without markings such as white patches or merle patterning.
Size
Shar-Peis grow up to 20 inches tall at the shoulder, and weigh 45 to 60 pounds. Cockers are significantly smaller – they grow up to 15.5 inches tall at the shoulder, and weigh 20 to 30 pounds. Due to this difference, it is safest to use a Cocker Spaniel stud dog (dad) and a Shar-Pei dam (mom). Carrying the puppies of a much larger male could put the life of a female Cocker Spaniel at risk.
In theory, Mini Hippo dogs can weigh anything between 20 and 60 pounds fully grown. But dogs right at the top or bottom of that range are outliers. Typically, male Mini Hippos will weigh more than females from the same litter. And the adult weight of puppies can be predicted more accurately if the parents were relatively close in size – for example a 30 pound Cocker and a 45 pound Shar-Pei.
Incidentally, a Miniature Hippo dog is so-called because they are mini compared to an actual hippo. There is not a larger size of hippo dog!
Ears, wrinkles, tails and tongues
Coat and size aren't the only differences between a Shar-Pei and a Cocker Spaniel. Shar-Peis have disproportionately small ears, whilst the Cocker's are almost comically large. Shar-Peis are stocky and famously wrinkly – not just around their face, but on their backs and ankles too. Whilst Cockers have a lithe and athletic figure underneath all that fur. Shar-Peis also carry their tail curled high over their back – a feature which would disqualify a Cocker from the show bench, and breeders actively avoid. Finally, some Shar-Pei dogs have a distinctive blue-black tongue – not a trait seen in the Cocker Spaniel.
A Miniature Hippo dog could inherit any combination of these features, or features which sit somewhere in between them. Whilst the photos of Mini Hippo dogs you've seen online might appeal to you, your own puppy could turn out looking altogether different!
Miniature Hippo Dog temperament
Looks aren't the only way a Mini Hippo might not match your expectations. Shar-Peis and Cocker Spaniels have very different temperaments, and one Mini Hippo dog might have a very different personality to the next – even within a single litter.
Historically, the Shar-Pei performed a range of jobs, which means they're quite adaptable. But several of their roles involved working alone – for example protecting a flock of sheep, which meant they needed to be quite independent and confident in their own decision making. This can also make them seem somewhat resistant to training today. Guarding livestock and property also meant that successful working Shar-Peis were slightly wary of unfamiliar people and animals, and not too quick to trust them. Unfortunately, Shar-Peis were also used as fighting dogs, and they are still associated with a high risk of dog-directed aggression too.
On the other hand, Cocker Spaniels always worked alongside a human hunting companion, and pretty much exclusively in retrieving roles. They tend to be very responsive to training, and quick to learn and follow new commands. They are also very friendly and outgoing. Because of these differences, Mini Hippo dogs can vary a lot in terms of how sociable or reserved they are, and how easy to train. However, both their parent breeds have lots of stamina and demand plenty of physical and mental stimulation. So you can be sure that their offspring are likely to be the same.
Training and Exercising your Miniature Hippo Dog
Naturally, all that physical and mental stimulation is going to come in the form of training and exercise! Exercising a Mini Hippo dog doesn't just have to mean walks on the leash. In fact, it's unlikely that you, a mere human, could ever walk far enough to tire out this athletic mix! Other ways of meeting a Mini Hippo's need for physical activity include:
Off-leash games such as fetch.
Running, either off the leash or as part of an organized dog sport like canicross.
Agility.
Some of these already involve an element of mental workout as well, but oher examples of great activities that use dogs' bodies and brains include:
Scentwork
Advanced obedience training
Advanced retrieval training
Field trials
Herding trials
Your Mini Hippo is likely to need at least two hours of activity from these lists, every day. Without enough physical and mental stimulation, a Mini Hippo dog may become bored, and resort to destructive or unwanted behaviors such as chewing or barking to vent his frustration.
Training
Like all dogs, the Miniature Hippo dog breed needs training in skills like walking calmly on a loose leash, and greeting people without jumping up. For most puppy parents, training starts with potty training, and socialization. Socialization is the important process of introducing a puppy to lots of new things before they reach 12 weeks old. Puppies under 12 weeks old are very receptive to new experiences, and quick to form positive associations which they carry with them into adulthood. Thorough socialization is especially important for the Shar-Pei and mixed breeds with one Shar-Pei parent, in order to overcome their natural distrust of unfamiliar people, and other dogs. Proper socialization before 12 weeks minimizes the risk of this becoming a source of problems in later life.
Adult Miniature Hippo dogs are likely to enjoy playing advanced training games just for fun, since both of their parents belong to smart working breeds. But how easily engaged they are, and how quickly they pick up new commands, will depend on whether their temperament is more Cocker Spaniel, or more Shar-Pei.
Miniature Hippo Dog Health and Care
The Miniature Hippo dog breed can also inherit certain disease predispositions from their parents. Shar-Pei dogs and Cocker Spaniels are both more than averagely prone to:
Hip and elbow dysplasia
Eye disease
Problems with their knees
And thyroid disease
The Orthopedic Foundation for Animals recommends that adult dogs from both breeds be screened for all of these conditions before they are considered for breeding. Since the health problems of both breeds are so closely aligned, it's important that the parents of a Miniature Hippo dog are also health tested.
Shar-Peis are also vulnerable to cancer, kidney disease, ear infections, and skin diseases exacerbated by their distinctive wrinkles. They also have an uncommonly short life expectancy…
How long do Miniature Hippo dogs live?
Shar-Peis are not a long lived breed. One study of Shar Pei mortality found that female dogs live for 8 years on average, and males just under 7 years. The most common causes of death were cancer (1 in 8 deaths), kidney disease (1 in 10 deaths), and euthanasia due to unwanted behavior (1 in 12 deaths).
Cocker Spaniels on the other hand live for 11 to 12 years on average. So a Mini Hippo dog is likely to live for anything between 6 years, and 12 years.
Grooming a Mini Hippo dog
How much grooming a Miniature Hippo dog needs depends upon which features they've inherited from each parent. A Mini Hippo with a Cocker-esque coat will need brushing several times a week, and regular clipping. But a Mini Hippo with a short coat like a Shar Pei won't need either.
If your puppy has wrinkles around their face, these will need wiping and drying every day to prevent the build up of bacteria which could lead to eczema. Since their ears are likely to hang or fold forwards over the ear canal, the inner ear tends to be very warm and moist – another excellent breeding ground for bacteria. So, pay attention to their ears regularly by wiping them, drying them, and checking for signs of odor or infection.
Do Miniature Hippo Dogs Make Good Family Pets?
The Shar Pei is not an easy dog to own. They are strong and heavy, and prone to dog-directed and stranger-directed aggression which can be difficult to manage. Whilst they are clever, they are not regarded as being an easy to train breed. The proportion of Shar Peis euthanized due to uncontrollable behavior is a testament to how many people are overwhelmed by the challenges of owning one. For this reason, Shar Peis and their hybrids are not a very suitable dog for families with children, or first-time dog owners.
Mini Hippo dogs are best suited to adult-only households, with previous dog-owning experience, who have plenty of time for training and exercise. Since Shar Peis are prone to aggression, it helps if you will have the resources to exercise them somewhere safe, enclosed and alone if necessary – such as a large secure yard, or a field available for private hire.
Rescuing a Miniature Hippo Dog
The Miniature Hippo dog breed is not well known, so there aren't many in the shelter population. Owing to the known risk of behavior problems in this mix, it's also important to find out why any dogs being offered up for rescue were surrendered in the first place. The Chinese Shar Pei Club of America maintains a directory of Shar-Pei specific rescue shelters operating nationally, who might also be aware of Shar Pei mixes needing rehoming.
Finding a Miniature Hippo Dog Puppy
The Miniature Hippo cross is unusual. Owing to their quirky looks and amusing name, they're also vulnerable to exploitation by puppy farmers, who keep breeding dogs in terrible conditions and rear puppy litters with minimal care, in order to secure maximum profit for them. Puppies bought from puppy farms are more likely to have lifelong health problems, and also behavioral problems. This is an especially significant concern for Hippo dogs. So it's important to take your time to find a reputable breeder who onl breeds from health-tested dogs with great temperaments. And who also commits to starting socialization with their Miniature Hippo puppies while they're still in their care.
Raising a Miniature Hippo Dog Puppy
Caring for a vulnerable Miniature Hippo Dog puppy is a big responsibility. Our Puppy Parenting and Puppy Games courses will help you get off on the right paw with confidence, as can the puppy training guides in our blog.
Pros And Cons of Getting A Miniature Hippo Dog
There's a lot to consider before committing to a Miniature Hippo puppy. Here's a summary of the pros and cons:
Cons
Looks, temperament, and grooming needs may not meet expectations.
May be prone to dog-directed and stranger directed aggression.
May suffer a range of health problems and be short lived.
Difficult to find.
Pros
Versatile companions if you'd like to try out some dog sports.
For dog owners already used to keeping Shar Peis, the Hippo Dog might be a healthier, longer lived alternative.
Similar Breeds
If you ultimately decide the Miniature Hippo dog is not for you, why not consider one of these mixes instead?
References
Adams et al. Methods and mortality results of a health survey of purebred dogs in the UK. Journal of Small Animal Practice. 2010.
Leach. Getting under the skin of the Shar Pei using primary-care veterinary clinical records. BSAVA Congress Proceedings. 2018.
Official Standard of the Chinese Shar Pei. American Kennel Club. 1998.
Official Standard of the Cocker Spaniel. American Kennel Club. 2018.
Orthopedic Foundation for Animals
Wauthier et al. Using the mini C-BARQ to investigate the effects of puppy farming on dog behaviour. Applied Animal Behaviour Science. 2018.
Get Pippa's free dog training tips delivered to your inbox