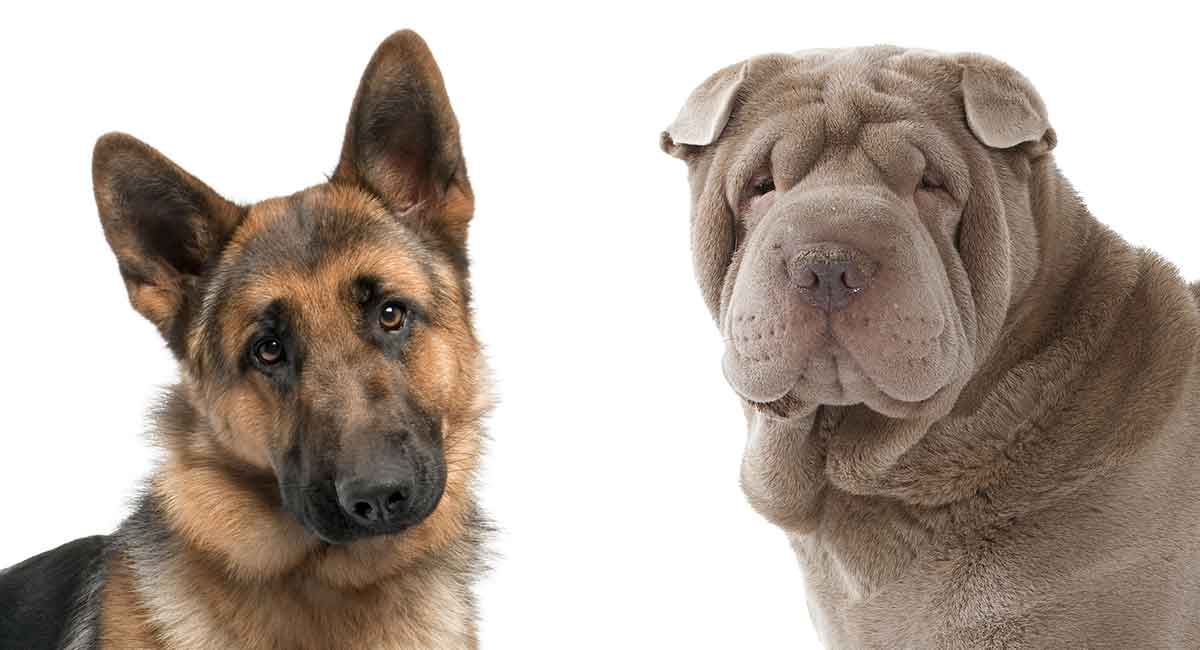 The Shar Pei German Shepherd mix dog combines two medium-large dog breeds.
While the German Shepherd is well-known and widely kept, the Shar Pei is much rarer and more challenging to raise and train.
The German Shepherd Shar Pei is an unpredictable mix, usually best left to experienced dog owners.
Shar Pei German Shepherd Mix: The Ultimate Guard Dog?
Shar Peis are unique and loyal dogs.
Because they can be challenging for inexperienced dog owners, mixing Shar Peis with another breed is a popular idea.
Would mixing a Shar Pei with a German Shepherd result in a better family companion?
Let's look at the parent breeds and the potential of a German Shepherd Shar Pei mix.
Where Does the Shar Pei German Shepherd Mix Come From?
The Designer Dog Debate
The history of the German Shepherd Shar Pei mix is not well known.
Mixing these breeds probably started within the past few decades with the rise of "designer dogs."
Designer dogs differ from mutts because parents are specifically chosen for desirable traits.
The outcome of designer puppies is unpredictable and there is a debate about whether mixes are as healthy as purebred dogs.
The truth is, there are health risks associated with both purebred and mixed puppies.
A 2013 article in the Journal of American Veterinary Medical Association concluded that the occurrence of genetic disorders in purebred and mixed-breeds was related to the specific disorder, not the purity of the breed.
Whatever you decide, do your research and choose a responsible breeder!
Shar Pei Dog Origins
The Shar Pei breed originated during the Han Dynasty (200 BC) and is native to a small village in southern China.
Farmers used Shar Peis as hunters, herders, and livestock guardians. In addition, Shar Peis were also pit fighting dogs.
The breed's history—and nearly the breed itself—disappeared with the establishment of The People's Republic of China in 1949 and subsequent dog extermination.
Fortunately, some Shar Peis survived this era.
By the 1970s interest in Shar Peis returned because of a campaign to save "the world's rarest dog" by Matgo Low, a Hong Kong breeder.
German Shepherd Origins
As its name suggests, the German Shepherd breed originated in Germany.
In the late 1800s, Captain Max von Stephanitz wanted to create the ultimate herding dog. He mixed various shepherd strains found throughout Germany.
As the need for herding dogs declined, German Shepherds worked as military and police dogs. Their obedience and authoritative demeanor made German Shepherds ideal for these roles.
Moreover, they're used as guide dogs and for search and rescue.
Shar Pei German Shepherd Appearance
As with most aspects of mixed-breed dogs, it's hard to predict what Shar Pei German Shepherd puppies will look like.
Therefore, let's examine the parent breeds to see how they might combine.
Firstly, a Shar Pei is boxy and compact. Secondly, its face and body feature loose skin and deep-set skin wrinkles, which the breed is famous for.
Puppies have more wrinkles than adults.
Thirdly, a Shar Pei's head is large and flat, with a broad muzzle. They have a black-blue tongue, a feature shared with only one other breed—the Chow Chow.
In contrast, a German Shepherd's body is streamlined and athletic. Its softly angled face is topped with pointy ears that are proportional to its head size.
Consequently, a combo of a German Shepherd and Shar Pei can take on any of these features.
It will be strong and athletic. And it might have some loose skin and wrinkles, but probably not as much as a Shar Pei would.
These mixed-breed pups usually have a larger, round muzzle similar to the Shar Pei parent. They have either pointed or folded ears.
To sum up, no matter which parent influences the puppies the most, the German Shepherd Shar Pei mix will certainly be unique!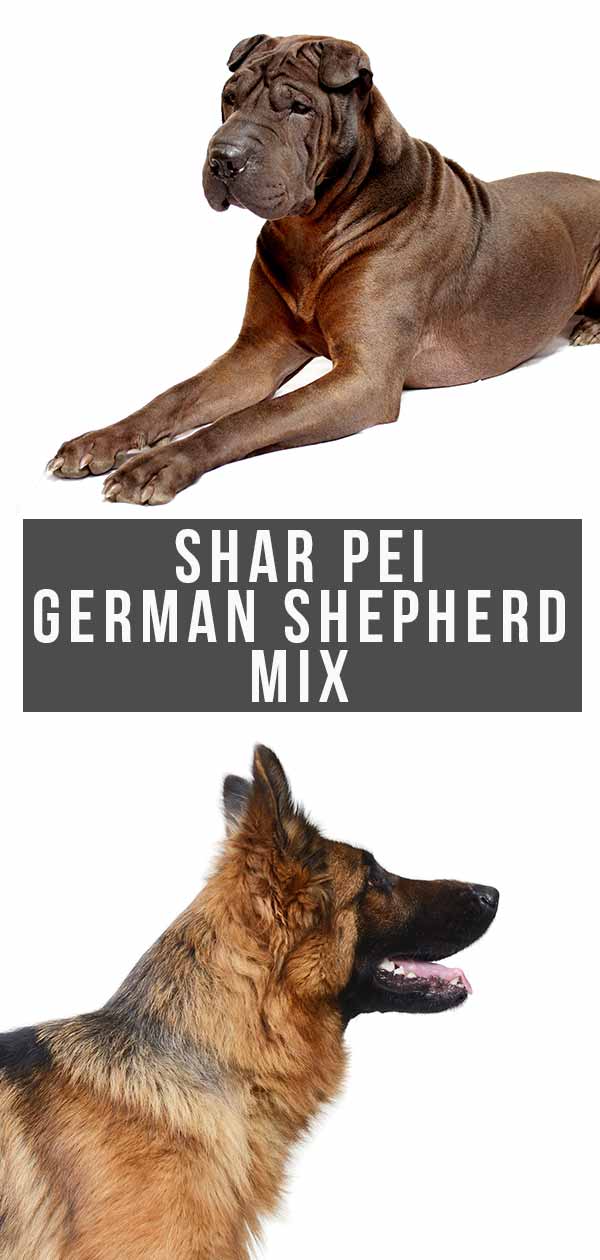 Shar Pei German Shepherd Size
The Shar Pei is a medium-sized dog, standing 18 to 20 inches tall and weighing between 45 and 60 pounds.
A German Shepherd is 22 to 26 inches tall and weighs 50 to 90 pounds.
With medium to large parents, a Shar Pei German Shepherd mix will be fairly large.
It could reach the maximum size of a male German Shepherd at 26 inches tall and 90 pounds! However, smaller dogs are more common.
No matter its size, the Shar Pei German Shepherd dog will be very powerful and strong.
Shar Pei German Shepherd Color & Fur
A defining characteristic of Shar Peis is their short, sandpaper-like coat. "Shar Pei" translates to mean "sand-skin."
Shar Peis can be red, black, cream, apricot, chocolate, brown, or blue. They may have a mask, brindle white markings, or tan or white cream points.
A German Shepherd's thick, double coat is straight or wavy. It comes in 1 of 11 color combinations of white, sable, liver, gray, blue, and black.
As a result, the coat of a German Shepherd Shar Pei will be short to medium and not as harsh in texture as the Shar Pei's coat. It is usually tan, and it may have markings similar to its German Shepherd parent.
Shar Pei German Shepherd Temperament
Both parent breeds are working dogs with bold dispositions.
A Shar Pei is best described as an antisocial watchdog. They're territorial and protective of their family, and also very intelligent.
While calm and confident, a Shar Pei might be aggressive towards people and other dogs.
Their personality traits stem from their history as fighting dogs and should not necessarily be considered negative.
Knowing why a dog acts a particular way is helpful to understand your pet and successfully manage their behavior!
German Shepherds are also protective, as well as loyal and confident. They're admired for their intelligence and attentiveness.
In short, if you're looking for a devoted and protective watchdog, this mix can fill that role.
Early socialization and training foster positive personality traits of a Shar Pei German Shepherd mix.
Training Your Shar Pei German Shepherd
Because training is essential with this mix, you'll want to start right away.
German Shepherds are generally easy to train, but Shar Peis are known to be a bit stubborn. A mixed puppy could inherit some stubbornness.
If you're not interested in dedicating time to properly train a German Shepherd Shar Pei mix, you should consider another breed.
You'll need to be consistent and patient throughout the process. Our Dog Training Guides provide helpful information from our experts!
In addition to training and socialization, a German Shepherd Shar Pei will need daily walks for exercise.
This mix might not result in a very playful dog, but every dog is different. You'll need to gauge what type of exercise and mental stimulation your German Shepherd Shar Pei prefers.
Shar Pei German Shepherd Health
Health problems specific to the Shar Pei German Shepherd mix are not well-documented yet.
A responsible breeder screens parent dogs for inheritable health problems. When selecting a breeder, you should ask for screening certifications to ensure good health.
It's important for you to know the risks associated with the breeds. A Shar Pei German Shepherd puppy is at risk for the issues listed below.
But remember, not every dog has health problems!
Screening tests, proper veterinary care, exercise, and a healthy diet help a Shar Pei German Shepherd live a long, happy life.
Shar Pei Health Concerns
The Shar Pei breed is susceptible to several health issues. Some are unique to the breed:
Shar Pei Fever is a hereditary inflammatory disorder. It causes fever, swollen joints, abdomen pain, and appetite loss
Amyloidosis is a buildup of amyloid proteins in the liver, kidney, and/or spleen which can be fatal
Eye problems such as cherry eye, entropion, or chemosis
Skin problems such as bacterial infections in the folds, dermatitis, and demodectic mange
The Club recommends screening for the following:
Hip & elbow dysplasia
Autoimmune thyroiditis
Patellar luxation
Exams for eye and vision issues
German Shepherd Health Concerns
In general, German Shepherds are healthy dogs. However, decades of selective breeding for desirable physical traits has resulted in numerous health issues.
Because modern breeders have focused on exaggeratedly downward-sloping backs in German Shepherds, they're more vulnerable to joint and spinal problems.
In addition to conformation-related issues, German Shepherds are susceptible to other disorders. Here some common health issues in the breed:
The German Shepherd Club of America recommends screening for the following:
German Shepherd Shar Pei Life Span
A well-cared-for German Shepherd Shar Pei can live 7 to 12 years.
German Shepherd Shar Pei Grooming
The short and dense hair of this mixed breed is fairly low maintenance. You can brush them weekly and bathe them monthly to keep a German Shepherd Shar Pei's coat healthy.
If it has the loose skin and wrinkles of the Shar Pei parent, you'll need to keep that skin clean and dry.
And if your German Shepherd Shar Pei has folded ears, you will need to clean them weekly.
Do Shar Pei German Shepherd Mixes Make Good Family Dogs?
There are many things to love about a German Shepherd Shar Pei pup, but you will find them to be a challenging family companion.
Homes with small children, other dogs, and other pets might cause behavioral issues, as the parent breeds are innately watchful and protective.
A German Shepherd Shar Pei is a very strong and powerful animal with a resilient character.
If you're looking for a playful, gentle, and patient family companion you should reconsider getting a German Shepherd Shar Pei.
Rescuing a Shar Pei German Shepherd
Rescuing a Shar Pei German Shepherd from a shelter is one way to know the type of dog you'll be getting—for the most part!
You'll get a good idea of its adults size and see which parent breed its appearance favors.
And you can get a good idea of its temperament and whether it will be a good match for your lifestyle.
There aren't specific rescue organizations for Shar Pei German Shepherds but searching at ones that specialize in the parent breeds is a good starting point.
US
Canada
Australia
UK
Please leave a comment below to join one of our listings.
Finding a Shar Pei German Shepherd Puppy
Searching online for breeders is the best place to start looking for a Shar Pei German Shepherd puppy.
Don't be afraid to ask the breeder questions to make sure you are getting a healthy and responsibly bred puppy!
Shar Pei German Shepherd Products and Accessories
Here are some products recommended by our experts:
Pros and Cons of Getting a Shar Pei German Shepherd Mix
Cons
A lot of time and patience may be needed to train and socialize them
Potential health risks
Possible temperament and family companion challenges
Pros
A rare and unique combination
Intelligent and obedient
A loyal watchdog
Similar Shar Pei German Shepherd Mixes and Breeds
Here are some similar breeds to consider:
Is A Shar Pei German Shepherd Mix Right for Me?
If you have the time and patience to train and socialize them, a Shar Pei German Shepherd is right for you!
Prepare mentally and financially for potential health problems associated with both parent breeds.
In conclusion, the remarkable Shar Pei German Shepherd can be an excellent companion, but you have to put effort into its training and care!
References and Resources
Get Pippa's free dog training tips delivered to your inbox