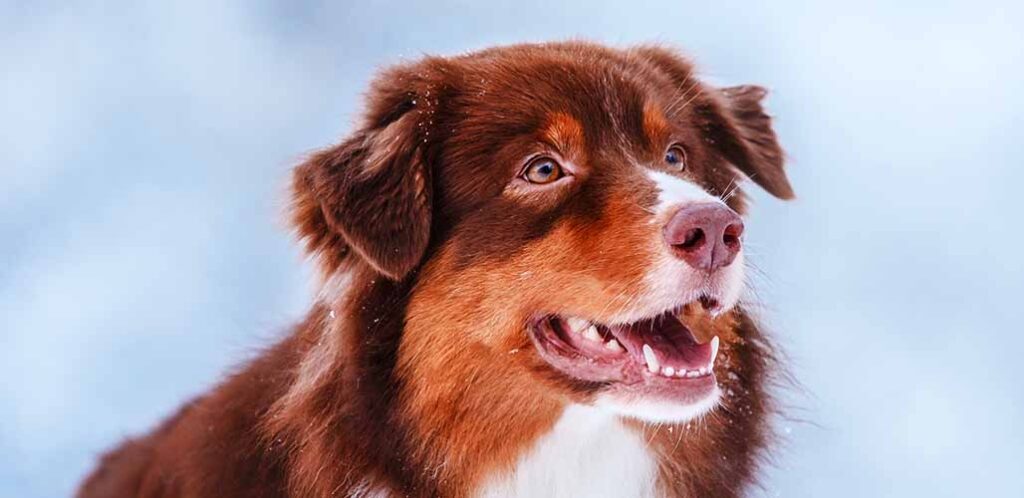 This detailed review of the milestones a 1 year old Australian Shepherd puppy should be reaching is a must-read for anyone whose Aussie Shepherd is approaching adulthood. We'll look at physical growth, emotional maturity, training… and even the best dog food for 1 year old Australian Shepherds.
A 1 year old Australian Shepherd is nearly fully grown, and the hardest of the puppy days are behind you. But it's no time to get complacent – there are still important care decisions to be made, and training to be done!
One year old Australian Shepherd dog Woody already has an amazing array of tricks under his belt. Let's see what else has been going on in his life.
Your 1 Year Old Australian Shepherd Puppy
As their first birthday approaches, it must feel like a long time ago that you first brought home your baby Australian Shepherd. Hopefully they're fully toilet trained, sleeping through the night, learning to be apart from you sometimes during the day, and making steady progress in their basic obedience training. So it's a time to reflect and pat yourself on the back for everything you've achieved together so far. But the task of raising them to adulthood isn't quite over yet, and it's also a time to take stock, and make plans for the year to come.
1 year old Australian Shepherd size
A female standard Australian Shepherd usually weighs between 40 and 55 pounds when fully grown. Males are slightly bigger, and weigh 50 to 65 pounds fully grown. It's likely that your pup already falls within these weight brackets now. A full grown mini Australian Shepherd (known by the AKC as a Miniature American Shepherd) weighs 20 to 40 lbs. And since smaller dogs reach their full adult weight earlier, they have almost certainly reached that point now. For the purposes of the rest of this article though, we're going to focus on the standard Australian Shepherd.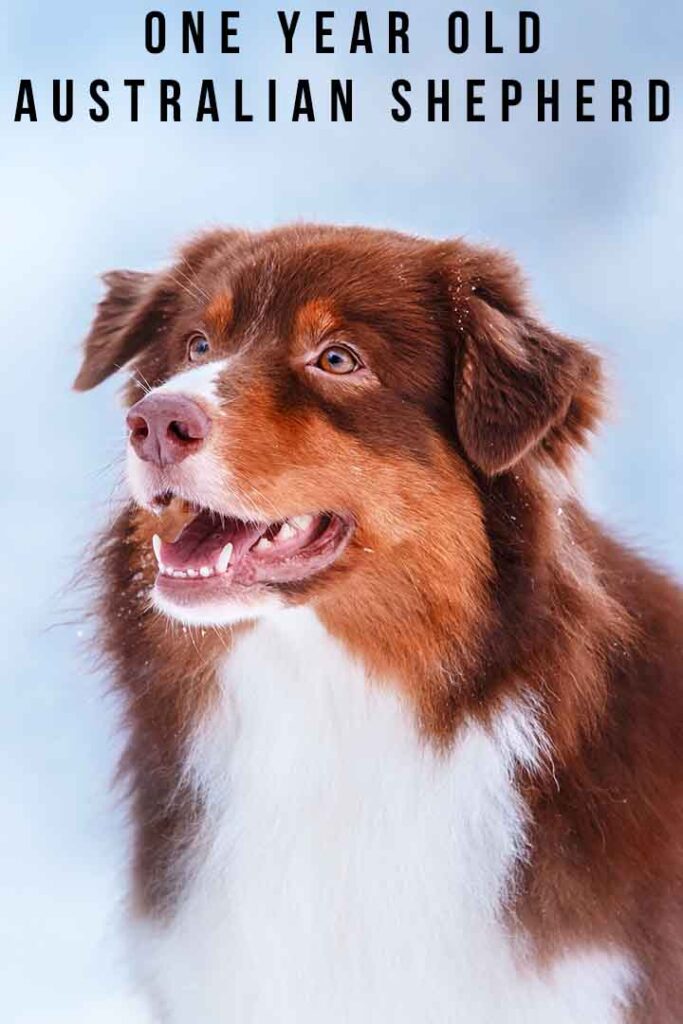 Is my 1 year old Australian Shepherd done growing?
Nearly! Unlike their mini counterparts, standard Australian Shepherds haven't quite finished growing by their first birthday. They probably won't get any taller now, but they probably will still gain a couple more pounds of muscle. It's helpful to continue weighing them on a regular basis for a few more months, so that you can get an idea of when their growth levels off, and what their 'ideal' adult weight is.
Is my 1 year old Aussie Shepherd an adult now?
There's no universally agreed upon definition of when an Australian Shepherd puppy becomes an adult. Lots of people stop referring to their dog as a puppy after their first birthday. Some sentimental old fools (like me) are still calling their dog a puppy on their 3rd birthday (albeit only when no one else can hear!). Other people consider their dog an adult when they've finished adolescence. This varies by breed according to their size, but for Aussies it's around 18-24 months old. In fact whilst this period of psychological transition to adulthood is still in progress, you definitely can't expect them to behave like a fully mature adult. And we'll come back to that in a moment. But first, there's one thing you definitely can start doing, and that's feeding them like an adult.
Best dog food for 1 year old Australian Shepherd dogs
If your Aussie has been on a specially formulated puppy diet until now, it's time to transition them to an adult diet. Puppy diets are balanced to provide the nutrients and calories a puppy needs to support a period of rapid growth. If they continue eating it as an adult, they may become prone to weight gain and obesity. You can ask your vet to recommend a suitable adult diet based on factors such as your Aussie's exact size, and lifestyle factors.
If their current food is labeled as being suitable for 'all life stages', then there's no need to change it. But keep an eye on the appropriate portion size for their age. The total daily calories they need as an adult will be less than they needed growing up, because they no longer need to fuel that kind of rapid growth.
Caring for your 1 year old Australian Sheepdog
Most Aussies are still midway through adolescence on their first birthday. In other words, their temperament isn't 'finished' and stable yet, and they're still developing and maturing emotionally. This can present some challenges to your training, which we'll come to in a moment. But there are a couple of things to keep in mind too.
Fearfulness and anxiety
In some Australian Shepherd puppies, adolescence brings with it an increased fearfulness or anxiety around unfamiliar things. Adolescent dogs might also be quicker to form a permanent distrust of something which frightens or startles them in this period. This can come as a shock and feel like a big setback to puppy parents who worked really hard on socializing their puppy thoroughly before 12 weeks old. If your 1 year old dog suddenly becomes nervous of things which didn't trouble them a few months ago, don't try and force them to confront those things anyway. Take your time to re-establish a positive connection with them, by building up exposure to them again gradually and using lots of treats to make it a positive experience.
Female Australian Shepherd first heat
If your Aussie is an unspayed female, then you can expect her to go into heat for the first time around her first birthday. Between 11.5 and 12 months is the average age Aussies have their first heat, but of course some girls will be earlier or later. During this time you might notice she seems out of sorts, confused, and looks to you for lots of reassurance. You can help take her mind off it by playing her favorite games, and giving her interactive toys like stuffed Kongs. Try to walk her at quiet times when she's less likely to be bothered by male dogs, keep her on the leash and supervise her at all times (even in your own yard).
Booster shots
Most dogs have annual booster shots to maintain the immunity conferred by their puppy vaccinations. They fall due a year after their puppy vaccination schedule was completely, so make a note in the diary now to book them in good time.
1 year old Australian Sheepdog behavior
As we've already touched on, your pup's temperament isn't stable yet, and you might notice they're playing like a puppy one moment, pushing boundaries like a teenager the next, and then behaving like a perfect grown up a few minutes later! It's important to stay patient and consistent during this period, and prevent them being rewarded for making unwanted choices. So for example, if they start straying too far from you on walks, go back to using a long line, so that they can't be rewarded by finding wildlife to chase.
Natural instincts
Like all working dogs, Aussie dogs have been selectively bred to display some natural instincts exceptionally strongly, so that humans can use them to their own advantage. Aussies have a strong, innate herding instinct, which is at least partly genetic. Herding dogs use prey stalking, barking and nipping to keep their flock together and drive them towards their intended destination. You might also notice your Aussie trying to round up people and children in the same way. This can cause problems and frustration on all sides if it's allowed to get out of control. If you're struggling with it, try this:
Don't let it turn into a habit. Use a long line to stop your puppy reinforcing a habit of herding things they shouldn't. Whilst they'll never grow out of their herding instinct altogether, if you can prevent them directing it towards inappropriate targets now, they'll be more likely to leave them alone in future too.
Redirect them. Teach your dog alternative behaviors, like a simple hand touch, or how to fetch a ball, and use it to distract them from unwanted herding.
Take up a dog sport. Providing an appropriate outlet for your dog's working instinct really helps to stop it bubbling over at home. Herding specific activities like herding trials and treibball are popular, but agility, obedience, disc dog and flyball are all fun possibilities.
Australian sheep dogs also have a strong natural instinct to protect their family, which can result in increased stranger aggression. So continue to make encounters with new people rewarding by feeding your Aussie tasty treats. Whenever you plan to meet someone with your dog in tow, ask that person to bring a few treats to offer them by way of greeting.
How to train a 1 year old Australian Shepherd
Aussies are fantastically smart dogs, who can learn a huge repertoire of tricks in a remarkably short time. In fact, training games with an Aussie aren't just easy if you feel like doing them – they are essential! Aussies have an extremely high appetite for mental stimulation, and more than 8 in 10 Aussie owners do at least one dog sport with their Aussie to meet that need. Over half do two or more sports!
If your 1 year old Aussie seems to be picking up more and more unwanted behaviors, it's likely that he needs more appropriate outlets for his energy and intelligence. But at the same time, lots of owners find that this is the time when basic obedience training, which had been going so well, starts to unravel. That's because adolescence marks the time when Aussie's wild ancestors would finally become fully independent. The satisfaction of making decisions for themselves is suddenly just as rewarding as receiving a food treat for doing something you've asked! In a working context, farmers rely on this independent decision making ability, so it's still strong in pet dogs too.
Training at this age is all about setting your dog up to make good choices, and limiting their ability to make unwanted choices. Force free, positive reinforcement training is the most effective way to do this. If you're more used to traditional methods, this article can help you get started.
1 year old Australian Shepherd milestone checklist
Here's a summary of 1-year milestones for the Aussie dog breed:
If you haven't already done so, choose an adult Aussie Shepherd food, and plan to transition them onto it gradually, over a period of about a week.
If your female Aussie hasn't had her first season yet, get prepared with toys and washable blankets for covering furniture.
Continue weighing them regularly so you can spot the point where their weigh levels off and bear it in mind for future reference.
Book their first booster shots, for a year after their puppy vaccination schedule was completely.
Renew your commitment to training, and perhaps sign up for some dog sport taster sessions to try something new!
Before you go, don't forget to tell us how your 1 year old Aussie is getting on using the comments box down below!
Don't miss
References
Hesselink. Development, distribution and analysis of a health inventory questionnaire for the Australian Shepherd as an indication for inherited disorders. University of Utrecht. 2020.
Salt et al. Growth standard charts for monitoring bodyweight in dogs of different sizes. PLOS One. 2017.
Spady & Ostrander. Canine Behavioral Genetics: Pointing Out the Phenotypes and Herding up the Genes. American Journal of Human Genetics. 2008.
The Australian Shepherd Club of America.
Get Pippa's free dog training tips delivered to your inbox