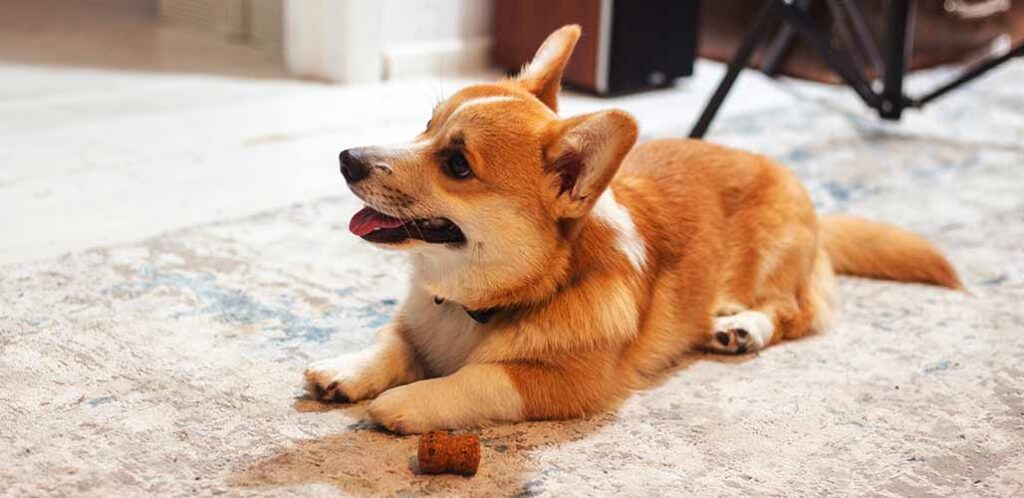 This article answers the question 'why do Corgis have short legs'. We'll find out why short legs became desirable for Corgis, but also look at the drawbacks of dwarfism in dogs.
Corgi's short legs are caused by one of two types of genetic dwarfism, or in some cases, both types combined. Both types started as random mutations, but humans deliberately bred more puppies with short legs, because they made dogs better at certain jobs.
In this video, you can see YouTube sensation Maxine riding around New York City in a bespoke backpack to save her short legs and keep her safe in the crowds. Now let's find out more about why she stands head and shoulders below the crowd!
Why do Corgis have short legs?
Corgis have short legs because they have one or two genetic mutations in their DNA which cause dwarfism. Dwarfism is a skeletal condition characterized by disproportionately short limb bones. The two types of dwarfism in the Corgi breed are:
Chondrodysplasia
Chrondrodystrophy
Both types are caused by a gene called the Fibroblast Growth Factor 4 gene (or FGF4 gene) being replicated in the wrong place in a Corgi's genetic code. In chondrodysplasia, there is a rogue copy of the gene on chromosome 12, and in chondrodystrophy there is an extra copy of the gene on chromosome 18. Some dwarf dog breeds only have one type of dwarfism or the other, but both types have been observed in Corgis. And since they're caused by genetic mutations in different places on their genetic code, they're not mutually exclusive. Which means one Corgi can even inherit both types of dwarfism at once.
The official breed standard for the Corgi accepts dogs between 10 and 12 inches tall at the shoulder blades, and up to 28 pounds if they're female, and up to 30 pounds if they're male. This allows for a bit of variation between individuals, and the smallest individuals tend to be those who have inherited both types of dwarfism.
Do Corgis have knees?
Yes! Corgis do have knees! The FGF4 gene disrupts the normal lengthening process of Corgis' leg bones, while they are still embryos in the womb. But, all the bones and joints between them are still there. Technically dogs only have knees on their back legs, and they are more properly known as stifles. When you see a dog sitting nicely to attention, the stifle is the part of their back leg which is furthest from the ground. The equivalent joints on their front legs are called their elbows.
Why are Corgis so short?
So now we know what causes Corgis to be so short. But why is it desirable? The first dogs with dwarfism are thought to have appeared thousands of years ago, not long after domestication had begun. Genetic mutations always start as a one-off, and only spread through a population if they confer a survival advantage, so that the affected individual has a greater chance of producing offspring.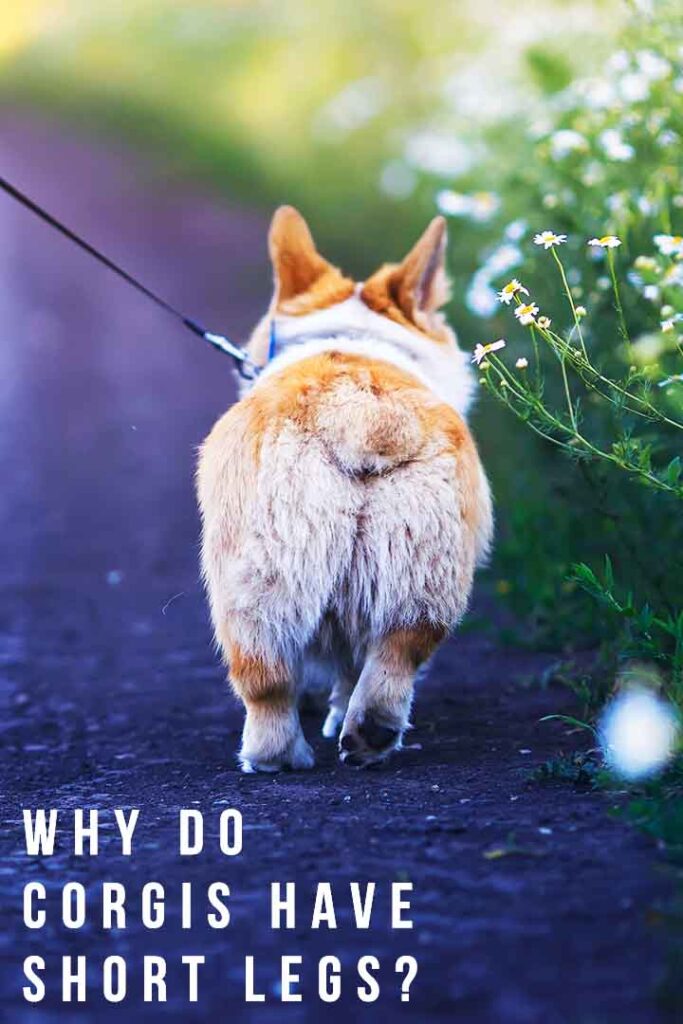 In the case of dogs, the dwarfism mutation spread not because it directly improved their chances of survival, but because it improved their human owners' chances of survival. Dog with short legs were useful for catching small vermin and flushing prey out from small spaces, such as under bushes. Humans appreciated this, so they bred more generations of dogs with dwarfism, and started finding even more uses for them. Which leads us to the development of the Corgi breed…
Sheep were domesticated after dogs, and it seems the Corgi breed first starts to fledge into being following the domestication of sheep in Europe. Sheep farmers valued dogs with a strong herding instinct and short legs, because they were just the right height for chasing sheep and nipping at their ankles to move them along if necessary.
What animals do Corgis herd?
Pembroke Welsh Corgis as we know them today started out herding and driving sheep owned by medieval Flemish weavers. Back then, dogs needed to earn their keep, since feeding and housing them was a luxury most people couldn't afford otherwise. So, lots of Pembroke Corgis have also been successful cattle herders too.
The less well known Cardigan Corgi is thought to have started out in Scandinavia, where it was primarily a cattle herder, but also a guardian dog and sometimes hunting companion. These days both types of Corgi are more likely to be family pets than working dogs. In fact, Pembrokes consistently rank among America's top 20 most commonly owned dog breeds.
Whilst pet Corgis don't have a flock of sheep to herd, don't be surprised if you spot them rounding up children, visitors, and smaller pets instead. To prevent this natural behavior turning into a nuisance, you can get involved with herding training and trials run by local clubs and breed registries. Providing a suitable outlet for your dog's natural instincts reduces the chances of them using those instincts in an inappropriate way at home.
Are Corgis hunting dogs?
All Corgis have a high chase drive, but they are not hunting dogs. Of the two Corgi types, only Cardigan Corgis are likely to have some history of hunting. They are a little taller than Pembrokes and about 25% heavier – most of which is muscle, making them better suited to hunting work.
Now we've looked at what causes Corgis' short legs, and why they were originally considered desirable, let's take a quick look at some othe drawbacks that come with them.
Disadvantages of being a dog with small legs
Unfortunately, not everything about Corgis' short legs is cute. Chondrodystrophy is also linked to an increased risk of intervertebral disc disease, or IVDD. IVDD is when the discs of cartilage between the vertebrae which cushion the movement of the spine start to degenerate. Symptoms include pain, weakness or paralysis of the limbs, and incontinence. Sometimes IVDD can be managed with pain relief or surgery, but it is expensive and unfortunately not always successful.
Since IVDD is linked to chondrodystrophy rather than chondrodysplasia, it has been suggested that Corgis' health could be protected by only breeding from dogs with chondrodysplasia. It's possible to have breeding dogs DNA tested to find out which of the two types of dwarfism they carry. But it remains to be seen whether breeders will embrace that testing, and even whether there is a sufficiently large breeding pool left, if all the chondrodystrophy carriers are removed.
Other Corgi health problems
Corgis also have a high prevalence of degenerative myelopathy. Degenerative myelopathy causes degeneration of the spinal cord, resulting in hind leg paralysis. Symptoms typically begin sometime after the dog turns nine years old. Sadly it is incurable, and affected dogs have to be euthanized when the symptoms can no longer be managed (usually within one to three years).
Furthermore, approximately 1 in 5 Corgis have hip dysplasia, and 1 in 3 have malformations of their shoulder joint. These can develop into painful arthritis and difficulty moving. At the time of writing, researchers haven't found any evidence that dwarfism interacts with either of these diseases, or degenerative myelopathy, to make them worse.
Caring for Corgi dogs' short legs
Corgis are desirable pets, but there are a few specific considerations people should bear in mind before committing to a dog with dwarfism:
Corgis have short legs, but they're far from slow. To succeed as working dogs they needed strength, stamina, and resilience. It's likely that your pet Corgi will have lots of energy too, but it's a good idea to take some simple precautions to protect their short legs – and more importantly their backs – from injury.
Discourage them from jumping up and down from furniture – put up ramps or steps for them to use instead.
Keep them at a healthy weight – excess weight places additional stress on their spine.
Don't rely on physical exercise alone to wear them out – use training games and problem solving activities like puzzle feeders too.
If you have somewhere suitable nearby, take them swimming. Swimming is a great form of physical exercise which supports their skeleton.
Can you get a long legged Corgi?
Chondrodysplasia is a semi-dominant genetic trait in dogs, and chondrodystrophy is completely dominant genetic trait. That means Corgis only need to inherit the gene for either type from one of their parents, and they will have short legs. It also means that it's possible that the gene for long leggedness is still present in a tiny number of Corgis, but always ends up being masked by one or both of the genes for dwarfism. It's extremely unlikely, but not impossible, that some Corgis could still produce long-legged puppies together.
A slightly more likely possibility is a puppy with one copy of the chrondrodysplasia gene, and no copies of the chondrodystrophy gene. They would have incomplete dwarfism – legs which are neither fully short, nor fully long. And whilst trying to reduce the prevalence of chondrodystrophy in the Corgi population is a good idea to protect as many dogs as possible from IVDD, it's unlikely that the Corgi-loving community will be keen to ever rid them of dwarfism altogether!
Other dogs with short legs
Of course, Corgis aren't the only long dogs with short legs. Some other popular dogs with stumpy legs are:
Skye Terrier
Dandie Dinmont Terrier
Scottish Terrier
Why do Corgis have such short legs – summary
Corgis have short legs because they have at least one type of hereditary dwarfism. Some Corgis even have two types! Some Corgis have an increased risk of intervertebral disc disease due to their dwarfism, and it's important to help them exercise safely.
Do you have a Corgi? What adjustments have you made for their short legs? Let us know in the comments box down below!
References
Bannasch. The Effects of FGF4 Retrogenes on Canine Morphology. Genes. 2022.
Batcher et al. Phenotypic Effects of FGF4 Retrogenes on Intervertebral Disc Disease in Dogs. Genes. 2019.
Brown et al. FGF4 retrogene on CFA12 is responsible for chondrodystrophy and intervertebral disc disease in dogs. PNAS. 2017.
Coates et al. Clinical Characterization of a Familial Degenerative Myelopathy in Pembroke Welsh Corgi Dogs. Journal of Veterinary Internal Medicine. 2008.
Karbe et al. Radiographic Hip Joint Phenotype of the Pembroke Welsh Corgi. Veterinary Surgery. 2012.
Orthopedic Foundation for Animals
Get Pippa's free dog training tips delivered to your inbox