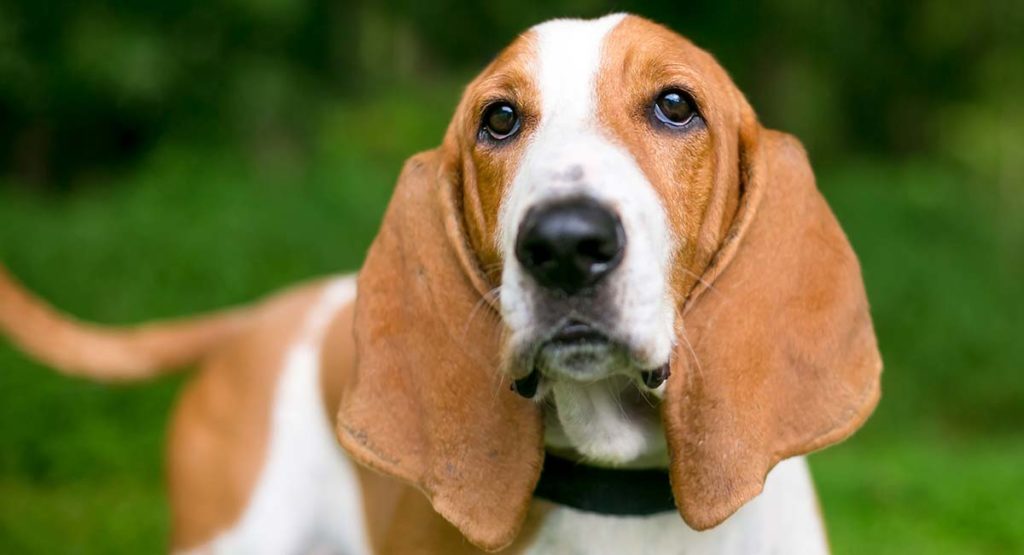 The best Basset Hound names pack enough charisma to match their owners'.
To get the ball rolling, here are our 100 top Basset Hound names
Tyson
Gracie
Jax
Cooper
Rudy
Lucy
Milo
Sadie
Hadley
Blue
Boomer
Maggie
Champ
Cash
Indy
Ziggy
Chief
Boone
Riley
Flower
Olive
Lucky
Annie
Smokey
Bubba
Linus
Junior
Shiloh
Madison
Missy
Maddie
Marley
Dallas
Dakota
Koda
Chase
Roxy
Lily
Jet
Axel
Molly
Angus
Ranger
Trixie
Roscoe
Hunter
Zoe
Olivia
Chief
Poppy
Mabel
River
Emma
Violet
Savannah
Summer
Clover
Opal
Blanche
Charlotte
Chandler
Prince
Finn
Amigo
Phillip
Deacon
Joey
Bandit
Ebert
Sawyer
Echo
Ryder
Maddox
Nyx
Racer
Juliet
Dozer
Jinx
Tag
Oliver
Fender
Pyro
Goldie
Skittles
Mowgli
Jellybean
Cricket
Waddles
Pumpkin
Button
Lottie
Hershey
Dolce
Taco
Sniff Snout
Dumbledog
Muttilda
Lil Bow Wow
Subwoofer
50 Scent
Sausage Pattie
Trixie Pup
Judge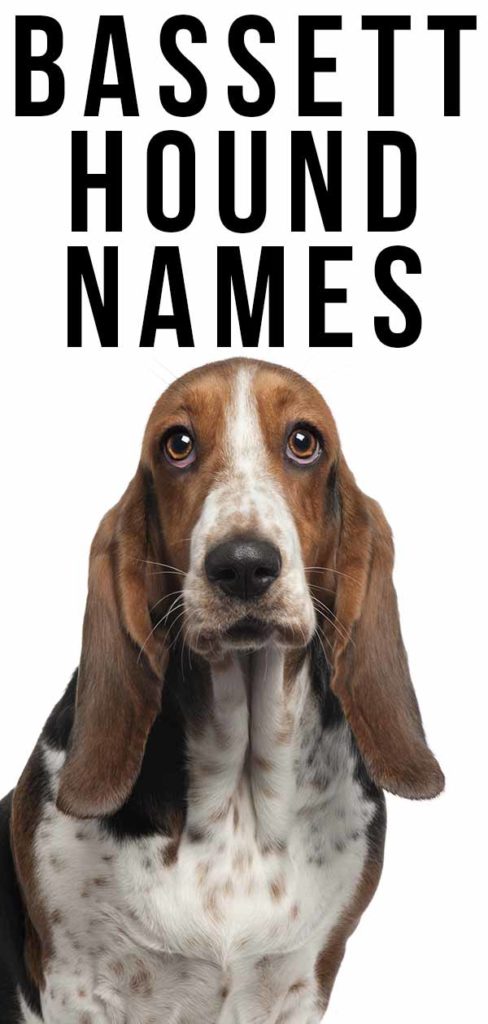 Basset Hound Names
Bassets especially are known for their relaxed personality, incredible nose, and delightful disposition.
This means you are in for a treat when it comes to Basset Hound parenthood.
So, without further ado, let's jump right in and talk about how to best pick a name for your new pooch, what kind of training works when teaching your Basset his name, and go over continue our compendium of of the best Basset Hound names available!
Choosing Basset Hound Names
Basset Hounds are intelligent dogs, but that doesn't mean that your Basset Hound is going to be easy to train.
This breed was created to be an independent thinker and follow his nose to wherever it may take him on a hunt!
With that in mind, you should try and remember that the Basset Hound will do best with positive reinforcement training such as treats and praise. You can try and apply this to when you are teaching your Basset Hound his name.
So, what names are likely to stick best with the Basset breed?
When it comes to dogs, experts suggest sticking with names that have no more than two syllables. Names like Rover and Lucy seem to be easiest for dogs to remember while names with only one syllable like Rex or names with three or more syllables like Cinderella can be tough.
But does that mean you can't give your Basset hound a three-syllable name? Of course not.
What's in a name?
There are truly no rules when it comes to naming your pet, and chances are that with positive reinforcement and consistency, your dog will have his name down in two weeks or less.
Of course, while there are no rules when it comes to naming your new dog, we do want to remind you to consider yourself during the naming process.
Naming your Basset plays a huge role in helping the two of you to bond. But it is also important to pick a name that you are cool with repeating both in private and in public.
We also recommend choosing a name that is easy to pronounce, as you will likely be saying this name quite often for the next 12 years or longer!
Now, are you ready to go through some of the very best Basset Hound names of this year? Then keep reading!
Female Basset Hound Names
If you are looking for some female Basset Hound names for your little lady, then you are in luck. Below are fifty of the most adorable female names for a Basset we could find.
Of course, since there are no rules when it comes to dog naming, you can also use any of the below names for a male Basset Hound. It's all up to you!
Lady
Harper
Hanna
Nora
Myrtle
Ruby
Piper
Blanche
Mackenzi
Magnolia
Bella
Rosie
June
Laney
Faith
Willow
Tessa
Carmen
Cassy
Clementine
Scout
Skye
Nola
Babs
Hope
Misty
Dottie
Princess
Mia
Scarlett
Sally
Jolene
Annabelle
Fiona
Heartly
Jessie
Lacey
Delilah
Arial
Charlie

Male Basset Hound Names

Are you looking for some great male names for your male Basset Hound? Or do you just love boy names for girls?
Either way, you and your Basset Hound are bound to love these adorable, masculine, and totally perfect male Basset Hound names.
Watson
Jackson
Frankie
Huck
Bruce
James
Levi
Benny
Gus
Henry
Buster
Tucker
Moe
Toby
Conrad
Max
Leo
Woody
Rusty
Mack
Rhett
Jack
Theo
Luke
Hal
Winston
Mason
Moose
Bear
Tyler
Jasper
King
Sam
Nuevo
Fredrick
Bruno
Chico
Ace
Salazar
Thomas
Cool Basset Hound Names

Okay, so your Basset Hound may not emit the cool factor. Let's face it; these dogs have an adorable, natural mope about them that just melts your heart, making them more cute than cool.
But does that mean they can't have a totally badass name? Of course not! We love these wickedly cool Basset Hound names and think you might too.
Oakley
Apollo
Talon
Whisky
Bentley
Baxter
Copper
Alaska
Diesel
Romeo
Maverick
Harlow
Axl
Beau
Clover
Brody
Dax
Lennox
Calypso
Sailor
Paxton
Nixie
Phoenix
Avril
Lights
Harley
Raven
Elektra
Cute Basset Hound Names

Alright, so this list may be the most fitting when it comes to these adorable dogs. Basset Hounds are crazy cute and we know you're smitten over your Basset Hound's long ears, droopy eyes, and little legs.
That's why this list of forty cute dog names for your Basset Hound is sure to melt your heart!
Bumblebee
Flower
Snickerdoodle
Herbie
Dixie
Gigi
Thumper
Sprout
Spot
Cupcake
Snickers
Peanut
Nugget
Sugar
Winnie
Hiccup
Baby
Bluebell
Goose
Marbles
Cuddles
Caramel
Marshmallow
Pip
Waffles
Tillie
Pepe
Speedy
Funny Basset Hound Names
Basset Hounds are as cute as they are funny, and that's why we are going crazy over these hilarious and totally fitting names perfect for any Basset Hound.
Does your Basset Hound keep you laughing? Then you are about to sincerely lol over this list of funny Basset Hound names below.
Stubs
Shortie
Sir Stubby
Winston Fur Chill
Detective Ears
Putt Putt
Snoop Dogg
Charles Barkley
Pup Tart
Eeyore
Woofles
Wagington Goodsniffer
Mary Puppins
Inch
Sir Wags
Borker
D.O.G
Broody
Master Paws
Miss Piggy
Jimmy Chew
Lazy Bones
Muddy Buddy
Madam Goodsniff
Dumbo
Laggs-a-Lot
Groucho Barks
Longface Lucy
Sherlock Bones
Bob Scratch-It
Ruff
Sniffy Longdroppings

Unique Basset Hound Names

Basset Hound dogs are certainly distinctive. They have their own unique look, temperament, and personalities. So, it's no wonder you would want a unique name that stands out just like your sweet Basset Hound!
If we are right on the money, then you'll be happy to know that the list below is full of one-of-a-kind names just for you and your outstanding Basset Hound pup!
See for yourself!
Heidi
Jefferson
Norman
Governor
Einstein
Big Boy
Hemingway
Pooh
Barkley
Tripsy
Atticus
Lancelot
Cedar
Mango
Broderick
Runner
Luna
Zara
Eleanor
Tex
Elmo
Yellow
Gatsby
Kit
Darcy
Brix
Elliot
Rerun
Keats
Lila
Denny
Dallas
Lincoln
Pence
Fletcher
Sully
Ritz
Millie
Godfry
Taco

Tough Basset Hound Names

Okay, so this breed might not be naturally cool by society's standards, but they can be pretty tough!
These independent thinkers were bred to be skilled hunters and they know how to follow their noses. They are also famed for being a great detective's sidekick! If that's not totally tough we don't know what is!
So, with that in mind, let's take a look at some of the best tough names for your totally tough Basset.
Blaze
Monster
Tiger
Walker
Thunder
Justice
Vixen
Hunter
Pharaoh
Medusa
Ursula
Arrow
Jedi
Revenge
Minx
Blizzard
Fang
Nightmare
Arya
Ghost
Killer
Pepper
Eleven
Clepto
Vader
Avalanche
Xena
Punk
Sting
Shadow
Beast
Ninja
Luther
Lightning
Hades
Warrior
El Diablo
Thor
T- Bone

Fun Facts About Basset Hounds
Basset Hounds are popular and adorable companions, but did you know they've had some run-ins with quite a few famous people?
Elvis Presley himself serenaded a Basset by the name of Sherlock on the "Steve Allen Show"! And what was the tune of choice? You guessed it – "Hound Dog"!
But Basset Hounds don't leave the stardom only to their human counterparts.
No sir, these chipper chaps have starred in Disney movies, television shows, and even played on and off screen detectives.
What is your favorite thing about a Basset Hound and which name did you decide on? Let us know in the comments below!
References
Mary B. Harris, Some Factors Influencing Selection and Naming of Pets, Psychological Reports,
Ai Kutsumi, Miho Nagasawa, Mitsuaki OHTA, Nobuyo OHTANI, Importance of Puppy Training and Future Behavior of the Dog, Journal of Veterinary Medical Science
Ian Dunbar, Before & After Getting Your Puppy: The Positive Approach to Raising a Happy, Healthy & Well-Behaved Dog, Chapter 1, What's Important to Know Right Away
Brian Hare, Michael Tomasello, Human-Like Social Skills in Dogs?, Trends in Cognitive Sciences, Volume 9, Issue 9, Pages 439-444,
Emanuela Prato-Previde, Deborah Mary Custance, Catrina Spiezio, Francesca Sabatini, Is the Dog-Human Relationship an Attachment Bond? An Observational Study Using Ainsworth's Strange Situation, Behaviour, Volume 140, Pages 225-254
Get Pippa's free dog training tips delivered to your inbox