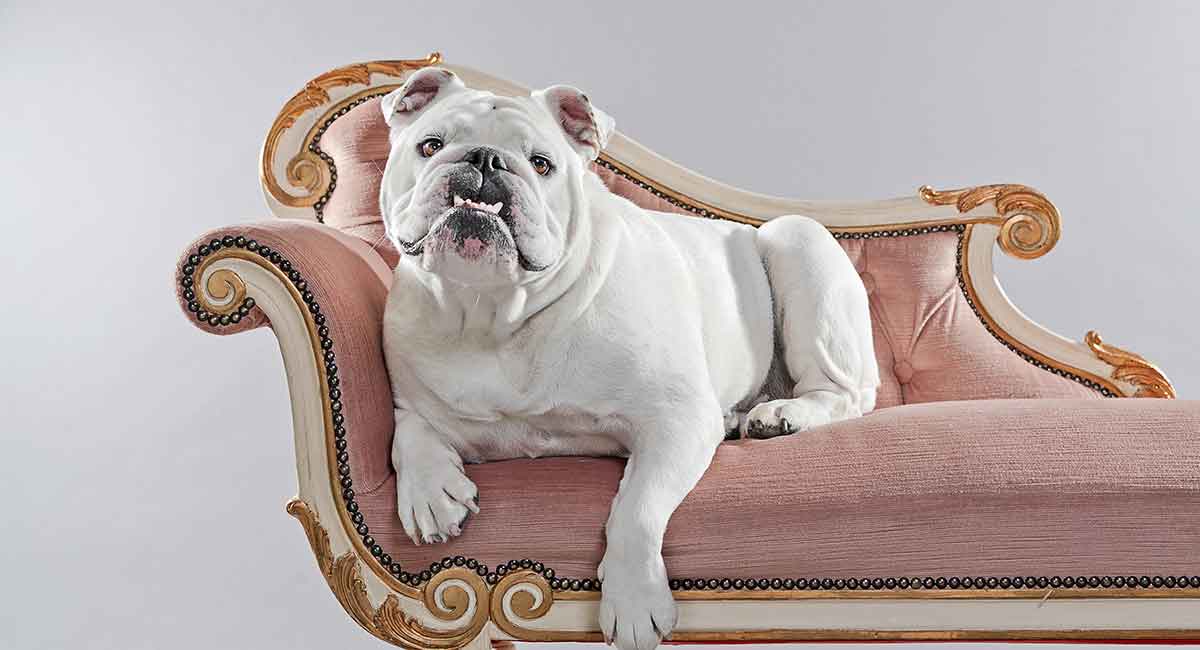 Don't let the classic white English Bulldog frown fool you! English Bulldogs are one of the most popular dog breeds in the world.
These sad faced pups are soaring in popularity.
The beloved Bulldog has been a symbol of England for decades.
It's also become an endearing mascot for sports teams, companies, and even the United States Marine Corps.
They come in a variety of colors. The most striking of which may be those with all-white coats.
So, does this iconic pup make a good pet?
We delve into the pros and cons of the white English Bulldog.
Classifying Bully Breeds
English Bulldogs are one of the "bully" dog breeds, along with Pitbulls, Bull Terriers, mastiffs, and more.
They feature stocky bodies, large heads, and short coats.
Many are thought to have a "bully-like" temperament as well, but that is not always the case.
People use the term "white bulldog" to describe a variety of similar, but vastly different dogs.
When searching for a white English Bulldog, the only other correct name to use would be "white British Bulldog."
Other Names
There are other names and non-AKC standard breeds that may be mistaken for purebred English Bulldogs. These include:
Old English Bulldog
American Bulldog
Southern heritage white English Bulldog
Altman white English Bulldog.
These breeds are said to be an attempt to reverse years of genetic manipulation in the English Bulldog. Perhaps an opportunity to have bulldogs with fewer health issues.
Nevertheless, English or British Bulldogs remain admired and treasured members of the bully breeds.
English Bulldog Coloration Standards
English Bulldogs feature a variety of beautiful coat colorations.
The American Kennel Club recognizes the following color variations (or any combination of):
Markings
Markings may include a black mask, black tips, brindle, piebald, ticked, or white markings.
Research may lead you to discover non-standard colorations. These are not accepted by the AKC and other English Bulldog breed experts.
They are marketed as "rare" or "exotic". Reputable breeders however, are cautious to keep impurely bred dogs out of the precarious English Bulldog gene pool.
White English Bulldog Appearance
Generally speaking, the white English Bulldog features the same defining characteristics of their multicolored counterparts
They have bow-legs, broad head and face, heavy wrinkles, large jaws, and a straight or curly tail.
A sturdy breed, they stand 14 to 15 inches tall and can weigh up to 50 pounds.
The key difference therefore, is coat coloration.
White English Bulldog Coats
The coat of any Bulldog will be straight, flat, and glossy.
All-white English bulldogs typically feature a black nose and muzzle. They'll also have pink coloration inside the ears.
A pure white English Bulldog can be a challenging find!
Some "white" English Bulldogs may feature a light scattering of markings.
White English Bulldog Color Origins
How does a pure white English Bulldog come about?
Coat coloration is determined by genes passed down from its mother and father.
Changes in the gene responsible for coat coloration cause the variety of coat colorations and patterns seen within dog breeds.
Breeders carefully select parents that will produce puppies of the desired coat colorations.
Genetics
Only two basic pigments contribute to canine coloration: black and red.
Genes control how much of these pigments are produced and where to produce them.
As it turns out, genes can tell cells to make no color at all!
According to a 2014 study, a dog's white coat is the result of the complete absence of pigment cells within hair follicles.
Genetics and Deafness in White English Bulldogs
A single gene can control more than one trait.
English Bulldog breeders may select a specific gene combination for coat coloration. As a result they may also be selecting unintended issues also controlled by that gene.
For example, the gene that controls white pigmentation in dogs may make it more likely that they will also inherit hearing loss.
Scientists have identified more than 80 dog breeds that are at risk for congenital, or hereditary, deafness.
It can occur in any breed. However, those with white coat pigmentation are especially at risk to inherit this disorder.
Is Deafness Guaranteed?
Breeders must avoid breeding dogs that are deaf or may be carriers of the deafness gene.
English bulldogs are one of the species at risk for congenital (hereditary) deafness. This is due to their white markings or all-white coat coloration.
White English Bulldog puppies affected by this hereditary disorder may be born deaf. Alternatively they might begin to lose hearing a few weeks after birth.
Other Hereditary Health Issues in English Bulldogs
Selective breeding for desirable physical traits has serious results. This includes an extensively altered English Bulldog form. As a result, these dogs face numerous health challenges.
These issues affect white English Bulldogs in addition to all standard colorations.
Some of these well-documented health issues include:
chondrodysplasia (cartilage malformations)
prognathism (jaw position)
heart valve defects
immunologic disorders
cataracts and other eye issues
allergies
cancers.
Has this Affected Popularity?
These heritable health issues have not decreased the popularity of the breed.
Potential owners should be prepared for the cost associated with treating English Bulldog health problems.
Let's dive into a few common health problems that you need to be aware of.
Brachycephalic Airway Syndrome
Breeding to enhance the distinctive upturned and flat face of English Bulldogs has resulted in the leading cause of their illness and potential death. This is known as Brachycephalic Airway Syndrome.
Scientists believe that all English Bulldogs are impacted by this disorder to some extent.
Shortening English Bulldogs' nose and jaw bones also causes abnormalities in the respiratory system.
This leads to snoring, over heating, loud breathing, difficult or rapid breathing, and even sudden death.
Life for brachycephalic dogs is generally uncomfortable, even when at rest.
They will even try to sleep sitting up in order to breathe better.
More information about brachycephalic airway syndrome can be found in this article.
Corktail
A curly or screw-shaped tail formation on an English Bulldog presents two major concerns. These are hygiene and spinal deformities.
Similar to deep skin wrinkles, the screw tail must be kept very clean and dry.
The curly tail can trap feces and dirt, leading to irritation and infection.
Each time your English Bulldog poops, you'll need to check and clean the tail.
Beyond the dirty work, English Bulldogs with screw tails are at risk of misshapen spinal bones. These are known as "hemivertebrae."
This can lead to spinal compression, leg weakness, and incontinence. It may also be difficult for the English Bulldog to groom himself or he may experience pain.
Surgery can correct spinal compression. If possible, be sure to check if either parent suffered from this affliction because it may be passed down.
Additional White English Bulldog Health Risks
White English Bulldogs are at risk from sunburn while outdoors. This goes for any dog with white coloration,
The light coloration allows UV rays to reach the skin more easily. Short hairs exacerbate this risk further. This results in sunburn.
You should apply pet-friendly sunscreen to a white English Bulldog when spending prolonged periods of time outdoors.
You should avoid dog walking on sunny days anyway. It can exacerbate their breathing problems.
A more complete look at English Bulldog health problems can be found in this article.
Loss of English Bulldog Genetic Diversity
Centuries of selective breeding has actually put the entire English Bulldog breed at risk.
A 2016 genetic assessment found that the English Bulldog breed has lost "considerable genetic diversity". This means that improving the health of the breed will be difficult.
Hope is not completely lost for this beloved breed. Breeders, veterinarians, and scientists are working together to help the
English Bulldog breed may make a healthy recovery.
Be sure to check credentials and reviews to ensure you are supporting healthy bulldog breeding!
English Bulldog Temperament
The white English Bulldog's laid back and friendly temperament is a far-cry from that of their ancestors'.
English Bulldogs were originally bred to be "bull-baiters". These dogs had large heads and powerful jaws. Not to mention a cantankerous temper.
This vicious sport was outlawed in the 1800s. Then, they were bred to be companion animals.
These days, English Bulldogs are greatly admired for being friendly and agreeable.
All-white coloration is a standard variation of the breed. As a result, you can expect a dog as outgoing, gentle, and courageous as their marked or multicolored counterparts.
As with any pet, socialization and training are vital. This will ensure your white English Bulldog remains a good-natured companion.
White English Bulldog Grooming
The sleek and smooth coat of a white English Bulldog should be groomed two to three times per week. Grooming is best done with a soft-brush.
Be aware that an English Bulldog sheds regularly.
The heavy wrinkles of an English Bulldog's face need to be cleaned regularly. This will ensure the skin is dry and clean.
Trapped moisture or food particles can cause skin infection or irritation. Baby powder or cornstarch absorbs moisture after cleaning.
If an English Bulldog has a twisted tail, the area under the tail needs to be clean and dry. This goes for the wrinkles too.
Activities for English Bulldogs
English bulldogs can be mistaken for lazy animals. This is due to their overall laid back nature.
While they are happy to relax, they also enjoy walks and play. Regular activity along with a moderate diet will help them keep a healthy weight.
Heavy exercise should be avoided on hot days. The short English Bulldog muzzle can cause breathing issues.
Certainly, climbing stairs can be challenging, especially for English Bulldog puppies.
Their front-heavy build can set them off-balance. As a result, they may fall down stairs. Helping puppies learn proper stair descents, as well as supervision, can prevent falls.
These dogs are very happy to splash around in shallow water. However, deep pools are a different story. Heavy breathing can cause rapid inhalation of water. This may result in drowning.
White English Bulldog Puppies
White English Bulldogs puppies are full of charming looks and personality. These are shared with their colorful counterparts. The potential in White English Bulldogs for deafness is there however.
Very sadly, we can't recommend them as pets, despite their incredibly cute and wrinkly appearance.
The health problems every English Bulldog faces gives them a short and uncomfortable lifespan compared with the average dog.
Therefore, we recommend rescuing an older English Bulldog if your heart is set.
This won't promote the breeding of unhealthy puppies. In addition, you can give a dog in need a new lease on life by rescuing or adopting.
Have you got an English Bulldog? Let us know in the comments!
Further Reading
If you've loved learning more about the white English Bulldog, we've got plenty more articles you'll love.
Whether you want to read about other dogs that have unique, interesting colors, or simply more about English Bulldogs – we've got it all!
Take a look below.
References
Pederson, Niels C. et al. "A genetic assessment of the English bulldog." Canine Genetics and Epidemiology, 2016.
Puppy Health: Screw Tails and Hemivertebrae
Strain, George M. "Deafness prevalence and pigmentation and gender associations in dog breeds at risk." The Veterinary Journal, 2004.
Strain, George M. "The Genetics of Deafness in Domestic Animals." Frontiers in Veterinary Science, 2015.
Svensson, Josefin. "Why White Dogs are White." 2014.
Williams, Krista et al. "Brachycephalic Airway Syndrome in Dogs." 2018.
Get Pippa's free dog training tips delivered to your inbox