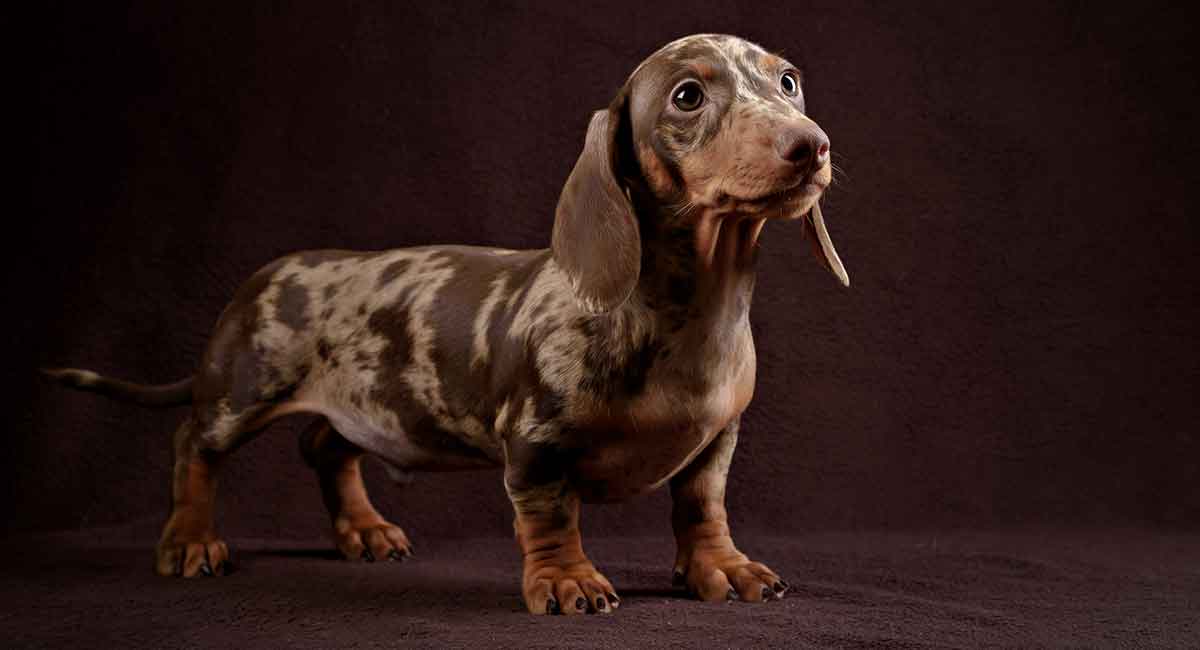 Have you ever seen a dapple Dachshund?
As if the adorable Dachshund could be any more remarkable, dappling adds spots and splashes in a different hue to the solid breed color.
Sounds cute right?
It absolutely is!
But does this aesthetic appeal cause problems for a breed that's already plagued with more than their share of health issues?
This article will offer an in-depth look at what dappling and double dappling is and what it means for the Dachshund breed.
What Is a Dapple Dachshund?
Dapple Dachshunds are still Dachshunds.
The difference is that instead of being one solid color, they have patches of another color with the base color showing through.
For example, a chocolate dapple Dachshund can have areas of yellowish hair.
Or a brown dapple Dachshund can have patches of lighter brown.
Red dapple Dachshunds are often harder to detect because patches of lighter red are not as distinct.
Dappling can vary greatly from a smattering of splashes to one single spot, even within puppies from the same litter.
The Dachshund comes in three coat varieties: smooth, wire, and long haired dapple Dachshunds.
There are also long haired dapple miniature Dachshund puppies.
Make sure you don't miss out on our guide to Dachshund names.
How Do You Get a Dapple Dachshund?
Dappling is not a color, but a pattern caused by the merle gene.
This is the same gene that's found in Merle Collies, Australian Shepherds, and Harlequin Great Danes.
Although our knowledge of genetics has grown, there are still some unexplained mysteries.
What we do know is that the dapple or merle gene is a dominant gene.
So only one of the parents needs to be a dapple to create dapple Dachshund puppies.
Two parents with solid coats cannot produce a dapple puppy.
This article will give you an in-depth understanding of how genes affect coat color and pattern.
Popularity of the Dapple Dachshund
With his vivacious personality, long back, and short legs, it's hard not to fall for one of dogdom's most idiosyncratic breeds.
Although of German origin, the Dachshund has been popular in the US for decades and currently ranks 13th in popularity according to the American Kennel Club.
A complex kaleidoscopic pattern gives the dapple Dachshund a uniquely beautiful coat that can make them even more desirable to some people.
There are Dachshund breeders who try to attain this trendy appearance in their litters.
But are these appealing physical attributes causing destructive problems in the breed?
What Is a Double Dapple Dachshund?
When two dapple Dachshunds are bred with each other, they can both pass on the dapple gene to get a double dapple Dachshund puppy.
When two dapple markings overlap, it creates a double dapple pattern that's even more intricate than the single dapple Dachshund coat.
Double dapple Dachshunds will also have white markings on large areas of the body.
If dappling appears on the face, one or both eyes might be a striking icy blue color.
This can be quite attractive and distinctive.
However, this double dapple gene dose can also pass on an array of serious health issues to the offspring.
Double Dapple Dachshund Health Problems
Not all double dapple Dachshunds will be afflicted.
But double dappling has been proven to considerably increase the chance of conformation and other health issues.
The Dachshund is a breed already prone to serious neck and back problems.
These are due to their long spine length in comparison to their very short legs, as we'll delve into shortly.
When two dogs with the dominant dapple gene are bred, more of the coloring is diluted, which produces a lot of white coloring.
This frequently causes serious problems with the dog's eyes and ears that can significantly reduce their quality of life.
Double Dapple Dachshund Eye Health Problems
The expressive, soulful eyes of the Dachshund are at risk to a host of eye issues.
Progressive retinal atrophy (PRA) is a genetic defect that leads to reduced vision and eventually blindness.
Dry eye syndrome, cataracts, glaucoma, optic nerve hypoplasia, and distichiasis, which is described as abnormal eyelashes that are directed to the cornea, are all eye-related issues that any Dachshund is vulnerable to.
The double dapple Dachshund is at risk for being born with even more devastating eye problems including:
Blindness or partial blindness in one or both eyes
Having only one or no eyes at all
Abnormally small eyes
Malformed eyes
Congenital eye defects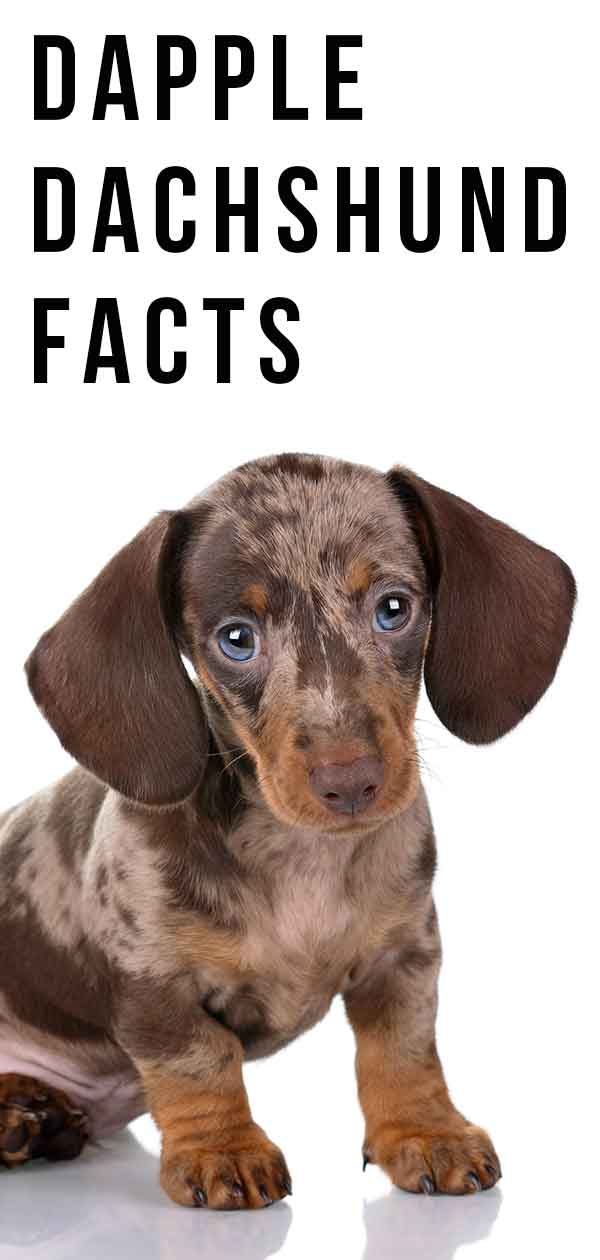 Double Dapple Dachshund Ear Health Problems
Crossing two dapple Dachshunds with the intention of producing double dapple puppies can cause the following ear health problems in the litter:
Deafness in one or both ears
Malformed ears
Missing ears
Intervertebral Disc Disease (IVDD)
The iconic elongated wiener dog conformation is so instantly recognizable and thoroughly adorable.
Unfortunately causes a high degree of back problems for the Dachshund breed.
That long back is quite fragile, and it's important for him to maintain an appropriate weight for his size.
Overeating quickly leads to obesity in this breed and exasperates back issues.
According to this study, the standard smooth-haired Dachshund is most at risk for back problems, and the standard wire-haired is at the least risk.
Miniature Dapple Dachshunds
This diminutive version of the breed measures just 5 to 7 inches and weighs in at less than 11 pounds.
A healthy mini dapple Dachshund can live up to 16 years.
Miniature dapple Dachshund puppies are bold and high-spirited.
Unfortunately, these little guys are prone to becoming overweight.
This can lead to serious issues for their long backbone and spinal disc problems.
The miniature Dachshund is also at high risk for IVDD.
Say No to Double Dappling
Breeders are strongly advised to not knowingly breed two dapple Dachshunds.
Regrettably, there are breeders who will advertise "dapple piebald Dachshunds," "silver dapple Dachshunds," or "blue dapple Dachshunds."
These breeders are either unaware of the problems that double dappling causes, or they simply don't care about animal cruelty and are only interested in making money.
There is no way for you to know what risks to the puppies' health have been made by breeders who advertise based on color.
Knowing the health problems and genetic defects that double dappling causes, it's hard to comprehend why they are still bred.
Other than unique color patterns and fascinating eye color, there really is no reason.
Every dog with dapple markings, even if it's just one, needs to be registered as a dapple to avoid breeding with another dapple.
How to Avoid Dappling When Choosing a Puppy
In some dogs, the dappling is hardly noticeable.
Sometimes a white patch will be more noticeable on a puppy's ears or belly and will gradually fade in time.
Ask about Kennel Club registration.
The American Kennel Club (AKC) has deemed the double dapple Dachshund breed to be unacceptable.
The main concern of reputable breeders is the health and well-being of their litters.
They should be able to answer questions about dappling, and you should be able to meet the puppy's parents.
Avoid buying puppies whose parents exhibit exaggerated body length or very short legs.
These are high risk components for IVDD.
Buyers are strongly recommended to not purchase double dapple dogs, due to the high risk of genetic defects.
Hopefully a decreased demand will put pressure on breeders to stop breeding double dapple Dachshund puppies.
References and Further Reading
Schmutz, SM, et al., "Genes affecting coat colour and pattern in domestic dogs: a review," Department of Animal and Poultry Science, University of Saskatchewan, 2007
Clark, LA, et al., "Retrotransposon insertion in SILV is responsible for merle patterning of the domestic dog," Proceedings of the National Academy of Sciences of the United States of America, 2006
References and Further Reading
Strain, GM, et al., "Prevalence of Deafness in Dogs Heterozygous or Homozygous for the Merle Allele," Journal of Veterinary Internal Medicine, 2009
Klinckmann, G., et al., "Light‐Microscopic Investigations on the Retinae of Dogs Carrying the Merle Factor," Journal of Veterinary Medicine, Volume 33, Issue 1-10, 1986
Curtis, R., et al., "Progressive retinal atrophy in miniature longhaired dachshund dogs," British Veterinary Journal, Volume 149, Issue 1, 1993
Packer, RMA, et al., "DachsLife 2015: an investigation of lifestyle associations with the risk of intervertebral disc disease in Dachshunds," Canine Genetics and Epidemiology, 2016
"Incidence of intervertebral disk degeneration–related diseases and associated mortality rates in dogs," Miniature Dachsund most highly represented breed Journal of the American Veterinary Medical Association, Vol. 240. 2012
Get Pippa's free dog training tips delivered to your inbox