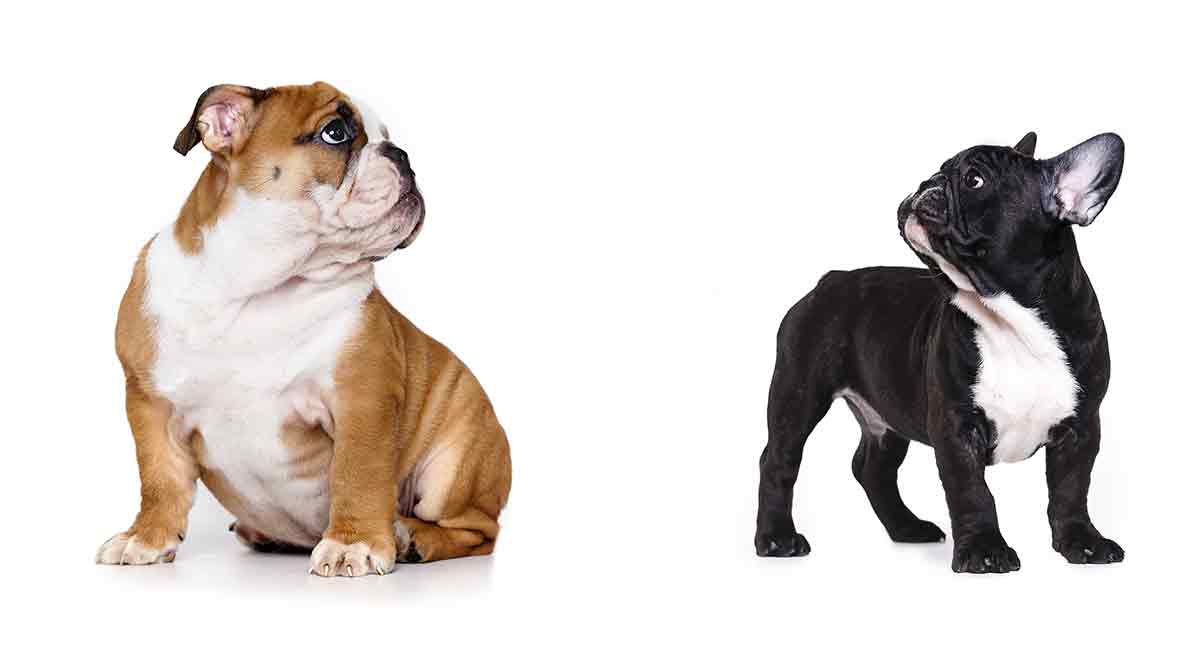 This article pits two very beloved breeds together to see which one may be right for you: French Bulldog vs English Bulldog!
The English Bulldog and their smaller cousin the French Bulldog have always been hugely popular breeds.
In fact, the English Bulldog takes 4th place, while the French Bulldog is just behind them at 6th place.
It is no surprise then that many families are unsure of which Bulldog breed could be best for them.
This article aims to give you all the knowledge you need on these two breeds to make an informed decision on which breed would be best for your family situation!
French Bulldog vs English Bulldog – Size
As mentioned earlier, Frenchies tend to be the smaller and lighter of the two breeds.
They commonly reach heights of around 11–13 inches.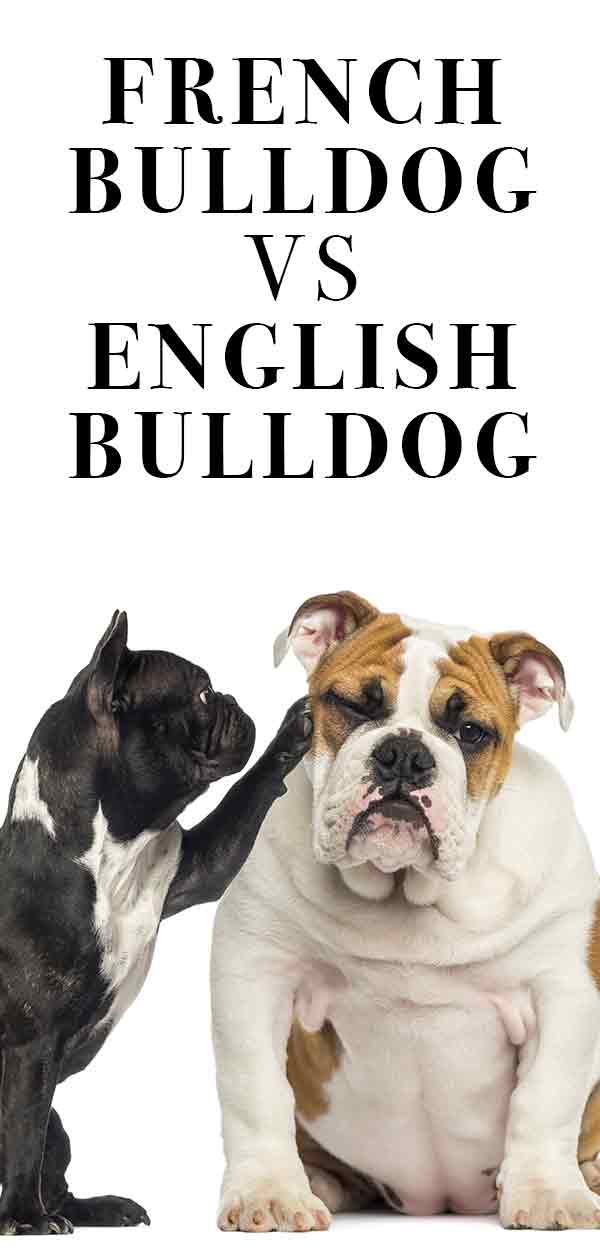 Of course, they are still heavyset for their size like all Bulldogs, weighing up to 28 pounds.
English Bulldogs are a few inches taller than Frenchies, measuring in at around 14–15 inches.
They are significantly heavier, however.
An average English Bulldog will weigh in at 40–50 pounds, depending on sex.
While there isn't much difference in the height between these two breeds, it may well be worth noting the significant difference in weight.
Some prefer the Frenchie's lighter side, as they are much easier on the lap!
French Bulldog vs English Bulldog – Temperament
French Bulldogs
Frenchies tend to be friendly, sociable, and calm if they have been trained and socialized well from a young age.
Their easygoing nature usually entails that they will get along well with other dogs.
They tend to be very friendly and gentle with kids.
However, it is still recommended to not leave particularly young children unsupervised with any breed.
Frenchies usually do not have a problem with other pets, provided they have been socialized well.
French Bulldogs are known for having quite a stubborn streak, however.
They can have a big personality, and if they decide they don't want to do something, they will dig their heels in!
This breed lives for being the center of attention and craves being around a loving family.
This could potentially lead to issues with separation anxiety.
Therefore it's recommended to try and always have someone within the house to keep this breed company.
English Bulldog
English Bulldogs share some traits with the French Bulldog, in that they are calm and generally friendly dogs.
They get along with kids and other pets well, provided they have been socialized from a young age.
They also share the same stubbornness present within the French Bulldog.
If the English doesn't want to do something, you can sure bet they will do their utmost to not do it!
English Bulldogs Are Chewers
The English Bulldog is a notorious chewer, and if they are not given enough toys to chew on, they may begin to chew less desirable things such as your furniture or something that could harm them.
Always make sure you have a good amount of chew toys on hand with this breed.
English Bulldogs Are Possessive of Their Food
A negative behavior commonly seen in English Bulldogs is food possessiveness.
They can be very defensive over their food, and this may present itself as aggression to anyone or anything that approaches its food bowl as it eats.
Therefore, it's recommended to not feed the English Bulldog near other pets or family members, and give them their own space to eat.
This issue can also be circumvented by early training as a puppy.
Some English Bulldogs may have issues with other dogs and could be aggressive towards them.
Early socialization training is key to ensure this does not become a problem.
The French Bulldog can be slightly easier to handle on average, but with good training and care, both of these breeds can fit into many families as good companions.
French Bulldog vs English Bulldog – Grooming
French Bulldog
The French Bulldog can be very easy to care for.
Their short and sleek coat only requires a weekly brush to keep on top of the minimal shedding present within this breed.
English Bulldog
On the other hand, the English Bulldog sheds quite a lot and will require much more brushing to keep on top of it.
Two or three moderate brushing sessions a week is usually enough, though even more may be required during heavy shedding seasons.
Keeping your Bulldog's skin healthy is a big part of owning one.
The skin folds and wrinkles present within both breeds are prone to infection, and it is important to be aware of how to effectively and safely clean them if you wish to own a Bulldog.
Both breeds will also require regular nail trimmings and teeth brushing.
The Frenchies are the easier of the two to care for, due to their coat shedding a lot less than the English.
Regardless of which breed you go for, it is important to know how to properly groom them to keep them healthy and happ
English Bulldog vs French Bulldog – Health Issues
Sadly, both breeds have a lot of severe and potentially life-threatening health issues that you must be aware of before purchasing.
Both the English and the French Bulldog are brachycephalic, meaning they have a shortened skull.
This results in the flat, broad face that many dog lovers find appealing.
This was a characteristic that has been bred into them over time, with previous genereations of Bulldogs having much more prominent muzzles.
Brachycephalic Airway Syndrome
Sadly, this flat-face brings with it a wealth of health issues including brachycephalic airway syndrome.
This is where the nasal cavity is compressed due to the shortened skull, placing a lot of stress on the dog's breathing.
This is further exacerbated by hot weather and exercise.
These breeds need to be kept inside well air-conditioned homes during hot weather and should not be taken for walks during these days.
Brachycephalic airway syndrome could eventually lead to laryngeal collapse.
This is a condition where the dog's breathing can quickly worsen.
Without emergency treatment from a vet, this can be fatal.
Sadly, being a brachycephalic breed doesn't only cause issues with breathing.
Eye problems such as corneal ulcers are common due to brachycephalic breeds commonly having bulging eyes.
This characteristic leaves the eyes quite unprotected and easily irritated.
Skin Issues
Skin infections and irritations are also common within the wrinkles and folds in these breeds, and spinal issues can also be a big issue.
Birthing Issues
Birthing problems are also a big issue.
Many brachycephalic breeds are unable to have a natural birth due to the large heads of these breeds.
Cesareans are usually necessary and contribute to the high price of Bulldog puppies.
Achondroplasia
On top of this, the French and English Bulldogs are also known as suffers from achondroplasia.
This is where the legs of the Bulldog are a lot shorter than they should be, specifically the front legs.
This is another aspect that has been bred into the dog over time and can lead to a lot of strain being applied to the joints.
Issues such as hip dysplasia and patellar luxation are prevalent within both breeds due to this.
It's very important to prevent wear and tear in the joints of this breed.
Keep them from running up and down stairs and also stop them from jumping on and off furniture.
Cancer
Both the Frenchie and the English are also predisposed to developing cancer.
Leukemia is particularly prevalent.
Both breeds are also at risk of developing heart conditions such as pulmonic stenosis.
When owning a Bulldog, it is very important to understand their structural health issues and give them special care to prevent them from getting any worse.
Owning these breeds could potentially lead to many expensive visits to the vet, and therefore if you own a Bulldog, it is very important they are insured and you have the finances available if things go awry.
Purchasing a Bulldog puppy with a more pronounced muzzle than average and open, free-flowing nostrils can be a good sign of better breathing in that particular puppy.
Try to find a puppy like this to have a better chance of a healthy puppy.
French Bulldog vs English Bulldog – Exercise & Training
The Frenchie is well-known as a very calm, low-energy dog.
They require only a short walk every day to keep their weight down, and some indoor play can always help!
English Bulldogs may require a little more daily exercise, with a moderate length walk and some play daily being good enough for them.
Both breeds will be happy to lounge about all day, but exercise is necessary to prevent obesity and to keep them stimulated.
As mentioned earlier, do not walk these breeds in hot weather.
On days such as those, indoor play can be a good alternative.
Harnesses are also much better than collars for this breed, as they apply less pressure onto the dog's already compromised airway.
Training
Both breeds require early obedience and socialization training to mature into well-behaved adults.
They are both eager to please, but their stubbornness can sometimes get in the way of training.
Therefore, sometimes they can be quite difficult and require a positive reward-based approach.
If you have trouble training them yourself or simply do not have the time, enroll them in puppy classes to ensure they get all the training and socialization they need.
French Bulldog vs English Bulldog – Which One is Right for Me?
Unfortunately, we cannot give you a definitive answer on which of these two breeds will better fit your family situation.
However, before deciding on either of these breeds, be sure you are aware of the severe health issues within this breed.
Achondroplasia and brachycephalic airway syndrome are conformational issues, and they affect every dog within this breed.
They will require special care.
We can't recommend either breed due to their serious health problems, but if your heart is set on one then rescuing an adult is your best approach.
References
American Kennel Club
Monnet, E, Brachycephalic Airway Syndrome World Small Animal Veterinary Association, 2015
Karabagli, M, Brachycephalic Airway Syndrome in Dogs Istanbul University, 2012
Bright, RM, Laryngeal Collapse in Dogs, 2011
The Kennel Club UK
Jezyk, PF, Constitutional Disorders of the Skeleton in Dogs and Cats Textbook of Small Animal Orthopaedics, 1985
Farese, JP, et al, Diagnostic method and apparatus for assessing canine hip dysplasia Cornell Research Foundation Inc, 1997
O'Neill, DG, et al, The epidemiology of patellar luxation in dogs attending primary-care veterinary practices in England Canine Genetics and Epidemiology, 2016
Dobson, JM, Breed-Predispositions to Cancer in Pedigree Dogs ISRN Veterinary Science, 2013
Hansen, HJ, A Pathologic-Anatomical Interpretation of Disc Degeneration in Dogs Acta Orthopaedica Scandinavica, 1951
Gough, A, et al, Breed Predispositions to Disease in Dogs and Cats John Wiley & Sons, 2018
Get Pippa's free dog training tips delivered to your inbox