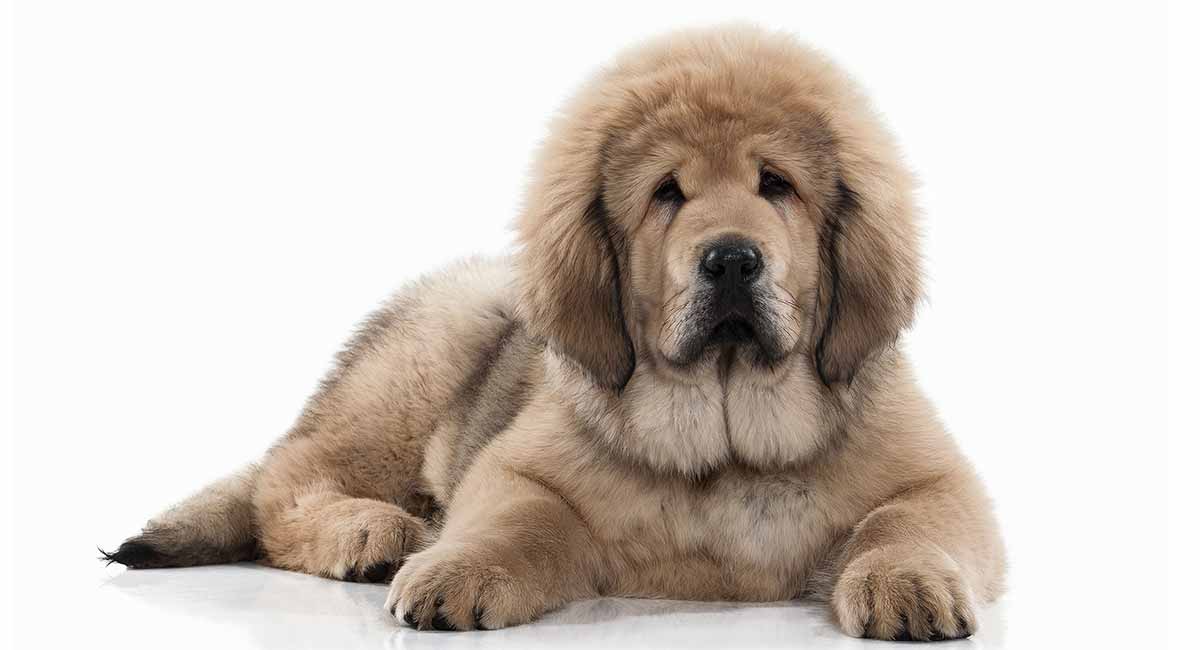 Dogs that look like bears can be cute and cuddly like a teddy bear or huge and imposing like a polar bear.
What sets these breeds apart is an extra thick coat, and bear-like features.
Let's take a look at the top dogs that look like bears!
Dogs that look like Bears
Let's get better acquainted!
The Appeal Of Dogs That Look Like Bears
If you want a dog, and you have a lifelong fascination with bears, then you should look into dogs that look like bears.
After all, bears are definitely cool animals, but they're really hard to take care of. Not to mention zoning issues and laws against keeping wild animals as pets. A dog that looks like a bear is a much better idea.
Of course, you need to decide what kind of bear you want a dog to look like.
There are large dogs that look like bears, dogs that look like polar bears, and dogs that look like teddy bears. Each of these dogs will have different requirements as far as coat care, exercise, and socialization.
Let's examine these categories one by one, and then discuss the breeds that fit into them.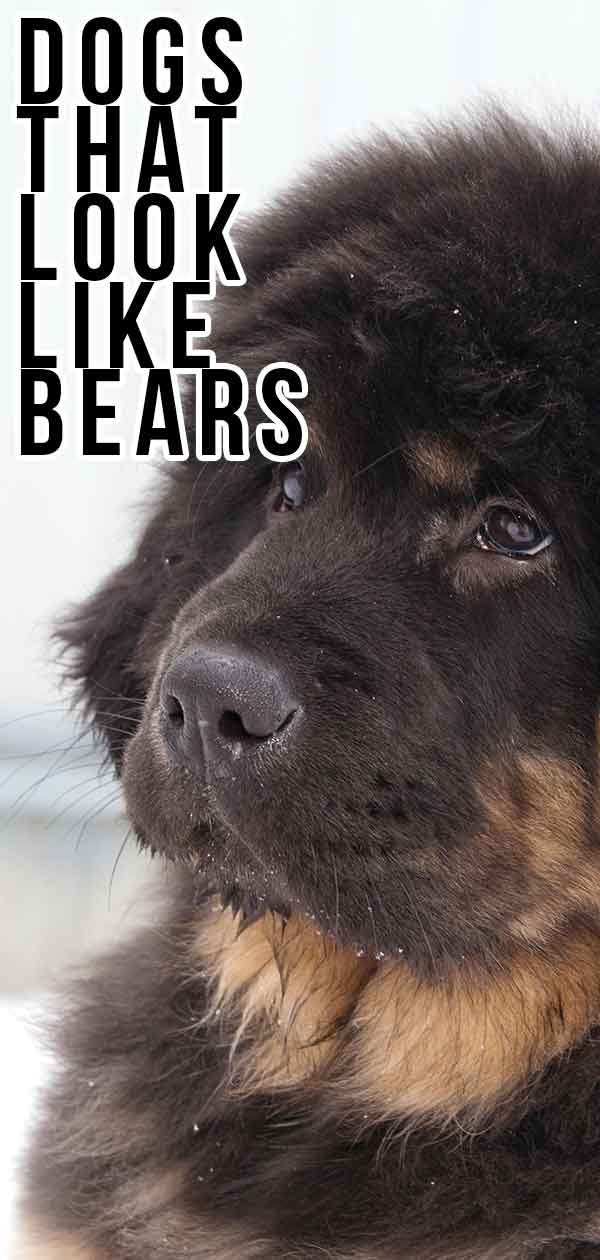 Large Dogs That Look Like Bears
These are dogs that look like bears due to their imposing size and heavy, fluffy coats. Since they are large, they are not well-suited to apartment life. Also, their very thick, fluffy coats require daily brushing. Some of them shed quite a bit.
Because they are so large, it's important to train and socialize them when they are puppies, so they don't develop bad habits.
After all, you can't just pick them up and put them in a corner when they act up!
Newfoundland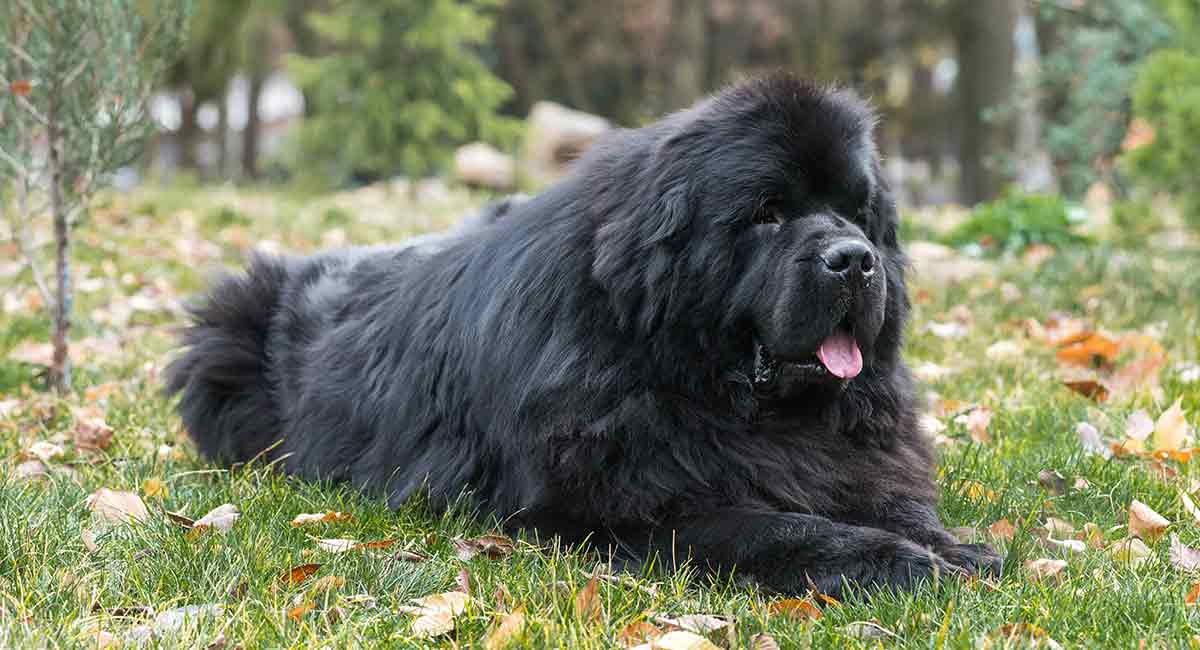 Newfoundlands are a giant breed—up to 150 pounds. They can be black, brown, or black and white. They have a very calm, loving disposition and are great with children.
But, as a large breed, they can easily suffer orthopedic issues as they get older. Also, as a giant breed, their lifespan is shorter than that of smaller dogs.
Newfoundlands also tend to drool and slobber. And since they're so large, there can be a lot of it!
Akita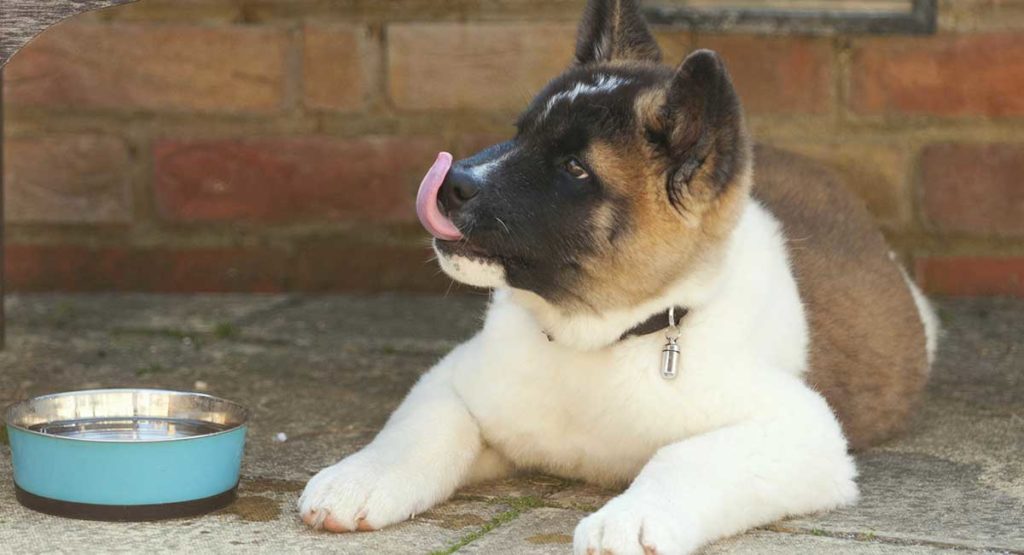 The Akita was originally bred to guard the royal family in Japan. They were also used to track bear, deer, and wild boar.
They have fluffy double coats that are thick and soft and which definitely make them look like a bear. With a strong attachment to their humans, they are known as extremely loyal dogs, and can make great watchdogs. They're wary of strangers, and bold in protecting their family.
On the whole, Akitas are intelligent, but also very stubborn, which makes training both more challenging and more necessary.
They're pretty healthy, but can fall victim to hip dysplasia, like a lot of large breeds.
Chow Chow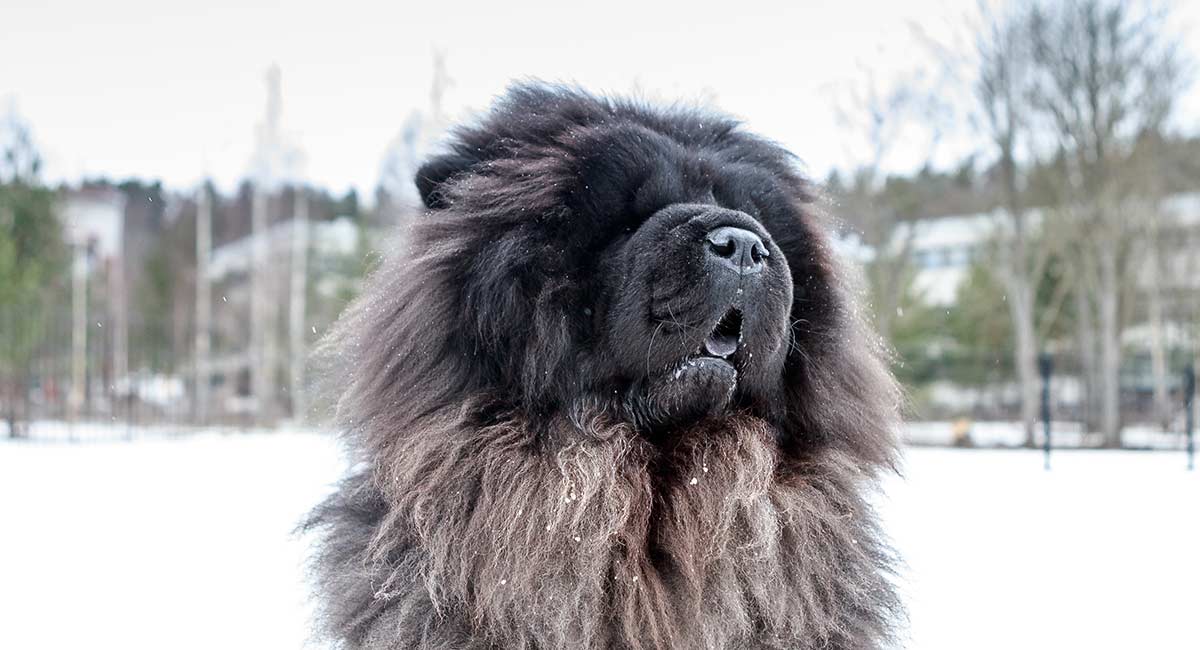 Chow Chows are immediately recognizable by their thick, fluffy coats that stand out straight from their bodies. The blue-black tongue is also a breed trait.
They are very loyal to their people but aloof with strangers. As they can be aggressive with other dogs, they're not well-suited to dog park excursions. They don't need a ton of exercise, but they do enjoy a walk.
Chow owners will need to groom their dogs regularly and make sure to wipe the folds on the face, as the area can trap dirt.
Russian Bear Dog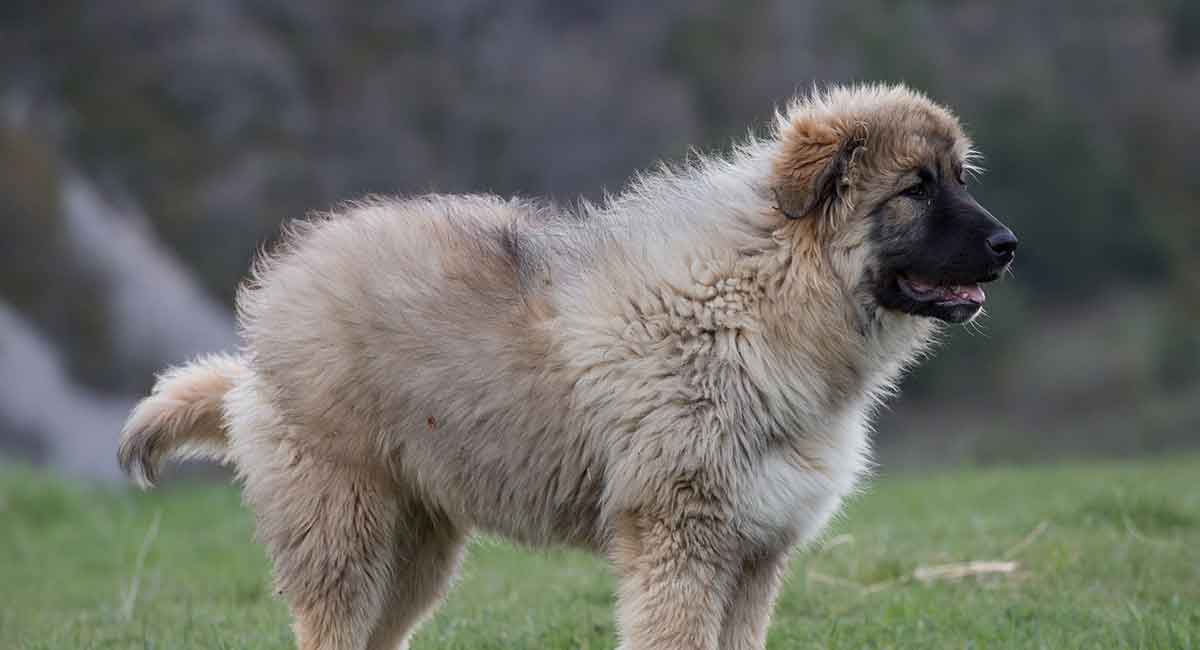 The Russian Bear Dog, also known as the Caucasian Shepherd, is an imposing breed (read: huge). They can weigh up to 170 pounds (though females are a little smaller), which is like an extra person living with your family.
They were bred to hunt wolves and take care of the flock, which makes them good watchdogs with shepherding tendencies.
As a whole, they are generally healthy but are prone to hip dysplasia, eye issues, and bloat.
If you're training a Russian Bear Dog, make it fun and use positive reinforcement. Otherwise the dog may decide training is no fun and he doesn't want to participate.
Tibetan Mastiff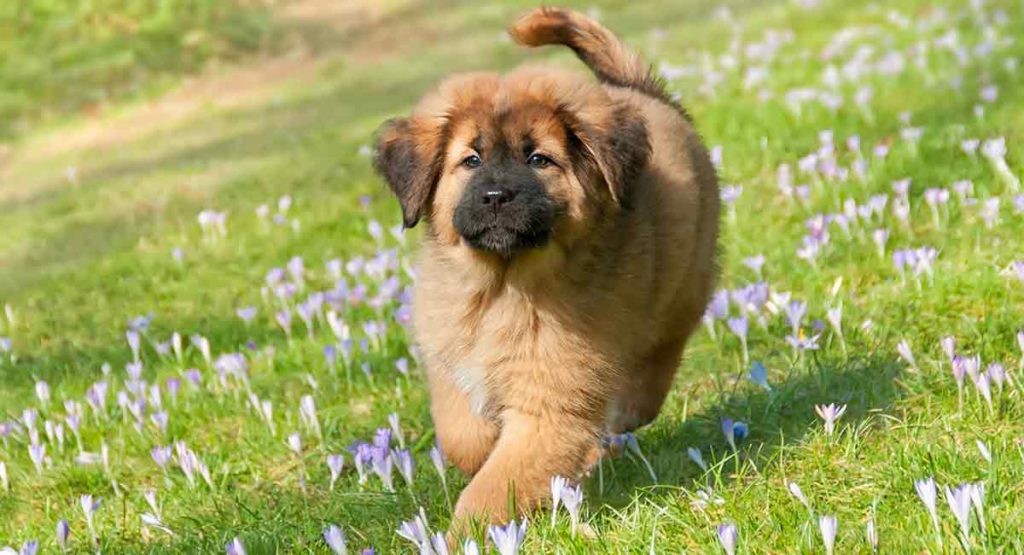 The origins of the Tibetan Mastiff go back so far, no one knows what they were originally bred for. But some kind of flock guardian seems a safe bet. They are sweet and loyal with their people, but aloof with strangers. Males can be up to 150 pounds, which is a lot of dog!
They are very intelligent, but they don't enjoy traditional obedience. They learn quickly and once they've demonstrated their understanding, in their minds they don't have to show you again.
The usual health issues of large breeds (hip and elbow dysplasia, bloat) apply here.
Dogs That Look Like Polar Bears
Dogs that look like polar bears have fluffy white coats and a sturdy build.
With all that fur, they much prefer the snow and cold to the heat of summer.
Great Pyrenees
A large dog with a fluffy white coat, the Great Pyrenees is instantly recognizable. They are very sweet, but prone to situational deafness. If what you're proposing isn't rewarding enough, they just walk away and pretend they didn't hear you.
Pyres were bred to be flock guardians, and as such, they had to make decisions for themselves sometimes. This trait is still present today.
They're pretty mellow most of the time, but they like to bark a lot. So they're not ideal for living with close neighbors.
Samoyed
The Samoyed was bred to herd reindeer and pull sleds in northern Siberia, for the Samoyed people. Much like polar bears, they also have thick, fluffy white coats to keep them warm in the frigid conditions they were bred for. Samoyeds are happy, good natured family dogs.
Their beautiful thick white coats need daily brushing, and they shed a lot in the spring.
They like learning new things, but they tend to become less motivated with too much repetition.
Maremma Sheepdog
As a livestock guardian, these big, white dogs were originally bred to guard flocks of sheep in the mountains of Italy. As with any livestock guardian breed, they are smart but may find operating independently more satisfying than following a series of commands – which can make them tricky to train.
Similar to the Great Pyrenees, they are devoted to their people but can be aloof with strangers.
They can get to be well over 100 pounds. As such, they are prone to hip dysplasia, and their deep chests make them susceptible to bloat as well.
Komondor
The Komondor looks like a polar bear, if the polar bear was bred with a large mop. He was bred to guard sheep in Hungary, and all flock guardian traits apply here as well: smart but stubborn, sweet, loyal, watchful.
This dog is so protective of his people that early training and socialization is a must to overcome stranger-directed aggression. They can also be aggressive with other dogs.
Their distinctive coats don't need brushing. But you will have to have to work to keep it clean.
American Eskimo
The American Eskimo really could go into this category or in the "dogs that look like teddy bears" category, especially when they're puppies. They are very intelligent, active, happy little dogs, with a great sense of humor. Unlike a lot of dogs on this list, the Eskie was bred to be a companion animal. These dogs will keep you entertained!
They like to bark, so they'll need to learn a command for quiet if you live in an apartment. Keep in mind, however, that they are sensitive. So be sure to use positive reinforcement when training.
They can suffer skin allergies, and something called pyruvate kinase deficiency, which can lead to chronic anemia if not managed carefully.
Dogs That Look Like Teddy Bears
These dogs that look like bears resemble teddy bears more than bears found in the wild. They especially look like teddy bears when they're puppies. But some of them manage to resemble cute stuffed animals their entire lives.
However, if you are interested in one of these dogs, you need to realize that this is a dog, not a stuffed toy. They bark, they piddle on the carpet (especially toy breeds), and they get underfoot. All of these breeds have different personalities and needs.
Also, they are a lifetime commitment, even if they outgrow looking like a teddy bear.
Bichon Frise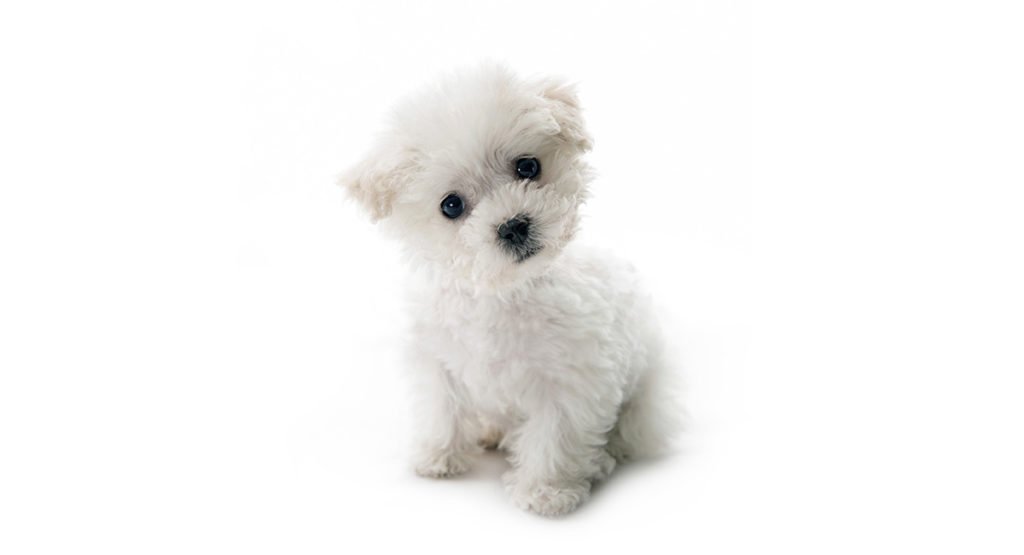 The Bichon Frise is a sociable, friendly little guy who happens to resemble a teddy bear. Depending on his haircut, he can maintain his youthful, teddy bear appearance into his adulthood. They are smart and very trainable.
Bichons shed some, but not as much as some other breeds. However, their coats do require maintenance, or they get really tangled and matted. They're also prone to skin issues if their coats are not taken care of.
Other than skin issues, they are also prone to hyperadrenocorticism, allergies, and patellar luxation.
Keeshond
Keeshonds are well known for looking like bears, whether of the stuffed or real variety.
They have a two-tone double coat of silver and black fur. Appearances can be deceiving, as they're only medium sized dogs. But their coats make them look quite a bit bigger.
This is another breed that "blows" their coats and basically sheds constantly for three weeks. Because of their coats, they don't do well in the heat.
Keeshonds are alert, friendly, and very affectionate. They were bred to be companion animals and they are very good at it.
Health-wise, they are prone to putting on weight. So limit treats and make sure they get enough exercise.
Pomeranian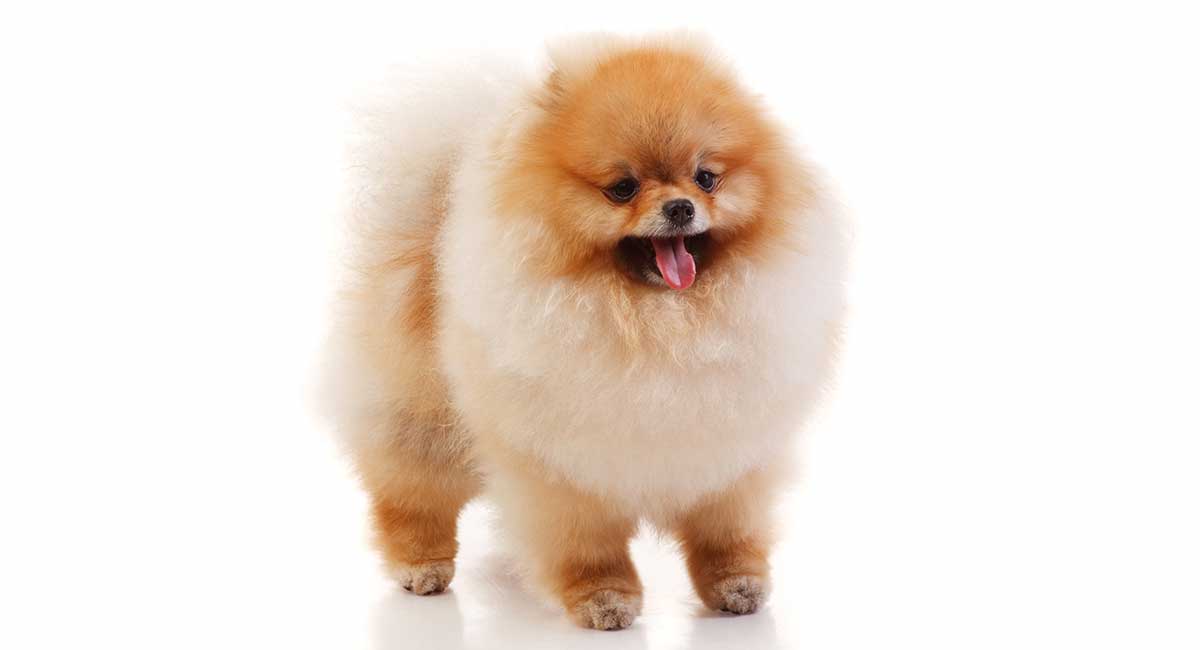 Pomeranians are very popular. They have big personalities, which is something to keep in mind if you're adopting one for their looks. Though sweet and trainable by nature, they can be yappy. They can also get territorial. So be sure to train and socialize them.
That larger-than-life personality makes for a dog that seems to have no idea that they are tiny. Fearless to the point of ridiculousness, a Pom will go after dogs three times his size. Despite that, however, they are perfectly willing to get along with children, as long as the children are respectful.
As with all small dogs, housebreaking can be challenging so keep that in mind. And their famously fluffy coats will need some daily brushing.
Health-wise, they're prone to tooth issues, eye problems, and subluxating patellas.
Yorkipoo
The Yorkipoo is descended from the Yorkshire Terrier and the Toy Poodle. Given that both of these breeds appear on lists of dogs that look like bears, the combination is especially teddy bear like. They are energetic and playful but they don't need a ton of exercise.
If you are an allergy sufferer, you might be able to tolerate the Yorkipoo more so than some other dogs. But bear in mind that no dog is truly hypoallergenic.
Health-wise, they can be prone to the issues of their parents. Such as allergies, epilepsy, and dislocating kneecaps and hips.
They are a mixed breed, so they might inherit all these issues, or none.
Havapoo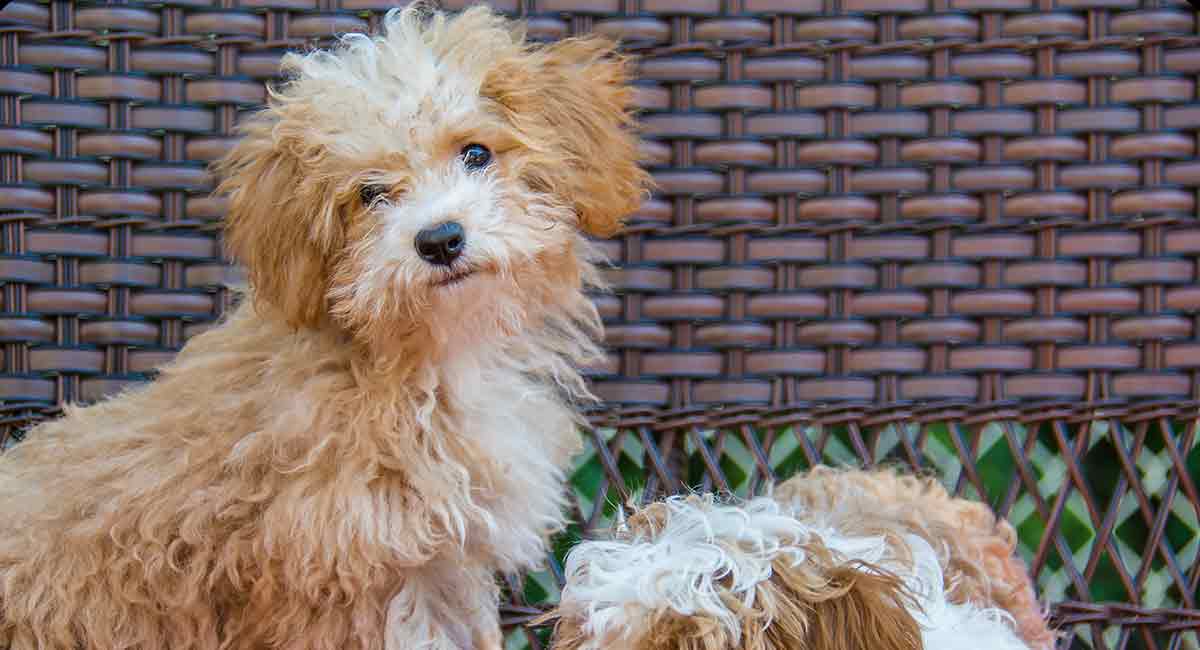 These little balls of fluff are the result of breeding a Toy Poodle to a Havanese. Havapoos enjoy following their people around and observing everything you do. They don't bark a lot, so they are suited to apartment living.
However, their Poodle forebears were bred to hunt waterfowl, so they actually will prefer more activity than some other small dogs. They are trainable, playful, and charming, and can fit into most families, as long as the children are gentle with a very small dog.
The Havapoo's parents can suffer a variety of health problems, which the puppies may or may not inherit. Cataracts, hypothyroidism, patella luxation, and hip dysplasia are problems to watch out for.
Dog Breeds That Look Like Bears
If you're in the market for dogs that look like bears, make sure you don't get caught up in the appearance of the dog that you forget that this is a lifelong commitment. No matter what the dog looks like, they will need attention, exercise and training.
After all, dogs that look like bears are still dogs. Treat them right and you will gain a lifelong loyal companion.
Do you have a dog that looks like a bear? Is your pet one of our breeds listed here, or have you got another to recommend?
Tell us all about them in the comments below.
Readers Also Liked…
References And Resources
Harvey, N; Craigon, P; Simon, A; et al (2016) "Social rearing environment influences dog behavioral development." Journal of Veterinary Behavior Vol. 16 pp.13-22
Hecht, J; Horowitz, A (2015) "Seeing Dogs: Human Preferences for Dog Physical Attributes" Anthrozoos: A Multidisciplinary Journal of the Interactions of People and Animals. Vol. 28. Iss. 1
Redden, R. (2018) "Common issues with Livestock Guardian Dogs" Ranch and Rural Living Vol.99 Iss. 7
Serpell, J. (2016) The Domestic Dog: Its Evolution, Behavior, and Interactions with People, Cambridge University Press
Get Pippa's free dog training tips delivered to your inbox