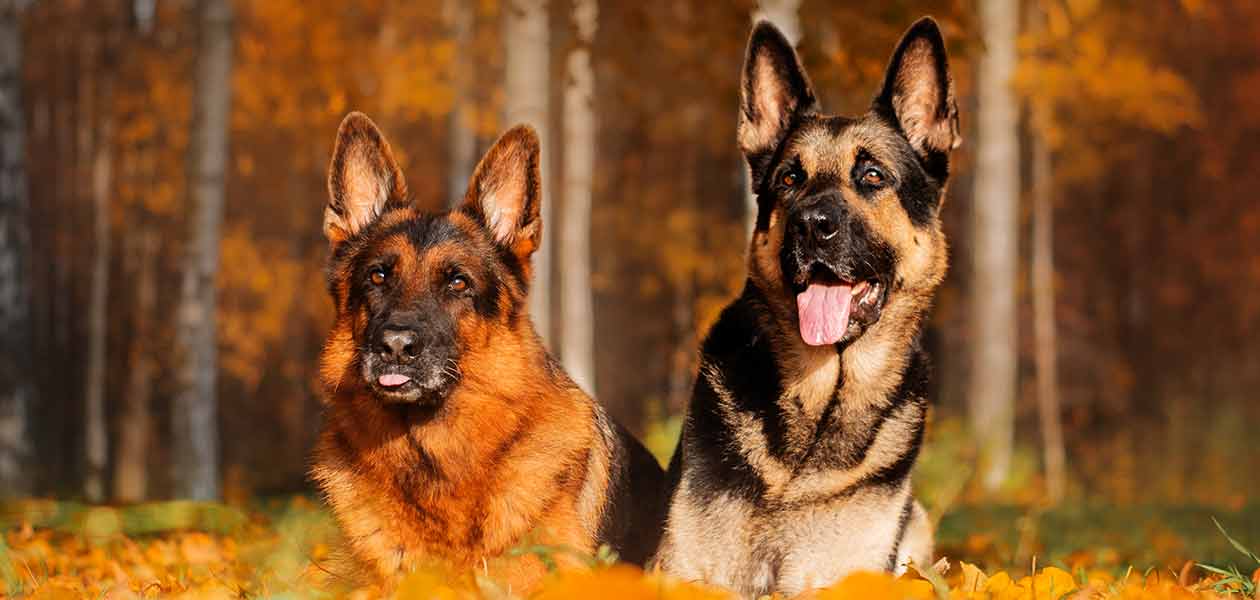 A European German Shepherd Dog is more than just a GSD from Europe.
German Shepherds in Europe belong to a different breed registry to American GSDs.
Each registry has its own breed standard, and the ideals which underpin the standards have been interpreted differently by breeders as well.
Which means people are left wondering – is the American or the European German Shepherd right for them?
European German Shepherd
The German Shepherd Dog is an internationally renowned breed.
It is popular as well.
In the United States, the GSD is the 2nd most frequently registered breed with the American Kennel Club.
In their native Germany, there are 250,000 GSDs registered with the Verein fur Deutsche Schaferhunde ('Society for the German Shepherd', informally known as the SV).
But whenever a dog breed gains enduring popularity on different continents, inevitably different cultural tastes and priorities drive breeding lines in slightly different directions.
Labradors and Cocker Spaniels are well known examples of this – both have distinctly English and American types now.
And German Shepherds are another example too.
Why 'European German Shepherds' And Not 'German German Shepherds' Then?
Well, besides being a bit of a tongue twister, the answer lies in how European dog breed registries operate.
The German Shepherd Dog breed standard in Germany was written and formalized by the SV.
Their breed standard has since been accepted by the Federation Cynologique Internationale – a breed registry based in Belgium which accepts registrations from across Europe.
So Germany's definition of the perfect GSD becomes Europe's definition too.
Meanwhile, in America, GSDs are registered with the American Kennel Club.
The AKC have their own breed standard. It describes the same dog, but in its own words – it isn't a verbatim translation of the SV's standard.
So let's see what qualities define the European German Shepherd.
What Is A European German Shepherd?
At the most basic level, a European German Shepherd is a German Shepherd Dog (GSD) from European breeding lines.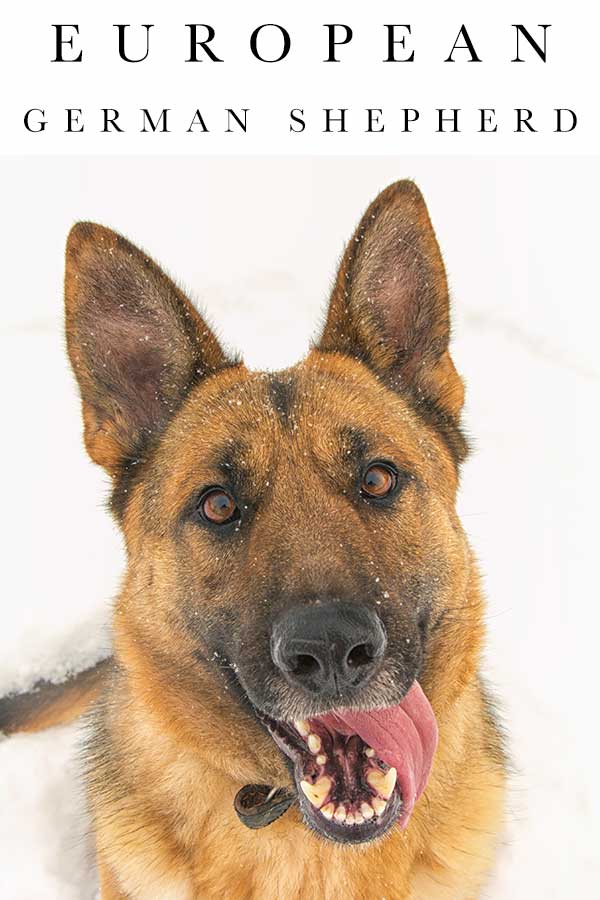 In Europe, GSD breeders tend to work on the principle that more than anything, a German Shepherd should be fit for work.
This philosophy is reflected in the way the SV operates too.
The SV only register German Shepherd puppies from parents who were licensed to breed.
And to secure a license to breed, dogs must pass a formal character test and physical exam.
Both of which are designed to ensure that GSDs in Europe always honor their working roots as closely as possible.
How That's Different To American Breeding
In America, German Shepherds are more likely to be bred with the show bench in mind.
This has changed the way they look in quite specific ways, which we'll come to in a moment.
And it means that breeders aren't obliged to place the same amount of priority on temperament, since dogs in the AKC show ring don't have to prove as much in terms of working ability.
Compared to the SV's approach, you can see how European and American GSDs have taken somewhat different directions, so that eventually they have become two distinct types of German Shepherd.
European German Shepherd Temperament
Next let's look closer at the special qualities of European GSDs.
European German Shepherds don't just work in herding roles any more.
They also fulfil roles as companions and service dogs, guard dogs and protection dogs.
To succeed in all of these areas (and pass that all-important character test) European German Shepherds should have steady nerves, confidence, a good nature, and be attentive to their trainer and willing to please.
They're extremely intelligent, and learn new commands quickly. They're also good at staying focussed, and following instructions even when surrounded by distractions.
Like many breeds which have been bred as guard dogs in the past, European German Shepherds may be vigilant and even wary of strangers.
Thorough socialization as a puppy is important to make sure they grow up calm around unfamiliar people, rather than fearful.
European German Shepherd Appearance
What about looks? Can you tell a European GSD apart from their American cousins on sight?
The answer is often yes, if you know what you're looking for.
German Shepherds of all types are pretty unmistakable.
But due to different ideas about what a perfect GSD looks like on either side of the Atlantic, European German Shepherds tend to be more heavy-set, with chunkier, more rugged facial features.
Darker coat colors such as black and red are more prevalent too, whereas tan-and-black and sable are more commonly seen in America.
European German Shepherds tend to have more level and straighter backs, and straighter hind legs than American GSDs too.
Which has important benefits for their health.
European German Shepherd Health
There isn't a lot of research available which directly compares European German Shepherd health with American German Shepherd health.
Joint disorders
In America, the OFA reports that around 20% of GSDs have hip and/or elbow dysplasia.
In Europe, prevalance of hip and elbow dysplasia appears to vary a lot by country, from 12% of dogs affected (estimates from Germany) to 40% of dogs affected (estimates from Finland).
Which goes to show that purchasing a puppy from health tested parents is a far more reliable way of securing their health, than relying on geographical region.
NOTE: Differences in frequency of hip and elbow dysplasia in different regions can also be attributed to variations in how the conditions are assessed, and differing thresholds for whether a dog is affected, borderline, or clear.
Conformation
Conformation is the word to describe an animal's shape, or structure.
In America, increasing numbers of German Shepherds have shorter hind legs than their European brethren, which bend more sharply at the hocks.
But this has knock-on effects for their backs too, which tend to curve and slope downwards towards the tail.
These are artificial traits which have been bred into them by humans – they cause dogs to walk with a kind of floating trot, which is regarded as very desirable in the show ring.
But they also place abnormal loads and stresses on their joints, which they weren't designed to withstand.
As a result, this body shape can be uncomfortable and even painful .
So in this respect, European GSDs, with their straight back and hind legs, are the winners.
Other conditions
German Shepherds all over the world are also prone to:
the progressive neurological condition degenerative myelopathy
eye disease
thyroid disease
and bloat.
Is A European German Shepherd Right For Me?
So, the notable qualities of European German Shepherds are:
They are bred first and foremost for work, rather than show.
They tend to be more heavy set than American GSDs.
Their coat is more likely to be dark red and black, than tan or sable.
They retain a more natural conformation than American GSDs.
This makes them a great choice of dogs for anyone keen on the German Shepherd breed, but worried about the health problems of American German Shepherds deliberately bred for abnormal legs and backs.
Since they're bred for work, European German Shepherds are best suited to owners who have the time to engage them in work-like activities, such as agility, advanced obedience training, flyball, tracking, and herding.
If that's you, but you're not in Europe, how do you go about getting one of these impressive dogs?
Rescuing Or Raising European German Shepherd
Dogs, like people, move around internationally now.
Just like English-type Labs are bred in the UK and the USA, a European GSD doesn't necessarily have to come from an address in Europe.
There are breeders who specialize in European German Shepherd breeding lines working all over the world, including in America.
Likewise, GSD-specific breed rescues might sometimes receive European German Shepherds.
So, with a little patience, it's often possible to bring home one of these canine pals as a little pup, or as an older dog.
European German Shepherds Vs Eastern European Shepherds?
A final note on European German Shepherds and Eastern European Shepherds!
Hopefully by now, you've gathered that a European German Shepherd belongs to the same breed as American GSDs, but with qualities and characteristics which have been shaped and defined by pursuing the European ideal of what a GSD should be.
The Eastern European Shepherd sounds like a similar situation, but it isn't!
Eastern European Shepherds are a new dog breed founded and developed in Russia from Europeans German Shepherd stock.
These descendents of the European German Shepherd have been selected for their enhanced ability to survive harsh winters, and suitability for military work and guard work.
In theory, all Eastern European Shepherds can trace their ancestry back to European German Shepherds.
But their breeders aspire to having them recognized as a distinct new breed in their own right – and in several countries this is now the case!
Other Similar Breeds
If a European German Shepherd isn't for you, and an Eastern European Shepherd isn't either, why not consider
American German Shepherds
Rottweilers
Labrador Retrievers
Australian Cattle Dogs
Do You Have A European German Shepherd?
Did you choose them over an American German Shepherd by accident or design?
What do you think of the European approach to breeding German Shepherds, compared to the American approach?
Let us know in the comments box!
References
FCI Standard No 166: German Shepherd, Federation Cynologique Internationale, 2010.
Official Standard of the German Shepherd Dog, American Kennel Club, 1994.
Verein fur Deutsche Schaferhunde (SV) e.V
Stock et al, Genetic analyses of elbow and hip dysplasia in the German shepherd dog, Animal Breeding and Genetics, 2011.
Orthopedic Foundation for Animals
Get Pippa's free dog training tips delivered to your inbox