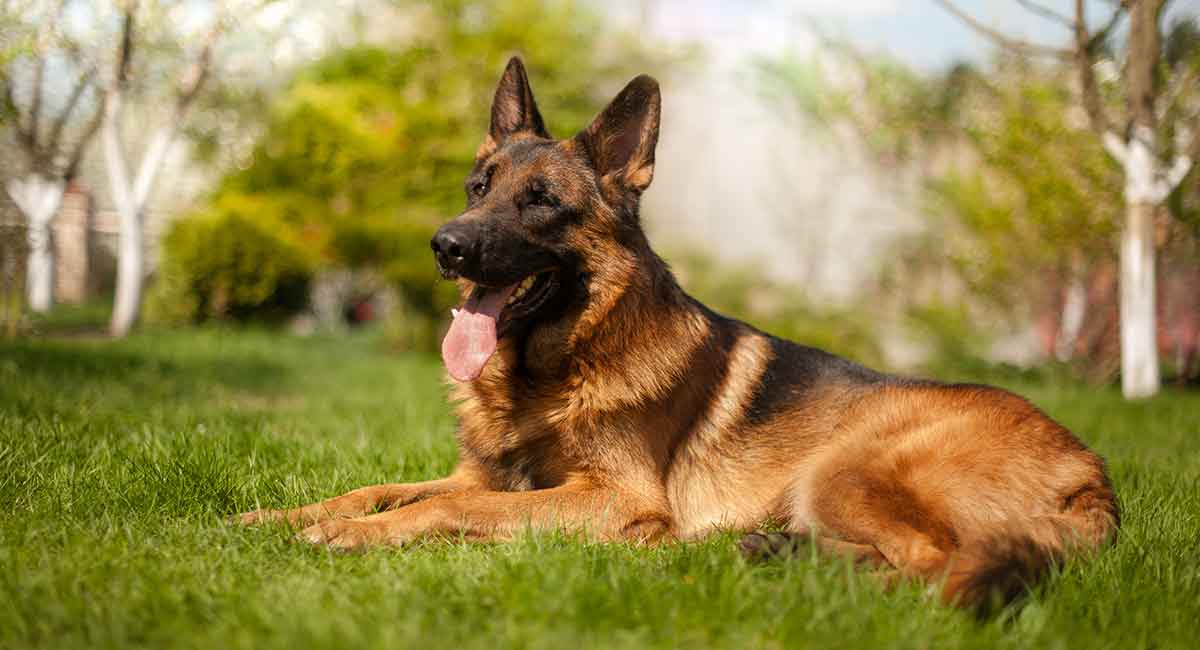 The King Shepherd is a mix between the purebred German Shepherd and the much newer Shiloh Shepherd. The King Shepherd was first bred in the 1990s and is not yet recognised as a new breed by the AKC.
This mix generally looks similar to the German Shepherd. Typically it is friendly, loyal, and easy-going.
The impressive sounding King Shepherd is a crossbreed that has been catching on among dog lovers recently.
This cross attempts to combine the best qualities of the German Shepherd and Shiloh Shepherd into one breed, becoming the "King" of the shepherd breeds!
In this article, we will explore everything you need to know about this cross, from their appearance, to their temperament and health issues. So let's get started, shall we?
Where Does the King Shepherd Come From?
The King Shepherd was first bred within the 1990s by two American breeders named David Turkheimer and Shelly Watts-Cross.
Whilst it hasn't been recognized as a new breed by the American Kennel Club and therefore cannot be shown at AKC events, it is acknowledged by some societies such as the American Rare Breed Association.
Sadly, as the cross is still relatively recent, there isn't much more of a background past that!
To get a true feel of the history and background of King Shepherd we will have to take a look at the parent breeds.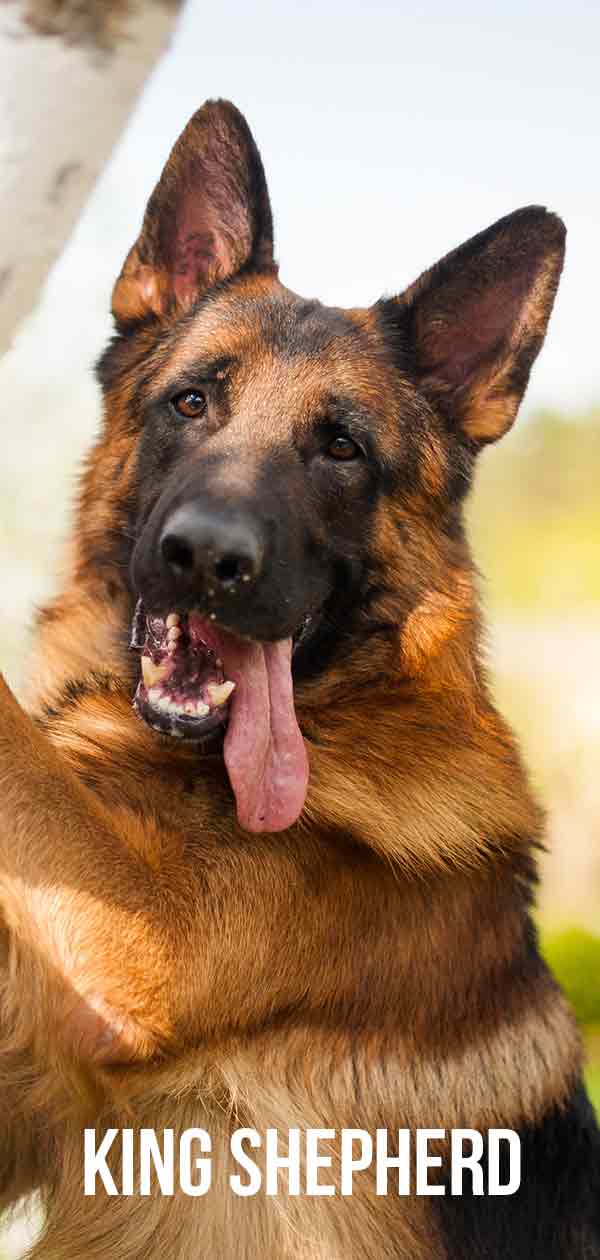 History of the German Shepherd
The German Shepherd traces its ancestry back to – you guessed it – Germany!
Up until the late 1800s, there were many different families of herding dogs within Germany that varied from one another.
However, with an effort to create the ideal herding dog, certain families of these varying breeds were bred together to create the dog we know and love today; the German Shepherd.
By the early 1900s, the breed had found its fame within America and with its great intelligence and athleticism, the dog could be put to work in many different sectors.
In the modern day, the German Shepherd is now well-loved as a companion dog. However, there are still many who keep them as working dogs, such as the police force.
History of the Shiloh Shepherd
As for the Shiloh Shepherd, they are the result of selectively breeding German Shepherd dogs together with a few goals in mind.
Firstly and foremostly, they wished to create a new breed with a much lower incidence of Hip Dysplasia than the German Shepherd.
Therefore, genetically healthy German Shepherds free of this condition were used.
Secondly, they were bred for size; Shiloh Shepherds tend to stand 4-6 inches taller than German Shepherds.
Finally, Shiloh Shepherds have also been bred with a stable and docile temperament in mind, whilst keeping the intelligence of the German Shepherd intact within the breed.
Did They Solve These Issues?
As we will talk about later, German Shepherds can tend to have strong personalities and temperaments that prove too much for the average family. The Shiloh Shepherd aims to fix that.
It's also worth noting that the Shiloh Shepherd is still under development; it has not been recognized by the AKC or any other major kennel clubs as its own breed just yet.
With that out of the way, let's get into what kind of dog this cross may create!
Fun Facts About The King Shepherd
There are many different lines of German Shepherd, some with significant physical differences. This can also lead to significant variation in King Shepherds too!
The German Shepherd is the 2nd most popular breed within America according to the AKC, and with that comes a lot of attention for the King Shepherd!
The King Shepherd is unable to shown at AKC events, but may be shown at events run by the ARBA.
King Shepherd Appearance
As the Shiloh isn't very genetically unique from the German Shepherd, they share many physical characteristics. They tend to look just like German Shepherds but noticeably taller.
Therefore, the King Shepherd is also likely to look very similar to a German Shepherd, with some small differences.
A King Shepherd's height will usually land somewhere between its parents; a little taller than the German Shepherd, whilst a little smaller than the Shiloh Shepherd.
Height and Weight
For an exact height range, you can expect to see a King Shepherd hit heights of around 22-30 inches.
King Shepherds can weigh anywhere from 50-160 pounds, though it is much more likely that they will fall somewhere in the middle of this range rather than at one end.
For a closer estimation of a King Shepherds height and weight, check the parent dogs. The King Shepherd will likely fall in between their parent's height and weight.
Key Differences
King Shepherds share many of the physical characteristics of the German Shepherd. A well-built dog, with a strong muzzle, erect and alert ears, intelligent eyes, and a bushy tail.
However, a King Shepherd may have a larger and longer back than the usual German Shepherd.
King Shepherd Coat and Colors
As for their coat, it may come in two varieties. It may be either a smooth double coat of medium length with a straight and harsh overcoat or a double coat with a longer coarse overcoat and a soft undercoat.
This second coat type comes with a distinct mane that extends down to the chest, and there may be extra smooth short hair on the head and muzzle, front of the legs, and paws.
Colors and Patterns
Finally, there are many different coat colors and patterns that may appear within this breed. Most common colors and patterns include:
Grey

Sable

Golden

Black and Tan

Golden Tan

Reddish Tan

Blue

Red and Black

Black and Silver

Liver

Cream.
King Shepherd Temperament
The King Shepherd may take after temperamental traits of either parent. Therefore, it is important to have a good understanding of both parent breeds so that you may know what to expect!
German Shepherd Temperament
The German Shepherd is a highly loyal and trainable dog; however, they tend to not be a good fit for the average family.
They can be highly independent with a strong drive and may require an experienced and firm owner to keep them under control.
They have incredibly high needs for exercise and mental stimulation. If these needs are not met, they may partake in destructive behaviors.
Check out our German Shepherd toys guide to help with this.
Is This Guaranteed in King Shepherds?
Potentially, these traits could appear in the King Shepherd.
It's also possible for your King Shepherd to be naturally aloof and wary towards strangers of the canine and human variety, as this is a trait commonly seen in German Shepherds.
Some German Shepherds may also show a prey drive; an urge to chase small animals or in some cases, even humans or cars.
If this behavior shows in your King Shepherd, it's important to always keep them on the lead unless you are within a well-secured area.
Shiloh Shepherd Temperament
As the Shiloh Shepherd is only very recently breaking away from the rest of the German Shepherd breed, many of the things we just spoke about apply to them, but to a potentially lesser degree.
The Shiloh is being bred with a stable, even temperament in mind that is a better fit for families.
Therefore, Shiloh's tend to be calmer, friendlier, and patient. However, their high needs for exercise and stimulation still exist.
Middle Ground
With this in mind, the King Shepherd can be seen as a potential middle ground between the German and Shiloh Shepherd. However, genetics and temperament are rarely this simple!
We would ensure that you are prepared and able to potentially deal with some of the issues outlined above.
King Shepherd Training
As the King Shepherd could potentially be a very strong-willed and independent breed, it is imperative that you train them properly and thoroughly from a young age.
Obedience training is very important, especially seeing as this is such a large and powerful breed. You don't want a potentially 100 pound plus dog running rampant without any control!
Thorough socialization to stop this breed's natural aloofness developing into negative traits is also necessary to ensure your King Shepherd grows to be a polite adult.
Training Guides
Here are some resources and guides we have on puppy training!
Other Options
While this breed is highly intelligent and can learn just about anything, they may sometimes be a struggle to train if they are heavily independent.
If you are feeling like you are making no progress with your King Shepherd, do not just give up! Hire a professional dog trainer.
Deciding to not train your King Shepherd is never a good idea and will lead to negative behaviors and habits forming.
Exercise Requirements
Keeping your King Shepherd exercised and stimulated is very important and something that cannot be skipped.
Their exercise requirements can be intense; 1-2 hours of play and running around is usually a good amount each day. Walks on their own will not be enough.
However, strenuous exercise should be avoided during the first few years of their life. Their skeleton is still developing, and there can be a high risk of injury during this time.
Therefore, we would recommend keeping their exercise to walks and light play during this time.
King Shepherd Health
Unfortunately, there are some health issues that the King Shepherd may be predisposed to. You should be aware of these before making any decisions on owning this breed.
Hip and Elbow Dysplasia are the big worries when it comes to the King Shepherd, due to the high incidence of both conditions within German Shepherds.
These conditions are developmental disorders where the hip and/or elbow joints do not develop correctly, leading to early onsets of arthritis that can be debilitating.
Bloat
The King Shepherd may also be at risk of a severe health condition known as Bloat.
This is where the stomach fills with gas and then twists, cutting off the blood supply to areas of the digestive system and impeding blood flow to the heart.
This can be quickly fatal and requires immediate vet attention if it occurs.
If you own a King Shepherd, it would be well worth acquainting yourself on the symptoms of Bloat so that you may spot it early if it ever happens.
Degenerative Myelopathy
Finally, Degenerative Myelopathy may also occur within King Shepherds.
This is a progressive spinal condition where the hind legs become paralyzed over time. Eventually, the condition is fatal.
To have the best chance of these issues never becoming a problem within your King Shepherd, choose a breeder who can prove with confidence that these health issues have never affected the parent dogs.
Good parent health promotes good health in the puppy too.
King Shepherd Grooming and Feeding
As for grooming, both parent dogs are notorious shedders and the King Shepherd will be no different. Be prepared to have to brush them through at least once every few days to remove dead hair.
King Shepherds who have inherited the coat that comes with a "mane" and extra smooth hair around the muzzle, head, and paws may require extra attention to prevent matting.
General Care
As with every dog breed, trimming the nails regularly helps prevent discomfort.
Their teeth should ideally be brushed frequently to avoid dental health problems.
King Shepherds will do well on high-quality dog food, but as with any breed, care must be taken to ensure they are fulfilling all their daily nutritional needs.
Talk with your vet if you are ever unsure about what to feed or how much.
Do King Shepherds Make Good Family Dogs?
King Shepherds could potentially make for great companion dogs but only within the right hands.
Due to their high exercise and grooming requirements and potential independent nature, this is not a breed recommended for first-time owners.
The King Shepherd may require a firm owner to take charge.
Potential families must ensure that they have the time and ability to fulfill their needs from day to day.
This breed tends to be good with other family animals and children provided that they are well-behaved.
Rescuing a King Shepherd
Rescuing a King Shepherd as opposed to purchasing a puppy from a breeder comes with its pros and cons.
The benefit of adopting is that many King Shepherds in rescue are already at a mature age.
Any behavioral and/or health issues will explained to you in detail by staff.
Rescuing is generally a lot cheaper than purchasing a puppy too.
However, some of the dogs who end up in rescue are there for a reason; be that behavioral problems, health issues, or both. You may have to be prepared for a rough road!
If you do decide to adopt, you will be interviewed to see if you will be a good fit for the dog.
Questions will be asked about your current family situation and the time you have to devote to a pet. From there, you will be either allowed or denied adoption of the dog.
Finding a King Shepherd Puppy
If you decide to buy a puppy from a breeder, there are a few important things to keep in mind to ensure that you have the best chance of receiving a healthy puppy.
Unfortunately, there are many bad breeders out there who would happily rear genetically unhealthy puppies and sell them on with no training or socialization.
Where to Avoid
These bad breeders are informally said to be running "puppy farms". This is due to their focus on making money as efficiently as possible, without any care for the actual dogs they are raising.
If you decide to buy a King Shepherd puppy, it's incredibly important that you avoid such places. Puppies sold there are commonly unhealthy with behavioral problems.
Be sure to avoid pet shops. They commonly buy their stock from the puppy farms we just described.
Find A Reputable Breeder
Instead, search for a breeder with recognition from reputable breeding societies. Ideally, they should have positive feedback from previous customers.
A good breeder will be able to ensure that genetic health problems will not be a problem within their puppies and talk honestly about their lines of dogs.
Raising a King Shepherd Puppy
Raising a puppy into a well-mannered adult can sometimes seem like an impossible task, even for the most seasoned dog lovers!
Luckily, we have some resources below to help with just that!
King Shepherd Products and Accessories
If you decide to own this breed, there are some products and accessories that you may be interested. These will life easier for you and your pup!
Grooming tools, for instance, may be useful to help taking care of that shedding!
You may also try a harness for this breed. There are many pros to a harness as opposed to a leash, which you can read about in our article here.
There are plenty of German Shepherd products that might also be useful for your King Shepherd.
Pros and Cons of Getting a King Shepherd
Here is a quick summary of the good and bad of this breed!
Pros:
Potentially highly loving and loyal

Bonds quickly and strongly with family members

Highly trainable and very intelligent

Good with children and other pets provided they have been socialized well.
Cons:
Can be independent and driven to an intense degree. May not be a good fit for the average family

Potential prey drive

Wariness could develop into aggression or fearfulness if not properly socialized

Destructive behaviors when bored

High exercise and grooming requirements

All year round shedding.
Similar King Shepherd Mixes and Breeds
If you are interested in some of the traits of this breed, there are still plenty of options. These are similar mixes and breeds that may take your fancy!
King Shepherd Rescues
Unfortunately, the King Shepherd is still a rather obscure cross. So, there are little to no rescue centers fully devoted to this breed. However, you may have luck searching in rescue centers for the parent breeds instead.
See below for places to start!
UK:
USA:
Canada:
Australia:
If you have any more you would like to add to the list, let us know below!
Is a King Shepherd Right For Me?
Ultimately, only you can answer that question.
The King Shepherd is definitely not right for everyone due to their high daily needs and potential independent nature.
However, in the right family, this breed can be a great companion.
Families should consider whether they have the time and motivation daily to properly care for this breed before coming to any decisions.
Have you ever owned a King Shepherd before? What do you think of this breed?
Let us know below!
References and Resources
American Kennel Club
Battaglia, CL,

Bloat and the Risk Factors

Breeding Better Dogs
Clemmons, RM,

Degenerative myelopathy

The Veterinary Clinics of North America. Small Animal Practice, 1992
Hedhammar, A, et al,

Canine hip dysplasia: study of heritability in 401 litters of German Shepherd dogs

Journal of the American Veterinary Medical Association, 1979
Remy, D, et al,

Canine elbow dysplasia and primary lesions in German Shepherd dogs in France

Journal of Small Animal Practice, 2006
Get Pippa's free dog training tips delivered to your inbox