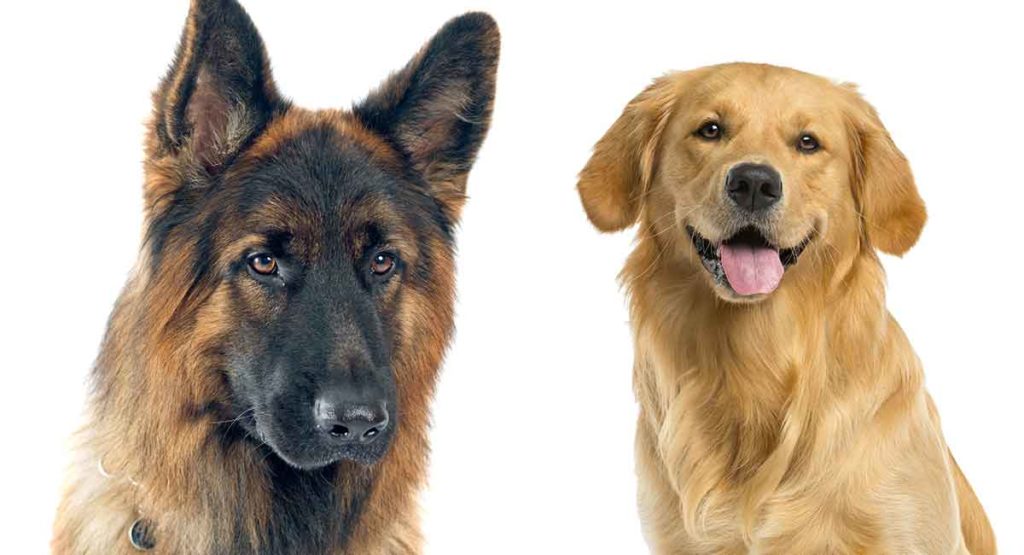 Golden Retriever vs German Shepherd – which breed is best? There are some major differences between these two popular dogs.
Goldens treat everyone like a new friend. Whilst GSDs can be reserved with strangers.
And, in terms of health, Goldens are prone to cancers, and inherited progressive blindness. Whereas, GSDs are most at risk of joint disorders and bloat. German Shepherds live around 7-10 years, to the Golden's 10-12.
But they have a lot more in common that sets them apart! Let's take a look at the Golden Retriever vs German Shepherd complete comparison!
Choosing between a Golden Retriever vs German Shepherd
If you're looking at adding a new medium-sized dog to your family, then the German Shepherd Dog and the Golden Retriever have both probably caught your eye.
As two of the most popular breeds in the USA, there's plenty of reasons why they're both in the Top 5 year after year.
But what are their differences? In this article, we'll take a look at both breeds, and compare them side by side.
From the origins of each breed, to their health, temperament, and exercise requirements, we'll take a detailed look at their characteristics.
Our aim is to help you decide which of these wonderful breeds might suit your home the best.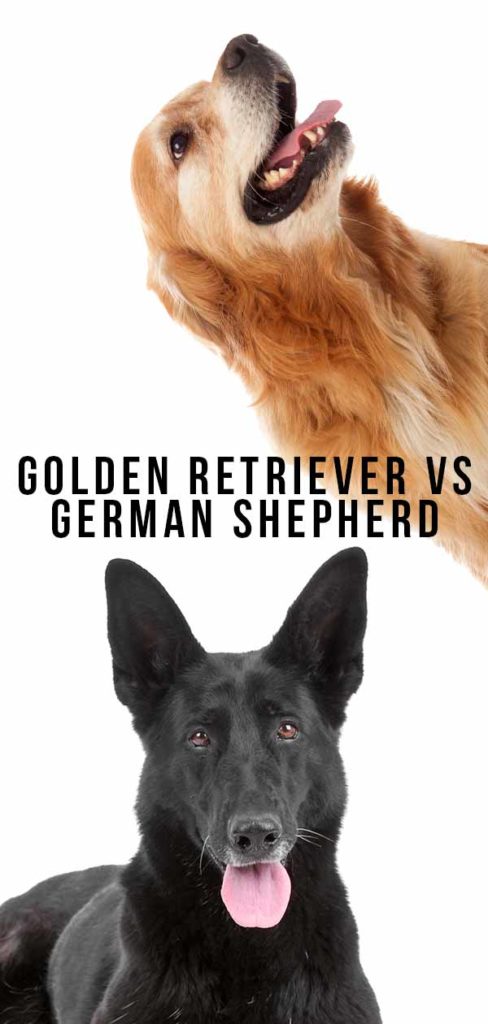 Golden Retriever and German Shepherd History
The Golden Retriever can trace its roots back to the Highlands of Scotland.
The breed was the result of Lord Tweedmouth's desire to create a gundog suited to the harsh terrain, and rainy weather of the Highlands.
He crossed a Yellow Retriever with the now extinct Tweed Water Spaniel. While also using Bloodhounds and Irish Setters to refine the breed. From 1840 to 1890, he worked tirelessly on his mission to create the perfect gundog.
By 1908, the breed was being shown at dog shows in the UK. As well as being exported to Canada, and onto America.
Their popularity in the USA skyrocketed in the 1970s, when President Gerald Ford had a beautiful Golden Retriever called Liberty.
What About the German Shepherd?
The history of the German Shepherd Dog can also be traced back to one man, and his desire to breed the ideal dog. The goal this time was its suitability for herding.
In the late 19th Century, Max von Stephanitz, a German Cavalry Officer, started crossing different strains of German herding dogs. He spent 35 years refining the GSD, generation by generation.
This breed started to become well known in the USA in the 1900s. Thanks to their intelligent natures, GSDs were the perfect breed to star in films – with the German Shepherd Dogs 'Rin Tin Tin' and 'Strongheart' starring in many films, and making the breed both desirable and popular.
While their original aim was working on the pastures of Germany herding sheep, the GSD has shown their versatility by becoming arguably the ultimate working dog.
Golden Retriever vs German Shepherd Appearance
Golden Retrievers are medium sized dogs belonging to the Sporting Group.
Males stand between 23 – 24 inches high, and weigh around 65 – 75 pounds. Females are slightly smaller, standing 21.5 – 22.5 inches high, and weighing 55 – 65 pounds.
Golden Retrievers are muscular and sturdy, with a friendly face and feathery tail. Of course, the very name of this breed refers in part to their long, glossy and golden double coat.
Goldens come in a range of shades, including dark golden and light golden. As well as the classic golden shade for which they are so well known.
Moving onto the GSD
German Shepherd Dogs are also medium sized, belonging to the Herding Group. Height wise they are a little taller than Goldens. But in terms of weight, they are the heavier breed.
Male GSDs stand at 24 – 26 inches high, and weigh 65 – 90 pounds. Females stand at 22 – 24 inches, and weigh 50 – 70 pounds.
The German Shepherd Dog has a smooth, graceful body shape, which should be longer than it is tall. They are well-muscled and agile, capable of running at great speed.
Some GDS are now bred to have a more sloping back, which can have health implications. We'll take a closer look at that later on in this article.
There are 11 accepted colors within the breed description of the GSD. With the most recognizable of these being bi-color and black and tan.
Golden Retriever vs German Shepherd Temperament
While in terms of shape and size, these two breeds are fairly similar, their temperaments are quite different. Let's see how the Golden Retriever vs German Shepherd temperament compares.
Golden Retriever Temperament
Golden Retrievers are cheerful and friendly dogs. As a general rule, they love meeting new people!
They are naturally cooperative, and love to please their owners. In fact they are so outgoing that they do not have a natural tendency to guard either their territory, or family.
Strangers visiting your home will often be greeted with a very enthusiastic hello from your Golden!
German Shepherd Temperament
German Shepherds are incredibly loyal, and attentive to their owners. But they are definitely morestand-offish with strangers.
Their loyalty means that, once trained, they are supremely keen to meet all of their owner's wishes.
But with that being said, they also have a very independent streak. Which is one of the reasons they make effective working dogs.
Remember that their natural instinct is to protect. So you will need to set boundaries for your GSD, and any visitors who aren't familiar with dogs.
Aggression and Bite Strength
The GSD is ranked in 8th place in terms of the strength of their bite, with a force of 238 PSI. Bear in mind that the top placed dog breed, the Kangal, has a bite force of 743 PSI. The Golden Retriever doesn't feature in this study, which lists the Top 12 breeds only.
Aggression in dogs is certainly a consideration when choosing your new pet. This is measured by the American Temperament Test Society.
Their breed statistics (as of December 2017) show that 85.3% of GSDs passed the temperament test. As did 85.6% of Golden Retrievers.
Golden Retriever and German Shepherd Training
With all breeds, we recommend attending puppy classes to help socialize your new dog. This is also a great way to establish a strong foundation for future training.
You can find a whole range of puppy training articles on our website.
Golden Retrievers are incredibly eager to please. So you'll likely find your dog a pleasure to train.
They are also sociable and outgoing with both people and other dogs. This does mean that training when they're puppies is essential. When you find your Golden is keen to charge off and meet the new dog in the park, you have the control to manage that situation how you wish, rather than being dragged behind your dog!
GSDs are a Little Different!
In terms of training, GSDs are quite different to Goldens. They are far more stand-offish with strangers. So care will need to be taken to properly socialize your puppy.
The fierce intelligence of the GSD means they will pick up new tasks with ease. It's been found that German Shepherds obey the first command given up to 95% of the time. They also only need to hear a new command 5 times before they can perform it themselves.
Golden Retriever vs German Shepherd Exercise
Given their history as working dogs, both these breeds require plenty of exercise. Daily walks are a must, or your dog may develop undesirable behaviors when left home alone.
Both Goldens and GSDs enjoy activities which are mentally challenging as well as physically tiring. This is especially true for the GSD, who excels at agility, and obedience training.
Goldens will love playing retrieving games. So you may find an organisation which organizes field trials or tracking events near you.
Golden Retriever and German Shepherd Health
As with any purebred dog, both Golden Retrievers and German Shepherd Dogs do suffer from a range of health conditions.
One issue that is common in both breeds is dysplasia of both the hips and elbows.
It's important to ask for the hip and elbow scores for parent dogs. The higher the score, the less chance their puppies will have of developing dysplasia.
But not let's look at some of the individual Golden Retriever vs German Shepherd health concerns.
Golden Retriever Health
Goldens have a lifespan of around 10 – 12 years.
Cancer does affect a lot of Golden Retrievers. One study showed this was the cause of death for 38.8% of the dogs included in the research group.
For GSDs in the same study, the percentage was just 10%. Golden Retrievers can also suffer from Progressive Retinal Atrophy (PRA) which can lead to blindness.
Some heart conditions can also affect this breed. You can read more about the health of Goldens in our full breed review.
GSD Health Concerns
GSDs live on average, for 7 – 10 years.
The shape of the GSD has altered recently, with the line of the back becoming far more sloping. Many GSDs now have issues with their spines, and back legs, as a result.
While this conformation does seem to be favored in the show ring, it can have a negative impact on the welfare of your dog.
GSDs can also suffer from osteochondrosis dissecans (OCD), haemophilia, Von Willebrands disease, bloat, and degenerative myelopathy. You can read more detailed information about German Shepherd health in our full breed review.
With both these breeds, we highly recommend taking your time to find a reputable breeder.
They should be happy to talk you through any health tests for parent dogs and their puppies. The Canine Health Information Center (CHIC) lists recommended screenings for both Goldens, and GSDs.
Which Breed Makes A Better Pet?
So, Golden Retriever vs German Shepherd, which is best? This decision really comes down to your own personal preferences. There's no denying that both of these breeds make wonderful family pets.
Active families with an interest in agility or obedience will find the GSD a rewarding pet.
Those with lots of visitors and a love of walking or hiking may well suit a Golden.
If you own either of these breeds, we'd love to hear from you in the comments below!
More Breed Comparisons
Have you loved reading about the Golden Retriever vs German Shepherd? If so, we have plenty of other breed comparisons you'll love.
Take a look at some of them below:
References and Resources
Get Pippa's free dog training tips delivered to your inbox