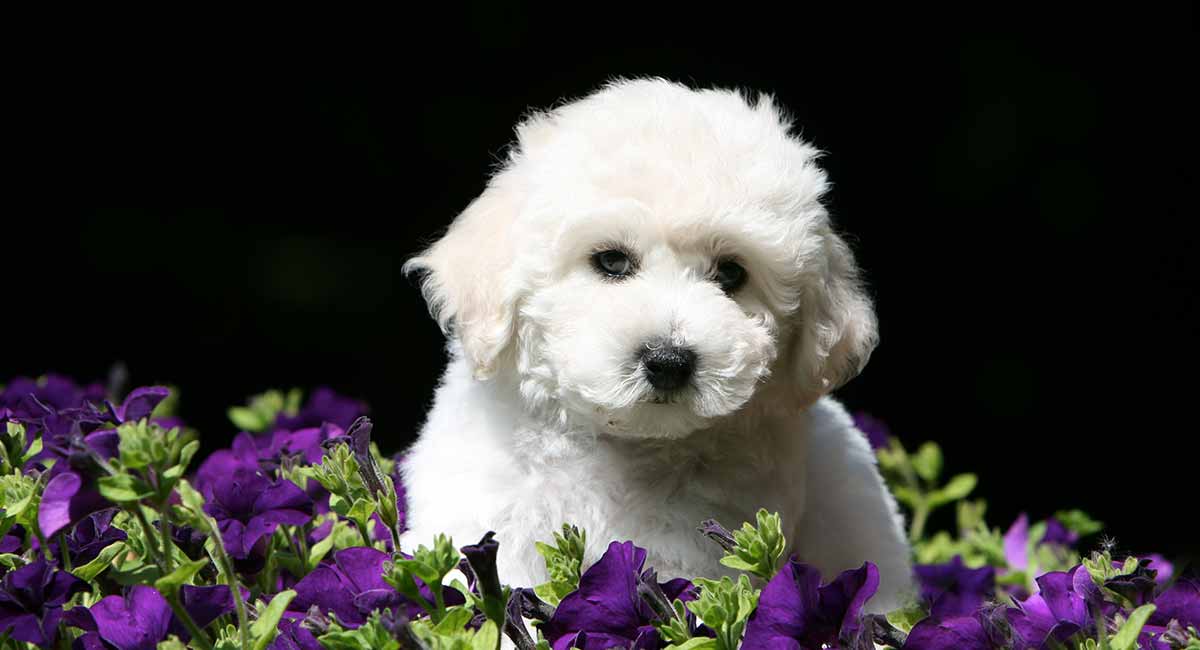 The Bichon Poodle mix is created by combining the Bichon Frise and the Toy or Miniature Poodle. These are a popular type of 'teddy bear dog'.
It's impossible to exactly predict what each Bichon Poodle cross will look like. But generally the result is an intelligent, loyal, and loving pup.
This lovable combination continues to rise in popularity as more and more people discover their delightful looks and sweet nature.
Here, we look closely at the Bichon Frise, the Poodle, and the mix. Read on to discover if this mix is the right pet for your family!
Where Does the Bichon Poodle Mix Come From?
This mix is believed to have originated in Australia during the 1990s.
However, this is still a relatively new breed. To understand more about this hybrid breed, we should look at the history of its two parent breeds.
Bichon Frise History
The Bichon Frise originated in the Mediterranean. It is a descendant of the Barbichon family, which also includes the Havanese, Maltese, and Bolognese breeds.
The breed developed on Tenerife, one of the Canary Islands.
During the 1300s, Italian sailors came across these small dogs, taking them home to Italy.
By the 1500s, Bichons had become widely popular in both Italy and Spain, especially amongst the nobility and upper classes. It was during this period that the French invaded Italy, taking these little dogs back to France.
Like many breeds, their popularity started to wane, and by the late 1800s, they were common street dogs.
However, after World War I, supporters of the Bichon Frise worked to reestablish the breed, introducing it to the USA in 1956 where the AKC officially recognized it during the early 1970s.
Poodle
Although the Poodle is associated with France, it originates from Germany where the standard breed developed as a water retriever hundreds of years ago.
The word poodle translates from the German "pudel" meaning splash or puddle.
During the 1400s, breeders began creating smaller versions of the Poodle, known as the Miniature and the Toy.
The Miniature was developed first, used for sniffing out truffles in the woods, whereas the Toy's main job was to serve as a companion to the wealthy classes.
The breed was registered by the Kennel Club in England in 1874 and by the AKC twelve years later.
All three versions of the Poodle remain extremely popular all over the world
Purebred Vs Mutt Debate
Over the past few years, the deliberate crossing of two different breeds has created an ongoing debate amongst the canine community.
In one corner, you have advocates of the purebred who favor the predictable traits you find with these age-old breeds and question if it is ethical to breed a designer dog.
In the other corner, supporters of mixed breeds claim they have a wider gene pool, so are far healthier, having what is known as hybrid vigor.
Both sides raise valid points, and there is no correct answer.
By looking at the facts, only you can decide which you believe is the best dog for you.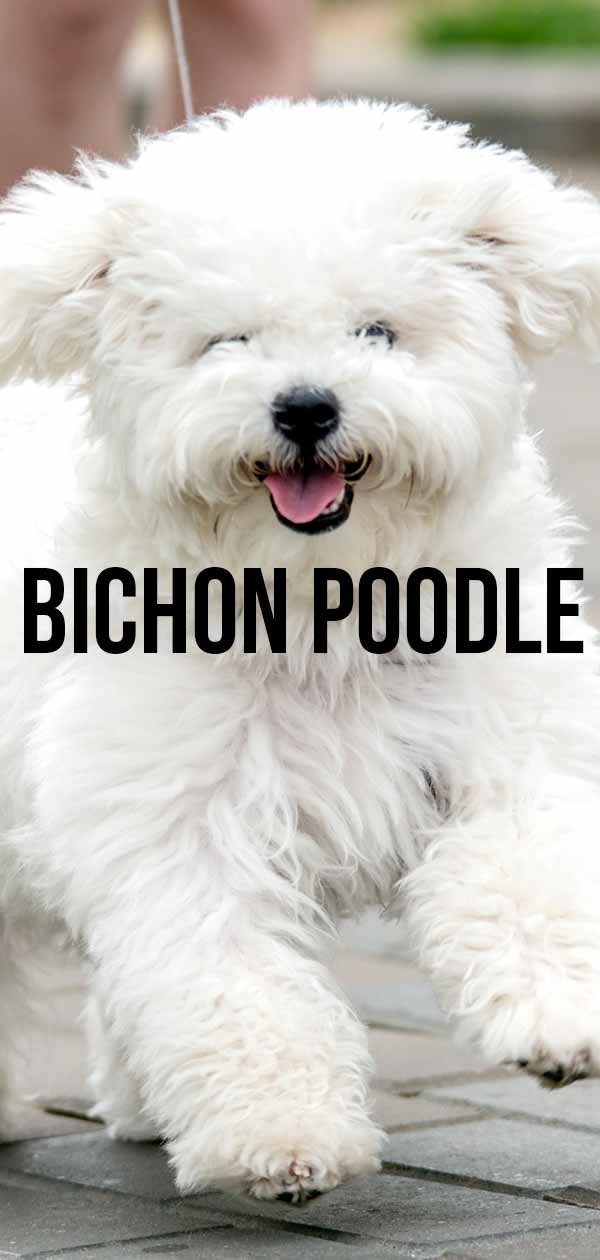 Fun Facts About the Bichon Poodle
The Bichon Poodle mix is also known as:
Bichon Poo
Bichpoo
Poochon
Bichon Frise Poodle Mix
A Bichon Frise named Ozzie can do an array of tricks, including skateboarding, and has over 7,000 followers on Facebook!
Winston Churchill owned two brown miniature Poodles, both named Rufus.
During World War II, Rufus 1 went everywhere with him but sadly was hit by a car and killed in 1947.
He was gifted Rufus 2 a few months later.
Bichon Poodle Appearance
With mixed breeds, it is challenging to predict the likely outcome of their appearance, as a hybrid puppy may inherit more traits from one parent than the other.
What we do know is that both the Bichon Frise and the Miniature or Toy Poodle are small dogs, so a Bichon Poodle mix will not grow very big.
However, its size depends on whether the Poodle parent is a Toy or Miniature.
Size Estimations
A Bichon Frise stands 9.5 to 11.5 inches tall and weighs between 10 and 18 pounds.
A Toy Poodle stands approximately 10 inches tall and weighs between 6 and 9 pounds.
A Miniature Poodle is slightly larger and stands about 15 inches in height, weighing between 12 and 20 pounds.
A Bichon Poodle will have a small but sturdy appearance, standing on average at around 9 to 15 inches tall with the average weight being anywhere between 6 to 18 pounds.
Coat and Colors of the Bichon Poodle
The Bichon Frise has a powder puff look, sporting a thick double coat of loose curls that are always white in color.
The Poodle has a single coat that is also curly but with a wiry texture.
They come in colors including white, black, blue, gray, brown, and apricot.
A Bichon Poodle mix will take on the coarse and curly hypoallergenic coats of their parents and likely to be either white, black, blue, or apricot in color.
Bichon Poodle Temperament
To have some idea as to what the temperament of a Bichon Poodle mix is like, we need to look closely at the parent breeds.
The Bichon Poodle is a smart, active dog since both breeds are intelligent, especially the Poodle, and have quite a lot of energy.
Quick to learn, they should be easy to train but require plenty of mental and physical stimulation, or they could become destructive.
Bichon Poodle mixes are extremely friendly and affectionate dogs who love to please their owners and get along with everyone, including other pets and children.
Traits to Watch Out For
However, they do suffer from separation anxiety if left alone for extended periods and tend to get nervous in stressful situations.
They are good watchdogs, but their barking can become excessive if they are not trained properly from the start.
There's No Guarantee!
Potential owners of mixed breeds should always keep in mind that the temperament of a hybrid is unpredictable.
It is therefore difficult to know what type of personality your Poochon puppy may have, as it could inherit more characteristics from the Bichon or more from the Poodle, or a mixture of both.
Training Your Bichon Poodle
As with any puppy, it is essential that training and socialization start as early as possible to prevent behavioral problems such as excessive barking.
Expose your pup to various situations, people, and animals in different environments so they grow up to be a well-adjusted and calm dog.
These types of dogs require plenty of mental stimulation, preferably through interactive games.
As the Poochon is eager to please and learns quickly, you should find training relatively easy.
Training Tips
Positive reinforcement methods work best, using treats and praise and keeping sessions short but fun to prevent boredom.
Potty training may take time if your pup takes after the Bichon parent, as this breed is notoriously difficult to housebreak but is usually easier with the Poodle.
Crate training is a good idea as it takes advantage of a dog's instinct as a den animal, as well as giving your puppy a safe place to rest and sleep.
Exercise
Both Bichon Poodle mix puppies and adult dogs tend to have moderate to high energy levels.
As a small pooch, it is better to have short, frequent walks rather than one long walk, along with some playtime.
Swimming is good exercise for dogs.
However, although Poodles love the water, the Bichon Frise does not, so it is debatable as to whether your Bichon Poodle mix will want to get their paws wet!
Bichon Poodle Health
The Bichon Poodle is a first generation mix and considered healthier than the two parent breeds.
However, as a potential owner, it is essential you are aware of the health issues associated with the Bichon Frise and the Poodle.
It is possible any of these could arise in your dog.
Eye problems are common in this breed, which includes progressive retinal atrophy and cataracts.
Also, skin conditions and allergies can be an issue.
Like many small dogs, they are prone to dental problems, hip dysplasia, and patellar luxation.
Other Health Issues
Other concerns include
Cushing's disease
von Willebrand's disease
Addison's disease
Legg-Calve-Perthes disease
A good breeder will test the Bichon Frise and Poodle for:
hip dysplasia
von Willebrand disease
patellar luxation
eye diseases
Lifespan
Both the Bichon Frise and the Toy or Miniature Poodle enjoy a long lifespan.
So you can expect your Bichon Poodle mix to live between 12 to 15 years.
Bichon Poodle Care Requirements
Despite being a low shedding dog, the Bichon Poodle requires frequent brushing to remove dirt and tangles as well as helping to distribute your pup's natural oils, resulting in a healthy coat and skin.
This breed needs clipping by a professional groomer around every four to six weeks so their coat is easier to maintain.
It is often necessary to wipe your pup's eyes, as this mixed breed is prone to tear streaks, especially noticeable on white and light-colored dogs.
Brush your Poochon's teeth at least once a week, and clean the ears and trim the nails regularly.
The Best Food
This mix is a small energetic dog so should be fed two small meals a day.
Because this mixed breed is prone to dental issues and allergies, it is better to feed a dry food that consists of high quality, natural ingredients.
Do Bichon Poodles Make Good Family Dogs?
This mix is a sweet-natured, gentle dog who gets along well with children and other pets, making it the ideal family dog.
However, very young children may accidentally hurt this small pup, so they require adult supervision.
Rescuing a Bichon Poodle
Many dogs end up in shelters for a variety of reasons, with some having very sad stories.
Adopting a rescue dog is cheaper than buying one, and some are already house trained and fully vaccinated.
Not only are you giving a dog the chance of happiness, but you often receive ongoing support from the shelter.
Finding a Bichon Poodle Puppy
If you decide you want a Poochon puppy, it is essential you buy from a reputable breeder who has had the parents and offspring health tested.
Never buy from puppy mills or pet stores, as the animals often live in inhumane conditions and there is a strong possibility they have behavioral or health issues.
Pros and Cons of Getting a Bichon Poodle
Before you decide if this mix is right for you, it's a good idea to look at the pros and cons.
Cons
Prone to separation anxiety
Energetic – need physical and mental stimulation
Can be excessive barkers
The coat is high maintenance
Pros
Sweet nature
Good with children and other pets
Low shedding
Quick learners so easy to train
Similar Bichon Poodles and Breeds
If you're still not certain this is the breed for you, take a look at these similar breeds before making a final decision:
Rescues Centers
Here is a list of rescue centers where you may find a Bichon Poodle mix:
If you know of other organizations, please tell us about them in the comments box below.
Is a Bichon Poodle Mix Right for Me?
There is no doubt that this cute little fluff ball is hard to resist!
Affectionate, loyal, and loving, this mixed breed makes a suitable companion for just about everyone and can adapt to any living environment.
Just ensure you have the time to devote to this adorable little dog.
Do you own an adorable Bichon Poodle mix?
Share your stories
References and Resources
FW Nicholas, et al. Hybrid Vigour in Dogs. The Veterinary Journal. 2016
Thomas P. Bellumori, et al. Prevalence of inherited disorders among mixed-breed and purebred dogs: 27,254 cases (1995–2010). Journal of the American Veterinary Medical Association. 2013
G Aguirre, et al. Pathogenesis of progressive rod-cone degeneration in miniature poodles. Investigative Ophthalmology & Visual Science. 1982.
Roush JK . Canine patellar luxation. Europe PMC. 1993.
Dodds WJ. Von Willebrand's disease in dogs. Europe PMC. 1984.
Get Pippa's free dog training tips delivered to your inbox