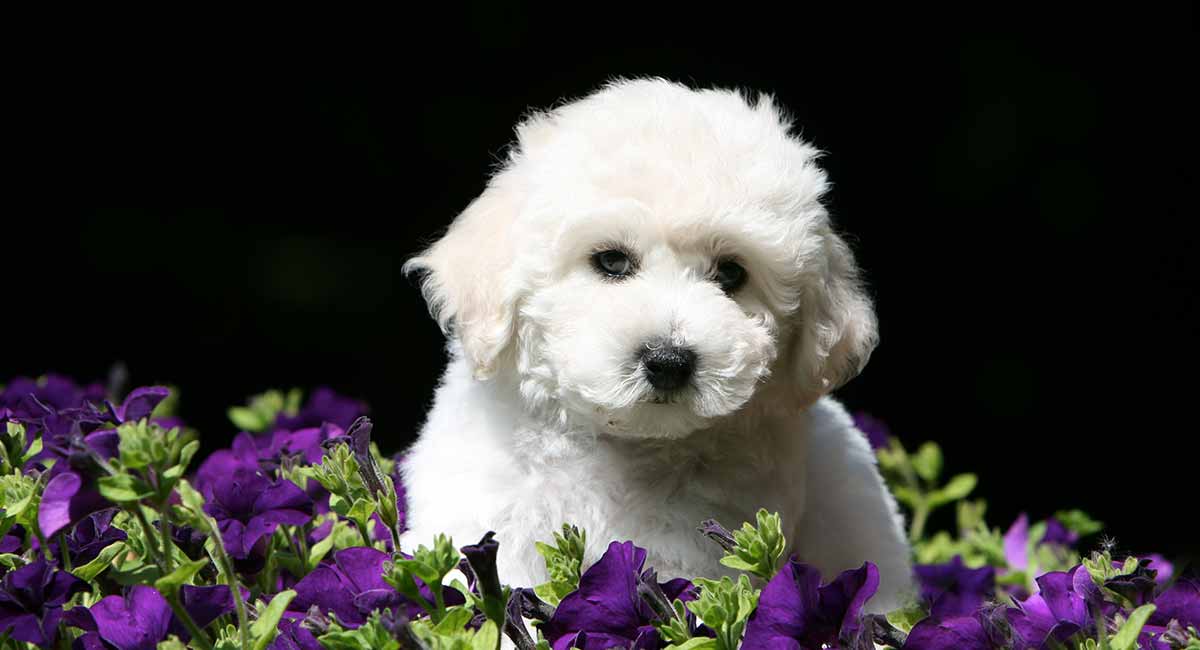 The Bichon Poodle mix is created by combining the Bichon Frise and the Toy or Miniature Poodle. These are a popular type of 'teddy bear dog'. also known as the Poochon or Bishpoo.
Raising and training a Bichon Poodle is a lot of fun. These are smart little dogs that are quick to learn and eager to please.
How long it takes to train your Poochon will depend on your dog's temperament, your own abilities, and willingness to learn. And on the time you have available to devote to the training process.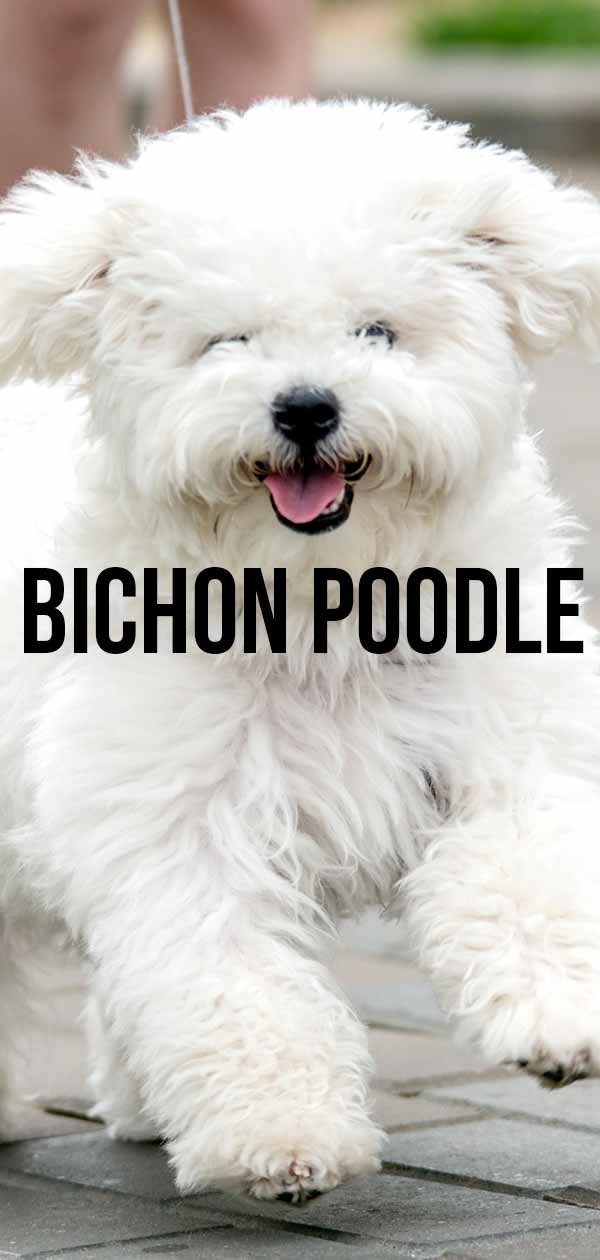 Training Targets
There are four key area for you to target as you train your Bichon Poodle.
Potty training
Socialization
Obedience training
Grooming
Potty Training
If you are starting with a puppy, or a rescue dog that hasn't been well toilet trained, your first challenge will be potty training. Patience is the key. If you've raised a larger dog in the past, bear in mind that small dogs have small bladders and may need to empty them more often than larger breeds. You'll find potty training schedules, and all the information you need in our guide to potty training a puppy.
Socialization
This is the part where you show your puppy how to be a friendly and confident dog. It involves exposing your puppy to lots of new experiences before they lose that baby puppy friendliness and become shy of strangers.
Good socialization lies at the heart of all dog training, it involves getting out and about with your puppy, and starts when you first bring your puppy home. Make sure that your puppy meets lots of different people and some friendly vacinated dogs. You'll need to carry them until their vaccinations are complete.
Obedience Training
This is where you teach your puppy to obey your commands and be a good canine citizen. You'll find lots of information to help you train your puppy on our main training page.
Grooming Training
Like any other Poodle mix it's vital that your dog is groomed and trimmed regularly. Those gorgeous curls can quickly get out of control if left to themselves.
Once your dog is an adult you'll probably need to clip them, or have them clipped professionally, every four to six weeks. That involves the dog standing still while a human gets up close and personal with scissors and clippers. And of course, most puppies are very wriggly and don't like to sit still for a minute.
You might be tempted to leave grooming practice until your puppy is older, but this is not a good idea. It's better to get your puppy used to going through the motions of being groomed before they need their first haircut.
Use short, daily sessions where you lift your puppy onto a table, and show them that standing still while you handle them, earns them some nice treats. Start with just a few seconds, then gradually increase the time you keep the puppy on the table over the next few weeks.
Bichon Poodle Temperament
The Bichon Poodle is a smart, active dog since both parent breeds are intelligent, especially the Poodle, and have quite a lot of energy.
Quick to learn, they should be easy to train but require plenty of mental and physical stimulation, or they could become destructive.
Temperament will very even between dogs of the same breed but generally, Bichon Poodle mixes are extremely friendly and affectionate dogs who love to please their owners and get along with everyone, including other pets and children.
Traits to Watch Out For
These little dogs do suffer from separation anxiety if left alone for extended periods and tend to get nervous in stressful situations.
They are good watchdogs, but their barking can become excessive if they are not trained properly from the start.
There's No Guarantee!
Potential owners of mixed breeds should always keep in mind that the temperament of a hybrid is unpredictable.
It is therefore difficult to know what type of personality your Poochon puppy may have, as it could inherit more characteristics from the Bichon or more from the Poodle, or a mixture of both.
Devote A Few Minutes A Day To Training Your Bichon Poodle
Remember that as with any puppy, it is essential that training and socialization start as early as possible to prevent behavioral problems such as excessive barking.
Expose your pup to various people, machinery, and animals in different environments so they can enjoy being relaxed and confident in any situation.
Just ten to fifteen minutes a day spent on training games will help your curly friend grow up to be a well-mannered and calm dog, who is welcome where ever you go.
Training Tips
Positive reinforcement methods work best, using treats and praise and keeping sessions short but fun to prevent boredom.
Potty training may take time if your pup takes after the Bichon parent, as this breed is notoriously difficult to housebreak but is usually easier with the Poodle.
Crate training is a good idea as it takes advantage of a dog's instinct as a den animal, as well as giving your puppy a safe place to rest and sleep.
Exercise
Both Bichon Poodle mix puppies and adult dogs tend to have moderate to high energy levels.
As a small pooch, it is better to have short, frequent walks rather than one long walk, along with some playtime.
Swimming is good exercise for dogs. Poodles love the water, and if you introduce your puppy gradually to wet paws and splashing through puddles, they may well progress to enjoying a reguar swimming session.
Get Pippa's free dog training tips delivered to your inbox