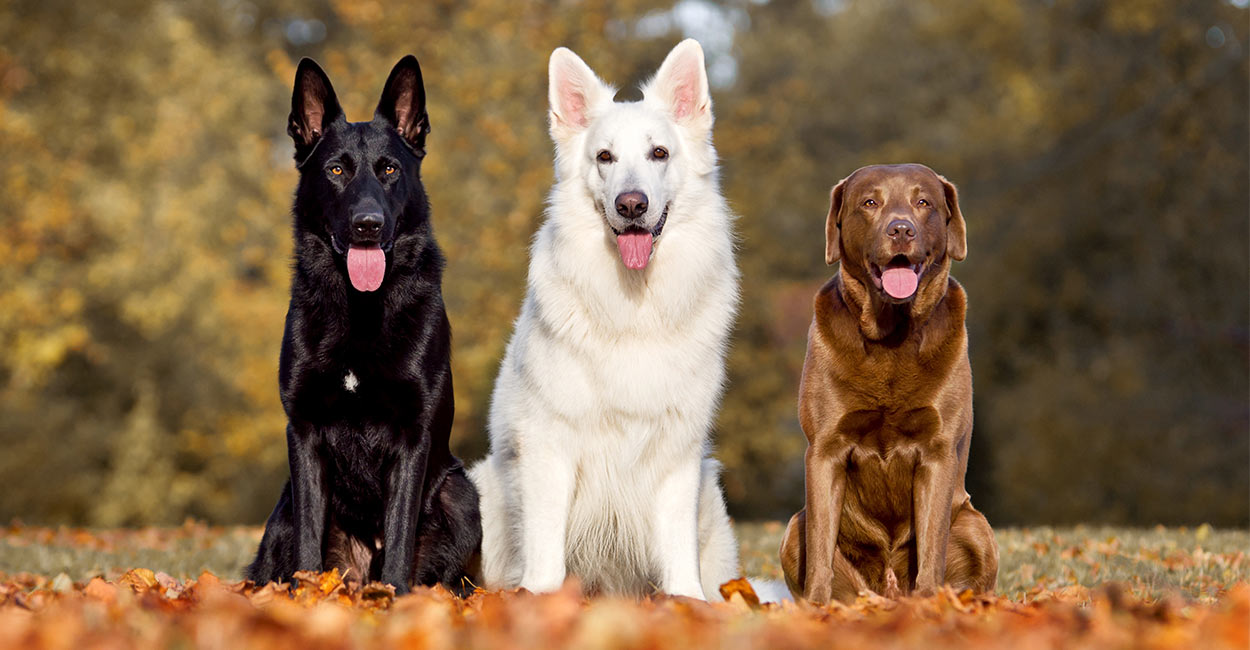 German Shepherd vs Labrador Retriever – two intelligent and active dog breeds. But which one is the best choice for you?
Both loving and loyal breeds have legions of admirers all around the world.
But they also have some different personality traits and their own individual sets of health concerns.
So, let's take a look at how they compare to help you decide which breed is right for you and your family!
Have you decided to add to your canine family?
One of the best things about choosing a new pup is deciding which breed you want to bring home.
If you're looking for a large doggie companion with a reputation for being intelligent and faithful, both the German Shepherd and the Labrador Retriever fit the bill nicely.
Both breeds are immensely popular family dogs and for good reasons.
As of 2017, the Lab is the most popular dog, and the German Shepherd comes a close second.
But which of these breeds would be a better pet for you: German Shepherd vs Labrador?
Choosing between two similar breeds is a common dilemma.
Although their similarities complicate the decision, some distinct differences may help seal the deal.
And the differences between the German Shepherd and Labrador retriever are significant.
German Shepherd vs Labrador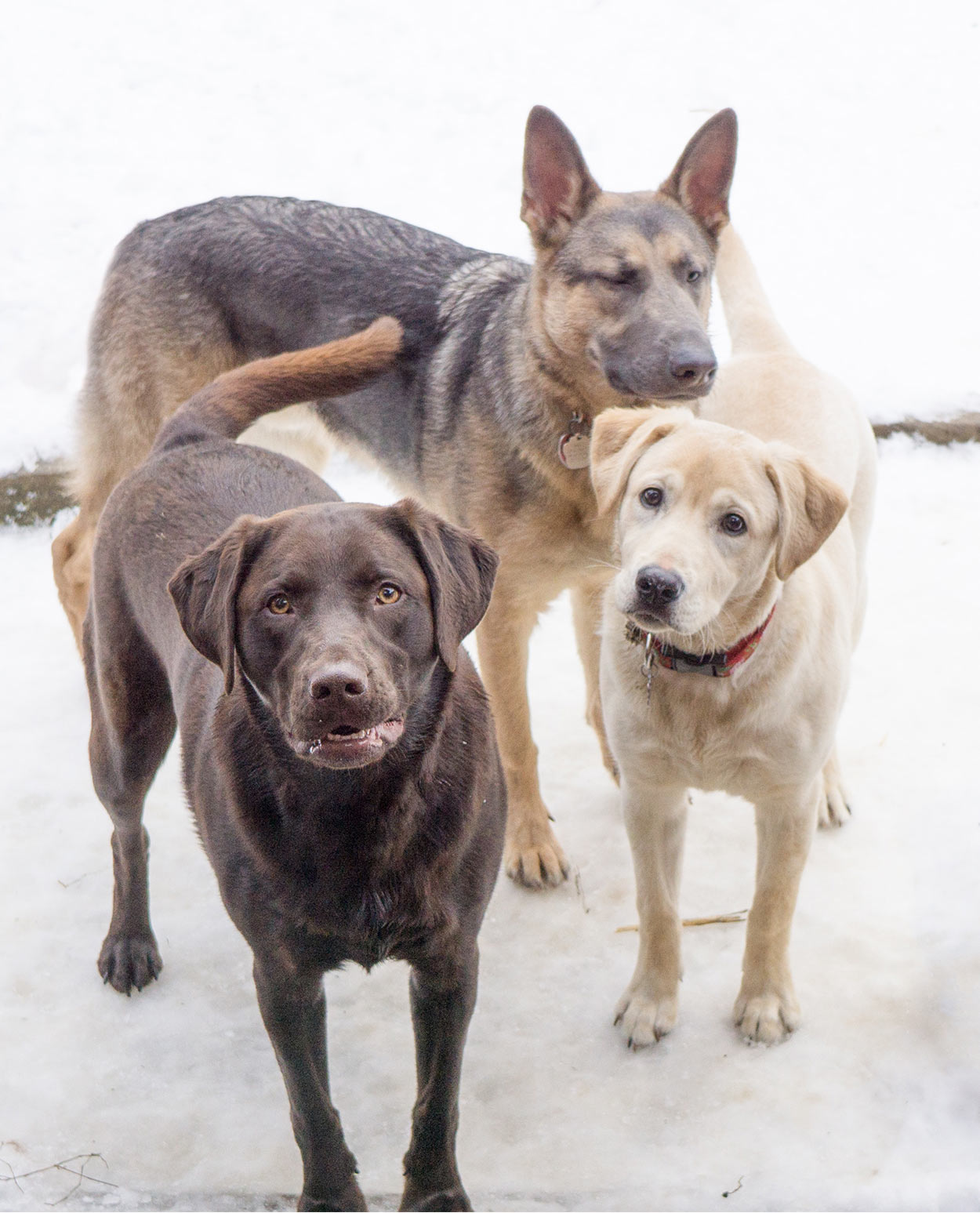 In reality, no breed is "better" than another.
Each pure breed has a distinctive set of characteristics that may be more favorable depending on your own personality, lifestyle, and home environment.
Both make terrific companion animals, depending on what you're looking for in a forever friend!
The real question is which one of these dogs is the better choice for you?
Factors to consider include temperament, grooming and exercise requirements, and potential health concerns.
Let's take a look at both of these magnificent breeds to give you a better perspective of what owning a German Shepherd or a Lab entails.
Labrador Retriever types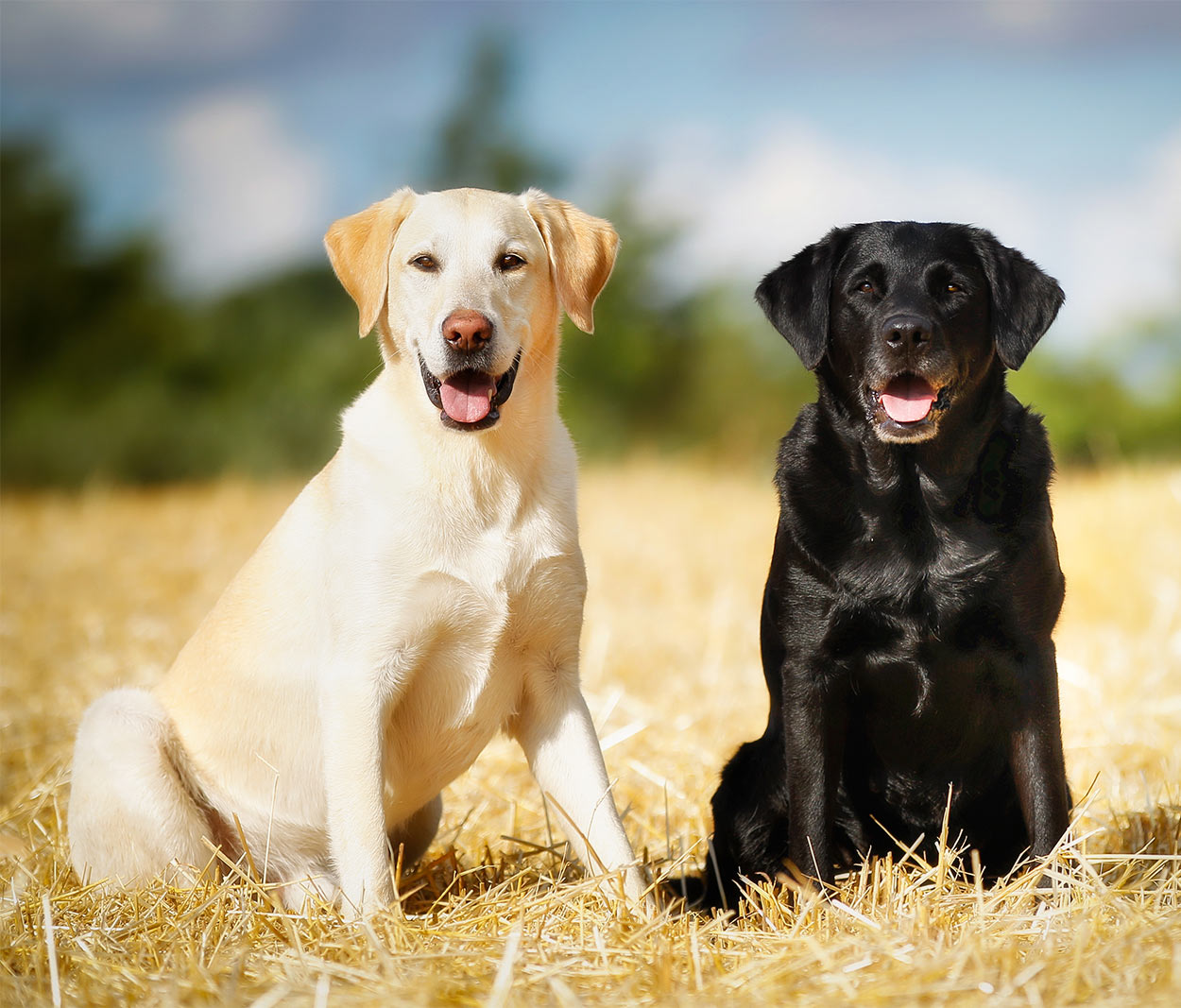 Did you know that there are two types of Labrador?
They differ only slightly in temperament and appearance, and both are bred around the world by responsible breeders.
The American or working-type Lab makes a wonderful family pet.
This particular Lab breed is known for having a gentle nature with a reputation for being highly trainable. They need human interaction and love, love, love people.
The Americal Lab typically retains its innate instinct for hunting, as demonstrated by their remarkable agility.
This trait makes them a sound choice if you love being active and taking part in sports like dog frisbee.
The English or show-type Lab is more vibrant in temperament and is characterized by a "traditional" Lab appearance—a thick otter tail and chunky head.
This type of Lab loves to run free in the great outdoors. Training can be tricky owing to their goofy nature and silly streak.
Nonetheless, both make wonderful pets.
Labrador Retriever Overview
Labs are the most popular dog in the US. They come in three colors: chocolate, yellow, and black. Although these colors have variations that can result in, for example, the white Labrador.
Both Labrador Retriever types are valued for their assured manner and make for active, affectionate pets.
Labs are intelligent and responsive, characteristics that make them ideally suited as therapy and guide dogs. But this is also true of German Shepherds.
According to one report, Labs are the most popular breed of assistance dog in America and over 50% of guide dogs in Canada are Labrador Retrievers.
Law enforcement and search and rescue agencies also favor Labs due to their exceptional detection skills and desire to please.
Labs belong to the sporting group and are extroverted animals.
Because they tend to take an unreserved liking to the people they meet, don't get one with the expectation of turning her into a ferocious guard dog!
They are high energy dogs, but get along well with children and other dogs provided they have been exposed to early and positive socialization and training.
German Shepherd Dogs Overview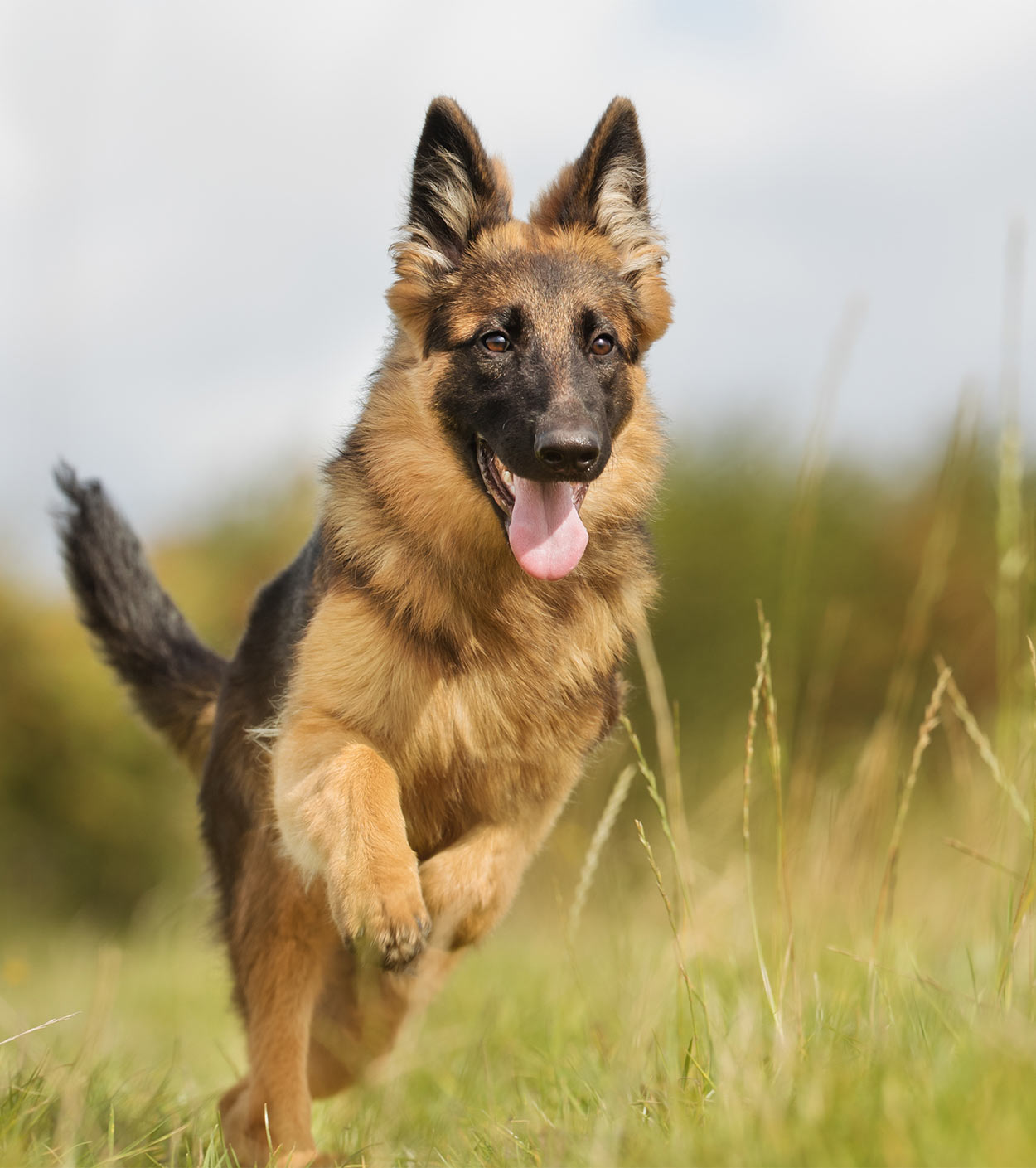 German Shepherd Dogs are confident and intelligent and are classified as part of the herding dog group.
Despite their thick and muscular physique, they are surprisingly nimble. Like the Lab, they have a high canine IQ.
They are best described as a working dog and therefore, need to be physically and mentally engaged.
While a Lab is content to lounge beside its owner, this is definitely not the case for the workaholic German Shepherd!
These dogs are much more active and require regular exercise to stay happy and healthy.
Don't be surprised if your agile pooch zips around the dog park like a dog half its size. This breed can run incredibly fast.
They are also highly trainable and make excellent guard dogs, search and rescue dogs, and military dogs.
With early and positive training and socialization, they bond with children so they can make excellent family pets.
However, initially, they are not as warm and friendly with humans as Labs. But then again, what other breed is?
You should be aware of the potential guarding tendencies associated with this breed. This should be taken into account when choosing a breeder and raising your puppy.
German Shepherd vs Labrador Health
We know that thinking about all of the things that could possibly go wrong medically is not something new owners want to contemplate.
It's understandable that you may want to ignore all of the unpleasant, "what ifs?" as you gaze upon our new and adorable furry friend.
But sadly, purebred dogs are prone to certain health conditions and any potential owners should be aware of these.
According to experts, hip dysplasia is one of the most common orthopedic problems in dogs. Labs and German Shepherds are no exception.
Labrador Health
Labs are prone to several serious medical conditions, including hip and elbow dysplasia.
In addition, they are prone to eye issues such as progressive retinal atrophy (PRA), glaucoma, and cataracts.
German Shepherd Health
German Shepherds are prone to degenerative myelopathy, a degenerative spine disease that is inherited.
The condition affects the spinal cord and can result in lameness.
Other potential problems to be aware of include hemophilia, PRA, obsessive-compulsive disorder (OCD).
German shepherds can also experience issues with their gait which can cause them to walk unnaturally or uncomfortably on their hocks.
Health Screening
Health tests are available for many of these issues.
When looking for Lab breeders make sure they test both parents.
They should have good hip and elbow scores, PRA clear and a recent eye test as a minimum.
German Shepherds should have good hip scores, PRA clear, a recent eye test and not a family history of hemophilia. You will also need to look at their back, and make sure that it is level and they are not walking on their hocks.
German Shepherd vs Labrador vital statistics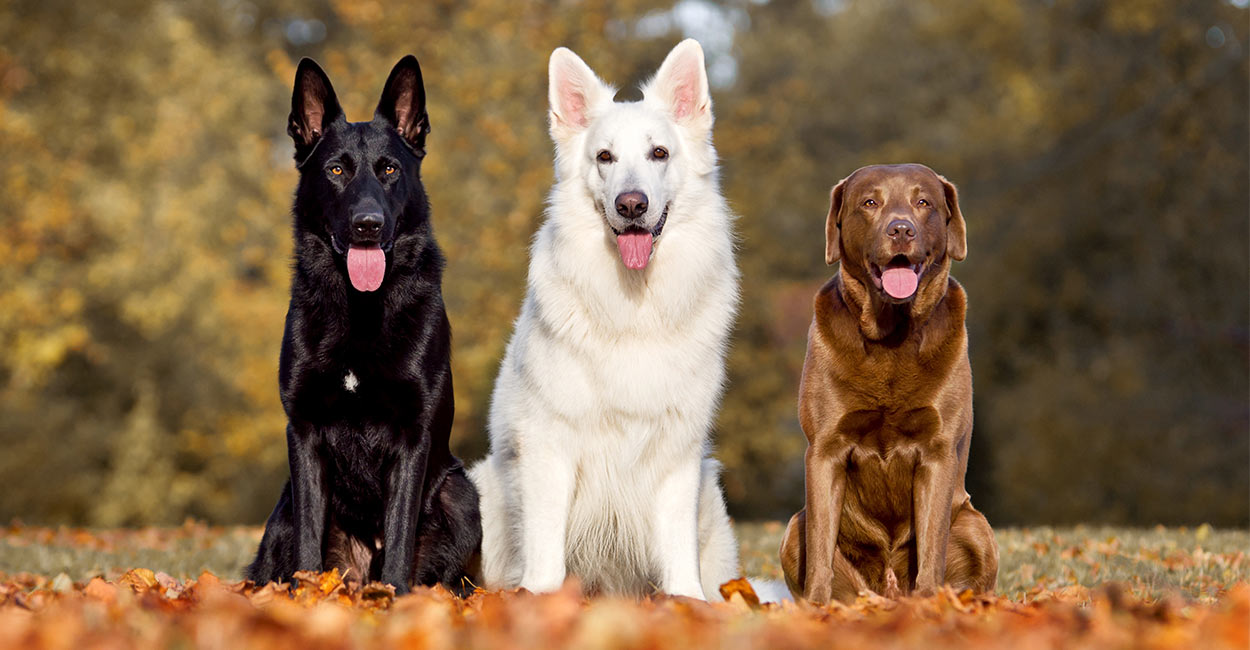 When it comes to Lab vs German Shepherd vitals, both breeds share similar characteristics.
German Shepherd's typically live 11 years on average.
They range in height from 22 to 26 inches and range from 50 to 90 pounds, with males weighing more than females.
Labs enjoy an average lifespan of 12.5 years.
They reach approximately 21 to 24 inches in height and average 55 to 80 pounds, depending on gender.
So when comparing German Shepherd vs Lab vital stats, Labradors are in front in terms of longevity and have less structural health issues, but are a little smaller on average.
Labrador Retriever vs German Shepherd grooming
Labs shed on a seasonal basis and require regular grooming. They sport a thick, short, "all weather," coat that comes in shades of choclate, yellow and black. Check out the silver Lab here!
GSD's are frequent shedders with a thick, medium length double coat that requires frequent brushing.
Even with regular brushing you can still expect to find fur about the house. Most GSD's are tan and black or red and black. But can come in a huge variety of colors, including all black!
Neither dog is considered to be hypoallergenic.
A long haired GSD will require more regular grooming to keep their coat in a good condition, but a short haired German Shepherd vs Labrador will have similar requirements and shed in similarly copious amounts!
Labrador vs German Shepherd intelligence
Both the Lab and German Shepherd are highly intelligent.
German Shepherds are quick learners. They easily remember information after only a few repetitions and can maintain intense focus even around distractions.
Labs share a similarly high canine IQ and a high level of trustworthiness. This makes them excellent sniffer dogs. They have a superior ability to hone in on and track a scent.
A Lab will probably need more proofing against distractions when it comes to their training as they do love to meet and greet everyone they meet, but they are both fairly biddable breeds.
Neither breed will bark excessively.
German Shepherd vs Labrador temperament
The right temperament is crucial to forming a successful, lasting bond with your new companion.
Too often, dogs are abandoned simply because the dog and owner were incompatible. But with a little bit of research and education, this situation can be avoided most of the time.
Labrador Temperament
On the whole, Labs are an affable breed. They are friendly almost to a fault and always eager to please their humans.
Combined with a high IQ, these qualities make Labs a natural choice as guide dogs and assistance dogs.
Although they are big dogs, the Labrador Retriever will happily snuggle in a lap if given the chance. Just be prepared for a bit of drooling!
If your idea of a perfect day is hanging out at the dog park throwing around a tennis ball or Frisbee, you're in luck. Labs will happily play fetch all day long.
The same goes for water. Labs are great swimmers and love to lark around in lakes, pools, or any body of water, for that matter.
German Shepherd Temperament
German Shepherds are active, self-assured dogs who like to have a purpose.
They have a strong work ethic. So like Labs, they make excellent guide dogs and excel at both search and rescue and law enforcement work.
They require an outlet for their impressive energy level and can become destructive if under-exercised or left alone for too long.
Some GSD's are known to take an overly protective stance when it comes to their territory and family.
This problematic conduct is referred to as guarding behavior and it is most common when dogs are not trained and socialized early and properly.
Their guarding behavior can come out around food, belongings, territory, and even people.
It's important to be aware that your dog could have the potential to behave aggressively to protect what they deem valuable.
Undesirable guarding behavior is more extreme than simple and expected "guard dog" behavior.
While not a desirable trait, it can be managed by carefully selecting your puppy's parents. Early socialization is also a must.
German Shepherd vs Labrador Socialization
All puppies need socialization. This helps them grow up to be confident happy adults.
Socializing Your Lab
With breeds like Labradors, although still necessary, it is more of a formality.
If you've picked nice parents, then your puppy is likely to grow up fairly confident around strangers anyway.
You are socializing them for their benefit and confidence as much as your own.
Socializing Your German Shepherd
With the German Shepherd, socialization is a different story.
It is essential to select nice parents if you are planning to take home any guarding breed. For German Shepherd puppies, socialization is also vital.
It can be the difference between a family pet who welcomes your friends over and one who causes years of stressful encounters.
How to Socialize Your German Shepherd vs Labrador Puppy
From 8 weeks old, it's a good idea to take your pup somewhere new and busy every day.
Have visitors to the house every day from 8 to 14 weeks, including a range of ages.
From that point try to do something new and have visitors once or twice a week as a way of retaining the socialization and confidence as time goes on.
German Shepherd vs Labrador socialization is more important, and if done right will be more time-consuming in the early days of puppyhood.
How to Find a Labrador or German Shepherd Puppy
Whichever type of pure breed dog you set your heart on, yellow Lab, chocolate Lab, or black Lab vs German Shepherd, it is important to work with a responsible breeder.
She will be able to show you health certificates, and introduce you to the mother in her home.
For Labs, seeing the father's documentation is enough. But for German Shepherds, meeting the father is necessary. This will allow you to check out his temperament.
However, both nature and nurture contribute to a dog's ultimate potential and wellbeing.
We can't emphasize enough the critical nature of enhancing a great set of genes with an early and positive training and socialization programmes.
Other Breed Comparisons
Take a look at some of the other breed comparisons we've got below!
German Shepherd vs Labrador Retriever?
We hope you've enjoyed our comparison of the German Shepherd vs Labrador Retriever.
With lots of love, and a healthy dose of early and positive socialization and training, both of these large purebred dogs are adaptable companions, good with children, and eager to please.
Labs may have a slight edge for new owners. This is simply because they are so affectionate and eager to please.
In contrast, German Shepherds are much more reserves. It takes more time for them to get to know their humans.
They can also exhibit bothersome guarding behavior and herding mentality.
German Shepherds also require more socialization and positive reinforcement training, although these are definitely advised for both breeds.
There are many similarities when it comes to Lab vs German Shepherds. The main differences are in the guarding instincts of the German Shepherd and the pushiness of the Labrador.
Final Thoughts
Would you rather have a dog that is over-excited by its playmates and the people it meets on walks? or one that may be nervous of visitors but less distracted at the dog park?
When it comes to choosing a Labrador dog vs German Shepherd, the choice ultimately comes down to your individual preferences.
Of course as long as you have the space in your home and the right resources, there is absolutely nothing wrong with choosing one of each (or more!) of these glorious dogs!
Do you own a Lab or German Shepherds, or maybe both?! If so, we'd love to hear about your experiences in the comments section below.
Make sure you also take a look at our comparison between the German Shepherd vs Doberman!
References and Further Reading
Bergman, R.L., et al, Dystrophin-Deficient Muscular Dystrophy in a Labrador Retriever,
Journal of the American Animal Hospital Association, 2002
Leighton, E.A., Genetics of canine hip dysplasia, Journal of the American Veterinary Medical Association, 1997
Mackenzie, S.A., et al, Heritability estimate for temperament scores in German Shepherd dogs and its genetic correlation with hip dysplasia, Behavior Genetics, 1984
Mateescu, R.G., et al, Identification of quantitative trait loci for osteoarthritis of hip joints in dogs, American Journal of Veterinary Research, 2008
Lumbosacral transitional vertebrae as a predisposing cause of cauda equina syndrome in German Shepherd dogs: 161 cases (1987-1990), Journal of the American Veterinary Medical Association, 1993
Parshall, D.P., Research and Reflection: Animal-Assisted Therapy in Mental Health Settings, Counseling and Values, 2003
O'Neill, DG et al. 2011. Longevity and mortality of owned dogs in the UK. The Veterinary Journal.
Get Pippa's free dog training tips delivered to your inbox