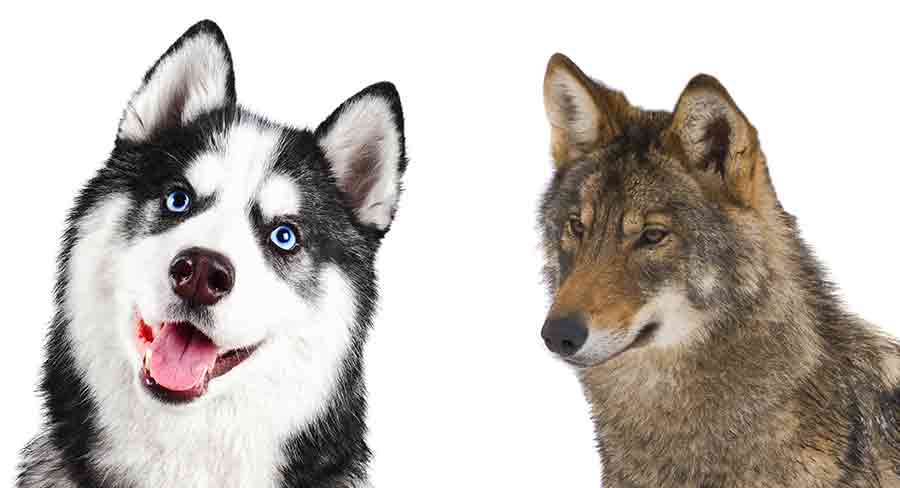 A Husky wolf mix combines either a Siberian Husky or an Alaskan Husky, with a wolf.
This hybrid is very independent, has a high prey drive, and needs a lot of exercise and mental stimulation.
It's not a great choice for a novice owner, and not suitable for families that just want an affectionate family pet.
Plus, some parts of the world puts restrictions on ownership of wolf-dog mixes. So, check this before considering a Husky wolf hybrid.
Husky Wolf Mix FAQs
These are some of the most common questions we receive about the Husky wolf mix. If you can think of any others, make sure to leave them in the comments at the end of this guide!
What is a Husky Wolf Mix?
A Husky wolf mix is a combination of a domestic Husky breed with a wild wolf. Either a Siberian Husky or Alaskan Husky might be used in this mix.
Mixed dog breeds, or designer dogs, are increasing in popularity. Many people are looking for a unique dog to call their own – and this has led to a surge of interest in wolf hybrids.
However, in many states and many countries, dog-wolf hybrids are classed as wild animals and have lots of restrictions on their ownership.
On top of this, in some areas of the world, dog-wolf hybridization is considered a threat to wolf conservation.
Any hybrid animal can be unpredictable. Its traits can vary depending on the specific genetic code it inherits from each parent.
So, a Husky wolf hybrid needs an owner that is knowledgeable and experienced in both dogs and wolves.
This is not a mix for a novice owner.
Husky Wolf Mix Appearance
Hybrid dogs and animals can look quite different from one another. Puppies can inherit traits from either parent.
And predicting their appearance before they are born is quite difficult.
But, both Siberian and Alaskan Huskies are already popular because of their 'wolfish' appearance. So, Husky wolf puppies are likely to look quite wolfish.
This is actually one of the major reasons people are interested in this mix. Many hope to retain the wild appearance of the wolf parent, but with the easier temperament of the Husky.
Sadly, things are not that easy or simple. Ultimately, there's no way of predicting which traits your puppy will inherit from either parent.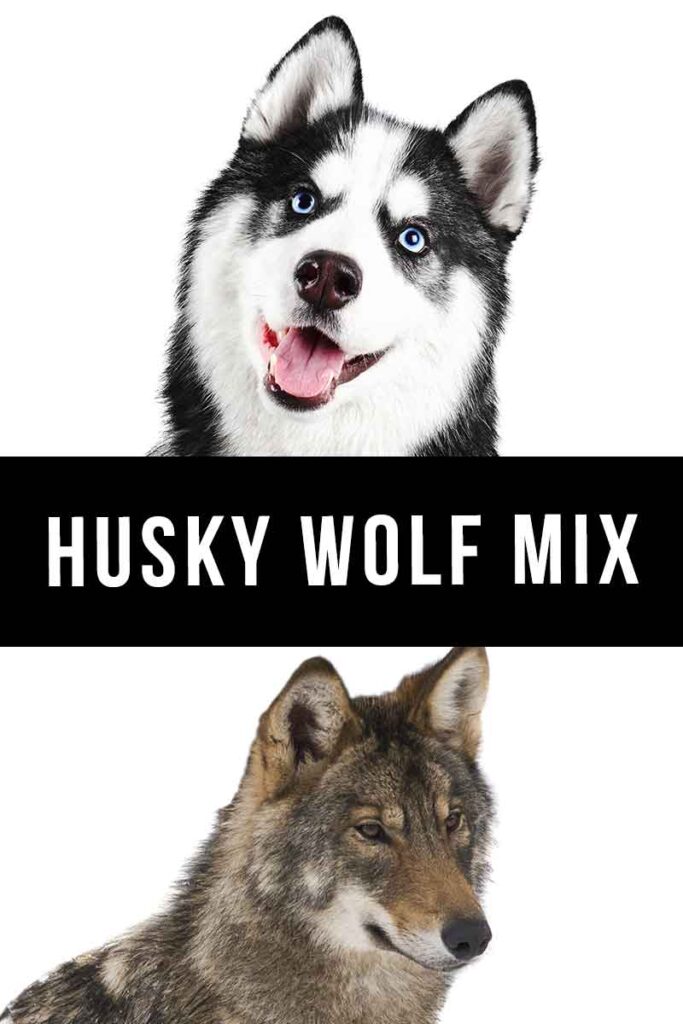 A General Idea
Generally, a Husky wolf mix will grow to be a large breed. Females are usually smaller than males.
It's common for this mix to grow to over 100 pounds in weight as an adult.
It's likely that your mix will have a thick double coat that sheds seasonally.
Their coloring will vary depending on the coloring of their parents. But often, these mixes have more than one shade on their fur.
They will usually have triangular ears, a long muzzle, and a well proportioned, muscular body.
Husky Wolf Mix Temperament
Just like appearance, the temperament of a mix can be unpredictable. However, there are a few traits that Huskies share with wolves, that may be likely in a mix.
Huskies originate as working dogs. They would work in packs with other Huskies to pull sleds.
Wolves are also pack dogs. So, a Husky wolf mix will not suit a solitary life. This will be a highly social mix that needs constant company to stay happy.
Being left alone can lead to destructive tendencies and stress.
This mix is also likely to be vocal, and extremely high energy. So, it is not a mix that suits city life or apartment living.
High Prey Drive
One trait that is almost guaranteed in a Husky wolf mix is a high prey drive.
Both Huskies and wild wolves have high prey drives. So, a Husky wolf mix will usually inherit this trait.
This means it is not a mix that will suit houses that have other pets. They may chase after cats and rabbits, and this can have fatal results.
Socialization can help to minimize aggression towards other animals and people in most dogs. But, a Husky wolf mix is part-wild animal.
Natural chase and hunt instincts like this cannot be removed, and are a big risk in a first generation hybrid.
On top of this, a Husky wolf mix can have a territorial nature, which can lead to aggression and over-protective instincts.
As a large, strong mix, aggression towards other dogs, people, or children can be deadly.
This is one of the biggest reasons that a Husky wolf mix does not make a great pet. Ultimately, most people will be better off with a fully domestic dog.
Husky Wolf Mix Training and Exercise
Both parents in this hybrid are very high energy animals that need a lot of daily exercise. This isn't a mix that will be content curling up on the couch.
Husky wolf mixes will be very active.
This mix needs plenty of land to explore and exercise within. But, remember their strong prey drives.
If left to roam freely, they will likely hunt and chase any other small animals they see.
This mix will do best with lots of securely fenced land to roam. And, be wary of your Husky wolf mix escaping, even from fenced land.
This is an intelligent, athletic mix. It can easily find a way over fences that are not high enough, and will be happy to dig underneath one. In fact Huskies themselves are notorious escape artists!
Because of the risk of aggression, owners must do everything they can to keep their mix from escaping their home.
Are They Easy to Train?
A Husky wolf mix can look beautiful, and might seem like a great way to get a unique pet. But, this is not a mix for an inexperienced dog trainer.
Even experienced dog owners can struggle with this mix. Because, a Husky wolf mix is not a domestic dog. It's a wild animal.
Knowledgeable training is vital, and without it a Husky wolf mix could hurt someone, or become very destructive.
This mix needs a confident, consistent owner that understands how wolves and wolfdogs learn.
Owners should also socialize this mix very well. Try to socialize this mix to different animals, even if you don't have them in your own household.
Introduce them to other animals and people slowly. Even with the best socialization, this mix will likely be very territorial and will retain strong hunting instincts.
Husky Wolf Mix Health
A Husky wolf mix will be a large dog. So, they will be prone to health problems like hip and elbow dysplasia, and bloat.
The Husky parent of this mix can be health tested to reduce the risk of your puppy inheriting these problems.
But, there's a chance that your puppy can inherit them.
You will need to make sure you find a vet willing to work with you and your wolfdog mix before bringing a puppy home.
Because this is considered a wild animal in many places, some veterinarians may not feel qualified to work on them, or be willing to work on them.
But, you will need a veterinarian to help you with vaccinations, check ups, and assistance – particularly if your mix suffers with hip dysplasia or bloat.
Husky Wolf Mix Puppies
Finding a Husky wolf mix puppy can be hard. These puppies tend to start from around $1000, but can cost much more.
You won't find breeders everywhere. This mix will usually come from a highly specialized breeder that has experience with wolves.
Many people give these dogs up after the cute puppy stage when they realise quite how much work they are.
But, it's unlikely that these dogs will go to a standard rescue. You may find one in a specialized rescue.
Work with a breeder closely if you are prepared for this risk. Ensure you're getting the healthiest puppy possible, and make sure you're fully prepared for the challenges that this mix is going to present.
Is a Husky Wolf Mix a Good Family Dog?
The Husky wolf mix dog is not good as a family dog. This mix is hard to train, needs hours of exercise each day, and has a strong prey drive.
Husky wolf mix dogs will often be very territorial, and they may be aggressive if not trained properly.
Owners must have experience caring for and training dogs and wolves, ideally. This way, they'll know exactly what to expect and how to deal with any issues that arise.
If you're searching for a Husky wolf mix because you like the looks of this mix, there are other domesticated alternatives that you can consider.
But, ultimately, this is a wild animal. It will not suit a family dog lifestyle.
Dogs That Look Like Wolves
The main reason people love the Husky wolf mix is that wild appearance. But, there are plenty of domestic dogs that have this wolfish appearance.
These dogs are better suited for most families. They require much less work, and will fit in more easily to a family lifestyle.
Husky Wolf Mix – A Summary
What are your experiences with the Husky wolf mix? We would love to hear your stories in the comments.
References and Resources
Get Pippa's free dog training tips delivered to your inbox