What is a pedigree dog?
A pedigree dog is a purebred dog, whose name is included on the pedigree record for their breed. Pedigree dogs receive a pedigree certificate, also known as papers.
Founding and maintaining dog pedigrees is a longstanding tradition. But it has flaws as well as advantages.
Puppy buyers should research carefully to avoid unwittingly taking part in the exploitation of pedigree puppies.
Are Pedigree Dogs And Purebred Dogs The Same?
Not quite.
'Pedigree' is actually the name for the record which proves the ancestry of a purebred dog.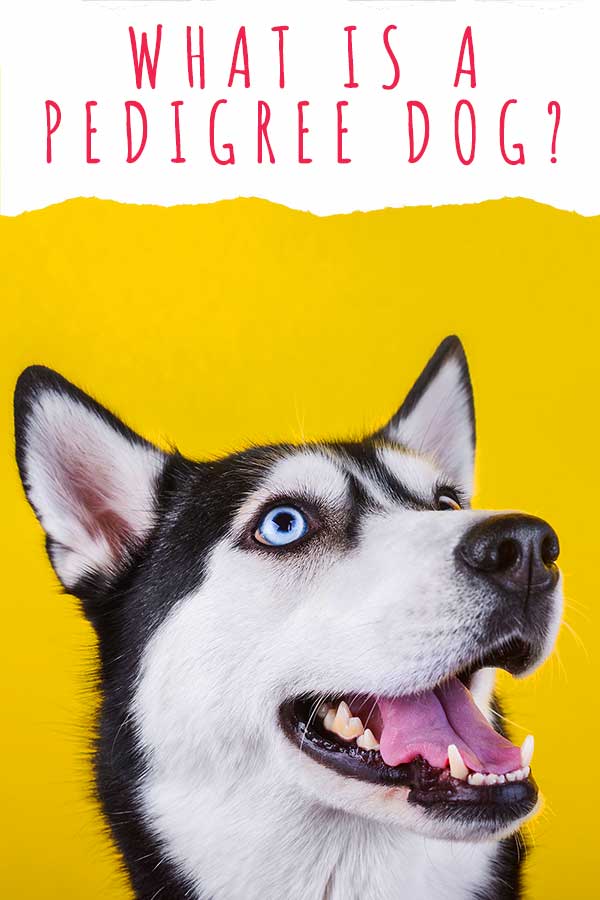 When two dogs belonging to the same pedigree are mated, their puppies are often entitled to be entered in the pedigree record and receive a pedigree certificate as well.
Their breeder normally arranges this, for a small fee.
But, there is no rule which says a purebred dog must be entered on the applicable pedigree.
What if the Breeder Chooses Not To?
Some breeders, for whatever reason, may choose not to do so. This could happen over several generations. The dogs would still be purebred dogs.
But they would not be pedigree dogs. And they would be prohibited from competing in shows and field trials reserved for pedigree dogs.
Without a documented pedigree, it also gets increasingly difficult to prove a dog's purebred credentials.
So in short: a pedigree dog is always purebred, but not all purebred dogs have a pedigree certificate.
Creating Pedigree Dogs
Pedigrees are founded by groups of breeders who share a passion and vision for breeding a certain type of dog.
They refine their vision by choosing founding sires and dams with traits and qualities they want to secure in their new breed.
They also get to decide which of the puppies they produce meet the standard for their new breed, and get to be the first individuals entered on their pedigree record.
The studbook is closed when they have enough individuals breeding true to their vision. This means that when two dogs of that type mate, their puppies will be the same again.
From that point on, the only puppies of dogs already in the pedigree are also allowed to be entered on the pedigree.
Which Dogs Come With A Pedigree?
In the United States, the American Kennel Club has awarded full recognition to 196 pedigree dogs.
Approximately 80 pedigrees are also registered with their foundation service.
Worldwide, there are thought to be somewhere in the region of 350 pedigree dog breeds.
And there are still more traditional purebred dog varieties which don't have documented pedigrees.
Which Dogs Don't Come With A Pedigree
A purebred puppy isn't entitled to receive a pedigree certificate (also known as their pedigree papers) if either or both of their parents aren't included on the breed pedigree.
Designer dogs (dogs whose parents belonged to two different pedigrees, such as Cockapoos) aren't entitled to be entered on a pedigree either.
And a puppy entitled to join their pedigree might also be sold without papers if, for any reason, the breeder decides not to register them.
When this happens it is possible for their new owner to register them instead. But it's worth bearing in mind that lying about eligibility for pedigree status is a very common type of dog breeding fraud.
We'll come back to that in a moment. First let's look at the pros and cons of pedigree dogs.
Advantages Of A Pedigree Dog
The main pro of choosing a pedigree dog is that they are more predictable.
For example how they will look, and what kind of temperament they will have.
You'll also be able to anticipate which health problems they're most at risk of, and how long they're likely to live.
Their parents' pedigree certificates will also include a wealth of information about the individuals in their family tree, including:
What field and show titles they have won.
If they were imported from another country.
If they are health tested and registered with the Orthopedic Foundation for Animals.
And even what color they were.
Being a pedigree dog means having proved they place in an exclusive record, and it comes with a certificate. So, lots of people also assume it is a mark of quality as well.
But, that is not always the case.
Disadvantages Of A Pedigree Dog
A pedigree certificate proves a dog's family tree.
But it doesn't prove that they will be healthy, or well raised by their breeder.
Let's take a closer look.
Pedigree Dog Health – Breeding For Extreme Looks
As more and more dogs are kept for companionship instead of as working animals, greater priority is being placed upon their looks. Rather than their ability to work.
This has resulted in dogs with increasingly extreme physical features, such as:
flat faces and tightly curled tails (Pugs, French Bulldogs and Bulldogs),
short legs and long bodies (Dachshunds),
domed skulls (Chihuahuas)
and very small or very large size.
These preferences for looks are often at odds with the dogs' health and welfare.
A Closer Look
Most of our favorite pedigree dogs have at least one point of their physical conformation (shape) which predisposes them to health problems.
Common examples include: trouble breathing, eye injuries and problems giving birth in flat faced breeds like Pugs, and spinal disease in Dachshunds.
Breeding pedigree dogs to meet an exaggerated physical ideal can even have negative repercussions on their behavior.
For example Pugs, Frenchies and Bulldogs end up less able to use the face and tail to send signals of good will to other dogs, and Dachshunds are less able to perform play bows.
This can lead to social misunderstandings, upset, and loss of confidence around other dogs.
Dogs who are less able to exercise due to their shape are also more likely to end up performing unwanted destructive behaviors at home, as a way of releasing energy.
Pedigree Dog Health – Genetic Diseases
Pedigree dogs also have a problem with loss of genetic diversity, and increased frequency of some genetic diseases.
Once a pedigree studbook is closed, no new genetic material can enter a pedigree population. But it can be lost.
Overuse of popular sires in breeding can also lead to their genes becoming overrepresented in the pedigree, and "crowding out" other genetic material.
If they carry any genetic diseases, these can also end up spreadly widely through the pedigree.
German Shepherd Dogs and Golden Retrievers are associated with the greatest number of genetic disorders trapped within a pedigree this way.
But in 2014, a study in Sweden found that inbreeding and loss of genetic variation were not the main causes of poor health in pedigree dogs.
And in the UK, research indicates that the rate of loss of genetic diversity from pedigree breeds reached a peak in the 1980s and 1990s, but has now stabilized. In some breeds it has even been restored.
Increased availability of DNA screening also means that whilst the risks of breeding pedigree dogs from a limited gene pool still exist, they are getting easier to navigate safely.
Next let's look at some more ways that you can make sure a pedigree puppy will grow into a great pet.
Finding A Healthy Pedigree Dog
Sadly, having a certified pedigree isn't proof that a puppy has been carefully bred or raised.
Breeds fall in and out of fashion. There will always be bad breeders or puppy farmers willing to exploit a breed's popularity. These places often compromise the welfare of their dams and litters to maximise their profit.
Here's how to tell a healthy pedigree puppy from an exploited pedigree puppy:
1. Do your research!
From what questions to ask the breeder, to which health tests to expect as standard.
2. Get information from more than one source
Research your preferred pedigree online, in books, by talking to other owners, breeders, and your vet.
Pedigree dog breeders and vets don't tend to see eye to eye about breeding choices, the risks of inherited diseases and health screening.
Chatting to both means you won't miss out on valuable information.
3. Make sure you see their parents' papers before you pay a deposit
Pedigree papers shouldn't be an afterthought.
Good breeders will be happy (bursting with pride in fact!) to show you their sire and dam's papers so that you can benefit from all the information on them.
Bad breeders, on the other hand, tend to be evasive. They might make excuses about why the papers aren't available, and keep promising to forward them on at a later date.
This can be a sign that their sire or dam aren't pedigree dogs at all, but the breeder is trying to get your money before you cotton on,
What Is A Pedigree Dog – Summary
A pedigree dog is a purebred dog who has been entered on the pedigree record for their breed, and received a pedigree certificate.
Some people prefer pedigree dogs because they have more predictable and reliable qualities.
Other people are critical of pedigree dogs because of the effect extreme breeding has had on health and welfare in some breeds, because it promotes the treatment of dogs as objects instead of living creatures, and because it "plays God".
Holding a pedigree certificate isn't a guarantee that a puppy is healthy, or that they have been raised well by their breeder.
So it remains vitally important to research a pedigree puppy thoroughly before committing to giving them a home.
Readers Also Liked
References & Further Reading
Get Pippa's free dog training tips delivered to your inbox