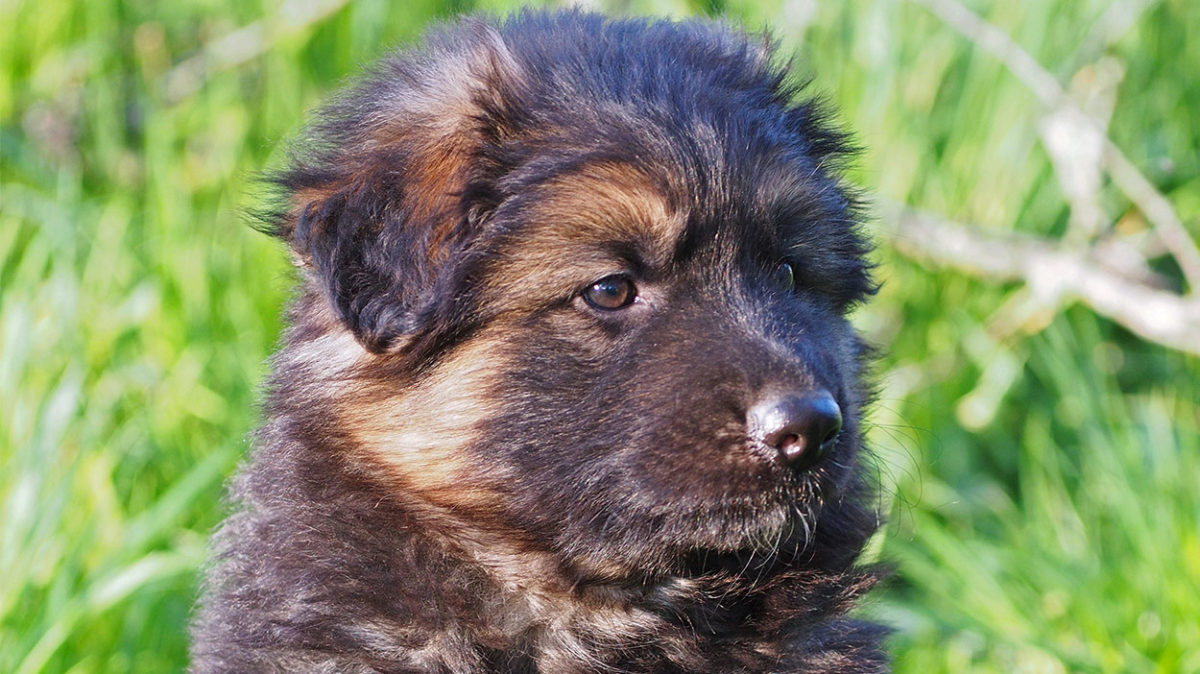 The Shiloh Shepherd is a new breed of dog bred from the German Shepherd. He is occasionally called the Shiloh German Shepherd but is a bit larger and is said to be more docile.
This is a large breed, weighing up to 160 pounds and growing up to 30 inches tall.
But, because this is such a new breed, it's difficult to say exactly what you can expect from it in terms of temperament and health.
Let's take a closer look at what we do know to see if this dog is right for you.
What is a Shiloh Shepherd?
This breed is still considered to be under development in the US. This means that there is still much to learn about him in regard to temperament, health issues, lifespan, and more.
This breed is so new that he has yet to be recognized as a standardized breed by any major kennel club.
They are intended to be healthier than German Shepherds and more moderate in terms of temperament. They grow up to 30 inches tall and weigh up to 160 pounds!
Because there is still so little in the way of scientific research done on the Shiloh Shepherd, it's important to keep in mind that any information or 'facts' stated about this breed from articles or even breeders should be taken with a grain of salt.
Remember, it is just too early to tell for certain exactly what we are dealing with when it comes to this new dog breed!
Origin of the Shiloh Shepherd
The Shiloh Shepherd originated in the United States. It was bred mostly for intelligence, gentle temperament, and large size.
The history of the breed is rather endearing, revolving around childhood memories and the fondness for one's homeland.
The creator is a woman by the name of Tina M. Barber, who founded the Shiloh Shepherds' Kennel out of New York.
Barber was born and raised in Germany. In 1974, she began developing a new dog breed that reminded her of dogs from her childhood.
Specifically, Barber wanted to cultivate a breed that was not only a wonderful family and companion dog, but who was also larger in size, very intelligent, and maintained a sound mental and physical state.
Her Process
In 1990, Barber separated from the American Kennel Club (AKC). It wasn't long after that that the Shiloh Shepherd Dog Club of America (SSDCA) was created.
By 1991, the International Shiloh Shepherd Registry (ISSR) was established. It took over the registry functions of the Federation of International Canines (FIC), which was the first federation to recognize the Shiloh Shepherd as its own breed.
Today, the Shiloh Shepherds Club is the only approved parent club for the breed.
Temperament of the Shiloh Shepherd
Although there is still much to learn about the Shiloh Shepherd, we can say for certain he is a descendant of the standard German Shepherd. He is said to have a much more docile temperament.
In fact, it is said that he is the least territorial of the shepherd breeds.
For the most part, they are known to be loyal, outgoing, and incredibly friendly dogs.
They have been bred specifically to be companion dogs. So, it is reported that they are excellent with children and other household pets, displaying a gentle and patient demeanor.
They were also bred for their intelligence. So it has been reported that they excel in obedience training and even make wonderful service animals.
Regardless of this breed's stellar reputation, we like to recommend early socialization with any dog breed to ensure a happy and healthy relationship for everyone involved.
Shiloh Shepherds are no exception!
Defining Characteristics
The Shiloh Shepherd is a very large dog built for strength and elegance. He displays an almost regal nature, with an intelligent, friendly face and bright, brown eyes.
A full grown female will be 26-28 inches tall. While a male will grow up to be around 28-30 inches tall.
The female will weigh between 79-120 pounds, and the male will weigh in at an impressive 120-160 pounds.
It is said that by breed standards, the Shiloh Shepherd's large size should not impede his ability to move with fluidity and grace.
Coat Types And Colors
Two distinct coat types are reported for the Shiloh Shepherd. Including the Smooth or "Double Coat," and the Plush Coat.
The Smooth Coat is medium in length and lies closer to the body. It is said to be thick and dense with a harsh, wiry feel.
The Plush Coat, on the other hand, is longer, with a soft undercoat and a mane that reaches around to the chest.
The Plush Coated Shiloh Shepherd should also have feathering inside his ears and behind his legs.
The breed comes in a wide range of colors and can be dual-colored or solid.
Dual Color Coat
The dual color coat markings include:
Black and Tan
Gold and Tan
Red and Tan
Silver and Tan
Sable and Tan.
Solid Color Coat
The solid colors include:
Golden
Silver
Red
Dark Brown
Dark Grey
Black Sable.
Grooming
The level of grooming maintenance will depend on the coat type of your Shiloh Shepherd.
Both the smooth coats and the plush coats shed heavily. However, the smooth coats are said to shed more than the plush.
The plush coats are longer. So, they will require more brushing and grooming to keep from becoming matted.
Anyone interested in a Shiloh Shepherd should keep in mind that the high-level of shedding in this breed is one of the main reasons the dogs are turned over to shelters.
For this reason, a prospective owner should prepare for consistent grooming and lots of vacuuming!
General Care
The Shiloh Shepherd does have a weather-resistant coat. So it will only need occasional bathing to maintain clean and healthy fur.
A prospective Shiloh Shepherd owner should also be ready to clean their Shiloh Shepherd's ears regularly to keep wax and moisture at bay.
The Shiloh Shepherd will also need his nails trimmed weekly to avoid splitting and cracking.
Training and Exercise Requirements
The Shiloh Shepherd is said to make an excellent family and companion dog. As previously mentioned, though, we always recommend early socialization and proper obedience training with any breed.
The Shiloh Shepherd was bred for his intelligence and loyalty. So, one can expect an incredibly trainable dog who enjoys learning and pleasing his human companions!
The breed has a reputation for being calm and mild-mannered. But he can be prone to obesity if not properly exercised.
How Much Exercise Does it Need?
Keep in mind the Shiloh Shepherd is a larger dog breed. It will, therefore, require adequate walks and play to keep his muscular frame in proper shape.
The Shiloh Shepherd was built for endurance. So long hikes or walks will be the best type of exercise for this slow and docile dog breed.
Because this breed is so bright, it's important to keep him mentally stimulated to avoid boredom.
Trick-training and dishing out specialized "doggie jobs" for your Shiloh Shepherd to complete are both great ways to keep this breed mentally sound!
Always be sure to keep training positive and fun.
Remember, training can make for a wonderful bonding opportunity and can help foster trust between you and your best friend!
Health Issues and Lifespan
Much like his German Shepherd predecessor, a healthy Shiloh Shepherd should have a lifespan of 9-14 years.
Because the Shiloh Shepherd is a relatively newer breed, there is a possibility that he has some health issues we still don't know about.
It's important to note that Tina Barber did breed these dogs with the intention of reducing major health issues to which the purebred German Shepherd is especially prone.
Barber was successful in many areas, especially in reducing numbers of inheritable hip dysplasia in the Shiloh Shepherd as compared to the German Shepherd.
But it is still impossible to completely eliminate health defects in any breed.
Therefore, it's important to know what the breed could be predisposed to in the future.
Potential Health Issues
As a large dog, he is going to be subject to the same types of health ailments as other larger dog breeds.
These health issues include hip dysplasia, panosteitis, megaesophagus, exocrine pancreatic insufficiency, small intestinal bacteria overgrowth, subaortic stenosis, ventricular arrhythmia, and bloat.
As always, we recommend researching the health issues of your desired dog breed, regardless of what it is.
Remember, early health screening in your pup can help avoid or prepare for future health issues he may encounter.
Keep in mind that reputable breeders will be able to provide certificates regarding the health of their litters, proving they have been screened and cleared of certain health defects.
Diet
Because the Shiloh Shepherd can be predisposed to overeating, obesity, and bloat, it is important to implement a healthy diet and exercise plan.
We suggest a high-quality brand of dog food as recommended by your vet.
Also, make sure to offer the proper measurement of food each day depending on your dog's specific weight and size.
This will eliminate the risk of overeating. And it will be easier for your dog to maintain a healthy weight and keep him feeling his best.
Ideal Home Type
By all accounts, the Shiloh Shepherd is a gentle giant who does amazingly in homes with children of all ages and even other household pets.
He will do best in homes of those who don't mind shedding, and those who have the ability to take their pet on routine walks or jogs.
Keep in mind the Shiloh Shepherd also requires mental stimulation, as mentioned above. So an ideal owner should be ready and willing to train their dog and offer him "jobs" to complete in order to keep him happy.
If you don't mind a bit of loose hair on your clothes and furniture and are willing to have a potentially 160-pound lap dog, then the Shiloh Shepherd might be the perfect match for you!
Finding Shiloh Shepherd Puppies
Getting your Shiloh Shepherd from a reputable source is of the utmost importance. We recommend doing plenty of research before you decide where to get your new buddy.
One possibility is searching for a rescue in your area.
Shelters carry all types of breeds and crossbreeds. But, finding the Shiloh Shepherd at a shelter could be hit or miss, depending on what's available at the time.
Unfortunately, these dogs do wind up in shelters, primarily because of their shedding. So there is a possibility one could be there just waiting to be adopted by you!
Keep in mind that most shelters do incur fees. But they are often a fraction of what breeder's charge. You should prepare for most adoption fees to be anywhere from $50-$100.
Most shelters do cover initial vet fees, ensuring the dog is adoptable and ready for his forever home!
Shiloh Shepherd Breeders
If you are seeking a dog from a breeder, expect the Shiloh Shepherd price to be anywhere from $800 to over $1,000 depending on the breeder and the parent history.
A benefit of buying from a breeder is the ability to have a thorough look at the health and temperamental history of the parents and previous litters.
Make sure to ask your potential breeder about any temperamental issues with the parents or previous litters. As well as any health concerns that have arisen in the past.
As mentioned above, reputable breeders will be able to provide certificates proving their dogs have been health screened.
And remember, this a very new breed. So take what breeders say about them with a grain of salt. Do your research, especially when it comes to temperament and health of this breed.
However, based on the information gathered so far, it would appear that the Shiloh Shepherd makes an excellent family pet who is known for his intelligence, loyalty, and friendly nature.
What Do You Think?
We'd be interested to know if you have a Shiloh Shepherd in your household. Feel free to drop us a comment!
You'll Also Like…
References
Tina M. Barber, Shiloh Shepherd Breed Standard, International Shiloh Shepherd Registry, INC:
Barber, T. Introduction to the Shiloh Shepherd, The Shiloh Shepherd Learning Center, 1998
Tiffani J Howell, Tammie King, Pauleen C Bennett, Puppy Parties and Beyond: the role of early age socialization practices on adult dog behavior, Volume 6, pages 143-153
D.N. Irion A.L. Schaffer, T.R. Famula, M.L. Eggleston, S.S. Hughes N. C. Pedersen Analysis of Genetic Variation in 28 Dog Breed Populations With 100 Microsatellite Markers, Journal of Heredity.
Get Pippa's free dog training tips delivered to your inbox