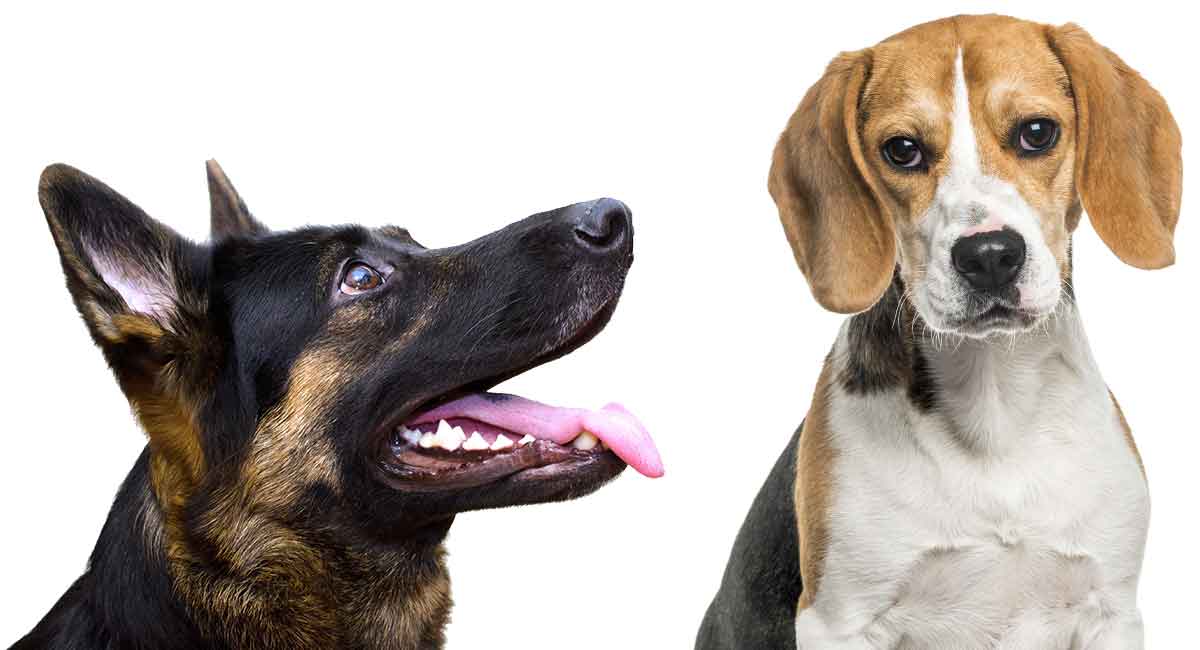 The German Shepherd Beagle mix is a collision of two of the most popular dog breeds.
German Shepherds and Beagles are both loving and loyal companions.
But they were originally bred for very different purposes, and there's no way of predicting which parent a German Shepherd Beagle mix puppy will favor when they grow up.
Where Does the German Shepherd Beagle Mix Come From?
Certainly, history is on the side of this particular mix.
The German Shepherd has been second on the American Kennel Club's list of most popular dog breeds for years, and the Beagle isn't far behind at number six.
The German Shepherd Beagle mix is part of a modern trend for "designer dogs". But both parent breeds have their own distinguished history.
The Beagle is one of the oldest dog breeds in England. Their ancestry can be traced back to small hunting dogs in the 16th century. They began to look like today's Beagles in the mid-1800s, and by 1900 they had emigrated to the US and entranced rabbit hunters all over.
The German Shepherd also became what it is today in the mid-1800s. Bred out of the various strains of shepherd dog living across Europe, the German Shepherd became one of the world's most versatile and intelligent herding dogs.
Fun Facts About the German Shepherd Beagle Mix
A German Shepherd by the name of Strongheart was the first of many canine movie stars in the 1920s. He was bred with a female star and their children and grandchildren went on to become canine actors as well.
Fellow German Shepherd Rin-Tin-Tin also took Hollywood by storm in the 1920s. Found wandering on a World War I battlefield, he went on to get top billing in movies throughout the silent film era.
Several Beagles have also graced the silver screen. Shiloh, from the film of the same name, is one of the most popular.
The cartooning world has turned out many Beagles including Odie of "Garfield" fame and Snoopy from the "Peanuts" cartoon. Gromit of "Wallace & Gromit" is also a Beagle.
German Shepherd Beagle Mix Appearance
The size of the German Shepherd Beagle mix can vary significantly since the parent breeds are very different in size.
The German Shepherd is almost double the size of the Beagle, standing between 22 and 26 inches tall. Females are usually shorter than males.
The Beagle, by comparison, falls into one of two size categories. One is 13 inches tall or under and the other is 13 to 15 inches.
Both German Shepherds and Beagles are solidly built working dogs, so we can expect the crossbreed to be similarly sturdy.
German Shepherd Beagle mix Coat
The German Shepherd Beagle mix is likely to have a medium-length coat with relatively coarse fur, in keeping with both parent breeds.
We can also say for sure that they will have a double coat, like both parents.
But only some GSD Beagle mix puppies will inherit the wavy coat or neck ruff commonly associated with German Shepherds.
German Shepherd Beagle Mix Temperament
As the cross of two working dogs, the German Shepherd Beagle is likely to be intelligent, focused, and trainable.
As a once-prized guarding dog, the German Shepherd has strong defensive instincts. In many different studies, it has ranked highly among the breeds most likely to attack humans.
Its bite is very strong and can cause serious physical harm. For these reasons, the American Academy of Pediatrics has officially warned parents that owning German Shepherds may increase children's risk of a dog bite injury.
The Beagle does not have the same reputation for aggression and is generally known for being sweet, good-tempered, and tractable.
If you take on a German Shepherd Beagle mix as a puppy, you won't know until he's older whether he's inherited the GSD's natural reserve, or the Beagle's gregariousness.
Training Your German Shepherd Beagle Mix
Rather than wait to find out, it's best to socialize your puppy from the very beginning, so that whichever breed they take after, they know how to meet new people with calm confidence.
It's important to use only positive training techniques with the German Shepherd Beagle mix. Always start with basic obedience training including potty training and how to be gentle around family members.
If your German Shepherd Beagle mix puppy is likely to be very heavy when they're fully grown, start work early on loose leash walking and sitting down (rather than jumping up) to receive attention.
The German Shepherd Beagle might wear you out in your training sessions, but stay the course!
These intelligent and active dogs are easily motivated to learn new behavior and commands, which makes them fun and satisfying to train.
German Shepherd Beagle Mix Health
As with most pedigrees, Beagles and German Shepherds have particular disease predispositions.
Good breeders health test their dogs to minimize the risk of passing genetic conditions down to their puppies.
But not all diseases a German Shepherd Beagle mix puppy can inherit can be tested for – either because they do not have a simple genetic basis, or a test hasn't been developed yet.
We can see what diseases they might be predisposed to by looking at the conditions which most affect their parent breeds.
Beagle Health
For the Beagle, among the most significant include:
Hip and Elbow Dysplasia
Hip dysplasia is a malformation of the hip joint which gets progressively worse through use of the limb, leading to painful arthritis and lameness.
Just over 1 in 6 Beagles are currently diagnosed with hip dysplasia in their lifetime.
Breeding Beagles should have their hips examined before mating take place, and good breeders will offer to share their hips scores with you to prove they are healthy.
Elbow dysplasia is far less common, but a Beagle mating with a German Shepherd should be screened because of the high risk also coming through the GSD line (which we'll come to shortly).
Periodontal Diseases
Nearly half of all adult Beagles and four out of every five older Beagles have a disease of the teeth, gums or surrounding tissues.
It's going to be hard to find a puppy who's Beagle parent doesn't have a family history of dental diseases.
You can however ask your breeder about how much is affected their quality of life. You can also ask your vet about how to look after your puppy's teeth so that the are one of the lucky ones.
Distichiasis
Distichiasis is the medical term for eye lashes which point inwards and irritate the front of the eye.
This problem affects nearly 1 in 5 Beagles, and might affect a Beagle German Shepherd mix dog.
Hypothyroidism
1 in 6 Beagles have an underactive thyroid, which is an inheritable condition that can be managed with good veterinary care.
German Shepherd Health
Hip and Elbow Dysplasia
Approximately 1 in 5 GSDs will develop hip or elbow dysplasia in their lifetime.
So it is vitally important individuals are screened for these diseases before they are used for mating.
Bloat
German Shepherds have one of the highest frequencies of death caused by bloat of any breed.
Luckily, this is one area where crossbreeding might help.
A GSD Beagle mix dog is unlikely to have such a pronounced deep chest.
This is one of the most significant risk factors that can lead to a GSD's untimely death.
Allergic Dermatitis
German Shepherds are vulnerable to uncomfortable allergic dermatitis, causing itching and hotspots.
The reaction can be caused by something they touch, inhale, or eat.
Ask your breeder if their puppies' GSD parent's veterinary history includes any skin trouble which could match this description.
Hypothyroidism
German Shepherds are also prone to hypothyroidism. So, good breeders will take care not to mate a Beagle and a German Shepherd who both have a family history of this condition.
A German Shepherd has an average life span of almost 10 years, while a Beagle lives for over 12 years on average.
A smaller German Shepherd Beagle will probably live a bit longer than a larger one.
Do German Shepherd Beagle mixes Make Good Family Dogs?
The German Shepherd Beagle can make a good family dog, depending on temperament.
However, if you have small children or elders, the potential aggression and behavior disorders in German Shepherds should give you pause.
You may be better off with a purebred Beagle, or a mix which includes a second socially confident dog.
Rescuing a German Shepherd Beagle mix
Adult rescue dogs can be great. This is because they've already shown the temperamental and health issues that they're likely to face, whereas a puppy might surprise you.
An older dog is also likely to be more mellow. That's a major benefit when you're dealing with an energetic breed mix.
To get started, contact your local shelter and find out if they have any German Shepherd Beagle dogs waiting for homes.
If not, ask them if they know of any German Shepherd or Beagle rescues in your area.
Finding a German Shepherd Beagle Mix Puppy
If you want to raise your dog from a puppy and know you're up for the challenge, find a reputable breeder. The breeder you choose should have:
An understanding of canine heredity
A knowledge of each parent breed's pros and cons
The ability and willingness to conduct genetic health tests on the parents and all recommended health tests on the pups
The dedication to providing newborn pups with the health care and socialization that they need.
Avoid Pet Stores & Puppy Mills
Stay away from pet stores and large commercial breeders or "puppy mills."
Mothers and pups from these settings tend not to get the care and nurturing they need, so the puppies are more likely to have behavioral issues.
Raising A German Shepherd Beagle mix Puppy
Raising a puppy means that your dog's lifelong behavior and socialization will be completely in your hands.
Be consistent with your training from day one and remember to use only positive reinforcement methods.
German Shepherd Beagle mix Products and Accessories
Aside from food and water, the most essential products for German Shepherd Beagle mixes are the ones that keep them active. This includes:
Strong chew toys are a great idea for teething puppies and adult chewers.
Interactive puzzle toys will keep your dog's brain busy.
If you're bringing home a new German Shepherd Beagle mix puppy, this complete guide will help you prepare for your pup's arrival.
Pros and Cons of Getting A German Shepherd Beagle mix
Cons:
The size, look, and temperament of this mix is highly variable and difficult to predict.
The mix is prone to health issues from the parent breeds.
They need a lot of mental and physical stimulation to stay happy and healthy.
Pros:
An intelligent and satisfying breed to train.
They can keep up with an owner's active lifestyle.
They can be loyal defenders of home and family.
Similar German Shepherd Beagle mixes and Breeds
If you love the German Shepherd or the Beagle but are nervous about some of the health or behavioral issues involved, consider a different combination. For example:
"Shephrador" or "Labrashepherd" (The German Shepherd Lab)
The German Shepherd Golden Retriever
"Boggle" or Boxer Beagle
The Golden Retriever Beagle, or "Beago"
German Shepherd Beagle mix Rescues
A great way to find designer mix rescues, including the German Shepherd Beagle mix, is to check with rescues for the parent breeds. Here are a few from different locations across the world:
USA
Canada
Australia
UK
Is A German Shepherd Beagle mix Right For Me?
A German Shepherd Beagle can be a great dog, but it's definitely a lot of dog. If you're looking for a family dog for your small children, this probably isn't it.
The German Shepherd Beagle is much better suited to owners who can give their pets consistent training, exercise them often, and adapt if the mix isn't what they expect.
Their parent breeds were developed for just about every kind of work out there, from chasing rabbits to herding sheep. So, the German Shepherd Beagle mix can be an ideal working dog.
References and Resources
Blackshaw JK. An overview of types of aggressive behaviour in dogs and methods of treatment. Applied Animal Behaviour Science, 1991 May 1.
Duffy DL, Hsu Y, Serpell JA. Breed differences in canine aggression. Applied Animal Behaviour Science. 2008 Dec 1.
Cavanagh & Bell, Veterinary Medical Guides to Cat and Dog Breeds, CRC Press, 2012.
Fick LJ, Fick GH, Li Z, Cao E, Bao B, Heffelfinger D, Parker HG, Ostrander EA, Riabowol K. Telomere length correlates with life span of dog breeds. Cell reports. 2012 Dec 27;2(6):1530-6.
Galis F, Van Der Sluijs I, Van Dooren TJ, Metz JA, Nussbaumer M. Do large dogs die young?. Journal of Experimental Zoology Part B: Molecular and Developmental Evolution. 2007 Mar 15.
German Shepherd Training and Activities – Keeping Clever Dogs Entertained. The Happy Puppy Site.
Gershman KA, Sacks JJ, Wright JC. Which dogs bite? A case-control study of risk factors. Pediatrics-English Edition. 1994 Jun 1;93(6):913-7.
McMillan FD. Behavioral and psychological outcomes for dogs sold as puppies through pet stores and/or born in commercial breeding establishments: Current knowledge and putative causes. Journal of veterinary behavior, 2017 May 1.
Official Standard for the Beagle. American Kennel Club (AKC).
Official Standard of the German Shepherd Dog. American Kennel Club (AKC).
Get Pippa's free dog training tips delivered to your inbox