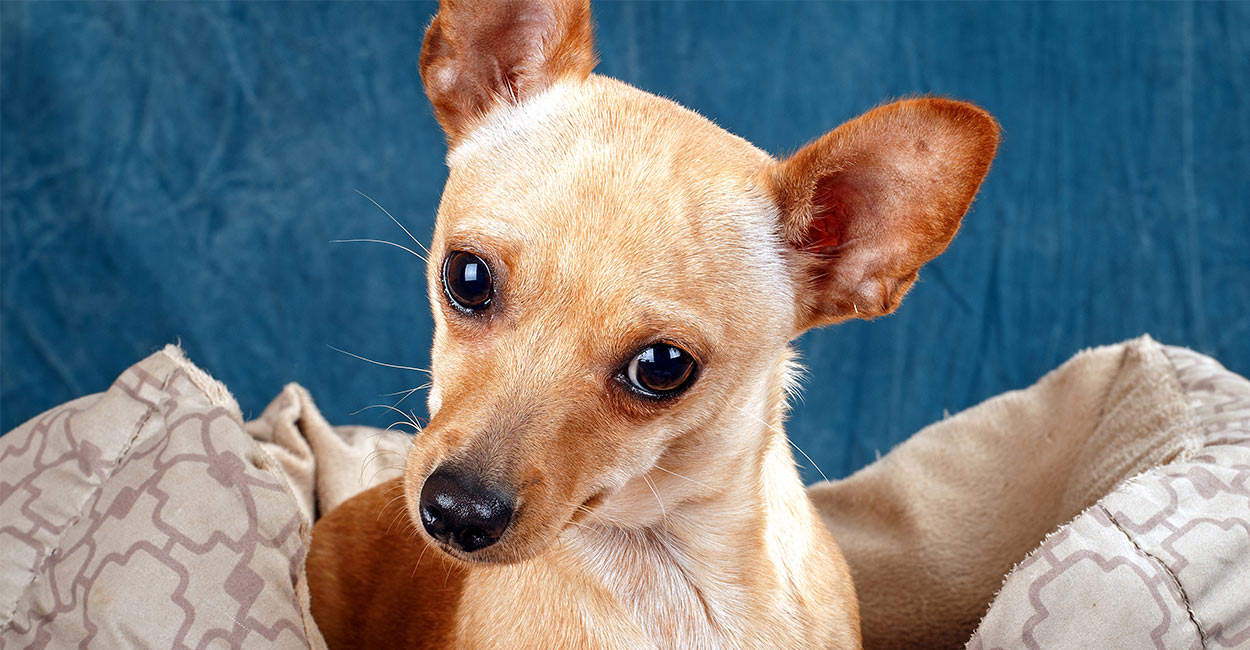 Deer Head Chihuahua dogs are a variation on the Chihuahua breed, with a longer muzzle and less rounded skull. Today we'll look at what this head shape means for your new puppy. We'll compare deer head vs apple head Chihuahuas, and help you to decide whether a tiny deer head Chihuahua puppy is the best pet for your lifestyle.
The Chihuahua is the smallest breed in the world. It is often referred to as either "apple head" or "deer head," describing their physical appearance. The breed has become extremely popular over the last few decades. This is mainly due to the famous Taco Bell television commercials in the late 1990's. These global ads featured an adorable deer head Chihuahua named Gidget. Gidget continually mouthed the words "yo quiero taco" (Spanish for "I want taco"). These lovable little dogs are often featured in movies and television shows. They are favored by many celebrities such as Madonna, Jennifer Lopez, Reese Witherspoon and Paris Hilton.
Deer head Chihuahua or Apple head Chihuahua?
The American Kennel Club (AKC) and other canine associations do not differentiate between the two. However, breed standards do require a well-rounded apple dome skull.
Therefore, if you want a dog you can show, then a deer head is unsuitable. This is because it does not meet the requirements necessary to participate in conformation classes.
However, if you are looking for a companion dog with a fun-loving personality, then a deer head may be a perfect choice! In this article, we provide all the deer head info you need, helping you decide if this type of Chihuahua is a suitable pet for you.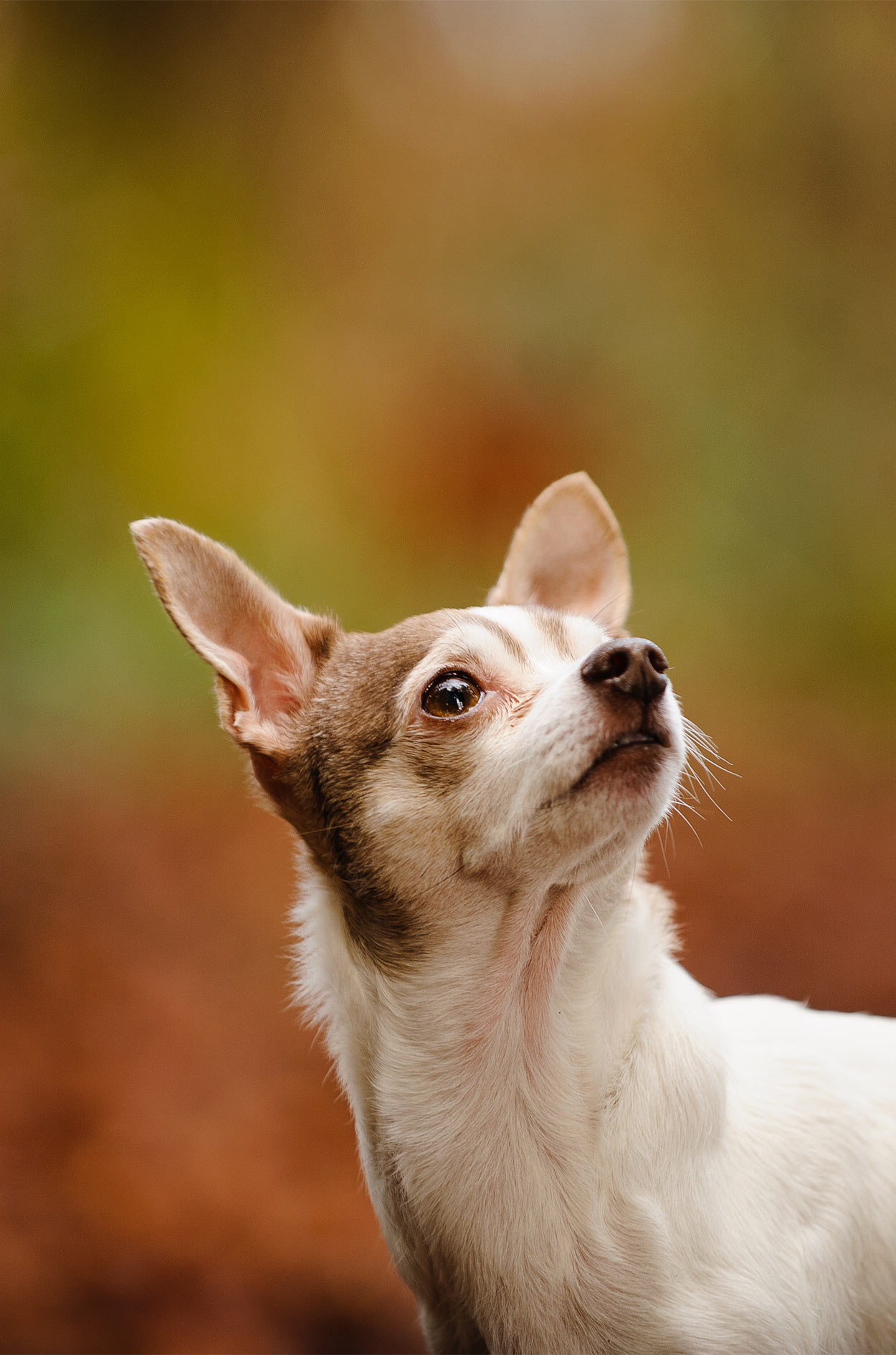 What is a Deer Head Chihuahua?
The deer head Chihuahua resembles the face of a young deer, hence the name. These characteristics include a long muzzle, large ears and a sloping forehead.
Fawn is the color mostly found on Chis. Although it is not unusual to see a black deer head Chihuahua or white deer head Chihuahua. They can also be gray, blue, and silver.
The Chihuahua received its name from the Mexican state of Chihuahua. There has been much debate as to whether the breed originated from this area. In 2013 the KTH Royal Institute of Technology in Stockholm proved this theory correct through DNA analysis.
The Chihuahua's ancestor was believed to be a small, ancient mute dog known as the Techichi. It was favored by the Toltec people of Mexico.
Somewhere in the Chihuahua's history, the breed separated into two types. These were the apple head and the deer head. Remains of Chihuahua with both skull shapes from thousands of years ago have been collected. So, it is challenging to say which one came first.
Also, artifacts found in Central America portray both varieties. This suggests the split occurred long before Europeans discovered the New World. The deer head may be a cross between the Techichi and the Chinese Crested, but nobody knows for sure.
The two types of Chihuahua and how they evolved remains a mystery and only adds to their appeal.
Apple Head vs Deer Head Chihuahua
Technically, there is only one official breed of Chihuahua. Although, there are two types, nicknamed the apple head and the deer head. However, it is not just the head shapes that are different but their various traits as well.
Apple Head Chihuahua
The apple head describes a Chihuahua with a round or dome-like shaped head, a similar shape to that of an apple. It features a noticeable 90-degree angle where the muzzle meets with the forehead, known as a "stop."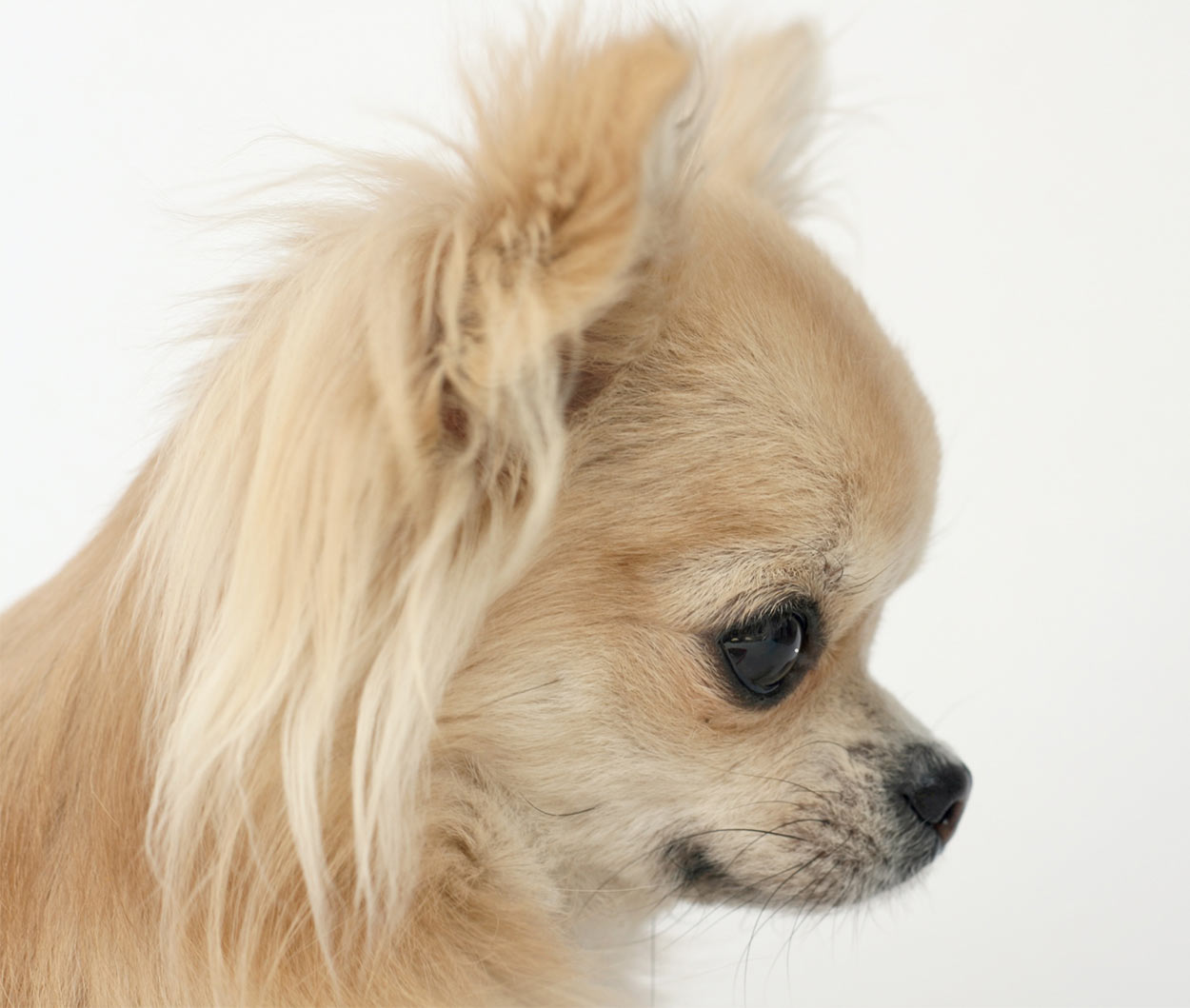 The apple head conforms to the breed standard requirements recognized by the American Kennel Club (AKC). Because of the apple shaped skull, apple heads tend to have large, prominent and expressive eyes.
Eight out of ten newborn apple head Chihuahuas have a molera or "soft spot" at the top of their skull. This may eventually fuse over, taking anywhere between 3 months to 3 years. However, because of the shape of their head, many apple heads retain the molera. It is considered an acceptable breed standard.
Precautions must be taken though, to prevent an apple head sustaining a head injury as it is very susceptible to trauma.
An apple head has a shorter jawline and shorter neck than a deer head. It has a stout body and short legs in proportion to their body length. The apple head is the only type allowed to compete in the show ring.
Deer Head Chihuahua
The deer head Chihuahua has a muzzle which is longer than an apple head. Instead of a 90-degree angle it has a 45-degree slope where the muzzle meets the forehead. This type has a taller body and longer legs. It also larger ears which, like the in the apple head, are erect and upright.
Their eyes are set higher on the head than an apple head. They also have longer necks and a longer jawline and are less likely to retain a molera. Many experts suggest that the deer head has fewer health problems than the apple head and tend to be more relaxed.
How Big Do Deer Head Chihuahuas' Get?
The deer head Chihuahua weight is more than that of an apple head. This is due to their frame being longer and larger, and can weigh between 7 and 10 pounds.
The standard breed weight for dog shows is no more than 6 pounds. It requires a "cobby" body. This disqualies deer heads from showing.
They can be anything between 6 and 15 inches high, but the average height for a deer head is between 8 to 12 inches.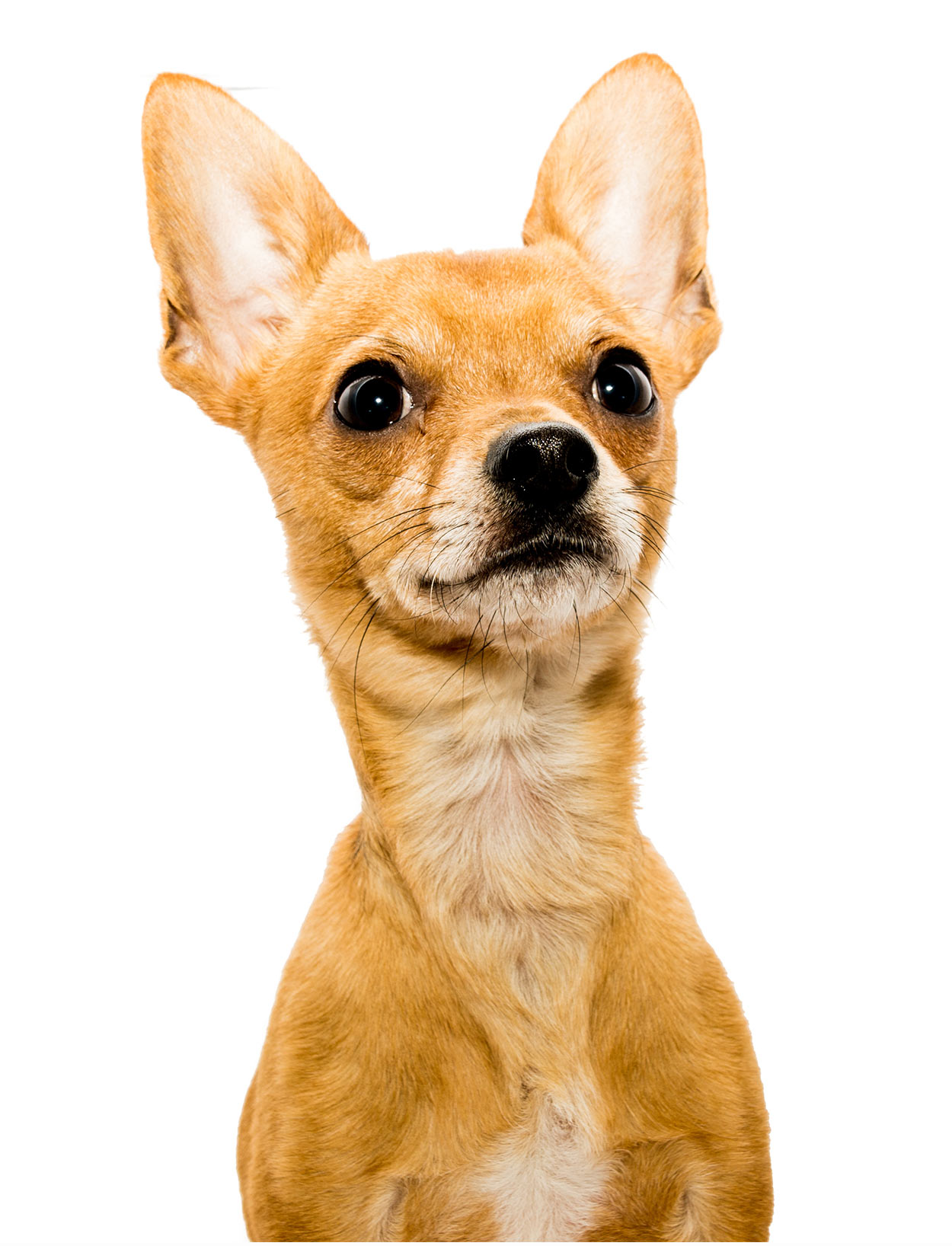 Deer Head Chihuahua Personality
Both types of Chihuahuas tend to be similar. They are considered loyal and loving dogs who are easy-going and affectionate towards their owners.
Many owners claim that the deer head Chihuahua temperament is less aggressive than the apple head and consider them more obedient. But we don't have any proof of this.
However, how you train and act around your Chi, whatever his type, strongly influences their behavior. They are active dogs with a Small Dog Syndrome and can be a problem if not handled correctly.
Because of their diminutive size and cuteness, it is easy to spoil a Chihuahua and let him get away with things. Early training is essential! These little dogs like their own way and can be challenging to train.
However, they are very smart with the ability to learn new things, so positive reinforcement is vital. Using harsh methods will only create more problems as they just don't respond to these ways.
Socializing your Chihuahua
Excessive barking is a significant problem for owners of these dogs. As a result, socializing Chihuahuas early on is essential if you are to prevent this habit.
Both types don't usually like other dog breeds and prefer the company of other Chihuahuas. They are also unsuitable for households with small children as they need calm and patient handling.
They love being warm and will follow the sun's rays around the home. When the sun goes down, you can find them burrowed in your clothes or blankets or snuggled up on the couch. They despise the cold and wet weather and will often refuse to relieve themselves in such conditions.
Chihuahuas of both types are fun dogs who can keep you entertained with their playful ways and enduring cuteness. This is provided they are properly trained and socialized.
Long Haired Deer Head Chihuahua
Chihuahuas are either long-haired or smooth coat and again aren't actual breeds but varieties. The coat of a long-haired deer head Chihuahua tends to be soft to the touch. It can be straight or wavy with or without an undercoat.
You may assume that the long-haired variety requires more maintenance and grooming and that they frequently shed hair.
However, they shed less than the smooth coat varieties as the fur stays on more securely.
The problem with having a long-haired Chihuahua though, is that dirt and debris tend to cling to the coat. As such it will require brushing before coming back inside.
Deer Head Chihuahua Health
Deer head Chihuahuas tend not to have as many health issues as their apple head counterparts, which are specially bred to be small and pure.
Apple heads often have respiratory problems due to their short noses and brachycephalic skulls. Because the deer head has an extended muzzle their brachycephalic index will be improved. Meaning they are less likely to have the breathing and temperature control issues of apple head Chihuahuas.
Vetriculomegaly is a brain condition that occurs more often in the fetuses of brachycephalic puppies. By decreasing the brachycephaly of the dog, you are decreasing their chances of suffering from this.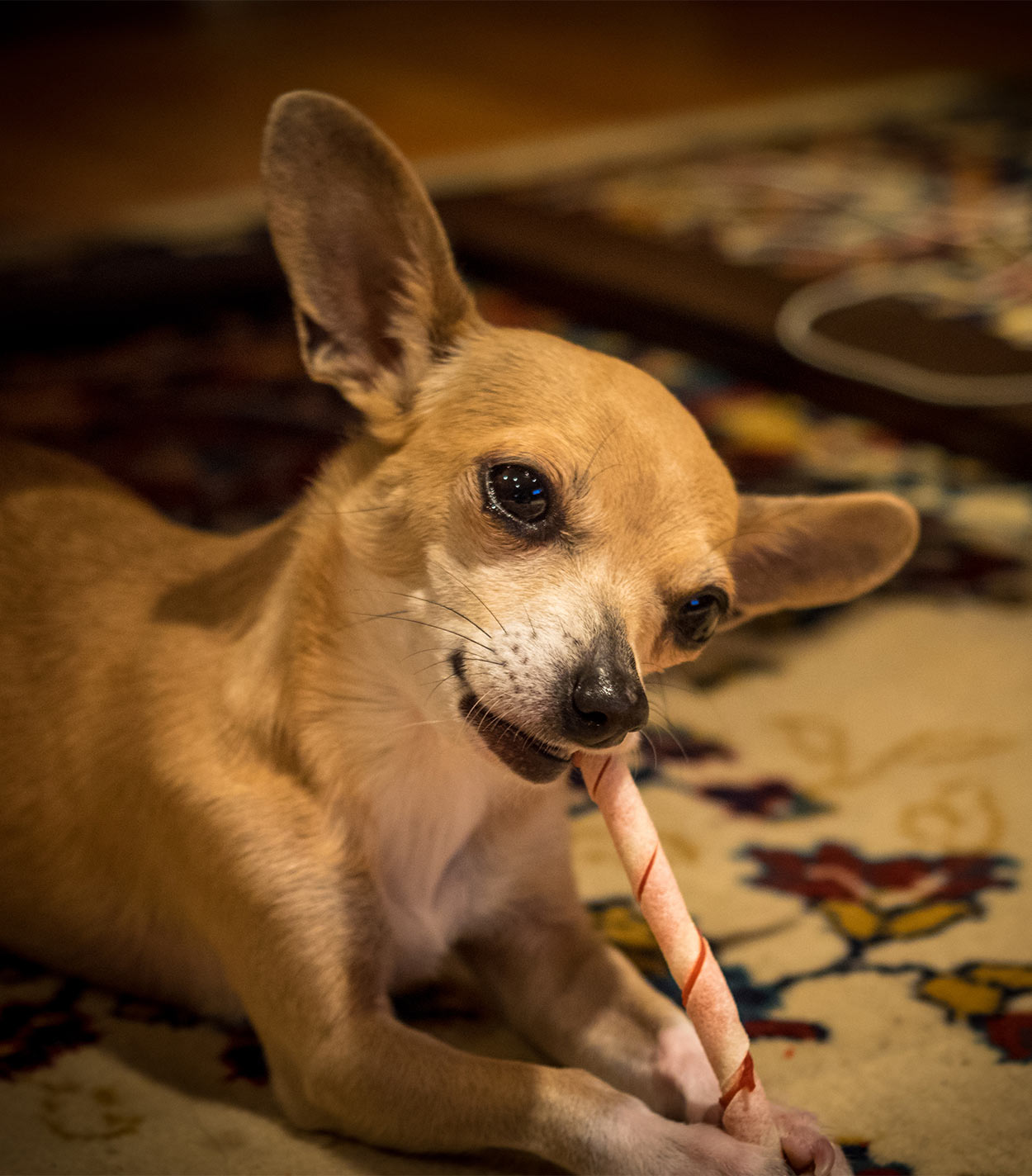 Chihuahua Feeding
Most Chihuahuas will eat dry dog food and tend to eat small portions every couple of hours throughout the day. As puppies they need quite specific diets. However, obesity is a common problem in this type of dog, so care must be taken not to overfeed.
Dental Problems in Apple Head vs Deer Head Chihuahua dogs
Like many small dogs, they are prone to gum disease. Studies reveal that three out of four Chihuahuas will experience some form of gum disease by the time they are four years old.
This condition is due to their small mouths and can lead to tooth decay or tooth loss, along with the possibility of a stroke.
You could hope that their dental problems would be a little better than those of an apple head Chihuahua due to the longer muzzle and increased space in the mouth.
Dental oral sprays should be used on your Chi twice daily to prevent a build-up of plaque and tartar.
Only feed dry food as wet feed will stick to their teeth. This will slowly eat away at the enamel. Giving them a chew that helps their teeth is also beneficial.
Other general Chihuahua health problems
Hypoglycemia, which is low blood sugar, is a common condition in Toy breeds. This is particularly true of Chis. Their small body mass means they cannot store sugar easily and can be extremely dangerous.
Obesity is a cause, but so is malnourishment. Feeding your Chi a continuous and steady balanced diet will help maintain healthy levels of sugar.
Signs to watch out for are looking weak, having trouble walking and excessive tiredness. These can lead to seizures, convulsions, coma or paralysis. You should consult your veterinarian immediately if he displays any of these symptoms.
If you see your Chi holding one of his back legs up and hopping, chances are he has patella luxation. This is a knee condition common to small dogs.
There are four grades of severity of this condition, with the most severe often requiring surgery. Treatment options are limited. Take care that your Chi doesn't jump from raised beds or furniture.
Chihuahua mortality
In 2011, the University of Georgia issued a study on 70,000 dogs over a twenty-year period on the leading causes of death. 100 of these dogs were Chihuahuas. The top three causes were cardiovascular disease, trauma and infection. 18.5% died of cardiovascular disease and was most common in Chis over the age of fourteen.
A staggering 16.8% died from trauma. The most common cause were being run over by a car or accidentally dropped or trodden on by owners.
Death by trauma is preventable taking appropriate care. For example, you can keep your Chi on a leash when outdoors. In addition, take care when opening the front door. Teach your dog basic commands and ensure all members of the household are vigilant, so he isn't dropped or stepped on accidentally.
10.5% died due to fatal infection. Owners should ensure vaccinations are up-to-date. Also, be sure to keep your Chi away from wild animals. It is good practice to ensure proper maintenance of teeth too. Dental infections can spread through the body.
Your Chi should go for a yearly check-up with your veterinarian to maintain good health.
How Long Do Deer Head Chihuahuas Live?
The deer head Chihuahua lifespan is an average of 15 to 20 years if properly cared for by loving owners. They are a long-term commitment.
Deer Head Chihuahua Puppies
You should wait until they are at least ten weeks old before taking a deer head puppy home. Feed your puppy the same feed that the breeder has been giving at first. Also, create a safe area for playing and resting.
You should schedule a visit to your veterinarian as soon as possible. They can give him a check-up and administer a vaccination for the deadly Parvovirus. Talk to your veterinarian about follow-up vaccinations.
Dental care is vital as constant chewing at the teething stage weakens the muscles at the base of the ears. This causes them to have droopy ears. Regular visits to your veterinarian are essential.
Deer Head Chihuahua Breeders
Choosing a deer head Chihuahua puppy is an exciting experience. However, care must be taken to select the right one for you.
You should only buy from a recommended breeder who has an excellent reputation and strong bond with their dogs.
They should breed top quality puppies that are healthy and well socialized.
Good breeders will ask many questions to potential buyers to ensure their puppies go to the right home.
The average deer head Chihuahua price is between $400 and $800 US Dollars.
Good breeders check the health of all breeding stock and are happy to show you the results.
Is a Deer Head Chihuahua Right for me?
The deer head Chihuahua is a loving dog who is loyal to its owner. It can make the perfect pet so long as you have the time and patience to train it correctly.
You will need to be vigilant to make sure he doesn't get stepped on or escapes through the front door. You must take regular care of his teeth.
They are best suited to households with older children who can handle them gently. They may not get on well with other dogs, but they do, however, get along with cats.
Due to their diminutive size, they are ideal for those living in apartments and small areas.
Your deer head Chihuahua craves love and attention he. Meeting these demands will mean being rewarded with his fun-loving personality and everlasting affection!
Find Out More
For more fun Chihuahua reading, take a look at our great name ideas!
References
Get Pippa's free dog training tips delivered to your inbox