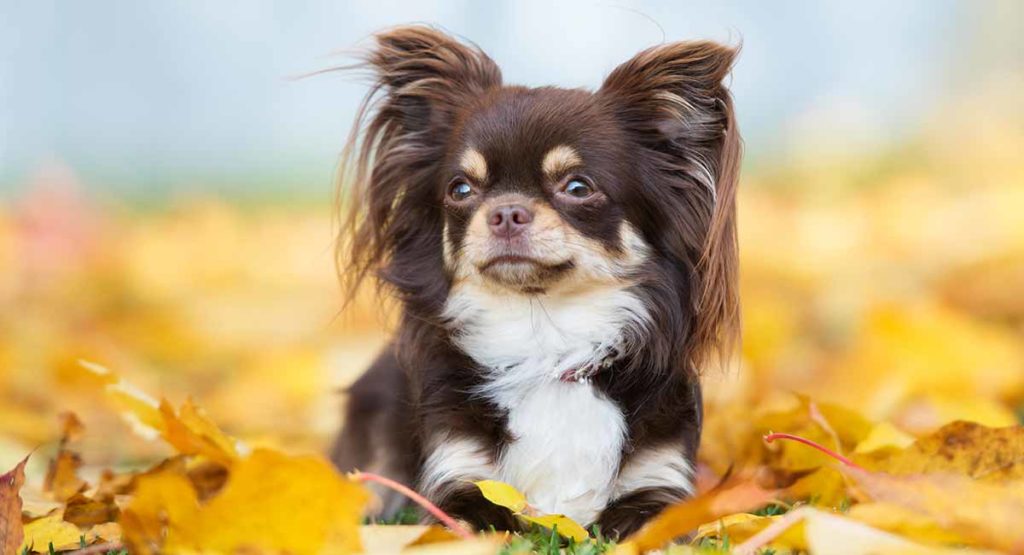 Chihuahuas are the little dog with a big reputation. The best Chihuahua names can be a great way to show this off!
So let's take a look at some great options.
Our Favorites
Here are some good Chihuahua names we love for 2019:
Arabella
Apple
Alex
Audrix
Bunty
Booboo
Bumble
Biscuit
Carmen
Cora
Coco
Cariad
Charlie
Chipper
Colby
Daisy
Delilah
Dirk
Doodle
Everly
Eden
Eric
Earl
Flora
Frida
Fudge
Fred
Gloria
Glitterbug
Gerald
Gompertz
Hilda
Hebe
Hank
Hugo
Ittybitty
Inca
Iago
Ives
Jasmine
Jocelyn
Jelly
Jack
Jerry
Krista
Keeper
Konrad
Kevin
Lola
Lucy
Lucan
Loras
Minnie
Mimosa
Monty
Merlin
Nancy
Nelle
Norman
Nigel
Ophelia
Olive
Otto
Ogre
Peony
Petal
Percy
Prince
Queenie
Quirrel
Rosa
Rue
Reggie
Rafe
Sylvie
Sadie
Smudger
Steve
Tiger
Tilly
Toffee
Tisane
Turner
Ursula
Una
Umber
Uri
Vivienne
Violet
Victor
Vinnie
Wanda
Willow
Wesley
Wren
Xanthe
Xavier
Yoyo
Zeus
Zebedee
Choosing Chihuahua Names
If you have arrived here in search of the best Chihuahua names for your new precious pint-sized pup, you are definitely in the right place. We have names galore to share with you!
The Chihuahua is such an enduringly popular canine companion that no one – not even canine biologists – is completely sure who we have to thank for the breed!
Some accounts indicate the Chihuahua as a breed that got its start in Mexico. Yet other accounts suggest the breed is far older. Perhaps even dating back to the time of the ancient Toltec civilization.
Either way, what matters most is that the Chihuahua is clearly here to stay! We hope you will consider this your Chihuahua names hub as you brainstorm creative names for your new fur baby.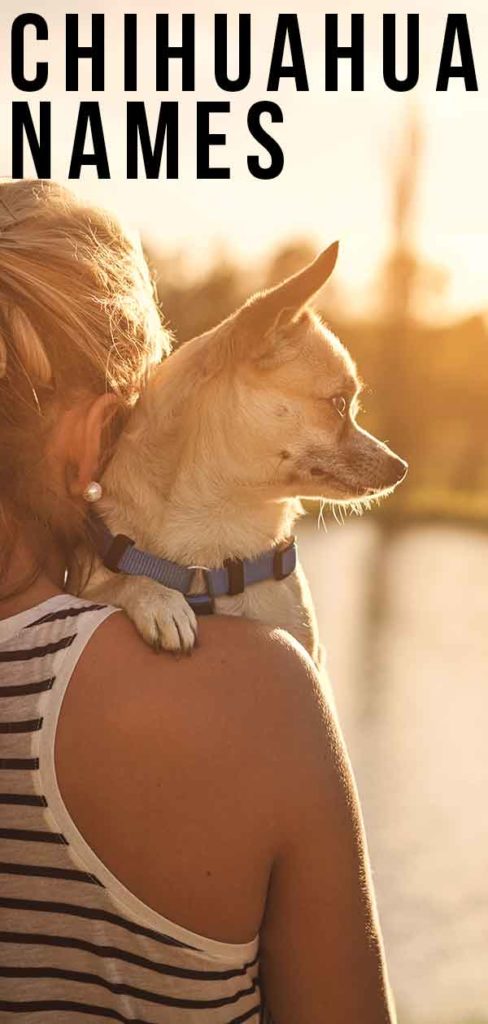 Chihuahua names
With so many options to choose from, it can feel daunting to pick just one name.
We think these naming tips might help ease the stress and keep your Chihuahua names search fun and light-hearted!
As you are scrolling through the choices here, just keep a pen (or a phone app) handy to remember your favorites. Then try them out on your pup later and see if one "sticks!"
Try to avoid any Chihuahua names that sound too much like common training commands you want to teach your Chi.
If you pick a long name, consider what nickname you can shorten it to for training and daily use.
Best Chihuahua names
These are some of the best options from this dog breed's lengthy history in the limelight!
Gidget (Taco Bell Chihuahua)
Pepito (bandleader Xavier Cugat's Chi)
Ren Hoek (from Ren & Stimpy)
Tinkerbell (Paris Hilton's Chi)
Bambi (Paris Hilton's Chi)
Bruiser (Reese Witherspoon's co-star in "Legally Blonde")
Rusco (Chi star of "Beverly Hills Chihuahua")
Chiquita (Madonna's Chi)
Tuna (Doxie-Chi mix with 1.3 million Instagram followers!)
Mervin (the Chihuahua doppleganger for celeb Miley Cyrus?)
Female Chihuahua names
Finding fabulous female Chihuahua names to consider won't be an issue with a dog breed that is this popular.
But of course, you don't want just any name – you want one that fits your precious pup like she was born to it! Perhaps one of these ideas will be a perfect fit?
Chloe (female co-star Chi in "Beverly Hills Chihuahua")
Angel (real-life Chloe from "Beverly Hills Chihuahua")
Nena (Katharine McPhee's Chi)
Karen (Christina Ricci's Chi)
Maggie (Scarlett Johansson's Chi)
Ruby (Sandra Bullock's Chi)
Bebe (Sandra Bullock's Chi)
Poppy (Sandra Bullock's Chi mix)
Sophie (Uma Thurman's Chi)
Lily ("I Love Money" Chi co-star)
Madame Shirley (fortune-telling Chi in "Courage the Cowardly Dog")
April Marie (the late Gail Posner's Chi)
Elsa (InstaChi)
Anna (InstaChi)
Linda (InstaChi)
Juliet (InstaChi)
Jemma
Pippa
Violet
Skyla
For even more great girl Chihuahua names, check out this article.
Male Chihuahua names
Picking out male Chihuahua names has never been more challenging with so many awesome ideas to choose from.
These great boy Chihuahua names take their inspiration from celebrity Chihuahuas, Insta-famous Chis, furry movie stars and Chihuahuas from all walks of life.
Gibson (Alyssa Milano's Chi)
Harry (Lisa Gastineau's Chi)
Jonathan Warren (globe-trotting Chi)
Lou ("The Soup" Chi star who even has his own actor page on iMDb)
Benito (InstaChi)
Hugo (InstaChi)
Walter (InstaChi)
Oscar (InstaChi)
Gatsby (founding Chi member of Scotland's Chihuahua Café)
Humphrey
Bobby
Ollie
Major
Thor
Yang
Loki
AJ
Tex
Vern
Joey
Find even more bodacious boy Chihuahua names in this article.
Cool Chihuahua names
These cool Chihuahua names are making waves across the internet on billboards, social media and, of course, on couches everywhere!
Chip ("Sonic Unleashed" Chi co-star)
Roxy (Chihuahua featured in Ed Hardy brand ads)
Bogie (InstaChi)
Kimba (InstaChi)
Arama (InstaChi)
Power (InstaChi)
Hayley (InstaChi)
Candy (InstaChi)
Queenie (InstaChi)
Nellie (a sweet, brave little InstaChi)
Brie (formerly Hemp, an inspiring rescued Chi)
Diggity
Vespa
Speedway
Boggs
Biggy
Borgnine
Kira
Sharifa
Dozer
For more ultra cool Chihuahua names, you won't want to miss this article.
Cute Chihuahua names
One of the best ways to brainstorm cute Chihuahua names is just to watch your adorable new pup doing her thing or going about his day.
Here are some awesomely cute celebrity Chi and Guinness Book record holder Chihuahua dog names for inspiration!
Tulip (YouTube "talking Chihuahua")
Thumbelina (smallest dog ever adopted)
Lucky (Britney Spears's Chi)
BitBit (Britney Spears's Chi)
ChooChoo (Marilyn Monroe's Chi)
Loki (Mickey Rourke's Chi)
Vida (Demi Moore's Chi)
Siesta (Jennifer Love Hewitt's Chi)
Misty (Rosie O'Donnell's Chi)
Lil Tyk (Brian Littrell's Chi)
Litty Leigh (Brian Littrell's Chi)
BooBoo (Guinness Book of World Records shortest dog title holder)
Ducky (previous GBWR title holder)
Miracle Milly (previous GBWR title holder)
Danka (previous GBWR title holder)
Dancer (GBWR contender)
Tiny Dancer (GBWR contender)
Lolly (Adrien Brody's Chi)
Olaf (InstaChi)
BB InstaChi)
You can find even more cute ideas in this article.
Funny Chihuahua names
Chihuahuas have such rich personalities. From fierce and ferocious to super-cute to side-splittingly comical. So, these funny ideas do their utmost to capture Chis in their most laugh-worthy moments.
Martini Bianco (Sharon Osbourne's Chi)
Coco (Chi star of "That's So Raven")
Moonie (real life Chi who starred as "Bruiser" in "Legally Blonde")
Dinky (first Chi to star in Taco Bell commercials)
Choli Churro (InstaChi)
JewleeBean (InstaChi)
Chloe Kardoggian (InstaChi)
Kiwi (InstaChi)
CC Me (InstaChi)
Khaleesi the Diva (InstaChi)
Budgie (InstaChi)
Baguette (Sofia Vergara's Chi)
Splitz
Prince
Empress
Don Giovanni
Chippy
Burrito
Pinky
Mort
Mexican Chihuahua names
These Mexican and Spanish Chihuahua names draw from celebrities who fell in love with the breed and their Chihuahuas.
Evita (Madonna's Chi)
Rosita (Madonna's Chi)
Yo Quiero (means "I love you" from the Taco Bell campaign)
Techichi (ancient dog breed relative to the Chihuahua)
Toltec (culture that kept Techichi dogs)
Pancho (Chi star in "Big Mama's House 2")
Papi (other Chi star in "Big Mama's House 2")
Montecristo (Chi star in "Montecristo Travels to Pisa" children's book)
Geraldo (Chi star in "Batman Returns")
Tito ("Oliver & Company" Chi star)
Enrique (Chi star in "Evil Con Carne")
Conchita (the late Gail Posner's Chi who had her own publicist)
Lucia (the late Gail Posner's Chi)
Caranza
Mercedes
Xavier
Charo
Peso
El Toro
Taquito
Unique Chihuahua names
These unique Chihuahua names prove that devotion to the Chihuahua dog breed is truly an international affair. Plus, featuring famous Instagram Chihuahua names from all over the globe!
Baci (Chi who lives in the "most spectacular house" in Adelaide, Australia)
Maguro (viral InstaChi)
Cerveza (a beer named after Chihuahuas!)
Miami (tiny traveling Chi from Italy)
Lu-Seal (newly slim and trim rescued Chi)
Nessie (adorable two-legged rescue Chi)
TurboRoo (another brave two-legged Chi)
Tororo (ditto)
Licca (InstaChi)
Tarao (InstaChi)
Asuco (InstaChi)
Machi (InstaChi)
Hisae (InstaChi)
Doopig (InstaChi)
Decoco (InstaChi)
Maika (InstaChi)
Miyama (InstaChi)
Biley (InstaChi)
Sir Momo (InstaChi)
Yopi (InstaChi)
For even more unique Chihuahua names, check out the names in this article.
Tough Chihuahua names
While some Chihuahuas may be more demure and shy, this certainly isn't the norm for these feisty little dogs. They often don't seem to know they are little! Plus, pound for pound, the Chihuahua sure can pack a personality punch.
These tough Chihuahua names celebrate the big dog inside your pint-sized Chi!
Mammoth Mutt ("Krypto" Chi star)
Mojo (Chi star from "Transformers")
Spooky (Chi star from "Invader Zim")
Monster Girl (Chi heiress owned by Muriel Siebert)
Francisco "Pancho" Villa (peasant revolutionary from Chihuahua who fought for equal land rights)
Big Boss
Security
Yeti
Bigfoot
Big Papa
Big Mama
Harley
Killer
Slugger
King Kong
Goliath
Ruff
Titan
Braveheart
Ninja
For more tiny but tough Chihuahua names, we think you'll love this article.
Fun Facts About Chihuahuas
Did you know that the Chihuahua as a dog breed was not that well known outside of central and South American until the 1940's?
It is true most people who think of famous Chihuahuas think of the Taco Bell mascot. Or, of course, a certain blonde celebrity and her purse-sized pups.
But actually we have a famous bandleader named Xavier Cugat began and his tiny Chi, Pepito, to thank for initially popularizing the breed! Cugat loved to perform with his rumba band holding Pepito in one hand. Pepito even had a book written about him.
Perhaps the most famous Chi in history (thus far, at least) was Gidget, the "lead dog" so to speak in Taco Bell's equally famous commercials. When she passed at age 15, CNN ran her obituary!
No doubt the "most inspiring Chihuahua ever" award goes to Wheely Willy. This is a Chi who was saved by a caring vet and then adopted by a woman named Deborah Turner. This wheelchair-bound pup's story is featured in the popular "Chicken Soup" book series, where he frequently moves readers to tears.
What Name Are You Choosing?
Congratulations on your new furry family member! When you decide on a forever name for your new Chihuahua pup, please bookmark this article and stop back by to share.
We would love to hear which of these Chihuahua names you chose and the story behind your dog's new name!
Other Useful Guides
Whether you love Chihuahuas, need more name inspiration, or just want to read more! We have plenty of other great guides that you'll love.
Take a look at a few of them below:
References
Get Pippa's free dog training tips delivered to your inbox