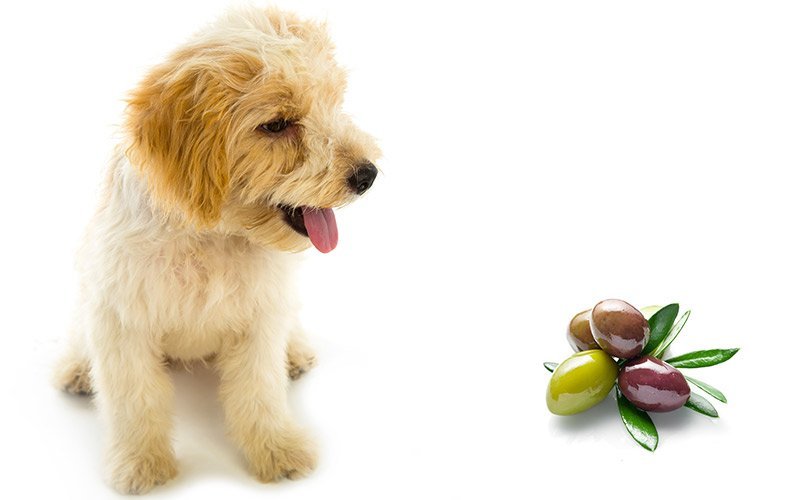 Can dogs eat olives? Dogs can eat olives in moderation, but too many of this snack can cause stomach upset.
Olives are a nutritious and healthful snack for humans. In fact, olives often play a leading role in any good antipasto platter worth its salt. They have high levels of Vitamin E and antioxidants, as well as healthy fats.
They're great for snacking, taste good, and play a major role in heart healthy oils and dressings such as olive oil and balsamic vinaigrette.
Olive oil is known to be beneficial to humans because of its role in lowering heart disease and cholesterol, and by providing a good replacement for saturated fats in recipes.
But just because they're healthy for humans, does this mean we can feed dogs olives, too?
Can Dogs Eat Olives?
The short answer is, yes, in moderation. Dogs can eat olives as an occasional treat or in small quantities chopped up as a part of the occasional meal.
But the long answer is a bit more complicated than that.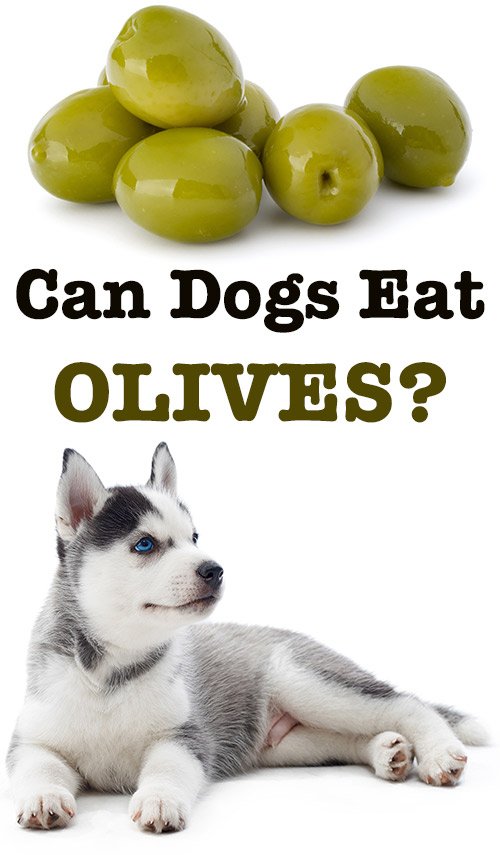 Let's take a look at some common questions that crop up regarding dogs and olives.
Are Olives Poisonous to Dogs?
There are no studies showing olives to be a toxic substance for dogs.
Certain foods, such as grapes, raisins and nuts, are widely known to cause problems in dogs, ranging from kidney failure to diarrhea.
However, olives are not part of these lists and are not found to be dangerous for dogs if consumed.
Are Olives Safe for Dogs?
So, we know olives are not poisonous for dogs. But can dogs eat olives safely?
Olives are not an unsafe food for dogs and should cause no problems if eaten in small amounts from time to time.
A few olives here and there in moderation will not harm your dog and may in fact give them a boost of good fat.
Essential fatty acids help to produce a shiny, glossy coat and promote overall good health in dogs.
Other good sources of fatty acids can be found in egg yolks and even oatmeal.
They key here is moderation, however. Olives are safe for dogs, but that of course doesn't mean that they should make up the majority of their diet.
Are Olives Bad For Dogs?
If a dog consumes too many olives, or has consumed pits from olives, they may experience mild stomach upset or diarrhea.
If your dog is experiencing any abnormal side effects after eating olives or pitted olives, you should take them to an emergency vet clinic or consult your veterinarian.
As with any food or substance, if your dog has had some type of reaction to it or eaten too much of something, it's best to err on the safe side and have them checked out by a professional.
Are Olives Good for Dogs?
Dogs generally do well on foods that are low in excess fat, sugar or carbs to minimize weight gain. A well-balanced diet rich in nutritious vitamins and minerals is essential to a dog's health both inside and out.
Your dog's diet should include a mix protein, fat, carbohydrates, calcium and essential fatty acids, which all feed muscle, skin and bone.
Because olives contain healthy fats, they can play a minimal role in your dog's health by giving them small amounts of fatty acids that could be beneficial to their health, but only as a snack or treat.
Be aware that too much fat in a dog's diet may cause diarrhea. So as with any food be sure to only give your dog small amounts – such as one or two here and there – as a treat. Because we all know dogs love treats!
So now we know that the answer to 'can dogs eat olives' is in general 'yes', what about the specific types? Is there any difference?
Can Dogs Eat Green Olives?
The type of olive you feed your dog doesn't seem to matter too much.
Green olives, Kalamata olives and olives cured in oil are all safe for dogs. However, olives do not seem to be a necessary food source for dogs in general.
Can Dogs Eat Black Olives?
Can dogs have black olives? Are they any different to green olives? Yes they can. Black olives and green olives are very similar.
However, because of their high fat and salt content, dogs should only eat olives of either type in small amounts.
It's not the kind of black olives dogs eat, but the way the olives that they eat have been prepared.
Dogs should not eat olives that contain pits, as this can cause choking or digestive problems.
Can Dogs Eat Olives?
The answer to Can Dogs Eat Olives is yes. Just make sure you take out the pits.
However, because olives are not a necessary part of a dog's diet, they should not be used as a main food source.
If you want to give your dog olives, then we recommend one or two, once a week.
Does your dog like olives?
Is your dog a fan of olives? Why not let us know about his favorite food in the comments section below!
What else can dogs eat?
If you're looking for other foods you can share with your dog, look no further! We have lots of great articles that can let you know what food is safe for your friend.
Take a look at some of the guides here:
References
N. Akbar, N. Bilal, Olives and Health, International Journal of Pathology, 2004
W.C. Willett, F. Sacks, A. Trichopoulou, G. Drescher, A. Ferro-Luzzi, E. Helsing & D. Trichopoulos, Mediterranean Diet Pyramid: A Cultural Model for Healthy Eating, The American Journal of Clinical Nutrition, 1995.
Get Pippa's free dog training tips delivered to your inbox