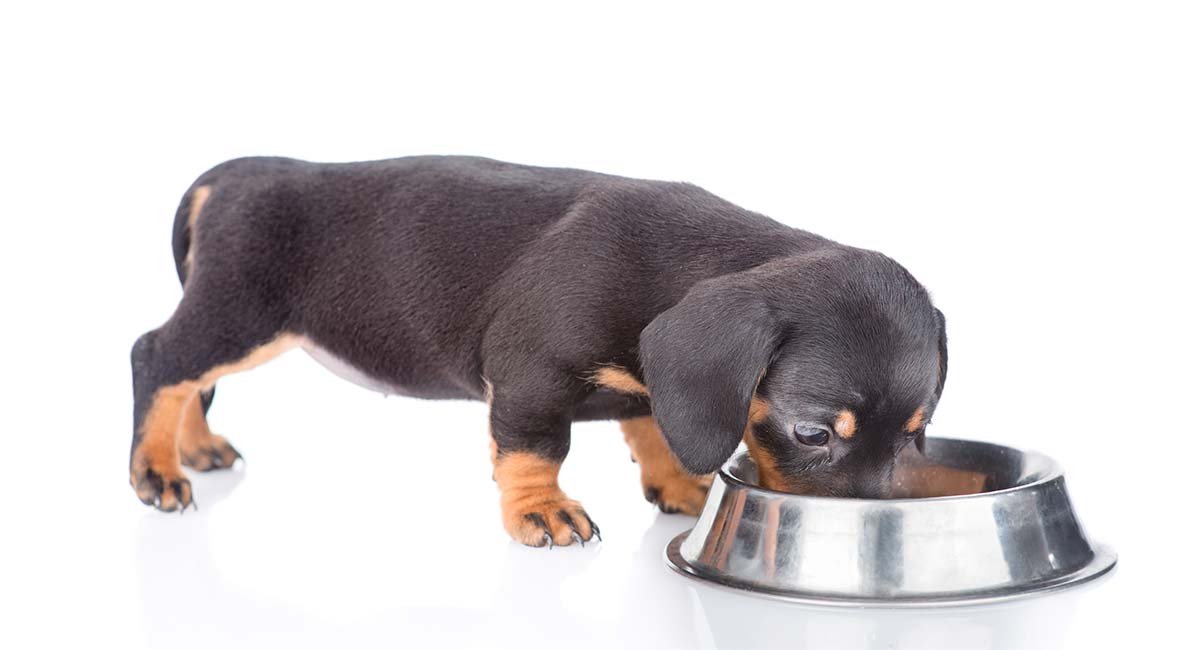 Are you wondering how much to feed a miniature Dachshund puppy?
The Dachshund is a small hound breed with short legs, a long back, and a pugnacious attitude.
But exactly how much food does your pup need? This can depend on a number of factors.
Dachshunds can be divided by size into the standard (16 to 32 lbs) and miniature (under 11 lbs) versions.
Miniature dog breeds have been steadily gaining in popularity over larger dogs, including the growing popularity of the miniature over the standard Dachshund.
Most importantly, miniature Daschunds are prone to a number of potential health concerns.
Whether you've got a miniature Dachshund or a standard one, we'll help you feed them the right amount to avoid underweight, or fat puppies.
Health Concerns of the Miniature Dachshund
Dachshunds are prone to a spinal injury known as canine intervertebral disc disease.
Therefore, avoiding obesity will be important to minimize the risk of your pup developing this disease.
In addition, Daschunds can have sensitive stomachs as well as a number of relatively common food allergies, especially in miniature Dachshunds.
These conditions may be aggravated by food ingredients. So it's important to be aware of any potential signs of trouble, including skin ailments or blood in your dog's stool.
It's best to consult a veterinarian if you suspect a problem.
How to Feed a Miniature Dachshund Puppy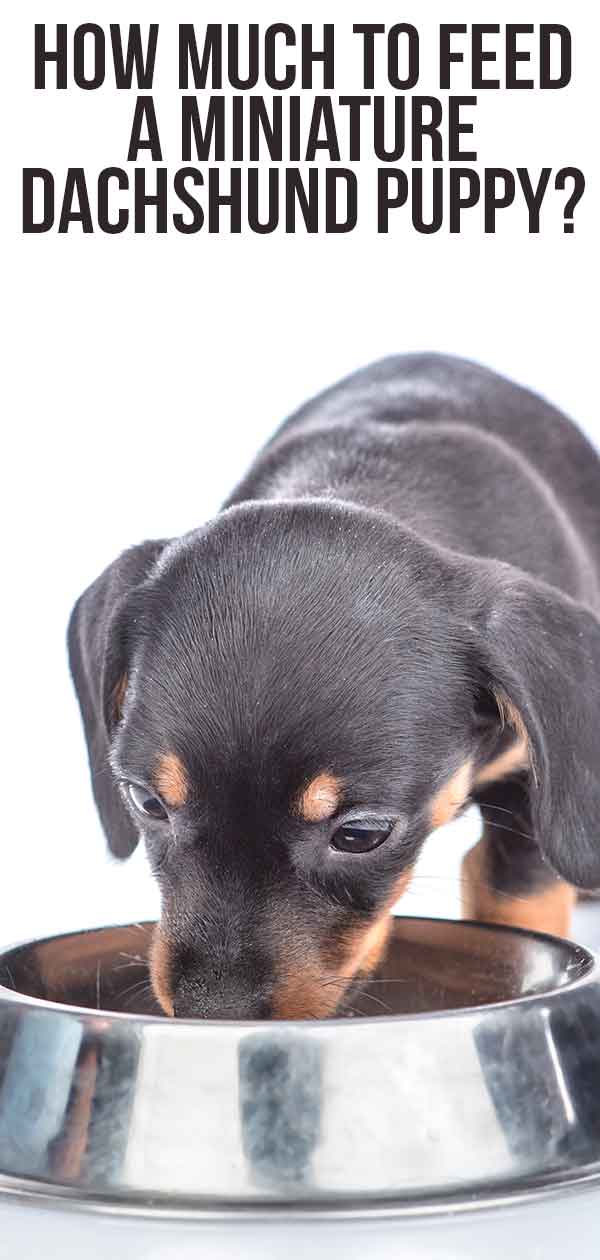 If you adopt your puppy, find out the amount and type of food they were previously receiving.
And if you decide to change their food, it's important to do so by gradually by introducing increasing amounts of new foods into each meal.
This should be done over a period of approximately two weeks.
If possible, ask the breeder about the expected adult weight of your puppy.
This weight can then be used as a starting point to determine how much to feed your mini Dachshund puppy.
Weigh your pup regularly to determine whether they are growing as expected.
You can also ask a veterinarian to check your pup's body condition score or to instruct you on how to assess this yourself.
Then, you can make small adjustments to your puppy's daily diet to keep their body condition within a healthy range.
What to Feed Your Miniature Dachshund Puppy
Miniature Dachshunds do not usually require a highly specialized diet.
However, the food you select should be suitable for small dogs that are quite active.
Ingredients that help develop healthy joints and bones are important. Probiotics and highly digestible proteins are beneficial.
In addition, it's best to establish feeding habits that will prevent obesity later in your dog's life, such as avoiding high-calorie treats and table scraps.
However, it's important that you don't let fear of obesity to lead to underfeeding your Dachshund as a puppy.
Young puppies under 14 weeks are unlikely to overeat.
Mini Dachshunds are active dogs that require the right nutrition as their skeleton and joints develop.
How Much to Feed Your Miniature Dachshund Puppy
When determining how much to feed a Dachshund puppy, first consider your puppy's age.
From 8 to 12 weeks, your puppy should be eating at least four meals a day. But don't worry, Dachshund puppies don't have a tendency to overeat.
After 12 weeks, you can gradually reduce the number of meals to two.
The second factor to consider when deciding how much to feed a mini Dachshund puppy is the type of food.
Begin by feeding your pup the amount recommended by the manufacturer.
Then, start making small adjustments—a few grams a day, as necessary—to maintain a healthy weight.
If your puppy stops eating for longer than one day, it's important to speak to your dog's vet.
There are a few different types of food to consider.
Kibble
Dachshund-specific puppy foods are a good option but can be quite expensive.
Miniature Dachshunds can be fed any good quality small breed puppy kibble.
Make sure that any kibble you select comes in very small pieces and is formulated for specifically for puppies.
Avoid soaking kibble water or other liquids as this may enlarge the pieces and increase the risk of your dog choking or accidentally inhaling pieces of food into their lungs.
If specific feeding instructions not provided by the breeder or animal shelter, you should follow the directions on the packet provided by the food manufacturer.
You can modify this according to any recommendations from your dog's vet.
As a rule of thumb, miniature Dachshund puppies should be eating approximately one half-cup to one full cup of kibble per day.
You can use a measuring cup or weight (in grams) to ensure you're feeding your pup the right amount.
This is important since even small inaccuracies can dramatically affect weight and body condition of miniature breeds.
Some suitable choices of kibble include
Royal Canin Dachshund Junior Dry Mix
Eukanuba Puppy Dry Dog Food Chicken – Small Breed
Wellness Complete Health Natural Dry Small Breed Dog Food.
Wet Food
As with kibble, a wet small-breed puppy food (from a can or pouch) with good joint and bone support is suitable for your mini Dachshund puppy.
Wet food formulations vary considerably, but you can expect to be feeding your pup around 10 to 20 ounces a day, or 2 to 3 small cans or pouches.
Read the label carefully to ensure you're following the recommended guidelines.
Once a container is opened, store any unused food covered in your refrigerator.
Some suitable options include
Hill's Science Diet Wet Puppy Food, Small & Toy Breed
Merrick Lil' Plates Grain Free Small Breed Wet Dog Food
Nutro Natural Choice Small Breed Chicken Slices Canned Puppy Food.
Homemade, Raw, or BARF Foods
Figuring out how much to feed your Dachshund can be more difficult if you've decided on a homemade, raw, or biologically appropriate raw food (BARF) diet.
However, you can obtain recipes and a suitable feeding plan from your dog's vet or a qualified canine nutritionist.
Should You Feed Your Dachshund When They Beg
Dachshunds know what they want and are capable of some ridiculously cute begging—but you have to be strong!
You can feed your puppy some treats on occasion if you reduce the amount of food in their standard diet slightly.
The best way to ensure your puppy is not left feeling hungry is to break their daily food allowance into many smaller meals. Also, ensure water is available at all times.
Dachshunds may even like low-calorie foods as treats. I've heard from numerous owners that Daschunds enjoy carrots or green beans.
My own dog rejects both of those options but does enjoy the occasional broccoli floret.
How to Feed Your Miniature Dachshund as They Grow
You'll need to modify how much you feed your Dachshund puppy once they make the transition to adult food. This normally happens at around ten months old.
Your pup may find it easier to adjust to an adult formulation from the same manufacturer as their puppy food.
The transition to adult food should be gradual, as mentioned previously.
Adult dog food is less calorie dense to reflect an adult dog's lower nutritional needs since they are no longer growing.
However, be prepared to make any adjustments that may be necessary, especially if your dog is highly active.
This may also be the case if your dog is getting too fat or lean or has a particular dietary needs, such as extra fiber.
For this reason, you should regularly track how much you're feeding your dog, as well as their weight and body condition.
And don't be afraid to consult with your dog's vet as needed.
Do you have experience feeding a Dachshund puppy? We'd love to hear about any tips or tricks you may have in the comments below.
If you have a new Dachshund puppy, make sure you also take a look at our guide to the best Dachshund names!
References and Further Reading
Heuberger R and Wakshlag J. 2011. The relationship of feeding patterns and obesity in dogs. Journal of animal physiology and animal nutrition. DOI: 10.1111/j.1439-0396.2010.01024.x
Kawano K et al. 2013. The prevalence of dogs with lymphocyte proliferative responses to food allergens in canine allergic dermatitis. Polish journal of veterinary sciences. DOI: 10.2478/pjvs-2013-0104
Kienzle E and Hart S. 1990. Case report: Asphyxia and aspiration bronchopneumonia in a Dachshund puppy after feeding of unsuitable food. Kleintierpraxis.
Ohmi A et al. 2011. A retrospective study of inflammatory colorectal polyps in miniature Dachshunds. Journal of Veterinary Medical Science. DOI: 10.1292/jvms.11-0352
Serisier S et al. 2013. Maintenance energy requirements in miniature colony dogs. Journal of animal physiology and animal nutrition. DOI: 10.1111/jpn.12044
Verheijen, J., & Bouw, J. (1982). Canine intervertebral disc disease: a review of etiologic and predisposing factors. Veterinary Quarterly, 4(3), 125-134.
Get Pippa's free dog training tips delivered to your inbox