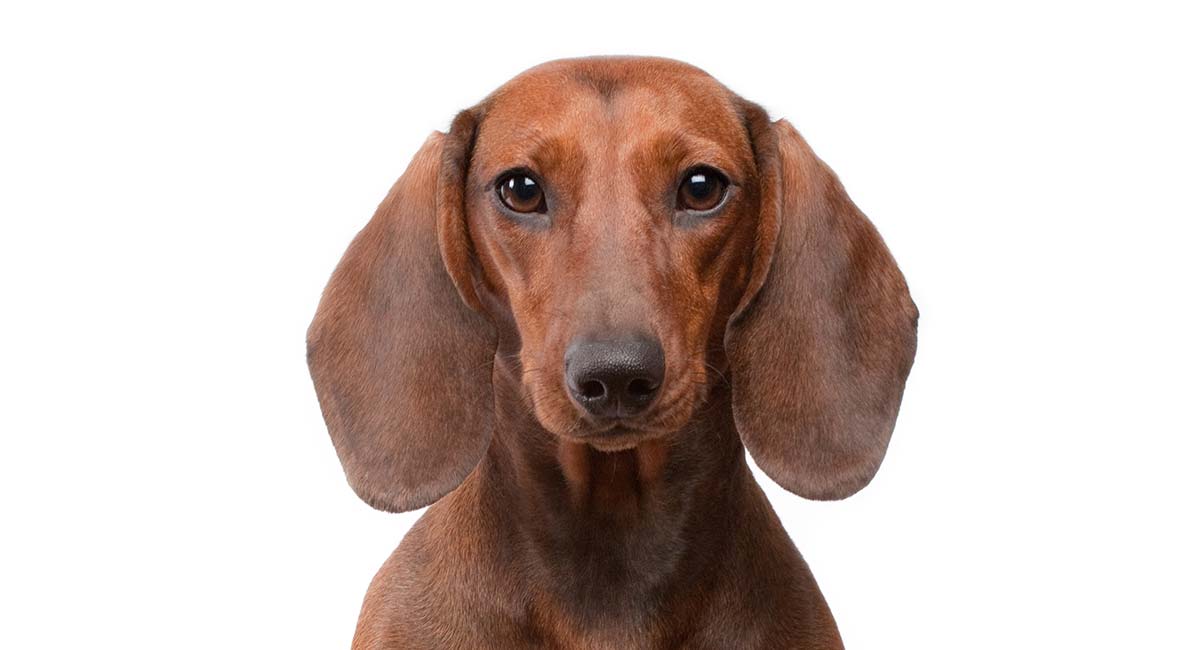 Dachshund names can be cute, quirky, sophisticated, or serious. They can be inspired by their unique shape! Or by their big personalities!
Let's take a look at some of the best.
Our 100 Favorite Choices
These are our 100 favorites:
| | |
| --- | --- |
| Dudley | Porkie |
| Clara | Ella |
| Sybil | Vivi |
| Scooter | Brock |
| Kingsley | Magnus |
| Enzo | Xavier |
| Vaughn | Elin |
| Raven | Romy |
| Yasmin | Bunty |
| Acer | Velvet |
| Titus | Tatty |
| Cooper | Texas |
| Joey | Lionheart |
| Lily | Leopold |
| Cherry | Maya |
| Dottie | Chica |
| Edwin | Otis |
| Nate | Jerry |
| Frank Furter | Honeybun |
| Birdie | Holly |
| Coachella | Honey |
| Blue | Nutmeg |
| Tiggy | Florence |
| Betsey | Rafe |
| Otto | Sebastian |
| Winter | Noosa |
| Sterling | Keiko |
| Brutus | Napoleon |
| Zorro | Cranberry |
| Bodger | Whisper |
| Rosa | River |
| Buddy | Bear |
| Artemis | Apollo |
| Felix | Theo |
| Dude | Sam |
| Tulip | Dandy |
| Connie | Cuthbert |
| Judge | Earl |
| Baron | Roger |
| Roberta | Delia |
| Aviva | Beef |
| Canneloni | Roly |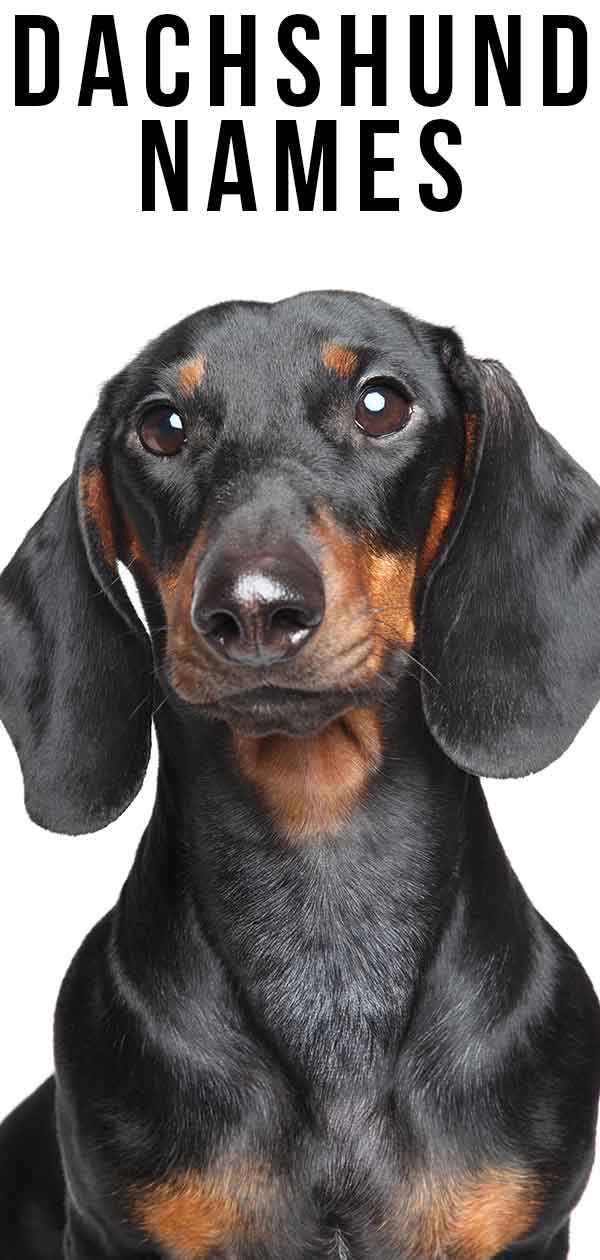 The Delightful Dachshund
Welcome to your Dachshund names hub as you sleuth out the best name for your precious new pup!
Is there any more recognizable canine on the planet than the Dachshund, with their signature extended bodies and short legs?
These "hot dogs," as many people have nicknamed them, are guaranteed to make even the grumpiest person smile!
We hope these lists of Dachshund names will inspire you and give you lots of creative brainstorming ideas for choosing your new Dachshund's name!
Dachshund Names
One of the coolest things about Dachshunds is how they can be so different!
From short to long hair, smooth to wire hair, miniature to standard size, shy and quiet to loud and boisterous.
It is a wiener-ful world indeed when you share it with a Dachshund!
As you are browsing through the curated Dachshund names lists here, we think these naming tips might also come in handy:
While reading through each list of names here, you might want to keep a notepad or note-taking app handy and just jot down any names that jump out at you. Try each out on your new pup later and see what kind of reaction you get.
If you are drawn to choosing a longer name for your Doxie, see if you can shorten it to a nickname to make training easier on you both.
Before choosing a sassy, spicy, or perhaps less politically correct name, just think about whether you will be comfortable yelling that name out in public at the dog park or on your neighborhood block.
Try to avoid choosing any name that sounds too much like a family member's name or any common training commands.
Best Dachshund Names
In every dog breed, some names just seem to rise to the top.
They are just that popular because of how well they capture the spirit of the dog breed itself.
The Dachshund dog breed is no exception.
These are 10 of the classic best Dachshund names that have become enduringly popular choices!
Oscar
Frank
Otto
Millie
Mitzie
Sophie
Max
Heidi
Baxter
Lulu
Female Dachshund Names
These female Dachshund names hail from famous Dachshunds and their owners, pop culture, mythology, and of course, social media Doxie stars!
Helen (William Randolph Hearst's Dachshund)
Greta (Dita von Teese's Dachshund)
Eva (ditto)
Chanel (at 21, she was named the World's Oldest Dog by Guinness Book)
Jana (Best in Show Dachshund at Westminster)
Ruthie (artist Franz Marc's Dachshund)
Victoria (the Queen was a great fan of Dachshunds)
Liz
Mildred
Dora
Sabrina
Glenda
Dorothy
Mia
Rosie
Lila
For more great female dog names, check out this article.
Male Dachshund Names
These male Dachshund names take lots of inspiration from famous doxies and their doting owners from history and today!
Amos (Andy Warhol's Dachshund)
Archie (ditto)
Stanley (artist David Hockney's Dachshund)
Clyde (Wayne Gretsky's Dachshund)
Herman (won 14 Best in Shows)
Kensal (won the first American Kennel Club Best in Show)
Burns (Best Hound winner at Westminster)
Feldman (first Dachshund to enter a dog show in the UK in 1879)
Winston (Westminster contender)
Sampson
Ernest
Clint
George
Sherman
Ollie
Jackson
Hudson
Find even more fun male dog names in this article.
Cool Dachshund Names
When you look as unusual as a Dachshund, you quickly get used to being noticed – and working it for all its worth!
A Dachshund can be a cool character indeed, especially when your pup is in the mood for a snuggle, a snack, or both.
Pair all that Doxie moxie with one of these cool Dachshund names and your pup will be a powerhouse of coolness, indeed!
Crusoe
Kylie
Monty
Prince
Princess
Arlo
Sage
Harlow
Fendi
Violet
Prada
Benny
Pogo
Bentley
Elvis
Tucker
Check out more cool dog naming ideas in this article.
Cute Dachshund Names
Cuteness, thy (breed) name is Dachshund!
We think these cute Dachshund names capture the breed's innate cuteness perfectly!
Waldi (Olympic games Dachshund mascot)
Brigit (real-life Dachshund Waldi was based upon)
Winnie/Mini-Winnie (the first cloned dog in the UK!)
Beauty (first long-haired Doxie registered with the American Kennel Club)
Cherie
Hazelnut
Teena
Madonna
Gypsy
Isabella (Bella)
DeeDee
Peanut
Jelly Belly
Dobbie
Pepperoni
Cupid
Twix
For more dog naming cuteness, head over to this article.
Funny Dachshund Names
Did you know Dachshunds are the 12th most popular purebred dog breed recognized by the American Kennel Club (AKC)?
Sure, they are great-looking dogs and cute as can be!
But maybe the real reason we love Dachshunds so much is because they can always make us smile.
Your smile-worthy sidekick's new name might be hidden in this list of funny Dachshund names!
Lump (Dachshund muse to Pablo Picasso)
Boodgie (artist David Hockney's Dachshund)
Dash (Mary Tyler Moore's Dachshund)
Hot Dog (did you know the popular sausage was actually named after the Dachshund?)
TruMan (first Dachshund ultrarunner)
Odie (Garfield's sidekick was part Dachshund)
Kat
Komodo
Mayer
Low Rider
Fudgie
Scrappy Doo
Comet
Leggo (Eggo)
Slinky
Pebbles
Squirrel
Unique Dachshund Names
A dog as unique as the Dachshund truly deserves a one-of-a-kind name.
Perhaps one of these unique Dachshund names will be a perfect match!
Wadl (Kaiser Wilhelm II's Dachshund)
Hexl (ditto)
Senta (ditto)
Grenouille (Napolean Bonaparte's Dachshund)
Faussette (ditto)
Kurwenal (the first talking Dachshund!)
Moni (Dackelmuseum co-founder's Dachshund)
Seppi (ditto)
Ratzmann von Habichtscof (first long-haired Dachshund Crufts winner in 1923)
Brentwald of Joshua (first wire-haired Dachshund to win Westminster)
Catra (TruMan the ultrarunning Dachshund's owner)
Merlot
Neville
Indiana
Reese
Dickens
Find even more unique dog name ideas in this article.
Tough Dachshund Names
If you've ever watched a Dachshund tearing after a fluffy squirrel, barking at the top of his lungs, you already understand the origin of the phrase "tiny but mighty."
There is no doubt this is a dog that doesn't realize she is small!
These tough Dachshund names celebrate the warrior inside the heart of every Doxie.
Commissioner (Carol Lombard & Clark Gable's Dachshund)
Jezebel (Cole Porter's Dachshund)
Dunker (JFK's Dachshund)
Ozzy (George Harrison's Dachshund)
Dyna (Gary Cooper's Dachshund)
Louie (Adele's Dachshund)
Rocky (oldest living Dachshund at 25)
Red (Clint Eastwood's Dachshund)
General Patton
Tank
Diesel
T-Rex
Rambo
Ajax
Bruno
Dutch
For lots more tough dog name ideas, we think you'll enjoy this article.
Fun Facts About Dachshunds
Badger Dog
The Dachshund dog comes to us from Germany, where its name essentially translates to mean "badger dog."
If you are caring for a Doxie for the very first time, you may not yet know their signature long, low-slung physique was deliberately developed to help these dogs specialize in hunting… you guessed it: badgers!
This may not sound like a big deal, but once you see a feisty badger up close, with its sharp teeth and claws and extreme digging skill, it can start to make more sense why Dachshunds needed their unique shape to hunt this type of wily and powerful prey.
Short Gene
In 2009, canine biologists finally discovered the specific piece of DNA responsible for the Dachshund's shortened legs.
It's a genetic mutation called a retrogene that also produces shortened legs in other popular dog breeds like Corgis and Basset Hounds.
Popular
Dachshunds have enjoyed some truly singular honors during their centuries-long reign of popularity.
For example, the very first mascot of the Olympic games was a Dachshund the Olympic committee named Waldi.
Dachshunds have often served as muses for the creative elite.
One particularly well-known pairing was between the artist Pablo Picasso and a friend's Dachshund named Lump.
The connection was even chronicled in a book by the dog's owner!
What Name Have You Chosen?
Congratulations on your new Doxie puppy or rescue dog!
We hope you have thoroughly enjoyed browsing through the curated Dachshund names lists here.
Please bookmark this article and drop back by when you choose your new Dachshund's "forever name" and share the name you picked and the story behind it.
We love to learn from our readers!
More Articles You'll Love
If you love everything about Dachshunds, we have plenty of other great articles you'll want to see.
Take a look at some more information about this popular breed below! 
And some other fun name guides.
References
Girouard, L., et al, "Breed History," Texas Dachshund Rescue, 2019.
Ostrander, E., PhD, et al, "Evolutionary Event Underlying Origin Of Dachshunds, Dogs With Short Legs, Discovered," Science Daily, 2009.
Smith, A.F., "The Oxford Companion to American Food and Drink," Oxford University Press, 2007.
Harding, E., "Cloned dog Winnie the dachshund meets her genetic twin," The Daily Mail UK, 2014.
Bondeson, J., "Amazing Dogs: A Cabinet of Canine Curiosities," Amberley Publishing, 2011.
Celizic, M., "Meet Chanel: Almost 21, the world's oldest dog," Today, 2009.
Katz, B., "Germany's New Dachshund Museum Is Not Just for the Dogs," Smithsonian, 2018.
Stack, L., "Your Favorite Dog Breed Did Not Win Westminster. Here's Why," The New York Times, 2019.
Belzberg, J., "TruMan, the Trail-Running Dachshund," Trail Runner, 2015.
Lakey, P., "'Rocky' appears to be oldest wiener dog," Mountain Democrat, 2012.
Get Pippa's free dog training tips delivered to your inbox