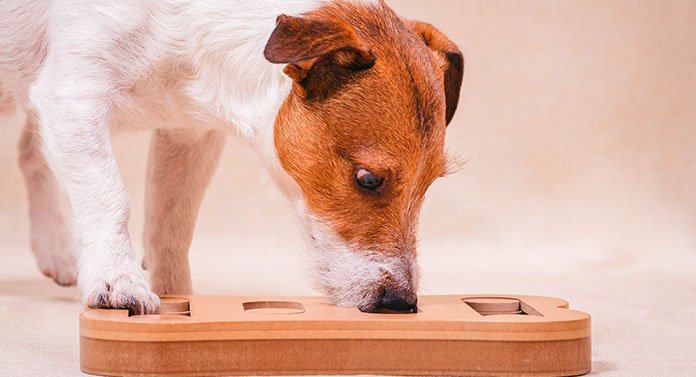 They're all the rage among dog owners on social media, but what is a food puzzle for dogs?
Food puzzles are ways of feeding your dog without just handing over their kibble in a regular bowl.
You can buy dog treat puzzle toys online and in stores, create DIY puzzle feeders from stuff you already have, or play with your environment and food choices to make meals more interesting.
In fact, adding a puzzle element to your dog's dinner is so easy and rewarding, we don't think you'll ever look back!
Products included in this article were carefully and independently selected by the Dogsnet team. If you decide to make a purchase from one of the links marked by an asterisk, we may earn a small commission on that sale. This is at no extra cost to you.
The Rise Of Dog Puzzle Feeders
Interest in puzzle feeders has surged in recent years – partly due to social media platforms making it so easy for dog owners to share ideas and inspiration.
But the ways that puzzle feeding benefits our dogs are nothing new.
Canine experts have known for a long time that plonking down kibble in an open bowl at fixed intervals is nothing like how their wild ancestors would have found food.
Hunting for food in the wild takes time, brain power, nose power and physical agility.
Our pet dogs still have all those assets and abilities, and their lives can end up poorer for lack of opportunities to use them.
In fact, dogs being destructive or performing unwanted behaviors like barking is a common complaint of dog owners – and often it's simply a displacement activity to overcome boredom.
So making mealtimes more interactive is a obvious way to put some interest back into their lives, and improve their overall well being.
How Dog Food Puzzles Benefit Dogs
Puzzle feeders enhance dogs' lives by creating an opportunity to practice natural behaviors, such as sniffing, making choices, and problem solving.
Things which do this are also called "enrichments" – and that's a term you're likely to come across a lot when you venture into the world of puzzle feeding.
Puzzle feeders aren't just beneficial because they make eating a bit more interesting though.
In the early stages of life, they can enhance puppies' mental and physical development.
They can also be effective as part of a strategy for preventing separation anxiety in dogs of all ages. Leaving a fun puzzle toy when you go out can help transform your time apart from something to be dreaded, into something to be savored.
And when your pooch starts to get old, food toys that involve decision making, problem solving, and remembering what has worked before help to preserve his mental faculties, and prevent cognitive degeneration.
Examples Of Dog Food Puzzles
For some people answering the question "what is a food puzzle for dogs", their minds immediately fall upon the plastic puzzle toys widely sold online and in pet stores.
And we'll look at some of the best of those in a moment.
But if you're new to dog puzzle feeders, then you need to know that you're not only restricted to these!
Enrichments like puzzle toys make life more rewarding and meaningful, and encourage appropriate doggy behaviors.
But there are plenty of other ways to add an extra mentally stimulating dimension to mealtimes.
With all of them, it's important to make the puzzle quite simple to solve at first, so it's easy for your dogs to succeed. Then gradually make the challenge more difficult as they gain confidence.
Scatter feeding
If you have access to a yard, take your dog's dinner outside and scatter it in the grass.
They'll have to use their nose to hunt out all the pieces, which is a fun way for them to use their most powerful sensory organ in the way nature intended – to locate food.
Start by sprinkling their meal over an area not much bigger than a dinner plate, so they're not put off by the challenge being too difficult.
Then gradually increase how widely you spread it.
If you don't have access to a yard, you can replicate the same experience using a snuffle mat, like this one from PAW5*:
And for genius-level foragers, you can build up to one like this from AWOOF*:
DIY Dog Food Puzzles
If you'd like to dip a paw into puzzle feeding, without committing your cash yet, there are lots of things you can try at home.
My favorite DIY treat puzzles for dogs are:
A box filled with scrunched up newspaper, and kibble or treats scattered amongst it.
Toilet roll insides filled with treats rolled in newspaper, and the ends folded inwards.
An empty plastic bottle filled with kibble, and the lid left off.
A muffin tray with kibble in each well, and tennis balls placed on top.
Raw Dog Food Puzzles
Puzzle feeding isn't just the preserve of kibble fed dogs either.
Raw feeding has grown in popularity recently, spurred on by the availability of nutritionally complete raw diets available to buy in separately frozen portions.
But since lots of these commercial offerings tend to be homogenous and mince-based, they still fall short of being exciting to eat.
Rather than squidging bits of raw meat into a puzzle toy though, nature has provided her own version of a puzzle toy – raw meaty bones.
Raw meaty bones are uncooked bones which have had most of the meat removed in the butchery process.
What's left is a fun challenge for raw fed dogs to extract the rest of the tasty scraps from. It demands motor skills, ingenuity, and perseverance.
If you experiment with different types of bones, your pup will also be challenged to build up a memory bank of what techniques work best for each type.
Best Dog Food Puzzles To Buy
Now let's look at some of the best dog treat puzzle toys and dog puzzle feeders available to buy online.
All of these challenge dogs to work a bit harder than usual to earn their food. Some of them have space to hold a whole meal, whilst others are more suitable for snacks.
Some of them are my own dog Max's favorites, and others are ones I can't wait to try out with him in future!
Kong Wobbler
I truly love this toy*, and so does Max! It's the heavy-duty version of the plastic bottle filled with kibble that I described in the DIY section.
So if you want to try out the premise on your dog before splashing out on the Wobbler, that's the way to do it.
The Wobbler holds an entire meal's worth of kibble. Dogs have to tip it up to release food through the hole, and it's weighted at the bottom to right itself afterwards.
But usually not before whirling around, and sending a few surprise treats skittering across the floor!
And afterwards it unscrews into two parts which you can just pop in the dishwasher.
Simple for you. Fun for your dog. Genius.
LickiMat Wobble
Another wobble-themed puzzle with lots of admirers.
And whereas the Kong Wobbler is designed for dry foods, this product from LickiMat* recreates a similar challenge with wet food.
Simply press soft food into the side of the bowl, and serve it up. The puzzle for your dog is how to empty a bowl that won't stay still!
The wobble is made out of natural, recyclable rubber, which is both dishwasher proof and microwave proof.
It's not very chew proof though (*looks meaningfully at Max*), so always supervise your dog with this one!
Nina Ottoson Puzzle Feeders
Nina Ottoson's collaboration with Outward Hound has achieved legendary status among fans of food puzzles.
All of the puzzles in the range require some degree of problem solving to get at the food contained in them.
But one of their best features is that they're organised by difficulty. So you can start with an easy game like the Dog Smart*, to set them up for success and generate confidence and enthusiasm…
…and work your way up to the expert level MultiPuzzle*, which requires dogs to learn and remember a sequence of moves to release their treats:
Right at the moment, my dog is enjoying an intermediate level game, called the Dog Brick*.
He's a fan, and my only criticism is that it's a bit fiddly to clean all the parts when he's done with it.
SPOT Ethical Pet Puzzles
If you're not keen on buying plastics, then pet manufacturer SPOT make wooden alternatives which employ lots of the same concepts.
Including this elegant design* for beginner food puzzle solvers:
Idepet Balls
These are another deceptively simple idea*.
Trap something tasty between the balls' teeth, and let your dog go to work extracting it.
They'll need to manipulate the ball with their paws to hold it in place, as well as using their teeth, tongue and jaws to dig all the food back out.
Make it easy to start with by using firm food which pop out. Then try soft foods, or even soft foods frozen onto it.
These clever balls also work as a handy holder for some long thin dog chews, like bully sticks.
Kong Classic
Of course, no puzzle feeder article would be complete without a Kong Classic*.
In fact, there's a whole corner of the internet dedicated to sharing ideas and recipes for stuffing your dog's Kong, complete with mouth watering photography!
Start easy by putting something easy to lick out near the neck of the Kong – yoghurt for example.
And build up to filling the whole cavity with yummy treats, sealed with frozen peanut butter!
Trixie Mad Scientist Puzzle Toys
Last but not least, for the accomplished puzzle feeder fan, we present Trixie's Mad Scientist range*, which includes a range of problem solving toys, including this spinning one.
(We also think you could mock this particular toy up on a larger scale in a doorway, using a tension rod and some plastic bottles with handles!)
Other puzzle feeders in their range include simple entry level games, and more sophisticated challenges.
What Is A Food Puzzle For Dogs, But Not A Toy, A Snuffle Mat Or A Bone?
No, it's not a trick question.
We think there's one way of feeding your dog which is even better than puzzle feeders for meeting their need for mental and social enrichment.
And that's training!
Training works just like the best bits of a game and a puzzle feeder rolled into one.
As a social species, it meets dogs' needs to interact and engage with their social group.
And when you use your dog's food as positive reinforcement, then every training game is like a puzzle to find out how to release some more food.
And whilst puzzle feeders can meet your dog's need for mental stimulation, they tend to be a solitary activity.
But since training together meets their social needs too, it has twice the emotional benefit!
And that's just one reason why we're so passionate about our own Dogsnet training courses. Visit the homepage here to find out more about them, and how they can benefit you and your dog.
What Is A Puzzle Feeder For Dogs – Summary
Puzzle feeders create an obstacle or challenge which your dog has to overcome or solve, in order to get their food.
They can be a fun way to add mental stimulation into your dog's routine.
And there are some truly ingenious puzzle feeders on the market you can buy to indulge your dog with.
But there are also lots of DIY options for achieving the same benefits.
What are your favorite ways to make mealtimes fun?
Let us know in the comments box down below!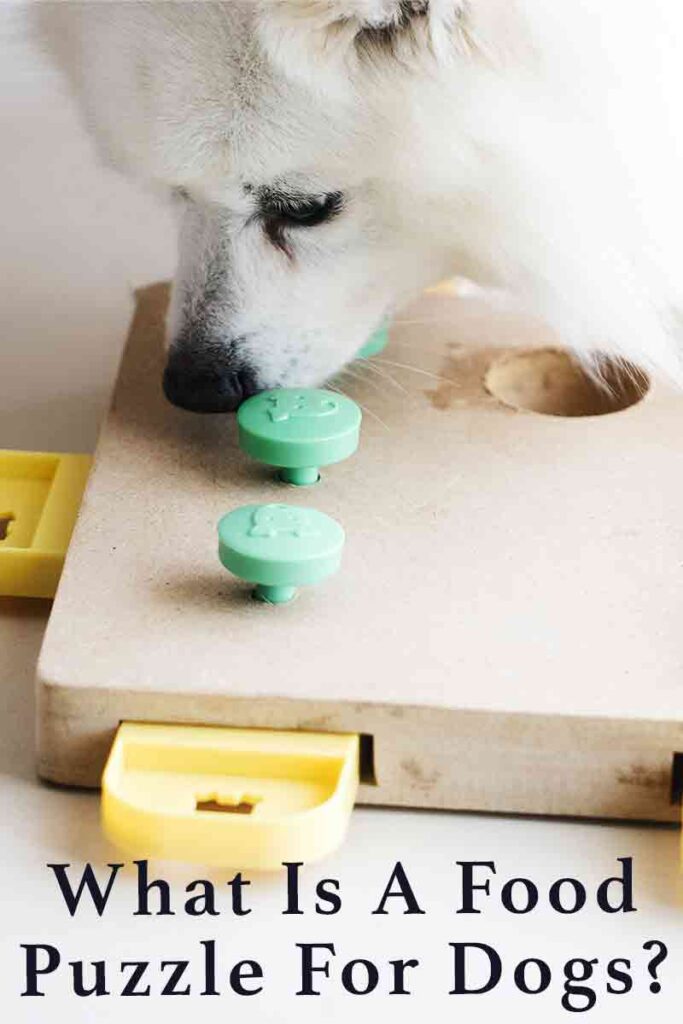 Affiliate link disclosure: Links in this article marked with an * are affiliate links, and we may receive a small commission if you purchase these products. However, we selected them for inclusion independently, and all of the views expressed in this article are our own.
References
Heath et al. Canine and Feline Enrichment in the Home and Kennel. Veterinary clinics: Small Animal Practice. 2014.
Lacey. Dog separation anxiety: telltale signs and helping owners. Vet Times. 2016.
Snigdha et al. Effects of diet and behavioral enrichment on free fatty acids in the aged canine brain. Neuroscience. 2012.
Oakden. Banning the bowl: thinking outside the bowl when it comes to feeding our pets. Veterinary Nursing Journal. 2020.
Get Pippa's free dog training tips delivered to your inbox