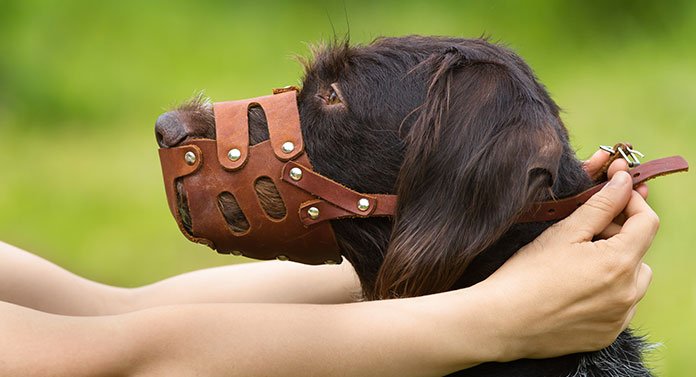 When our readers ask "what is a dog muzzle?" we tend to find they mean one of two things. Either
"which part of a dog is their muzzle?"
Or "what is a muzzle for a dog".
A dog's muzzle is also known as their snout. But, a muzzle for a dog is restraint that can stop dogs from barking, biting, or eating things they shouldn't.
Let's take a closer look at both!
Products included in this article were carefully and independently selected by the Happy Puppy Site team. If you decide to make a purchase from one of the links marked by an asterisk, we may earn a small commission on that sale. This is at no extra cost to you.
What Is A Muzzle On A Dog?
Anatomically, the muzzle on a dog is their nose and mouth, also known as their snout.
Oddly, their muzzle starts at the stop!
A dog's stop is the angle where their muzzle meets their forehead. This is a bit like the bridge of our nose. It's very pronounced on breeds like the Cocker Spaniel, and non-existent on breeds like the Bull Terrier.
Some dogs have a very long muzzle from their stop to the tip of their nose. For example Borzois and Greyhounds. These dogs are known as dolichocephalic, or 'long faced'.
Others, like the Pug and the French Bulldog have a very short muzzle. They are known as brachycephalic, or 'flat faced' dog breeds.
Dogs in the middle, like the Labrador Retriever, are mesocephalic.
One More Fun Fact About Dogs' Muzzles
Researchers in Korea believe that a dog's snout, and especially the shape and pattern of their nose leather, is as unique to them as our fingerprints are to us.
And that muzzle imaging could complement tags and microchips as a way of identifying dogs, and reuniting lost dogs and their owners!
And now, onto the other type of dog muzzle.
What Is A Dog Muzzle?
The other kind of dog muzzle is a type of restraint, which fits over their anatomical muzzle. Like the one in this photo: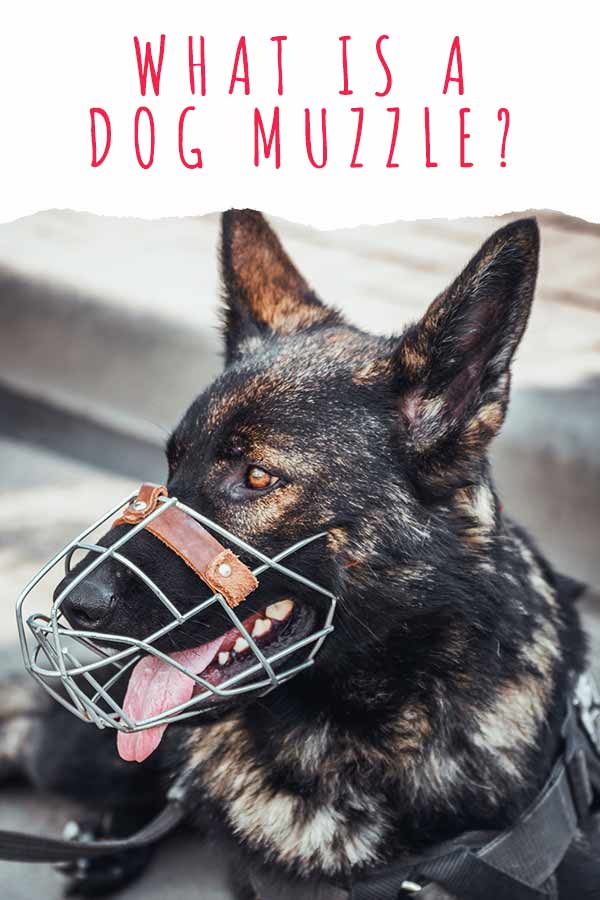 There are several types of dog muzzle, and a number of scenarios in which one might be used.
Let's start with what they are used for first.
What Are Dog Muzzles Used For?
Dog trainers, behaviorists, vets, groomers and even local governments might recommend or insist upon a muzzle for one of the following reasons:
1. Using a Dog Muzzle for Biting
One of the most common applications of dog muzzles is to prevent biting.
This is why they're also closely associated with aggressiveness in our imagination.
But, biting isn't restricted to aggressive dogs.
Dogs are also more likely to bite if they feel nervous or threatened, and if they're hurt or in pain.
So, a muzzle is a sensible precaution for an injured dog receiving a veterinary exam.
And also for dogs being groomed. They are more likely to deliver a frightened bite due to a double whammy of being in an unfamiliar environment with an unfamiliar person, and being touched and handled in quite an intimate way.
2. Using a Dog Muzzle for Barking
Another question desperate dog owners have is whether they could use a dog muzzle for barking.
Excessive barking is an embarrassing problem for lots of dog owners, and the reason behind many pups being relinquished at animal shelters.
Some dog muzzles are manufactured specifically to stop dogs vocalizing.
But, there are doubts about whether they are humane.
They work by holding dogs' mouths closed. So, they also make it difficult for dogs to eat, drink, or control their temperature by panting. Which are significant welfare concerns.
Furthermore, they don't solve the problem either. They just mask it. Which is why it's much better to work out why a dog is barking excessively in the first place, and work to fix the cause.
3. Using a Muzzle to Stop Your Dog Eating Things They Shouldn't
Dogs are consummate scavengers. Lots of them try to eat a huge range of non-foodstuffs.
This problem can be pretty yucky. For example, dogs that manage to find animal carcasses on walks.
And also dangerous – dogs which eat poisonous foods like chocolate, or swallow objects like sticks and socks.
The right muzzle might help to stop a dog picking up and swallowing things that they shouldn't on walks.
In a similar vein, a muzzle can stop a dog with a high prey drive from catching squirrels, rabbits and small birds.
WARNING – A muzzle isn't much good for stopping a dog who tries to eat poop! They can still manage it by smushing the muzzle into the poop, and a poop-covered muzzle is no fun to clean up at all.
4. Dogs Who Have to Wear Muzzles
Finally, some regions have passed breed-specific legislation which requires some types of dog to wear a muzzle in certain places.
For example Toledo (OH), Sparta (TN), Ontario (Canada) and most regions of Australia require Pit Bull breeds to be muzzled whenever they are off their owner's property.
This a controversial stance. But nonetheless one which dog owners need to be aware of.
When A Dog Muzzle Won't Work
Dog muzzles are an effective temporary precaution against something unwanted happening.
But, dog muzzles should never be used as punishment.
For example, a muzzle cannot, and should not be used to try and prevent a dog from pulling on the lead.
Using any form of punishment in dog training is counter-productive.
Multiple studies have shown and confirmed that punishments actually impede our dog's ability to learn. As well as causing them stress, and damaging their relationship with us.
(If your dog is pulling on the lead, get a harness instead to regain control. Then work on teaching loose leash walking!)
Choosing To Use A Dog Muzzle
Lots of dog owners are against the idea of using a dog muzzle.
This is partly because they draw attention, which makes us feel self conscious. And because we know that people tend to be scared of dogs wearing muzzles.
We don't want our loving, affectionate dogs to be misunderstood, or unfairly judged because they are wearing one.
A lot of people also worry that muzzles are inhumane.
Is Using A Dog Muzzle Cruel?
Using a dog muzzle isn't inherently cruel. But, like lots of things (a classic example is dog crates) they can be abused.
For example, by people who use them as punishment, or who use them for an appropriate reason, but don't learn how to use them properly.
A muzzle is safe, humane, and ethical provided:
It's an appropriate solution to the problem – ask your vet or a behaviorist if you're still not sure about this.
You use it as a temporary precaution in certain situations, not all the time.
It fits correctly.
Your dog can still eat, drink, and pant through it.
And your dog has been trained to accept wearing it, so that it isn't unduly stressful for him.
Let's look more closely at how you teach a dog to wear a muzzle.
How To Put A Muzzle On A Dog
If you can foresee that your dog is going to have to wear a muzzle on a regular basis, you should carry out some dog muzzle training first.
Dog muzzle training teaches a dog that wearing a muzzle is safe, and that he can trust you to remove it again.
Here's how:
Dog Muzzle Training 101
Grab some great treats.
Unpack your new muzzle, and hold it out for him to sniff. Feed him several treats as he does. Put the muzzle away again, and repeat this step several more times, on different occasions.
Next time, lift the muzzle up to his face, then take it away again, and give him a treat. Repeat this several times too.
Depending on how long or flat your dog's face is, you might be able to include one or more steps where you place the muzzle partly over their nose, then take it away and give them a treat.
Build up to offering your dog a treat through the front of the muzzle, so they have to put their face right in to reach it.
Repeat this stage several times, and if you like, start saying a cue word as he puts his face into the muzzle.
Next secure the muzzle, feed a great treat through it, and immediately release and remove it again.
Repeat the last step many times, gradually building up how much time the muzzle stays on.
Mix up longer durations with shorter durations. If the muzzle always stays on longer than the previous time, your dog may get wise and start to avoid it.
Dog Muzzle Types
Finally, let's take a look at some of the most commonly used dog muzzles, and how to choose between them.
Baskerville Muzzle
Baskerville muzzles* are probably the most recognisable type of dog muzzle.
They consist of a lightweight plastic cage to cover the dog's snout, and adjustable traps to secure it behind their head.
The classic design has a cage with uniform gaps. But more recent models, like the one pictured here, have an adapted cage so that dogs can drink and take treats freely through it.
Mesh and Cloth Muzzles
Vets and groomers are mostly likely to use cloth muzzles. They're a bit like an open ended cone of fabric, which fits over the muzzle.
Cloth muzzles inhibit panting, so they should only be worn for short periods, and not when your dog is exercising.
If you'd like to get your pup used to his own muzzle so it's already familiar when he's at the groomer, take a look at breathable options like this one from Crazy Felix*.
Muzzles for Flat Faced Dogs
How do you wear a muzzle when you haven't got a muzzle?
Well, thanks to the rise in popularity of flat faced dogs, this is something the pet industry has answered.
And the answer they have come up with is one of these*.
Neoprene and Soft Muzzles
Soft and neoprene muzzles work like putting a wide elastic band around a dog's mouth.
These are the type sold to prevent barking. They also pose the biggest risk to canine welfare.
By holding a dog's mouth shut, they stop dogs from panting, which can even be fatal.
Don't use one of these muzzles unless a vet or behaviorist has specifically recommended it.
What Is A Dog Muzzle – Summary
A dog's muzzle in their mouth and nose. Some of our most iconic dog breeds owe their distinctive looks to the shape of their snozz!
A muzzle for dogs is a piece of equipment which can prevent some undesirable behaviors, and in some areas it is a legal requirement for some dogs in public spaces.
If you're going to use a muzzle, make sure you choose one in the right size, fit it correctly, and train your dog to be happy wearing it.
Does your dog wear a muzzle?
What has your experience been like?
Let us know in the comments box down below!
Affiliate link disclosure: Links in this article marked with an * are affiliate links, and we may receive a small commission if you purchase these products. However, we selected them for inclusion independently, and all of the views expressed in this article are our own.
Readers Also Liked
References And Further Reading
Get Pippa's free dog training tips delivered to your inbox