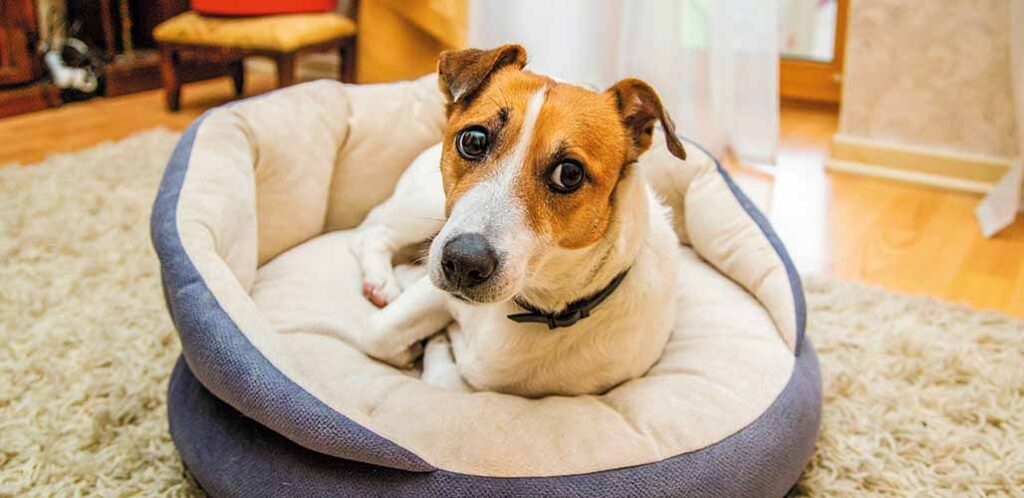 Understanding how to help a nervous dog relax can transform your relationship. It's normal for dogs with occasionally feel nervous of something unfamiliar, or that they've had a negative encounter with in the past. In fact, an appropriate level of nervousness has an important survival purpose. But sometimes doggy nerves can escalate, get out of proportion to their trigger, and stop your pet from leading a full and happy life. There are a variety of temporary and long-lasting techniques for helping a nervous dog relax, and the most effective approach usually combines more than one, to achieve long term change.
Contents
What makes dogs nervous
Lots of dogs are nervous of one or two specific things, like thunderstorms or new places. And a degree of nervousness, in some situations, is not abnormal behavior. For their wild ancestors, a healthy respect for sudden loud noises and unfamiliar environments would help keep them alive. But some dogs react nervously to so many things that it's fair to say they have a generally nervous temperament. This may be because they belong to a breed which is genetically more prone to nervousness. Or because they were not well socialized as puppies. Furthermore, some dogs only react nervously to a small number of triggers, but their reaction is so powerful and debilitating that it gets in the way of leading a normal life. This is also known as reactivity.
Rescue dogs
Before diving into all the practical steps you can take to help a nervous dog relax, first a note on rescue dogs. Rescue dogs can also be nervous dogs, and have general anxieties about things like loud noises and new places. But, it's important to remember that having spent time in a shelter environment and now coming home with you for the first time are also nerve-wracking experiences. Even a normally confident dog might be nervous for several days or weeks when they first move into a new home.
Helping them relax in their new environment is a unique situation. Whilst you'll find some useful tips in this article, we have more specific help in this article on our sister site, and in this article on settling a rescue dog at night. You can also see how dog foster dad Lee uses body language and a slow and patient approach to help a nervous rescue dog come out of her shell in the video at the top of this article.
Now, let's turn to how to help a nervous dog relax.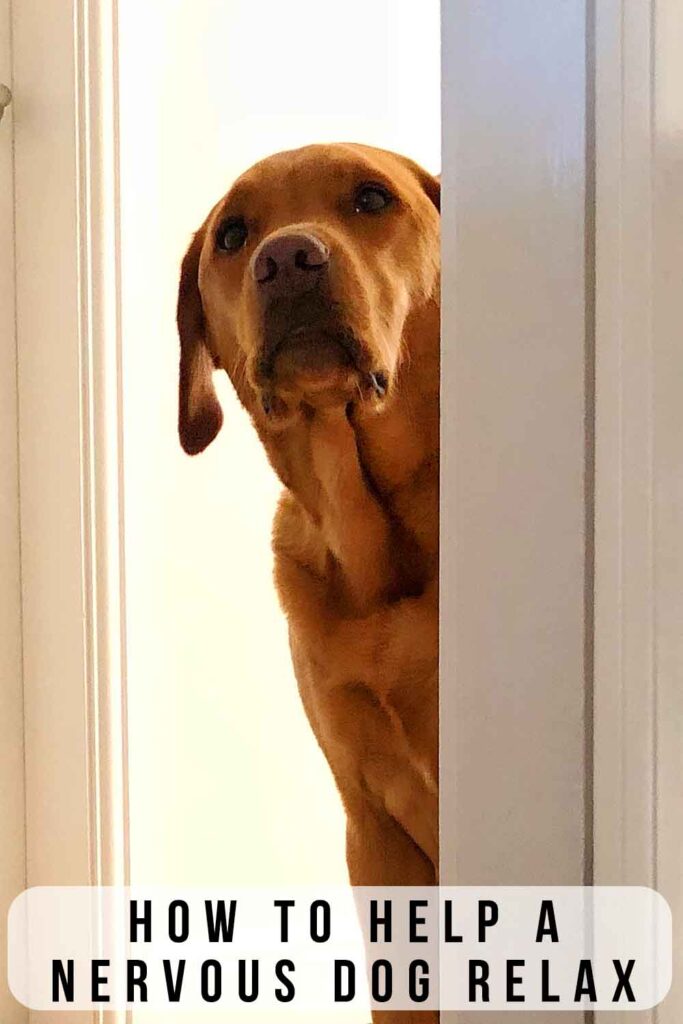 How to help a nervous dog relax
An important rule of dog behavior is that you can't force a dog in a nervous emotional state to relax. You need to start with a relaxed dog, and gradually expand the range of situations they can remain relaxed in. Forcing them to confront the things which make them nervous on the basis 'they'll get used to it eventually' won't work. But it might drive them to increasingly desperate coping behaviors such as barking, chewing or scratching.
Techniques for helping a nervous dog stay calm fall into two categories:
Short term solutions
Long term solutions
The short term solutions are things which make it easier to cope with anxiety inducing situations for a limited amount of time. Things like Adaptil collars – they don't change your dogs underlying emotional response to the thing which makes them nervous, but they take the edge off their anxiety so they can better tolerate the situation for a while.
Long term solutions are things like counter conditioning and training. They take time and effort, but they eventually change your dog's emotional response to a specific situation from a negative one to a positive one, for good. Now let's work through all the things you can try to help a nervous dog relax, from the quick fixes to the big changes.
Protecting them from triggers
If you have been able to identify the triggers which make your dog nervous, then protecting them from those things is an important place to start. For example, if your dog is nervous of walking on smooth, hard floors, then put down rugs. And if they are nervous of traffic, take them somewhere quiet and traffic-free to walk. This creates the space your dog needs to relax and gain confidence.
But I need them to get used to those things!
That's ok! You can still work on long term changes to their emotional response as well. But you won't succeed while they're still stressed. Take a dog who is nervous of loud, fast moving traffic, for example. If you take them to a highway, they will be instantly stressed out. Nothing you can do with them – even dangling a whole rotisserie chicken in front of them – will change how they feel about the traffic. Because their nervous reaction is overwhelming. First and foremost you need to protect them, by avoiding highways for now.
Pheromone treatments
Pheromone therapies are things like Adaptil diffusers and collars. Adaptil products contain synthetic dog appeasing pheromone (DAP). DAP is naturally produced by female dogs after they have given birth. Its purpose is to soothe and calm her puppies. Synthetic DAP has been shown to reduce adult dogs' nervousness to things like separation and loud noises. Pheromone therapies are useful helping a nervous dog cope with unavoidable exposure to stressful things while you work on more long term solutions. They're also good for occasional events which are hard to mimic for the purposes of counter conditioning, like travelling on plane.
Natural remedies
Some dog owners are also interested in how natural remedies can help nervous dogs relax. There are a large number of natural remedies for nervousness available to buy online and in pet stores. However, the evidence for their effectiveness is very limited. Some specific aromas such as ginger, coconut, vanilla and valerian do appear to promote feelings of calm and relaxation in dogs. But other natural remedies have performed no better than placebos in controlled trials.
It's important to discuss natural remedies with your vet before deploying them on your dog. In recent years veterinary clinics have seen a huge rise in dogs being admitted with cannabis oil poisoning, because owners mistakenly think that a supplement and dose which is safe for them is also safe for their dog.
Pressure vests
A relatively new approach to helping nervous dogs relax is putting them in a pressure vest. The principle behind a pressure vest is the same as swaddling a baby. The gentle, all-over pressure is thought to have a calming effect on the autonomic nervous system. Which is the part of the nervous system responsible for relaxation (or, 'resting and digesting'). Pressure vests have received positive feedback from some people who have tried them, but they haven't been subject to much controlled testing. At the moment a pragmatic approach would be to use them alongside better understood and proven strategies. Bear in mind that wearing unfamiliar clothing can be stressful in itself. So you need to get your dog used to wearing one gradually, before using in a stressful situation.
Drugs to combat nervousness
There are several prescription-only drugs vets can prescribe to manage nervousness. These include short term prescriptions (for example to use during international travel) and medicines suitable for long term use. It's not a failure to use these, and that's why I'm deliberately not putting them at the bottom of this list. If your dog's nerves are getting in the way of leading a normal life, then chatting with your vet about all the available options for helping them is a good thing to do.
Testosterone replacement therapy
Here's an approach specific to neutered males. Male dogs' testicles produce the hormone testosterone which, amongst other things, has a role in modulating their confidence. The presence of testosterone contributes to boldness, whilst the removal of testosterone by neutering can increase fearfulness. In some case studies, testosterone replacement therapy has made nervousness in neutered males more manageable. Replacement testosterone can't be bought over the counter, so this is another possibility to discuss with your veterinarian if you think it might be appropriate for your dog. It is most likely to help dogs who became markedly more nervous after neutering.
Counter-conditioning
Counter conditioning is the process of changing your dog's emotional reaction to specific experience from a negative one to a positive one. Usually by pairing the experience with something rewarding, like high value food items, or access to a favorite toy or game. It doesn't work overnight, but the results are more long lasting. Most importantly, it doesn't just suppress their nervousness, it actually replaces it with a positive reaction.
The key elements of to counter conditioning are:
Very gradually increasing contact with the thing that makes your dog nervous…
…over lots of separate occasions…
…and pairing the experience with wonderful treats each time.
It's not about relaxing them, because when done properly, they're never not relaxed. For example if your dog is nervous of thunderstorms or fireworks, you could play the sound of them through your TV or computer at a very low volume which doesn't doesn't bother them, whilst feeding tasty treats. The next day, you'd do it again, but with the volume one notch louder, and so forth. If ever your dog showed signs of stress, you'd drop back to a lower volume for several days.
Building their confidence
Counter conditioning isn't the only thing which will help relax a nervous dog in the long run. Building their confidence through other training games will also help. For example the simple mat and focus games in our Foundation Skills course. Or something like agility, if your dog has already mastered basic obedience. Training gives your dog the chance to experience the emotional satisfaction of learning how their choices can unlock rewards, and boosts their overall confidence. They're especially helpful for dogs from working breeds, who crave a sense of purpose.
When to call in a behaviorist
There's a lot you can try on your own to help a nervous dog relax. But if they're still nervous after you've done everything you can on your own, there are people who can help! Your vet can carry out a general wellness check for underlying medical problems which might be contributing to nervousness. And they may also suggest medicines that can lower anxiety. Your vet is also a good source of information about behaviorists in your area. They might even be able to recommend someone who specializes in helping nervous dogs relax. You can also find force free trainers and behaviorists working in your area via the CCPDT website.
How to help a nervous dog relax – summary
Some dogs are made nervous by specific things, whilst others just have an all-round jittery personality. There are lots of things that can be done to help both types, and often the most effective solution combines more than one approach. If you're not sure where to start, ask your vet or a behaviorist for advice. There is no case so small that they wouldn't want to help!
Get Pippa's free dog training tips delivered to your inbox