The most common feeding schedule for adult dogs is one or two meals daily. I recommend that most people feed their dogs twice a day. But feeding your dog once a day can work well in some circumstances.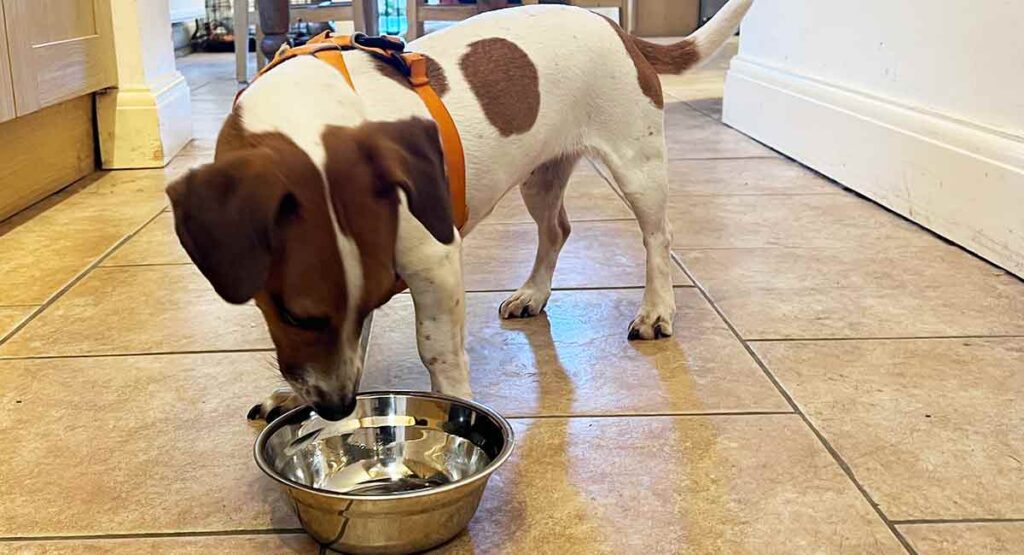 The best feeding schedule for your individual dog will depend partly on the type of food you give them. And my advice is based on my own forty years experience of feeding both kibble and raw, to dozens of different dogs.
Considerations
Traditionally almost all adult dogs were fed once a day. This was the norm when I was a kid. The rationale behind this schedule is that dogs are carnivores, and it is natural for them to eat a large amount of food in one go, and then fast for many hours, before eating again.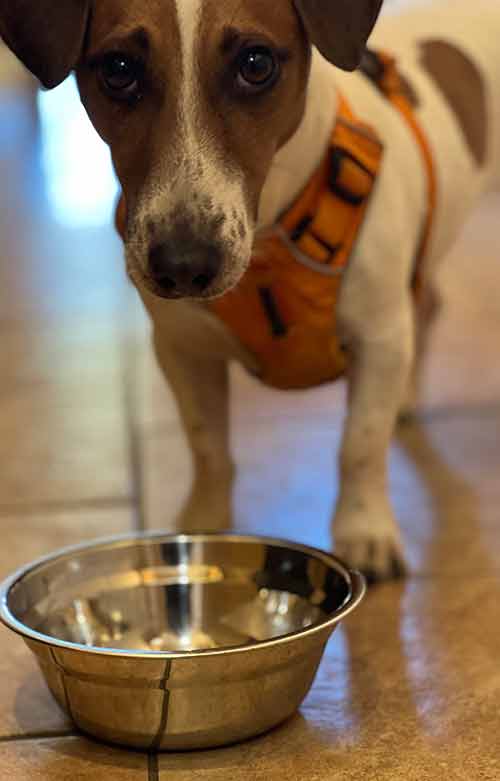 In those days most dogs were fed on a mixture of canned (wet) dog food, and dog biscuits together with scraps leftover from human meals.
However, most modern dogs are fed on kibble. And with dry food, feeding once a day has some disadvantages. Let's dig into those, and help you decide how often to feed your dog.
Natural feeding patterns
It's true that your dog is genetically almost identical to the wolves from which they descend. Wild wolves or other dog species hunting in groups may bring down a large prey animal, and feast on it. Then not eat for a day or two.
It's also true that dogs have been catching much smaller prey and scavenging from humans for thousands of years, and have adapted well to eating smaller and more frequent meals.
Pros and cons – large vs smaller meals
Feeding once a day is convenient. And with a raw diet, it can be safe and satisfactory for most medium to large dogs
The natural diet of a dog, raw meaty bones, organs, eggs, and even invertebrates such as worms and beetles, are all processed very quickly by a dog's digestive system. It's designed perfectly for the job. And because there are no fillers or carbs in this food, it isn't very bulky. Everything is digested with little waste.
With kibble, feeding once a day only, can be problematic for some dogs. It's all to do with the portion size. And of course once daily meals are twice as big as twice daily meals.
Big dogs
It can be risky to feed a large or deep chested dog their whole day's ration of kibble in one hit. That's because these types of dog are more prone to suffering from bloat.
When we feed our dogs on kibble, we are asking the dog's digestion to take on a task that it isn't quite designed for. Along with the protein, fat and minerals that your dog needs, are a lot of bulky fillers.
While the food looks and feels light and compact when you pour it into the bowl, at that point it is completely dehydrated. It starts to swell up inside your dog as soon as they start to drink.
It's worth thinking about what happens to the bowl of kibble your dog just ate, when they head over to their water dish. Try dropping a few pieces into a glass of water to see how much they expand!
Your dog needs that water so don't ration it. But be aware that they can end up with a lot of heavy food sitting in their stomach, and this may increase their risk of suffering from bloat.
Little dogs
Small dogs often need a minimum of two meals per day, in order to feel well. My own Jack Russell terrier will often vomit if she misses her breakfast, and this is quite common in little dogs.
Some small dogs also find it hard to consume enough in one sitting to keep their weight up. So feeding twice a day may be necessary for many dogs weighing much less than around 20lbs.
This rule applies with both raw food and kibble.
Puppies
All puppies need feeding more frequently than adult dogs.
Most kibble fed puppies need at least four meals a day until they are three months old, then three meals a day until six months.
Some raw fed puppies can drop a portion a bit sooner.
Food should be fun
Aside from the health and safety issues around eating kibble, food is a source of great pleasure in our lives, and dogs feel the same way. They enjoy their meals. And look forward to the next one.
Most dogs eat kibble quite fast. It's unusual for a dog to take more than five minutes over their meal. And twenty four hours is a long time for a kibble fed dog to go between meals, especially when the last meal was over so quickly!
Raw meaty bones take a lot of time to consume, and can keep a dog occupied happily for half an hour or more. But even so I think there is a lot of pleasure to be gained if this experience happens twice in each day rather than once.
Which is best? One meal or two?
Your adult dog will most likely thrive whether you divide their daily ration into one meal or two. However, if your dog is large or deep chested, and fed on kibble, I recommend you feed twice daily, dividing that ration into a morning and evening feed.
Obviously, twice daily meals doesn't mean twice the quantity. You feed the same daily ration but divide it into smaller portions
I do think it means twice the fun though!
And while once daily feeding is suitable for all but the smallest raw fed dogs, I feed all my dogs raw, and, twice daily
Let me know what you decide to do!
I'm always interested to hear from readers about how they feed their dogs, so do drop a comment in the box below!
Get Pippa's free dog training tips delivered to your inbox