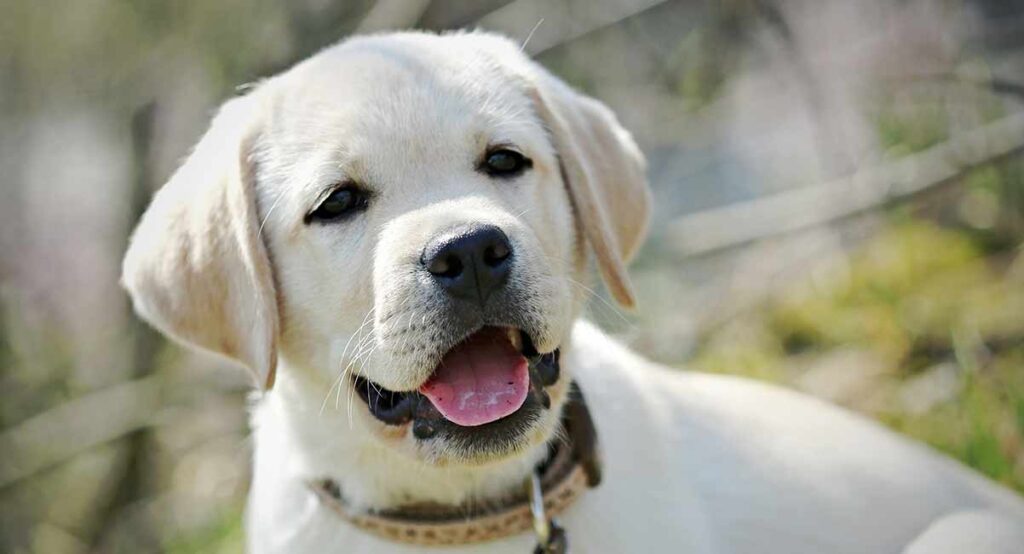 Puppies are like people when it comes to appetite.
Some can take it or leave it. Others are always hungry.
Puppies that don't want training treats
Some puppies will fall on every morsel of food that falls from your hand as though they have been starved for a month.
Others will turn their noses up after two pea sized pieces of kibble.
And as food is so important for early stage puppy training, this immediately poses a problem for the puppy parent that is keen to get on with their puppy's education.
For my free email Training Tips, drop your email address into the box below!
Hold this thought!
It is frustrating when a puppy turns their nose up at training treats. Fortunately, all dogs have to eat in order to survive.
And you need to hold on to that thought while we look at your options.
How you deal with this problem depends on the age of the puppy and how long they have been a part of your family.
The homesick puppy
Some puppies will refuse all food for a few days after arriving in their new homes. Many will eat only the bare minimum.
My Jack Russell Terrier puppy ate only a quarter, or less, of her daily ration for the first five days!
This can be really worrying, but it almost always resolves quite quickly and isn't a reflection of your dog's future appetite.
A quick check up with the vet to rule out any illness, and you should find the problem is gone by the end of the first week.
Then there's the dog that just has a generally low level of appetite.
The low appetite dog
If your puppy still has a low interest in food by the time it is 10 weeks old, or by the time it has been living with your family for more than a couple of weeks, then it may be that you have a dog with a poor appetite.
These dogs tend to be very slim their whole adult lives. They don't respond well to different strategies for improving their enthusiasm for food.
Changes in brand or style of feeding may cause a temporary increase in appetite, but that may not last long.
These dogs are quite rare.
I've only owned one of them in over forty years of raising, training, and occasionally breeding, a variety of different dog breeds.
The unwell puppy
Sometimes reduced appetite is the first sign of a health issue.
If your puppy is seems unwell, or is underweight, losing weight, or lethargic, or if the loss of appetite is a new symptom in a previously hungry puppy, a check up with a veterinary professional is in order.
However, by far the most common causes of puppies being disinterested in the food used in training are fairly easy to fix. And they involve the quantities of food provided, and the way it is delivered.
Overfeeding
Many young puppies are overfed.
Not so long ago we used to think that 'puppy fat' was a good thing.
Nowadays there is a greater awareness that puppy fat, and the rapid growth that it can sometimes be associated with, is not a good thing.
It not only brings a greater risk of obesity and all the health issues associated with that condition, but can cause longer term damage to growing joints. Especially in medium to large breed dogs.
An overfed puppy is also unlikely to be interested in training, because there is little to no motivation to earn food if you are not hungry.
How much to feed a puppy?
Many people want a definitive answer to that question. But the honest truth is that there isn't one.
Puppies vary so much in the way that they process food, an individual puppy may need more or less food than their litter brother or sister.
The quantities of food recommended on packets of puppy food are a good starting point, but are often too great!
How can this be enough?
Once the daily ration has been divided into four or five portions, the quantity available for the puppy to eat can look ridiculously small.
You may be tempted to feed the puppy more because they are still hungry at the end of their meal. But resist that temptation!
Bear with these tiny portions!
As the puppy grows, so will the rations and you'll be able to fit more training into each portion! In the meantime, you need to keep your puppy slim.
How to tell if a puppy is too fat
Scales are not going to help you much with a healthy puppy.
That's because the right weight, just like the right quantity of food, will vary from one puppy to another.
Fortunately you can tell if a puppy is too fat quite simply with your hands and eyes.
Your puppy should have a waist. So a noticeable inward curve just before the hips when viewed from above. And a noticeable upward curve of the belly when viewed from the side.
You should be able to feel ribs when you press firmly along the puppy's flanks, but you should not be able to see them.
And you should not be able to see or feel, the puppy's hip bones, or the knobbles along the puppy's spine.
Increasing the puppy's appetite
If the puppy is very plump, then cutting back their rations by a quarter will resolve the problem quite quickly.
A slightly plump puppy can usually be left to 'grow into' their daily food ration. Just don't increase it for a while.
As the puppy regains their figure, they will also regain a naturally healthy appetite. You should see a renewed enthusiasm for food within a few days.
Treats vs Food
Another common problem is that many new puppy parents see training treats as something separate from the food consumed in meals.
This is only a problem because of the term 'treats'.
Try to think of what you are doing as training with food, rather than training with treats.
The edible rewards that you use to reinforce desirable behaviours in a puppy should largely consist of the puppy's own food.
Hands vs Bowl
An eight week old puppy needs such a small quantity of food that in general, the whole of the puppy's daily food allowance should come from your hands, not from a dog bowl.
A good way to ensure this happens is to measure the daily food allowance into four or five separate pots or treat bowls, and to set target times (at intervals throughout the day) for using each one up.
Strapping a treat bag to your waist and keeping a treat pot on the kitchen table are great ways to get this habit established.
Timing of training sessions
It's best to train any dog, old or young, when they haven't eaten for a while. It seems obvious, but it can be easy to forget this.
If you puppy has not eaten for the last two hours, and is not overfed, they will want to earn food from you. It may only be a small amount in a very young puppy, but it will grow with time.
The bottom line is that all puppies need to eat.
A healthy puppy may not eat very much for the first few days, and may need a little while to get over the shock of being removed from their first family. But this will pass quite quickly.
Put the bowl away
If your puppy is a fussy eater, or disinterested in food, the first thing you need to do is put the puppy's food bowl at the back of a dark cupboard.
Double check that you are not overfeeding your puppy. Remember, daily rations will seem ridiculously small to start with, so don't waste food by putting it in a bowl.
Everything your puppy eats can be fed from your hands to reinforce all the lovely behaviours you want to see more of. Such as following you, looking at you, relaxing quietly, keeping 4 paws on the ground.
In a couple of weeks your puppy will need more to eat and you'll be able to get much more training done.
Hang on in there and you'll eventually get to the point where you simply can't use all the puppy's food rations up in training.
Then it will be time to get your bowl out again!
Get Pippa's free dog training tips delivered to your inbox