A lot of people ask me about force free dog training. Does it really work? Isn't it just for softies? Don't bribes stop working after a while?
And seriously, how can it possibly work when dogs are chasing squirrels?
What Is Force Free Training?
Force-free dog trainers completely avoid all use of aversives.
When we use the word aversives, we are not just talking about the types of physical punishment used by some traditional trainers.
Including smacking, scruffing, and lead jerks. There is more to it than that
No Intimidation
Force-free trainers don't use any other form of intimidation. No threatening body postures, no 'stares', no verbal scoldings, no growling at the dog.
No force at all
But how does this work? Surely a dog trained like this would be spoilt and out of control? Let's take a closer look.
Permissive Training
Many people confuse 'positive' or force-free training with permissive dog training. You know, the kind where the dog calls the shots, and only comes when you wave cheese around?
It is important to get this distinction between positive and permissive clear. And to remember that the definition of a well trained dog, describes the outcome, not the method.
Permissive training doesn't actually work. It's a lifestyle choice not a training method.
Positive reinforcement training on the other hand is a serious science, and works very well. The outcome if properly applied, is a well trained dog. But what do we mean by that?
What Is A Well Trained Dog?
Dog training should be fun, but it is also is a serious business. Especially for dogs that have a job of work to do. Such as working sheepdogs, assistance dogs, and sporting gun dogs.
Lack of obedience gets dogs into big trouble. Sometime it gets them into the dog pound.
Obedience means an instant response to any commands given. No questions asked, and no bribes offered. And many people struggle with achieving this.
I learned to train my dogs in the UK working gun dog community where such dog obedience is highly prized. And my methods work on pet dogs and gun dogs alike.
Obedience Is Not Optional
Gun dogs work off leash of course, and at distance. And they work around people carrying loaded shotguns.
It is therefore vital that a working gun dog is able to walk calmly at heel off-lead, and to respond to commands at a distance, no matter what the distractions around him.
Obedience is not optional for these dogs. And for a long time, it was believed that such obedience could not be achieved without some degree of force.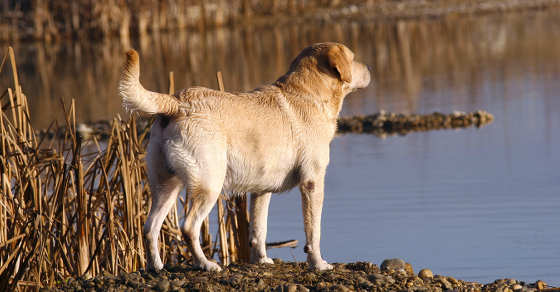 Pet Dog Vs Working Dog Training
If your dog is a pet you may wonder what the relevance of gun dog training is to this discussion.
And the relevance is this: The well trained working gun dog is probably the most highly trained dog you will ever meet.
These dogs work off leash at distance of up to half a mile or more amid some of the most exciting distractions on the planet. So, if force-free training can work for a gun dog. It can work for your dog too.
But Does It Actually Work?
Yes it does. Fortunately you don't have to take my word for it.
We now have evidence that it is possible to train a gun dog to a high degree of reliability and effectiveness without force.
The Evidence
We now have clicker trained FTCH retrievers, and HPRs and spaniels that are succeeding in working tests.
The UK Gundog Club transitioned to force free training a couple of years ago and have no regrets. All their instructors now offer force free training
In addition, service dogs, military dogs, dogs for the disabled and most competitive obedience and agility dogs are now trained without force. And recent studies like this one show that it is equally effective to e-collar training for example.
Of course, results depend on the skill of the person applying them! And training a hunting dog force-free is a little more challenging than training for a ring sport, but the evidence is now clear. Force free training is possible.
Your Dog Your Journey
Dog training is a journey. And it's important that you enjoy the journey while keeping an eye on the destination.
Training without force is undoubtedly more enjoyable than training with traditional methods. It is also very different, and not without its challenges of course.
What is great about modern training is that every single dog, no matter what their destination, starts in the same place, with the same set of skills.
That means that the methods I use for my dogs, where I am ultimately looking for a very high standard of behavior, is exactly the same as the methods you need to use for your dogs. Even if you are less picky!
My Dogs Vs Your Dogs
Modern training is all built on the same foundations. The skills we teach in the courses at Dogsnet, are skills that I teach to my own working dogs.
And you can see those dogs learning as puppies in those courses.
These are dogs that eventually will be working in the countryside hunting, flushing, and gently retrieving wild game for the table.
This is where I start. And this is where I recommend you start too.
How Is It Done
Force free dogs are trained using mainly positive reinforcement. Reinforcement is something that the dog enjoys. And 'positive', just means that you provide it (in the mathematical sense of adding something).
Using positive reinforcement requires some knowledge, and some practice.
Which is why our courses are mixture of theory, training lesson, tutorials and drills. All supported by videos and clear, structured, training steps
Starting With A Puppy
If you are starting out with a new puppy, you'll want to begin with our awesome Puppy Games course.
This is a starter course that will take you through the first two weeks with your puppy and prepare them for all your future obedience training.
And yes! This is the course I designed and use, for my own puppies!
Puppy Games launches in Spring 2021, if you want to be notified, just join my Training Tips email list. I also send discount codes out to my readers each month.
If you've never raised a puppy before then the full Puppy Parenting course might work better for you.
Starting With An Older Dog
If you have an older dog that you want to train for a sport or to improve your dog's obedience and manners, and you have no experience of force-free training, the place to begin is our Foundations Skills course.
This course will give you the basic skills you need to modify your dog's behavior.
And teaches you how to engage your dog so that they are focused on you, rather than the environment around them.
Dogs do what works
Dogs will always chose the behaviour in the future, that got them the best outcome in the past.
When the dog makes the same choice often enough in response to a cue, that response becomes automatic. By the time training is complete, the dog doesn't have to think about it, or keep making conscious decisions.
Getting to that point is what training is all about. Your job is to control the outcomes today, in order to get the behaviour you want tomorrow.
All training requires effort
Positive reinforcement training is a skill, and its one that both you and your dog will need to learn if you want to train 'force free'.
It isn't an easy or 'soft' option. You still need to 'proof' your dog's behaviour against distractions, and you still need to work hard to get the high level of obedience needed for gun dog fieldwork for example.
But it's a great way to have fun and to learn alongside your dog.
Summary
Force free training avoids all use of aversives. This means no
Scolding
Shaking
Smacking
Ear tweaking
Glaring
Electricity
Rattle bottles
Nose tapping
Lead jerks
Physical manipulation is avoided too, so no
Dragging
Lifting
Pulling
Pushing
If this sounds like your kind of thing, then we'd love you to be involved. You can get my training tips by dropping your email into that box. And you can reply to any of those emails, our team love to hear from you
Get Pippa's free dog training tips delivered to your inbox