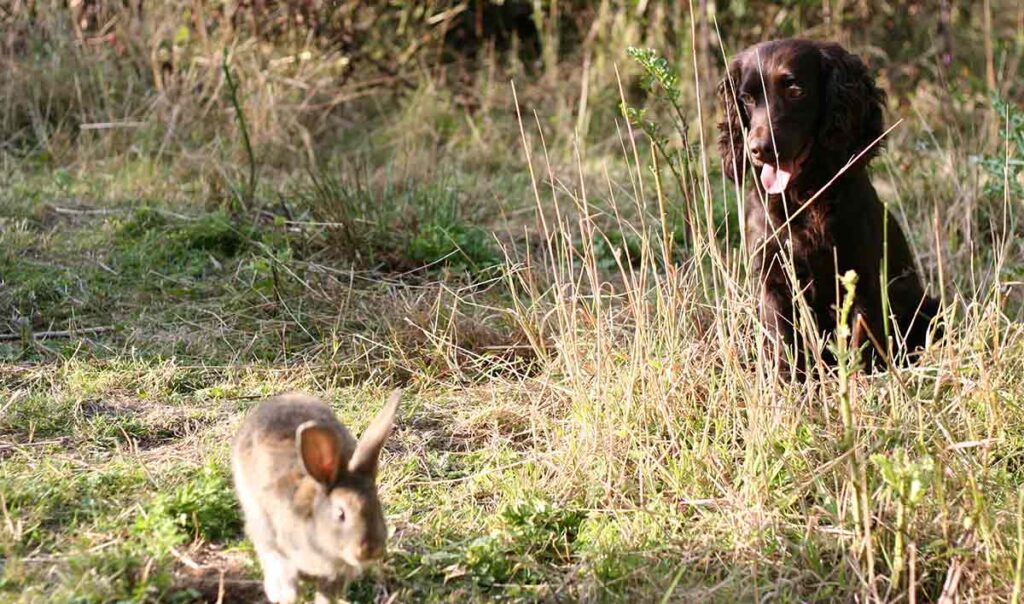 English Cocker Spaniels are very popular dogs.
There are two distinct types of Cocker Spaniel in the UK, and they are really quite different.
People who are interested in field sports will be most familiar with the Working (Field) Cocker, but the Show (Bench) Cocker has his origins in the same place.
From over a hundred years of selective breeding, these dogs have evolved to be brave, with have a high hunting drive but a biddable nature that makes them relatively easy to train.
However, in recent years Work and Show types have increasingly separated to become very different little dogs.
Working Cocker Spaniels
A cocker bred from working lines physically resembles their ancestors quite closely.
They are small but strong and robust, with high hunting and retrieving instincts.
For their size they can lift heavy objects larger than their own size, jump high fences and hedges easily and run fast.
They have bright eyes with tight lids, a medium length coat and feathered legs, chest and ears. His ears can also lift up on his head when he is paying attention, and won't normally hang below his chin.
They are popular as working companions, but also make lovely house pets for an active family.
Show Cocker Spaniels
The cocker bred from show lines will have a rather different appearance to his ancestors.
He will be a similar height to his working cousins, but his head is an altogether different shape. With a domed forehead and very long ears, that droop down well below his chin.
His coat will be much longer, and will need more grooming and attention. He may also sadly suffer from loose skin on his face, causing his eyes to droop – often causing a painful in a condition known as ectropian.
They may still have some of the hunting drive of their forefathers, but they will often be a calmer and more sedate companion for a family.
Whilst show bred cockers could be worked, they will not be as well suited to the activity. They can also no longer legally be docked, which will put them at risk of tail damage when working in dense cover.
Companion Gundogs
Working and Show cockers both share a love of their human companions, but because of the demands of the field Working cockers can be a little overly clingy.
You will find that every time you get up off your chair, your cocker will jump up from beside your feet and join you. Regardless of whether you were going to answer the door, make a cup or tea or visit the bathroom!
A lot of us are very happy to be kept company 24/7, but if you like your space them a cocker is probably not going to give it to you.
A working cocker will, due to his incredible instincts, need a lot of supervision outdoors when there is the chance of game appearing. A show type cocker will probably be more likely to walk along next to you, and ignore the hopping bunny that's three fields over.
This doesn't mean that both varieties can't benefit from at least some basic gundog training though. Your show cocker might not have the high drive that field trials expect of a spaniel, but he will have some instinct to run back and forth through the bracken.
With proper training, he will benefit from the exercise and cement his bond with you by working together just as a working cocker would. Even if your show bred cocker has no interest in fetching in general, with the help of the clicker retrieve you can get him loving picking up dummies for you in the field in just a few training sessions' time.
Health
Spaniels are quite prone to mammary cancer and pyometra, and spaying your female cocker may help to prevent those diseases.
There are disadvantages to neutering though, including an increased risk of some other types of cancer
The working cocker's floppy ears also make them more likely to have ear problems, and this is something you will need to monitor whether you have a work or show type dog.
The two types of working cocker also both carry a susceptibility to hip dysplasia and PRA blindness. If you buy a puppy, make sure the parents of the litter are both health tested for these conditions.
Tests are also available for the less common but still consequential familial nephropathy and gonioscopy.
For the best chance at a happy, healthy little dog, choose a pup from the healthiest, happiest parents you can find.
Summary
Show Cockers and Working Cockers have come a long way, and moved in rather different directions.
But they are both still at the end of the day, Cocker Spaniels.
Whether you have a highly driven working cocker or a more sedate show bred dog, they will get a lot out of doing some fun gundog training with you.
This article was originally published on Totally Gundogs
Get Pippa's free dog training tips delivered to your inbox