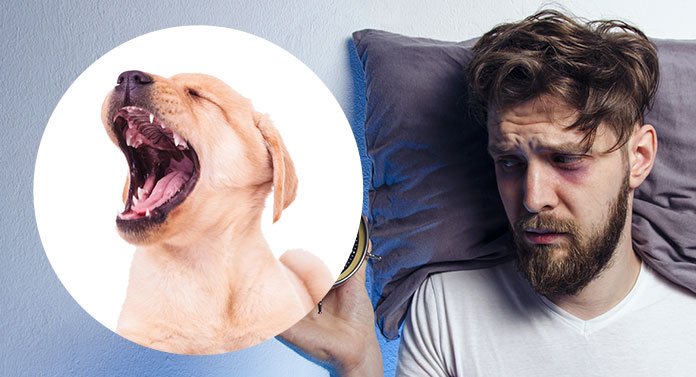 Why do puppies cry at night? If your puppy cries at night, the cause could be anything from fear and separation anxiety to urgently needing the toilet.
Crying at night can be stressful for your puppy. But, it can also lead to a frustrating lack of sleep for you, and some angry neighbours!
So, it's best to tackle crying at the root of the cause. And that means first finding out the reasons why your puppy could be crying at night.
Why Do Puppies Cry At Night – FAQs
Here are some of the most common questions we get asked about puppies crying at night.
This complete guide will help you find the reason why your puppy is crying at night, and hopefully help you solve the problem.
Is it Normal for Puppies to Cry at Night?
When your puppy starts crying at night, it can be worrying! You'll wonder: is it normal for puppies to cry at night or am I doing something wrong?
Don't worry. Crying or whimpering at night doesn't always mean that you're doing something wrong.
In fact, it's a problem that a lot of new puppy owners suffer with.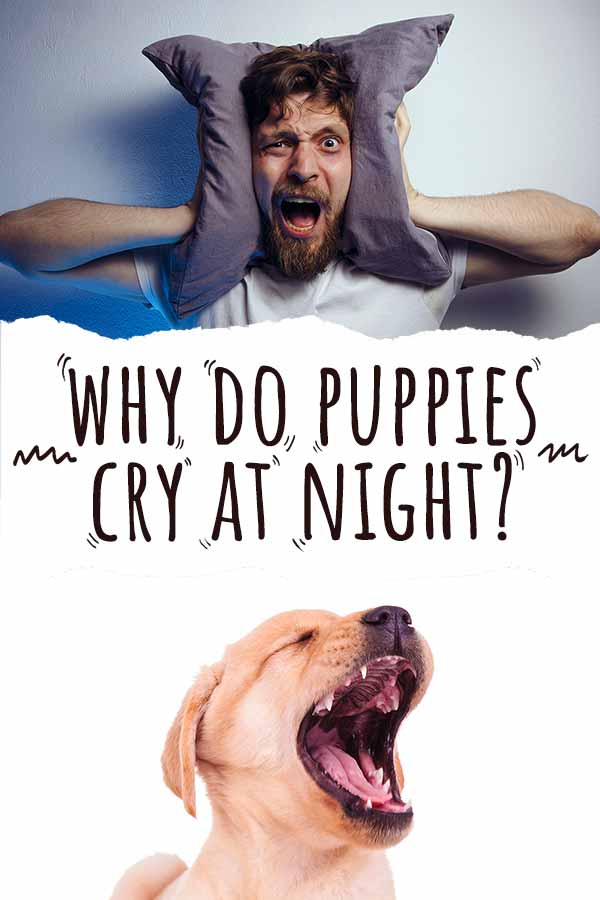 And, as soon as you know what's causing the noise, you can work on solving the problem for your puppy.
So, first things first, let's find out the most common reasons that puppies cry at night, and then work out how you can fix them.
Why do Puppies Cry at Night?
There are a number of reasons why your puppy might be whimpering and crying when you're trying to sleep at night.
Here are some of the most common.
Fear
Pain
Needing the toilet
Hunger
To get attention
The first four reasons are the most common in very young puppies, or puppies that have just moved to a new home.
The fifth is a learned response that puppies try when they're rewarded for crying at night. So, it's important to learn how to solve your puppy's needs in the right way to avoid crying for attention.
Let's take a closer look at the most common reason new puppies cry – fear.
Why do New Puppies Cry at Night?
It's safe for puppies to leave their mothers and siblings at around 8 weeks old. But, this doesn't mean that the experience is always smooth and easy.
Especially for your new puppy.
As long as your puppy is well fed and in a safe environment at night, it's unlikely that they'll be crying from hunger or pain. Instead, on those first few nights, they will usually cry because of fear.
Moving to a new home can be scary. Everything is completely unfamiliar for them, and there's no sign of their mother or siblings who they used to sleep with every night.
An easy way to understand it is to imagine your puppy is feeling homesick.
This Isn't Permanent
Although the first few days can be scary for puppies, you shouldn't take it personally. Your puppy will grow to love its new home as things become more familiar.
You can reduce this fear by keeping your puppy by your side for those first few days.
Leaving your puppy alone can make them more scared.
It can help to let your puppy sleep next to your bed in their crate or a box for the first few nights. Being close to you can help them feel less scared and alone – which can reduce crying at night.
This doesn't have to be a permanent solution, and over time you'll be able to move your puppy's crate away from your bedside.
But, until their confidence grows, you'll want to keep them by your side to minimize crying.
How to Stop a Puppy Crying at Night
The first few nights that your puppy is at home, keeping them by your side will help to stop fear-based crying.
In fact, as long as they're near you, most puppies will sleep quite well when they're young.
But, it doesn't guarantee that your puppy won't cry at all.
If your puppy is left to sleep outside a crate, in a room with objects they could hurt themselves on, they may cry from pain.
And, if they haven't eaten enough during the day, they may cry from hunger. This can be problematic when puppies first move home, as stress could stop them from eating as much as normal.
If your puppy is refusing to or reluctant to eat in the first few days that they come home, you should take them to the vet to make sure nothing is wrong.
Needing the Toilet
The next main reason that puppies cry at night is because they need the toilet. You can stop this crying by taking your puppy out to pee, if you're training them to toilet outside.
Some owners choose to use puppy pads. But, if they're being crate trained, there must be enough room at one end of the crate for the pads.
Having your puppy near your bed for the first few nights will help you hear when your puppy needs the toilet.
This could be as often as every few hours at first.
But, as your puppy grows, their bladder will be capable of holding a lot more. You can start to slowly increase the amount of time between toilet trips at night over the next few weeks.
Particularly if your puppy isn't waking and crying to go outside.
Other Methods
There are two other popular methods to stop a puppy crying at night, other than dealing with the root of the cause as we have already discussed.
These two methods are:
Let the puppy cry out
And, tire the puppy out before bed
Let's take a look at these methods in more detail to see if they actually work.
Should I Leave My Puppy to Cry at Night?
Some people believe that the best way to stop a puppy crying at night is to let them 'cry themselves out'. This means, leaving them alone and ignoring their cries.
Whilst this may work for some people, it will cause additional problems for most.
It can cause extreme stress for your puppy, which can cause them to cry even more. You'll be surprised just how long puppies can cry for.
This method relies on puppies tiring themselves out, and going to sleep regardless of the cause of their whining.
But, in reality, many puppies will stay up and cry as they get more distressed. Which can lead to a lot of sleepless nights for you and your neighbours.
Plus, it involves ignoring the reasons for your pup's cries. If they need the toilet, leaving them can lead to a soiled bed. And, distressed puppies can also suffer from diarrhea.
So, not only will you have a sleepless night and a tired, distressed puppy, but you'll have a lot of cleaning up to do.
Should I Tire My Puppy Out Before Bed?
Another popular method to avoid puppy cries at night is to tire your puppy out before bed. However, this method is not without problems either.
Puppies don't need too much exercise when they're very young. In fact, too much can be bad for their physical development.
Training and some fun games with toys throughout the day will usually be enough exercise for very young puppies.
And, puppies tend to sleep a lot more than people expect!
You can complete training and play some fun games in the early evening if your puppy still seems full of energy.
But, it's a good idea to practice calm behavior before bed. Otherwise, your puppy may be too excitable and struggle to get to sleep when the time comes.
You can help your puppy wind down as it gets closer to bedtime by speaking in calm tones, cuddling but not playing, or even letting your puppy chill out in their crate with the door open and a blanket over the top.
How to Settle a Puppy at Night
So, if tiring your puppy out and leaving them to cry doesn't work, what's the best way to settle a puppy down at night time?
Before bedtime, you should try to practice calm behavior with your puppy. You can cuddle them, but avoid any active games and training sessions late in the evening.
For the first few days, let your puppy stay by your side. This includes sleeping next to you – whether that means their crate by your bed, or a temporary bed by their crate.
It can also help to create a 'den' feeling in the crate. Make sure it's comfortable and warm inside, and not too big – unless you're using puppy pads.
Your puppy should have room to turn around without touching the sides, but give him too much space and he will just use the other end of the crate as a toilet.
You can also cover the crate with a blanket to create extra darkness, and a cosier den.
When you move the crate away from your bed after a few nights, it could help to let your puppy sleep with an item of your clothing, so he can still smell you, and feels just as safe as he did by your side.
Why Does My Puppy Cry in its Crate at Night?
If you've chosen to crate train your puppy and let them sleep in a crate at night, you might worry that it's the crate causing stress for your puppy.
Your puppy has eaten plenty, just gone to the toilet, is next to your bed in their crate, but is still crying.
If this is the case, you might need to put in more work during the day to show your puppy that its crate is a safe, fun, cosy place to be.
Most puppies will happily sleep in a warm, comfortable crate at night. Particularly if you took the tips from the earlier section on how to settle a puppy at night.
But, you can do work in the day to encourage this too.
Throughout the day, put your puppy in their crate, then close and open the door straight away. This shows your puppy that it's not a bad thing to be in the crate with the door closed, because you will open it again.
You can also put your puppy in the crate throughout the day for naps, as long as you stay close by. This will help your puppy get used to falling asleep in the crate.
Still struggling after trying this for a few days? Perhaps your puppy is crying for attention.
Is My Puppy Crying for Attention?
When older puppies are crying at night, it can be because they have learned that crying gets them what they want – ultimately, attention from you.
Some of the following things can cause puppies to cry for attention:
Taking a puppy from their crate and letting them sleep with you
Making nighttime toilet trips too exciting or rewarding
Playing with your puppy when they cry at night
Giving your puppy food or treats when they wake up at night
Essentially, if something good happens when your puppy whines or cries at night, it's more likely to cry again. And, this process can be drawn out over quite a long time.
If you go to comfort and cuddle your puppy when he cries for 10 minutes one night, he may cry for 40 minutes the next night, in the hopes that you will come and give him all that attention again. And so on.
How Long to Leave a Crying Puppy?
This is where things can become harder. Because, as we've learnt, leaving a crying puppy can cause both you and them a lot of distress.
And, there may be an actual reason for your puppy's crying.
To avoid this problem, make sure that your puppy isn't hungry at bedtime – feed him the recommended amount through the day, and remove food and water a couple of hours before bedtime.
If you need to take your puppy to the toilet at night, don't make it an exciting experience. Take your puppy out to use the toilet without playing any games, and then pop them straight back in the crate.
And, never take your puppy out of the crate until they have stopped crying. Even if this is a very small break in the crying.
This isn't just something you should practice at night. Don't reward your puppy in any way for crying throughout the day.
Rewards can be as simple as giving your puppy your attention, or speaking to them! Instead, try to reward them when they are calm and quiet.
Getting Help with Puppies Crying at Night
Dealing with a puppy at night can be stressful, difficult, and can feel hopeless.
But, there are places you can turn to for help.
Our Dogsnet Puppy Parenting course deals with the problem of learning how to settle your puppy at night, among other issues.
This article offers a good start to understanding the things that can cause puppy crying.
But, if you're interested in learning more, you can take a look at our training courses here.
Why Do Puppies Cry At Night – Summary
There are many things that can cause puppies to cry at night, the most common being fear, a full bladder, or a learned response.
Knowing what the cause is can help you choose the best way to solve your puppy crying problem.
Let your puppy sleep close to you for the first few nights, and make sure you take them out to use the toilet at night if you aren't using puppy pads.
And, don't reward your puppy for crying throughout the day. Otherwise, it may try to cry for your attention at night!
If you need more help with settling a new puppy in your home, take a look at our online Puppy Parenting course.
Readers Also Liked
References and Resources
Get Pippa's free dog training tips delivered to your inbox