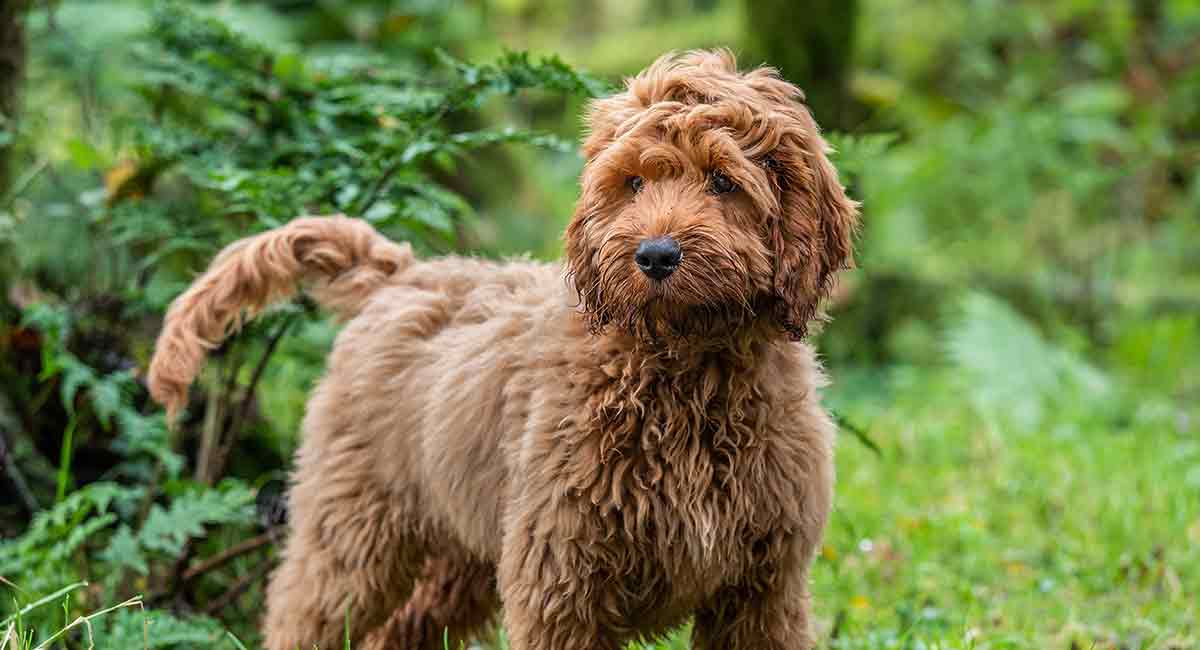 Learning how to stop my Cockapoo puppy from biting was a game changer!
As a new puppy owner, you'd heard that puppies bite.
But the reality of those bites can seriously sting.
And not just because those tiny teeth pack a punch.
From those surprise early morning accostings to the vendetta against your toes, the attacks can seem endless.
Fortunately, most puppies do grow out of biting after the first few months of their lives.
And there is plenty we can do to speed up this process too.
Why Puppies Bite
There are four main reasons that puppies bite their owners:
Instincts
Teething
Over excitement
Accidental reinforcement
And solving the biting problem involves tackling each of these individually.
Or avoiding them happening in the first place!
Instincts
Cockapoo puppies come from two lines of sporting dogs. The Cocker Spaniel and Poodle.
Although they are predominantly bred as pets today, cute Cockapoo pups have generations of working ancestors.
All bred to pick up game and carry it back to their owners.
And these instincts mean that in puppyhood they are even more likely than the average dog to want to use those spiky teeth to bite down and hold onto things.
Because they were selected for exactly this behavior!
Sadly what is useful in the world of working dogs, can sometimes be a little less desirable in a pet.
Especially when they are a puppy.
Even when grown these sporting breeds or mixes can show a preference for chewing on your hands when you weren't expecting it, but this is normally not a big deal as long as they are gentle.
And most adult Cockapoos grow out of biting just like any other dog, although they are likely to continue to carry things around in their mouths and adore their chew toys.
How To Stop My Cockapoo Puppy From Biting During Teething
Teething can make a puppy's gums feel sensitive or even a little sore.
And that tender feeling is relieved by putting pressure on it.
Gnawing or chewing on things is a great way to relieve teething pain, if the thing that's being bitten is a toy.
It's not so great when it's your fingers or toes.
But your puppy will want to sooth their gums on whatever does the job best.
And that will be a range of differently textured toys.
We recommend a filled Kong, something with bumps and lumps, and a toy that is freezable safe for a nice cold chew.
Antlers are also brilliant as teethers, but they've had some controversy due to how hard they are so check out the risks before deciding whether you think they are worth a go.
Overexcitement
Puppies are a very exciting addition to any household.
But it's important that we try to contain our high levels of enthusiasm around them.
As they tend to get rather carried away.
And are pretty dreadful at calming themselves down.
Wrestling and roughhousing with a puppy seems like a lot of fun, until you realise that you are spending more time detangling their teeth from your skin than you'd expected.
Puppies actually benefit more from indirect play with toys, and for calm petting and cuddles in your lap, than they do from very exuberant play.
When puppies get overexcited they bite a lot more than normal, and the targets are normally your fingers or toes.
If you feel your puppy is becoming too excited, then they need some space and time to calm down.
A puppy proofed zone!
Pop them into a playpen, crate, or behind a baby gate in a room where they can't hurt themselves or anything in it.
There should be somewhere to relax and some toys, and it should be in the same room as you still or with an eyeline to where you are.
But physically separated from you until they relax again and aren't so inclined to bite.
When you want to play with your puppy it's better to do so with more formal games.
Activities that make up the foundations of training and positive reinforcement.
As these keep their brains and bodies busy, as well as increasing their bond with you.
All without getting them worked up!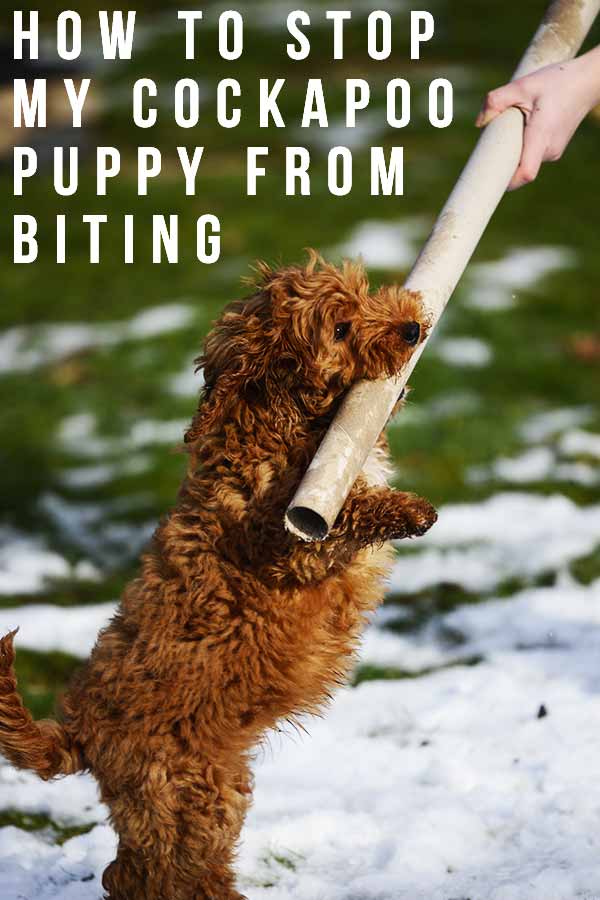 Accidental Reinforcement
Some puppies seem to increase their rate of biting rapidly, much to the dismay of their human family.
And this is almost always due to using the wrong techniques to deal with it.
Many trainers recommend yelping when your puppy bites you. To give them a verbal sign of the pain they have caused.
But puppies are baby dogs, and just like human babies are not known for their empathy.
Although some pups will find the noise scary and stop because they don't want to hear it again (which we aren't fans of as it's an aversive), many will actually like that noise.
And think it's all a brilliant game.
They then bite more, to get you to keep doing it. Thinking it's all part of the fun.
This can happen with other responses to biting too, so despite the pain and shock of it, do try not to react outwardly when your puppy bites.
Instead very slowly stand up and turn away, removing your attention from them.
How To Stop My Cockapoo Puppy From Biting
To stop your Cockapoo puppy from biting you will need to :
Remove any rewards from biting
Stay calm
Keep play sessions short
Provide them with lots of chew toys of different textures
And during this period, wear sensible clothes!
That means closed toed shoes indoors, and no trailing tassels or cords from robes.
This stage of puppyhood is frustrating, but it is also short lived as long as you are sensible.
Training a dog to be gentle takes time, but the rewards are huge. For you both!
Stay calm, and soon your Cockapoo puppy's biting phase will be a distant memory.
Puppy Parenting
Looking for more help raising your puppy? Why not check out our online Puppy Parenting course!
Get Pippa's free dog training tips delivered to your inbox