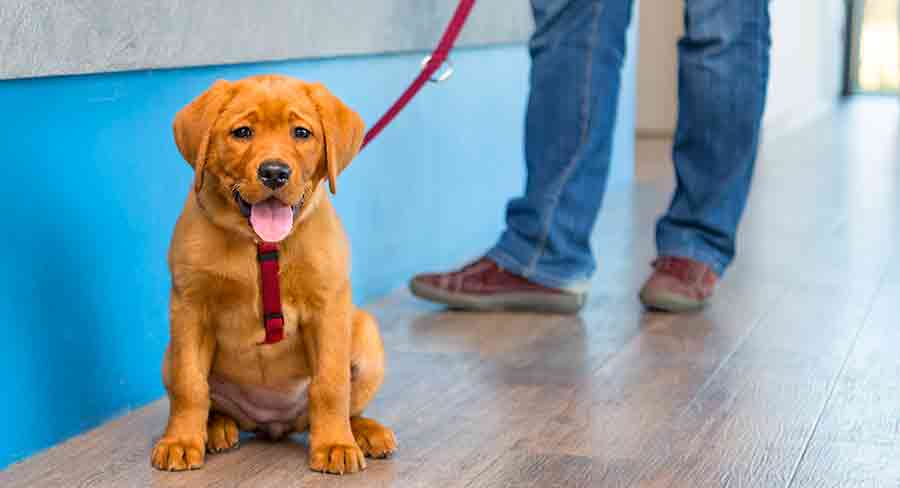 Having a puppy that hates leash walking can be really stressful.
The leash is an essential part of most new puppy owner's toolkit.
It enables them to safely go out and about with their dog.
And even to help provide a backup for less predictable training situations.
So when your dog is getting distressed at the mere sight of the thing, it can really put a downer on your day.
Why Do Some Puppies Hate Leashes?
A lot of puppies are freaked out when you first put them on a leash.
And with good reason when you think about it.
They have never been tethered to another person or thing before, and they feel trapped.
They don't speak your language, so you can't explain that there is nothing to worry about.
And you haven't yet got to the point that they associate this attachment with a positive experience coming soon.
New Leash
Collar vs Harness
Gradual Introductions
Adding The Leash Later
A New Leash
Some dogs take a serious dislike to one leash, but are completely happy with another.
It sounds funny, but dogs, like us, are funny creatures!
And there could be something about the leash you are using which they find a bit freaky.
Maybe it is a texture or color that is bothering them, or a very heavy weight.
If you've got another leash handy to try, then this is a simple solution that is worth checking out before you get more complicated.
Collar vs Harness
Dog collars are incredibly popular, and even legally required in some areas to hold a dog tag.
But dog harnesses are a much better tool for many puppies when it comes to attaching a leash.
A puppy that is bothered by having something hanging from their neck can be far happier when it's attached to their back or chest instead onto a harness.
The leash can be much less intrusive when they are trying to walk if you hang it elsewhere.
And make the puppy feel far more confident.
But if swapping leashes and attachment methods don't work, you can help your dog to overcome their hatred of the leash by going right back to the start.
Gradual Introductions
Let's assume the mere sight of the leash is making your puppy mad.
For the next couple of days, stop trying to use it.
Instead, pop it somewhere near to the puppy's main room in the house.
Every fifteen minutes or so, take out the leash and hold it so the puppy can see it.
Throw the puppy a couple of pieces of kibble.
Then put the leash away.
They are starting to learn that seeing the leash has a positive outcome, and no negative.
When they are happy to see the leash and wagging their tail expecting their treat, you can move on.
Now take the leash out, hold it out and move a step or two in the puppy's direction.
Throw the treats to them, then put the leash away.
Repeat until they are happy with this step.
Next you are going to gradually move closer to the puppy, repeating each nearer distance several times until they are used to it.
Treat Streaming
Once you are near enough to the puppy to touch them, provide a stream of treats while the leash is held briefly against the puppy.
When they are okay with this step, then it's time to finally start clipping it on.
Keep up the stream of treats during this.
To begin with just clip and unclip.
When it's clipped, don't try to control the puppy with the leash.
We are just getting them used to the feeling.
When you can clip and unclip the leash without signs of upset from your puppy, then you can very gradually increase the time they are wearing it for.
Go At Their Pace
Depending upon how much your puppy hates leash time, you can start this process at a different point.
If they are happy to be near it, but just upset when it's attached then skip the first couple of steps.
However, you don't necessarily need to go through this process if you are able to avoid using the leash altogether for a few weeks.
Adding The Leash Later
Although we appreciate that many owners feel the need to try to use a leash straight away, our approach in our online dog training courses is a little different.
If possible, we recommend avoiding using a leash to begin with and instead starting with teaching the dog the heel position.
Training your dog to stand, and then step beside you, establishes the heel position.
It is something they are motivated to do through rewards, rather than forced to do by restraint.
You can then add a leash as and when you need it later.
Make the leash a backup system, rather than a way of controlling your dog physically.
The leash then doesn't become something the dog hates, because they don't associate it with a negative experience.
Coping With A Puppy That Hates Leash Walking
It is incredibly frustrating when your puppy gets upset by the leash.
After all, you'd imagined that walks together were going to be a lovely bonding time.
Fortunately, there are plenty of things you can do to get your puppy used to the leash.
And even to train them to walk nicely beside you without using one at all.
Get Pippa's free dog training tips delivered to your inbox