How To Stop Your Puppy Biting Leash Handles, Attachments And Straps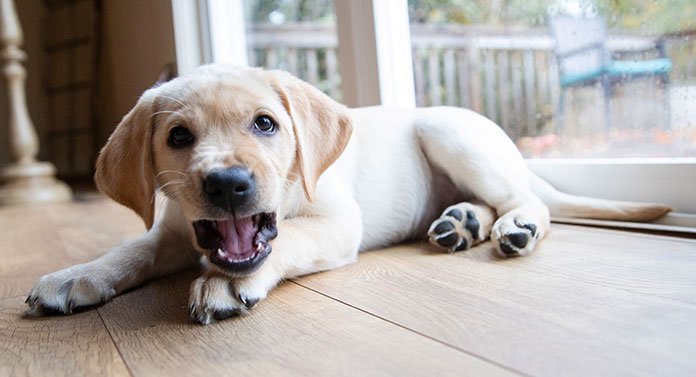 There are a few common situations where puppies bite at their leash. The first is when it is initially attached, the second is when something exciting happens when you are out and about. And teaching your puppy to stay calm when you put on their leash is a great way to solve these frustrating problems.
The other main issue that some owners have is the puppy biting leash handles or attachments, in a more chewing fashion. Which is best dealt with by removing opportunities for chewing.
How to stop your puppy biting leash attachments and straps
It's amazing what puppies will chew, given the chance. Furniture, bedding, even walls don't escape their tiny teeth. But it can still be a surprise to find out that the equipment you need to take them outdoors can be a target of their tiny vandalism too.
When puppies are teething they primarily like to chew on textured or very hard objects. Which is why antlers are such a prized choice by owners, despite the controversy over their use. But this inclination towards hard objects also makes the metal fastenings on your leash a target.
Sadly, despite the potential inconvenience, the best way to deal with this is to avoid it happening. Stop your puppy biting leash handles, attachments and straps when they aren't in use by storing them up high and out of the way.
Prevention is the best solution
Don't hook them on a coat peg and leave them to dangle. And don't leave them hanging out of your jacket pocket. If your puppy can reach the leash, they'll chew it. And when you are on your adventures around the great outdoors together, you'll need to be vigilant. Whenever you stop, hold the leash hand up high so that there is no material hanging near their face. And if you pause momentarily, keep an eye on your pup to make sure she's not getting in mischief with her leash.
This chewing style leash biting will pass fairly soon as long as you remove all opportunities to do it. But if your puppy is biting their leash when you are trying to attach it, training is the best way forward.
How to stop your puppy biting the leash while you attach it
Lots of puppies seem to go a bit crazy when you put their leash on. Especially the first few times you do it. After all, they've no idea what's going on. It all seems like a great game! And if you shout, or squeak, or rush around when they do it, well, all the more fun!
After the first few times, they've learned that the leash means an adventure. Like to the dog park, or meeting up with some friends. So the over excitement continues to amp up. And when puppies get wound up, they bite at things. Especially leashes.
To stop your puppy biting the leash you will need to:
Stay calm
Move in steps
Reward good behavior
Staying calm
Puppies are strong little characters. And while you might think your shrills of annoyance are off putting, she's quite likely to find them fun. When puppies play they can make quite a lot of noise. So trying to stop them from doing something with an array of growl and whine-like sounds isn't going to get you very far. Stay calm, keep quiet and make your interactions with the leash as boring as possible. We want your puppy to learn that the fun doesn't start until they have got themselves under control.
Slow and steady
To stop your puppy biting leash in excitement, we need to move in careful, calm stages. To start with, just pick up and put down the leash at intervals, and wander around with it. Take any association between them getting to do fun things and you picking up the leash away.
Once you can pick up the leash without them showing signs of excitement you can start approaching them with the leash. Again, moving away if they start to get worked up or nippy. Once you are able to approach the puppy, start rewarding them for their calm behavior as you start to attach the leash. And do so before it comes into biting distance.
Rewarding good choices
Positive training is all about rewarding your dog for making the choices you want them to make. For things we class as good behavior. Like staying calm, quiet or in the position we asked them to be in. When you are holding the leash and your puppy is sitting still and watching you, not getting all excited, you can start dropping pieces of kibble at your feet. Don't make a big deal of it, just drop them for the puppy to pick up.
When she's picked them up and is watching you nicely, ideally standing or sitting still, drop some more. Then start to bend down with the leash in hand. If she gets worked up, stand up again and wait. When she's calmed back down, drop another piece of kibble or two and start bending down again slowly, dropping single pieces of kibble as you go.
She'll soon twig that her still behavior is what is getting more kibble to be dropped. Any excitement from her, and you stand back up and reset. Once you've bent down by her side, and clipped the leash on drop a big handful of kibble in front of her to pick up so she's distracted away from the leash. Then get moving so she's not thinking about the leash being attached!
Other Approaches
It's very possible to work with a dog to help them learn to stay calm, even around things as exciting as leashes. But there is another approach too, and that's to remove the leash from the equation. In our online dog training course, Core Skills, we start teaching heelwork without the leash first of all. Rewarding the dog for getting into the position we want them in, before adding the leash later.
This can be a great way around the issue of leash biting entirely. As well as being a lovely, positive only way of introducing heelwork.
Let us know in the comments if these tips have helped with your puppy biting leash problems!
Readers Also Liked
Get Pippa's free dog training tips delivered to your inbox